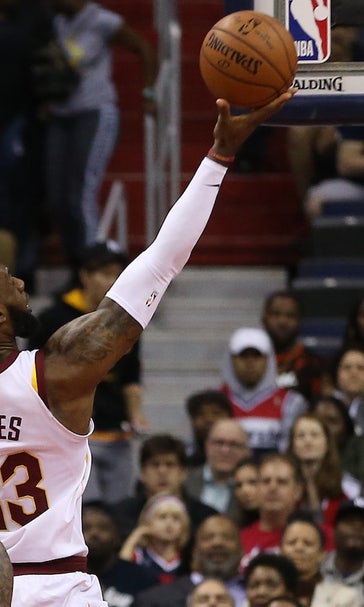 LeBron scores 57, Cavaliers top Wizards 130-122, end skid
November 3, 2017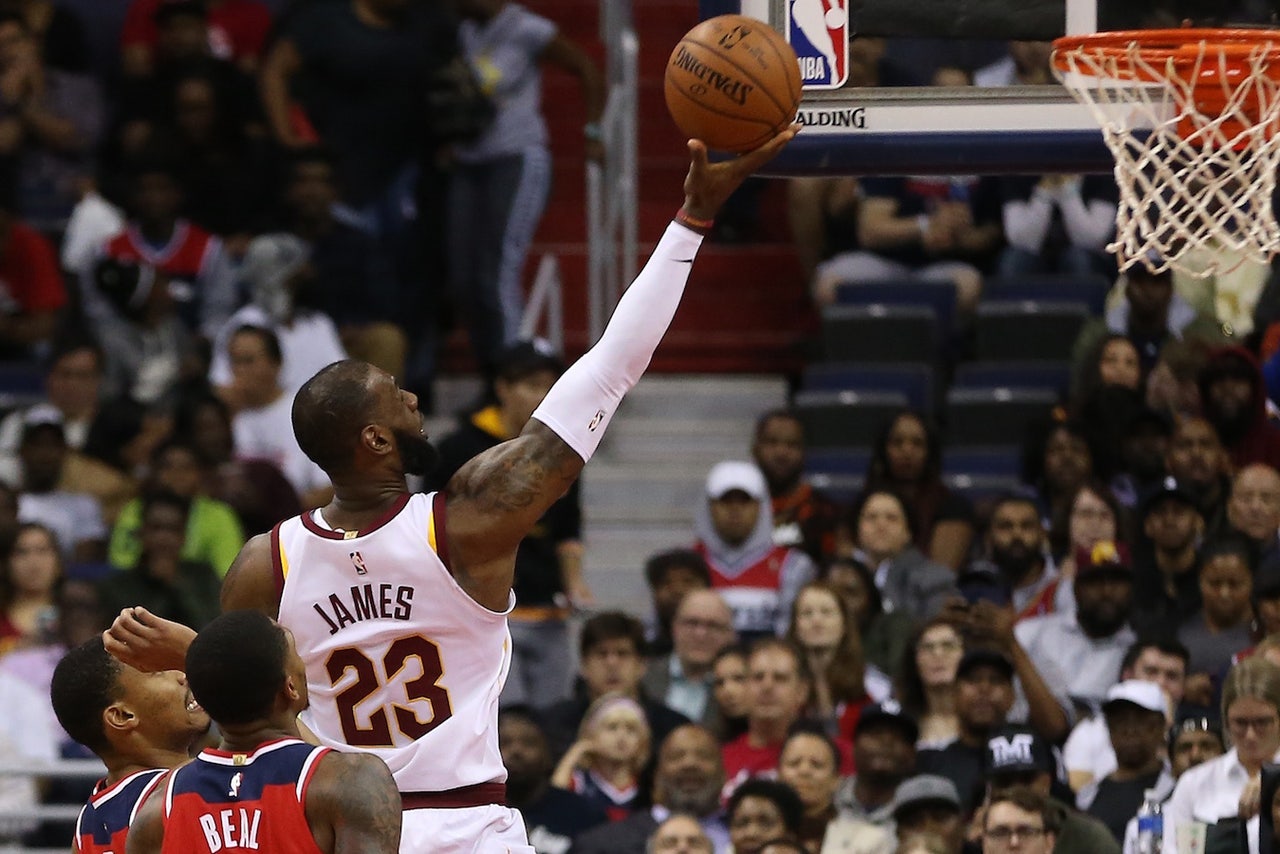 WASHINGTON (AP) -- Just in case there were any questions about Eastern Conference supremacy, LeBron James poured in 57 points -- the second-highest total of his career and an NBA-best this season -- to help the Cleveland Cavaliers end a four-game losing skid by beating the Washington Wizards 130-122 Friday night.

James hadn't scored this much since getting a career-high 61 for the Miami Heat on March 3, 2014, against the Charlotte Hornets.

And the four-time league MVP did it efficiently Friday, making 23 of 34 field-goal tries and all nine free throws, while adding 11 rebounds and seven assists. James did it with style, too. He hurdled over a seated Bradley Beal while dribbling, swatted a shot by John Wall off the backboard, and looked for a camera to wag both index fingers in the midst of a three-point play.

James didn't need much help, but teammates Derrick Rose (20 points) and Jae Crowder (17) each managed to top their season highs before the third quarter was done.

Cleveland finally looked like a team that has been to the NBA Finals three consecutive years, thanks in large part to James.

"It's, like, it's `his' Finals. Seems like every year he's there," Wizards coach Scott Brooks said before tipoff. "I can imagine there's no, like, panic in their locker room."

A Cavs club that had lost its four preceding games by a total of 64 points, the worst such stretch James has experienced since he was a rookie, broke out against a Wizards club that keeps insisting it is ready to reach the East finals for the first time in four decades.

And while Beal backed up that sort of talk, scoring 36 points, Wall was not at his peak. Yes, he handed out 15 assists, but he scored only 13 points, shooting 4 for 13, and was even surprisingly bad on free-throw attempts, going 5 for 12.

In his season debut, Wizards forward Markieff Morris had two points, four rebounds and one flagrant foul on Crowder in 16 minutes. Morris missed the start of the season because of sports hernia surgery, then missed one game because of a league suspension.

Morris got in on the action right away Friday, turning over the ball on Washington's first possession, before scoring the team's first points with an inside move a minute into the game.

James scored eight of 10 points for Cleveland during one early stretch and closed the first quarter with 15 on 6-of-7 shooting. Rose also went 6 for 7 in the period, scoring 13, as the visitors went up 42-36.

There was All-Star Game-caliber defense -- which is to say, none whatsoever -- by both teams in that period. The Cavs shot 77.3 percent, the Wizards 66.7. This was more of the same old problem for Washington, which had allowed 107 points over the final three quarters of its previous outing, when it wasted a 22-point lead and lost to the Phoenix Suns.

By halftime, Cleveland's lead was 74-66 on 66 percent shooting. James already was at 24 points, with Rose at 18. It was 102-93 heading into the fourth.

TIP-INS

Cavaliers: Iman Shumpert (sore right knee) missed his third game in a row, while Tristan Thompson (strained left calf) sat out for the first time in what could be a month's absence after getting injured in Wednesday's loss to Indiana. ... James reached at least 10 points for the 800th game in a row; Michael Jordan (866) is the only other NBA player with a streak that long. ... James, 32, also became the youngest player to reach 29,000 career points in the NBA. Last season, he became the youngest to reach 27,000, and then the youngest to reach 28,000.

Wizards: F Kelly Oubre Jr. showed up to the arena wearing a jacket with a curse word sewn onto the back. ... F Otto Porter Jr. returned to the starting lineup after missing one game because of an illness. He had 15 points. ... Wizards coach Scott Brooks on Morris before the game: "It's good to have him back. He gives us that edge that I like. ... It's going to give us a boost."

UP NEXT

Cavaliers: Host the Atlanta Hawks on Sunday. The Hawks entered Friday with the worst record in the Eastern Conference.

Wizards: At the Toronto Raptors on Sunday, before returning to Washington for a four-game homestand.
---