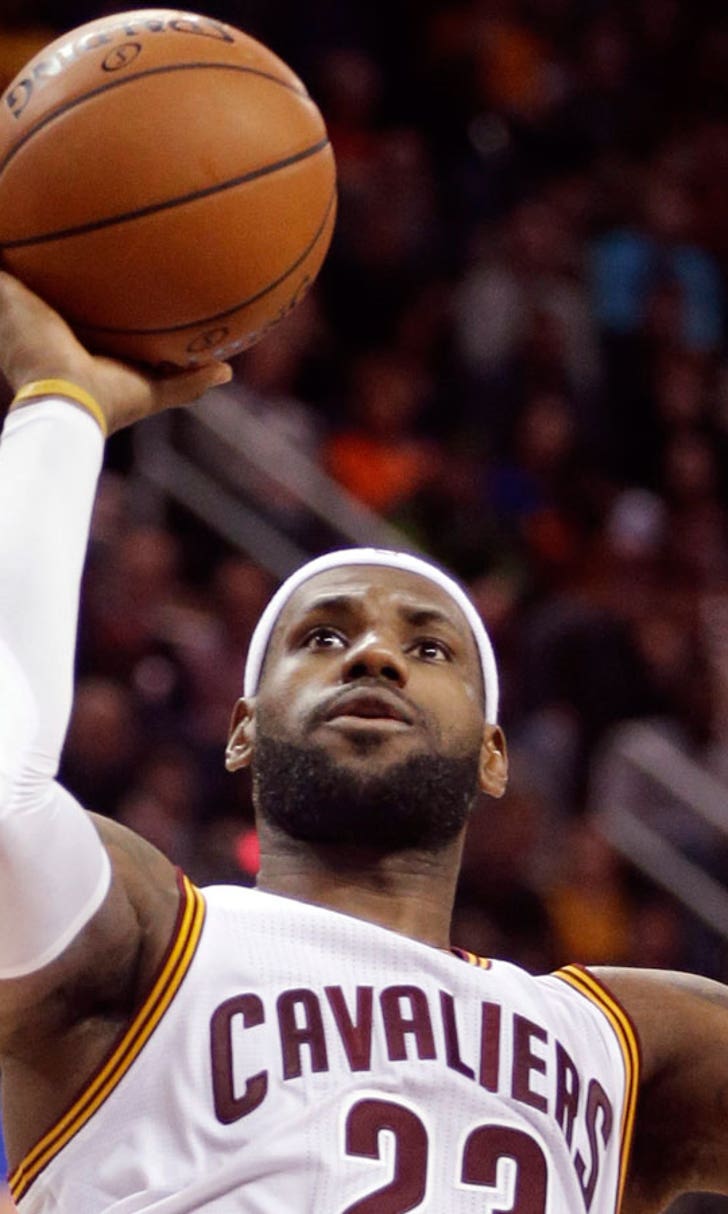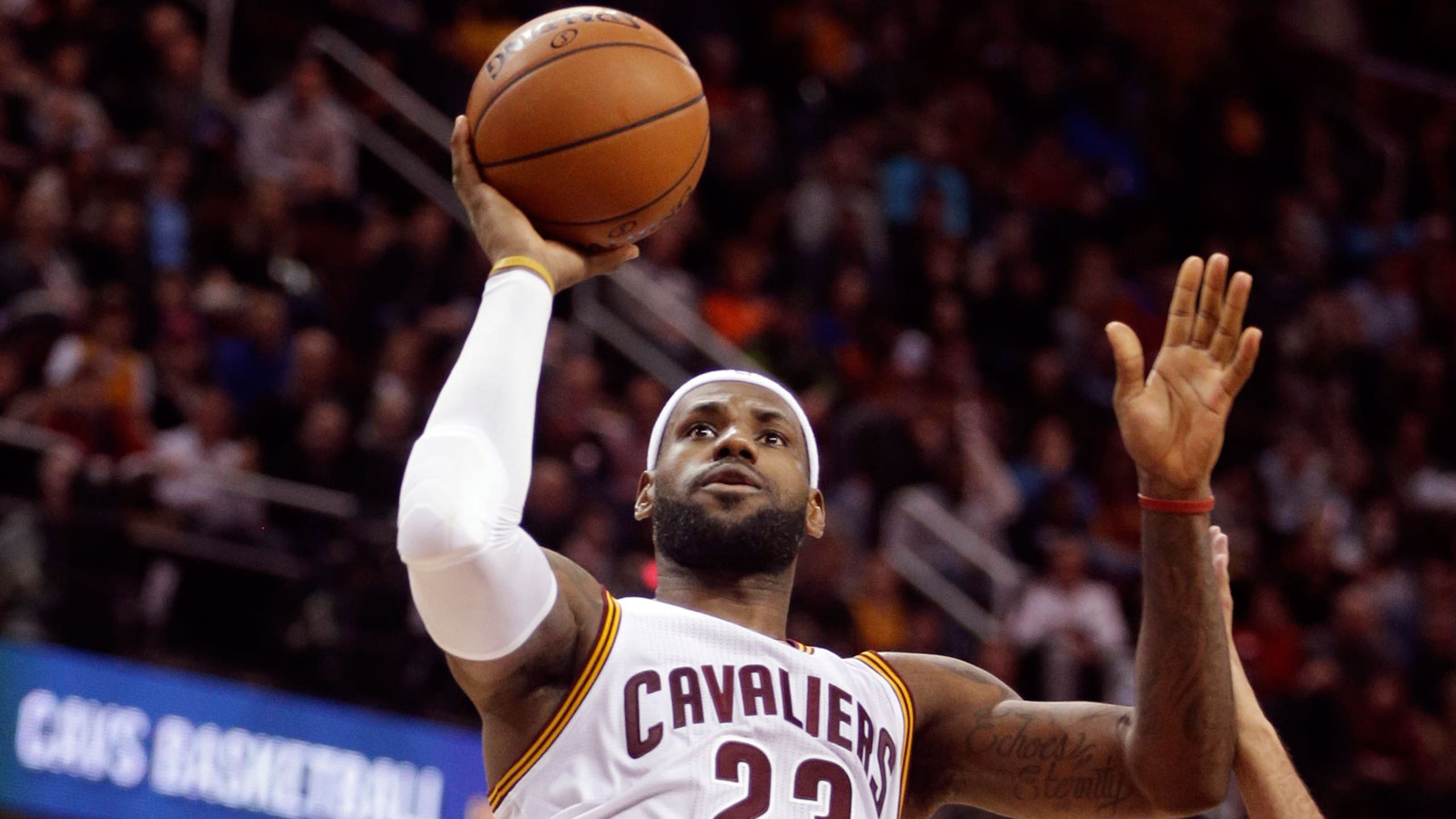 LeBron, Cavs show who's boss in stealing eighth straight win
BY foxsports • December 10, 2014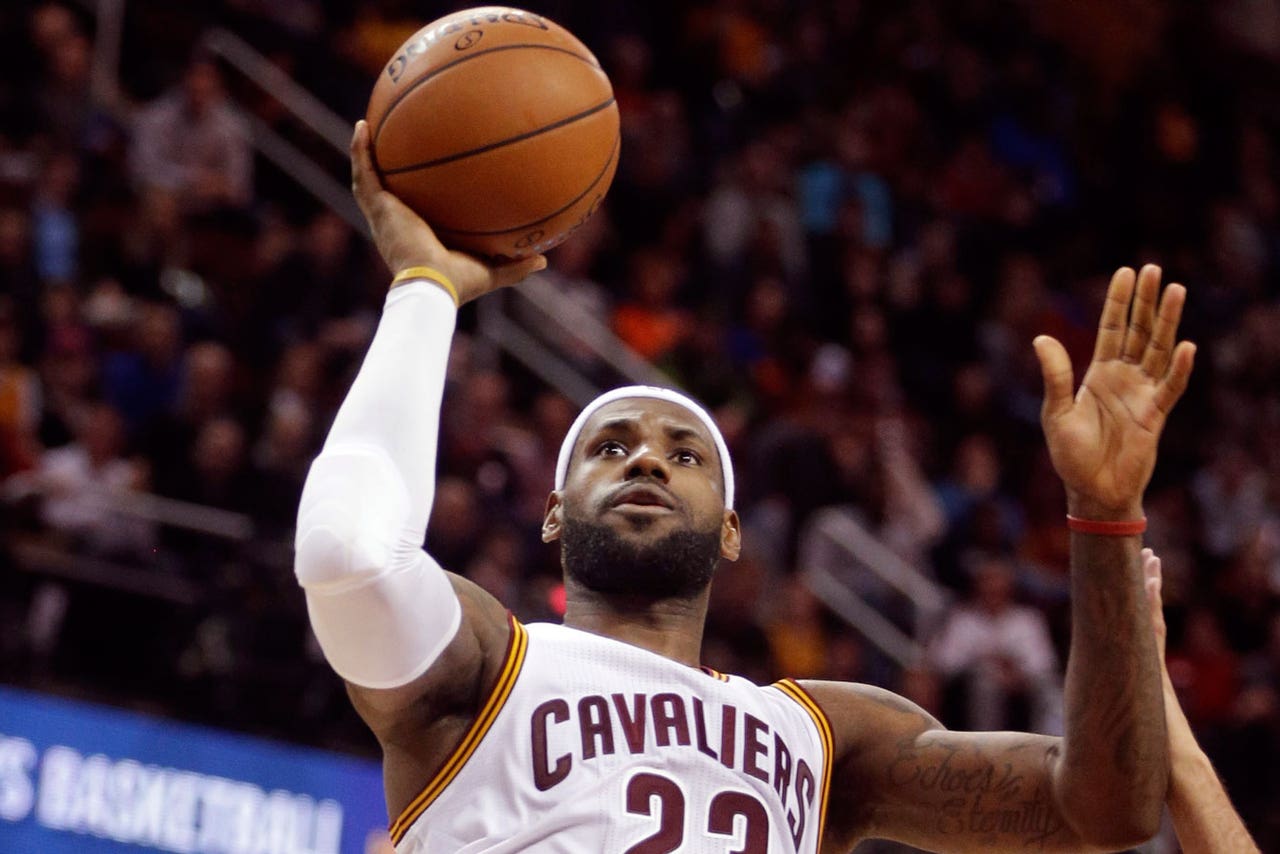 Random dribbles from the Cavaliers' 105-101 thriller of a win over the visiting Toronto Raptors on Tuesday:
1. Coach David Blatt would probably prefer it if his team played well for an entire 48 minutes -- as opposed to just flipping a switch. But with eight straight wins, my guess is he's OK with just about anything these days.
2. The Cavs (13-7) beat the Eastern Conference leaders after trailing by 14 points, after allowing the Raptors to shoot 65 percent in the first half, after getting dominated near the basket most of the night. All seemed lost. And the Cavs won. That is the sign of a great team. The Cavs probably aren't great yet. But they indeed are showing signs.
3. LeBron James scored a game-high 35 points -- and none were more glorious than his 3-pointer with 48 seconds left. It broke a 99-all tie and gave the Cavs the lead for good. He immediately turned to the crowd and shouted something about big shots being "what I'm here for." He's right. He won two titles with the Miami Heat. He knows how to play like a champion. Tuesday may have been the best example yet.
4. James stole a few passes and turned them into one-man fast breaks. He made his free throws (9-of-9). He took the challenge of defending talented Raptors point guard Kyle Lowry, "just to let him know I'm here," James said. He behaved like a true leader and inspired his teammates.
5. Blatt on James: "Without question, LeBron was there for us throughout the whole game. I think in the bad moments, he sort of kept us from losing our way. In the good moments, he obviously pulled us over the top."
6. As an aside, James' final 3-pointer tied him with Mark Price as the franchise leader (802 as a member of the Cavs).
7. Price noticed and tweeted: "Congrats @KingJames on tying my Cavs record for most 3 pointers made. I will enjoy sharing the top spot at least till you break it next game."
8. LeBron responded with a tweet of his own: "Thanks Mark! You're a Legend over here in Cleveland forever. #GoCavs #TheLand."
9. I know I keep writing this, but as good as LeBron was, this was far from a one-man show. So many different variables and so many different Cavaliers came into play.
10. One of those Cavs was second-year guard Matthew Dellavedova. Anyone who saw the game already knows he was a major factor. He defended, he corralled two huge offensive rebounds near the end, he took charges. Mostly, he displayed what coaches mean when they talk about the importance of intangibles.
11. This was Delly's second game since injuring his knee and just his fifth of the season. He plays a similar role to the one ex-Cleveland State guard Norris Cole played next to James with the Heat. Both are high-energy, never-say-die little men off the bench. "I'll take a guy like that on my team any day," James said of Delly.
12. Dellavedova played most of the fourth quarter while Dion Waiters mostly sat -- but Waiters also did his fair share of keeping the Cavs alive. There were times when Waiters was the only Cav who could score, and there were times when he almost single-handedly kept the Raptors from turning it into a rout. Waiters finished with 18 points on a sizzling 7-of-10 shooting. Over the last two games, he's averaging 22 points. Watch out if this guy comes to life on a regular basis.
13. Afterward, Waiters mostly just talked about Dellavedova. "Everybody played a big part, especially Delly," Waiters said. "That's the type of stuff he brings to the team. That's my guy, man."
14. Blatt on Dellavedova: "We've been waiting for Matty to come back. He's a big part of what we do because he gives us a steady hand off the bench. He gives us great energy and activity on the defensive end. He plays simple and smart on the offensive end. I think he really helps the guys around him to play properly."
15. I spent much of the night feeling like Kevin Love looked lost and out-of-sorts. Then he buried a big three in the fourth quarter and finished with 17 points and nine rebounds. Most players would kill for that to be their out-of-sorts game. Read: Even when Love is just OK, he's still pretty doggone good.
16. Same goes for Kyrie Irving. I love watching this guy and how he's made a real commitment to defense this season. And his "quiet" night on offense produced 13 points and a season-high 10 assists. During this winning streak, Kyrie has played smart, winning basketball, period.
17. Perhaps the most impressive part of the night was how the Cavs held the Raptors to just 13 points in the fourth. Lowry shot 1-of-8 in the final 12 minutes. That was a major change from the first three quarters. This game belonged to the Raptors for at least 36 minutes. "We just had the resiliency to keep fighting," Irving said.
18. The Raptors, man, they're tough. They played again without leading scorer DeMar DeRozan, out with a groin injury. But Lowry is clearly an All-Star, and center Jonas Valanciunas (18 points, 15 rebounds) may not be far behind. The Cavs limited Valanciunas to zero shots, zero points and one rebound in the fourth.
19. Terrence Ross (18 points) is another nice player, particularly if you like guys who can really dunk. James Johnson and Patrick Patterson (12 points apiece) are underrated off the bench. So the Raptors (16-6) could be a team the Cavs face when it means the most. After playing each other three times in three weeks, including twice in five days, the Cavs and Raptors don't meet again until March 4 in Toronto.
20. Tristan Thompson finished with a solid eight points and eight rebounds off the bench. Anderson Varejao went for eight points and six boards.
21. The Cavs go back on the road for two more toughies. It starts Thursday at Oklahoma City. Reigning league MVP Kevin Durant and star guard Russell Westbrook have returned from injuries for the Thunder. The next night, it's at New Orleans and another MVP candidate, Pelicans forward Anthony Davis.
22. But sometimes, the road can be your friend. Just ask LeBron, who said that on the road "it's just us." That leads to team bonding and "a bunker mentality,." he added. The Cavs are 6-3 on the road.
---