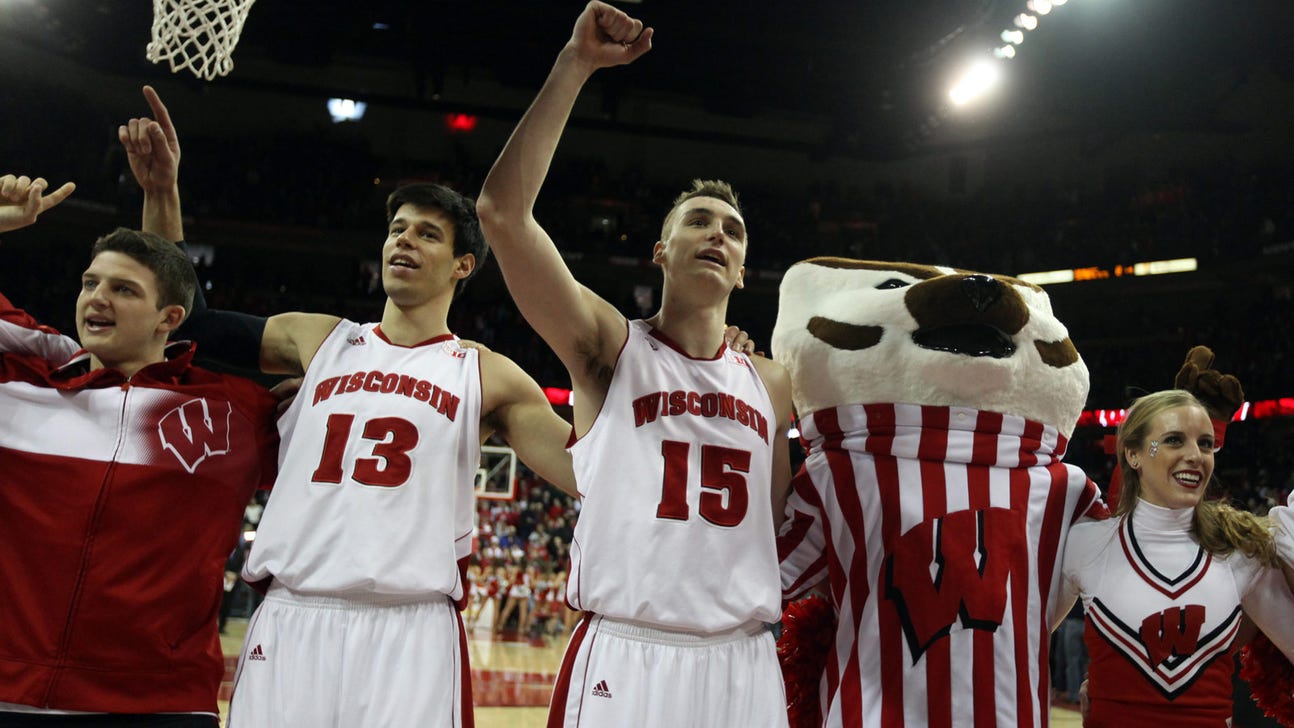 Late-game 'controversy' caps Badgers' Red-White scrimmage
Updated
Mar. 4, 2020 11:34 p.m. ET

MADISON, Wis. -- Controversy descended on the Kohl Center for Wisconsin's annual Red-White basketball scrimmage on Sunday afternoon. Then again, that depends how one defines a real controversy.
The final box score will show Team White defeated Team Red 57-56 in front of an announced crowd of 8,002 fans. But that score does not count a buzzer-beating 3-pointer by Team Red forward Duje Dukan, who appeared to bury a shot from the right wing before time expired. Of course, the entire play came after coach Bo Ryan gave Team Red ball possession despite committing a seemingly game-ending turnover with 1.1 seconds remaining.
Huh?
All in the name of entertainment for fans -- and the opportunity for Ryan to see his players compete for even one more possession as the regular season approaches.
"We had an inadvertent whistle," Ryan tried to explain. "So the Red was going to get the ball at the end, even though they were down one. If the ball would've been given to the White, it would've been over. So a little controversy, but it was an inadvertent whistle.
"The Red gets the inbounds pass. It was bobbled slightly to the floor and we looked at the review, and it wasn't off in time. So the White still won by one. That's the final decision."
Far be it from anyone to point out there was no actual replay review for an intra-squad scrimmage.
"Coach made the final decision but I guess the final stats are printed, so it is a game winner," Dukan said. "I'm counting it as a win."
The debate may rage on, but the final score hardly matters in the grand scheme of things. For the record, the official game-winner came from Team White point guard Bronson Keonig, who buried a jumper off a screen over Dukan with 2.8 seconds remaining. Team Red's Zak Showalter threw the ensuing inbound pass to point guard Traevon Jackson, who stepped out of bounds with 1.1 seconds remaining.
Then came the decision from Ryan, who asserted his influence on the game by convincing referees to give Team Red one more opportunity to win the game.
"That was definitely a coach Ryan move," Badgers forward Vitto Brown said. "He just wanted to see if we could play some defense in a clutch moment. We didn't. He knows we won that game because it was out on them."
So, who were the standouts from Sunday's scrimmage?
Perhaps the most notable development was the play of Brown, a sophomore who showed he's ready to take over the team's fourth frontcourt spot in the regular rotation. Brown finished with 11 points and eight rebounds on 5 of 11 shooting for Team White.
"Vitto was really good," Dukan said. "He was really hitting the glass hard, and that's what we need out of him. You can definitely see he worked on it in the summer time."
Brown has been battling with true freshman Ethan Happ for the fourth frontcourt position behind starters Frank Kaminsky and Sam Dekker and reserve Dukan. Happ matched
Brown with eight rebounds on Sunday but scored three points and missed both of his field-goal attempts for Team Red.
"I think I did pretty good," Brown said. "It's not my place to say who's winning this battle right now. But I definitely wanted to go out there and show as much effort as I could."
Brown had been limited this offseason because of a foot injury but is now at full strength, and his ability to make hustle plays could prove to be a necessary element to the team's success. Last season, he appeared in 14 games and averaged 0.4 points and 0.9 rebounds in 3.1 minutes per outing.
"Vitto's just happy to be out there coming off the fracture," Ryan said. "He's been getting better every day. We needed his energy."
Forward Nigel Hayes, who is expected to fill the team's fifth starting spot, paced Team White with 14 points along with walk-on freshman guard T.J. Schlundt. Schlundt buried all four of his 3-point attempts. Koenig added 10 points, and guard Josh Gasser finished with eight points, eight assists and seven rebounds.
Kaminsky, the Big Ten preseason player of the year, led Team Red with 23 points on 9 of 15 shooting and collected five rebounds. Dukan tallied 15 points, and guard Jordan Hill added seven. Both teams combined to shoot 15 of 29 from 3-point range (51.7 percent).
Sunday primarily represented an opportunity for fans to watch fourth-ranked Wisconsin in person for the first time this season, and for players to feel the Kohl Center atmosphere and compete yet again.
Dukan said the crowd, which snaked well outside the Kohl Center doors an hour before tip-off, was the largest he had ever seen for the scrimmage. Interest no doubt has peaked for a Wisconsin group that returns seven of its top eight rotation players off a team that lost 74-73 to Kentucky in the Final Four in April and finished 30-8.
"I think after the Kentucky game, everybody was anxious to come back in front of our home fans especially," Dukan said. "And to be able to do it now, everybody is kind of getting anxious for the season. I think we're ready to go."
Ryan, in his 14th season as Badgers coach, said he also had not seen a crowd as big as the one that showed up Sunday and jokingly suggested it was because Brown sang the national anthem before the game.
"To get this kind of crowd in October," Ryan said, (it's) a lot of fun."
Dekker update: Dekker, who sustained a left ankle injury during Friday's practice while driving to the basket on Dukan, did not play in Sunday's scrimmage. He did not wear a walking boot but limped noticeably during pre-game warmups.
"Sam's fine," Gasser told the Big Ten Network on the sideline during Saturday's Wisconsin-Maryland football game. "Just in practice (Friday) during a scrimmage, just kind of tweaked his ankle a little bit. A little ankle sprain. But everyone's kind of had that. So, Wisconsin fans need to calm down a little bit. He'll be all right. He'll be out a few days, maybe a few weeks, but by the time our first game comes, he'll be good.
Ryan, meanwhile, did not bite on a question about Dekker's status after Sunday's scrimmage.
"They just let me coach," Ryan said. "They haven't given me that other license yet. I don't know anything about injuries. I never have."
Wisconsin plays host to Division II UW-Parkside on Nov. 5 and opens the regular season at home against Northern Kentucky on Nov. 14.
Team White: 57
Hayes 5-8 2-2 14, Brown 5-11 1-2 11, Gasser 3-7 1-1 8, Koenig 4-9 0-0 10, Dearring 0-3 0-0 0, Moesch 0-0 0-0 0, Schlundt 5-7 0-0 14. 3-pointers: Hayes (2-4), Gasser (1-4), Koenig (2-5), Dearring (0-1), Schlundt (4-4). Rebounds: Hayes 2, Brown 8, Gasser 7, Koenig 1, Dearring 2, Moesch 0, Schlundt 0.
Team Red: 56
Dukan 5-6 3-4 15, Happ 0-2 3-4 3, Kaminsky 9-15 3-4 23, Showalter 2-5 1-2 6, Jakcson 1-9 0-0 2, Smith 0-0 0-0 0, Ferris 0-0 0-0 0, Hill 3-5 0-0 7. 3-pointers: Dukan (2-2), Happ (0-1), Kaminsky (2-5), Showalter (1-2), Hill (1-1). Rebounds: Dukan 4, Happ 8, Kaminsky 5, Showalter 5, Jackson 0, Smith 1, Ferris 0, Hill 1.
Follow Jesse Temple on Twitter
---