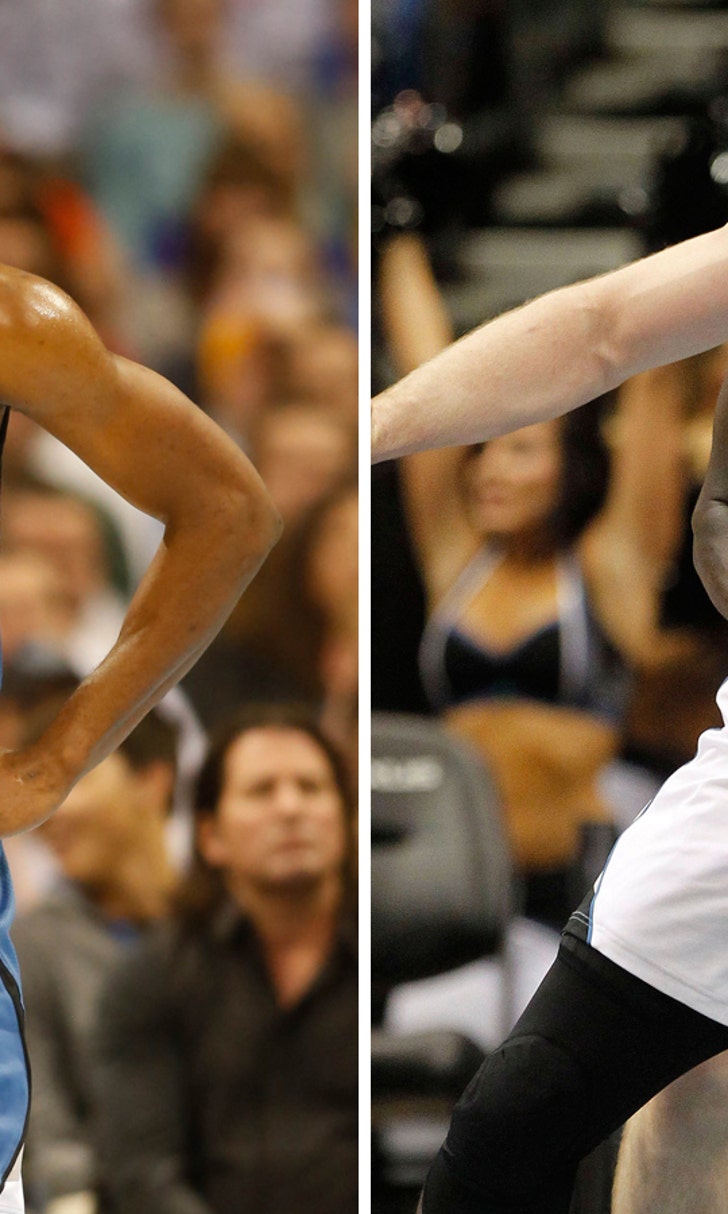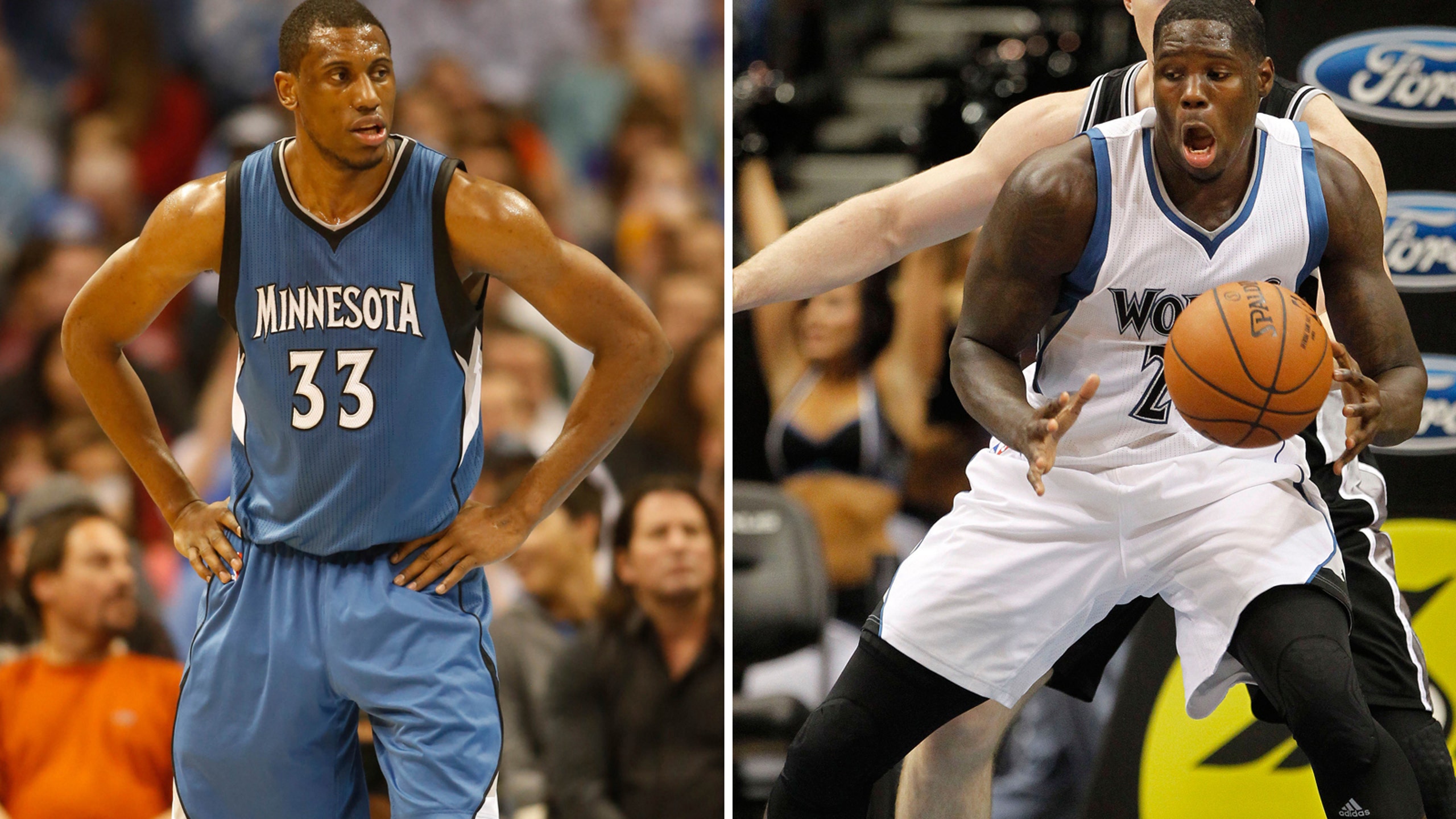 Lacking power: Wolves feeling void at four spot
BY foxsports • January 8, 2015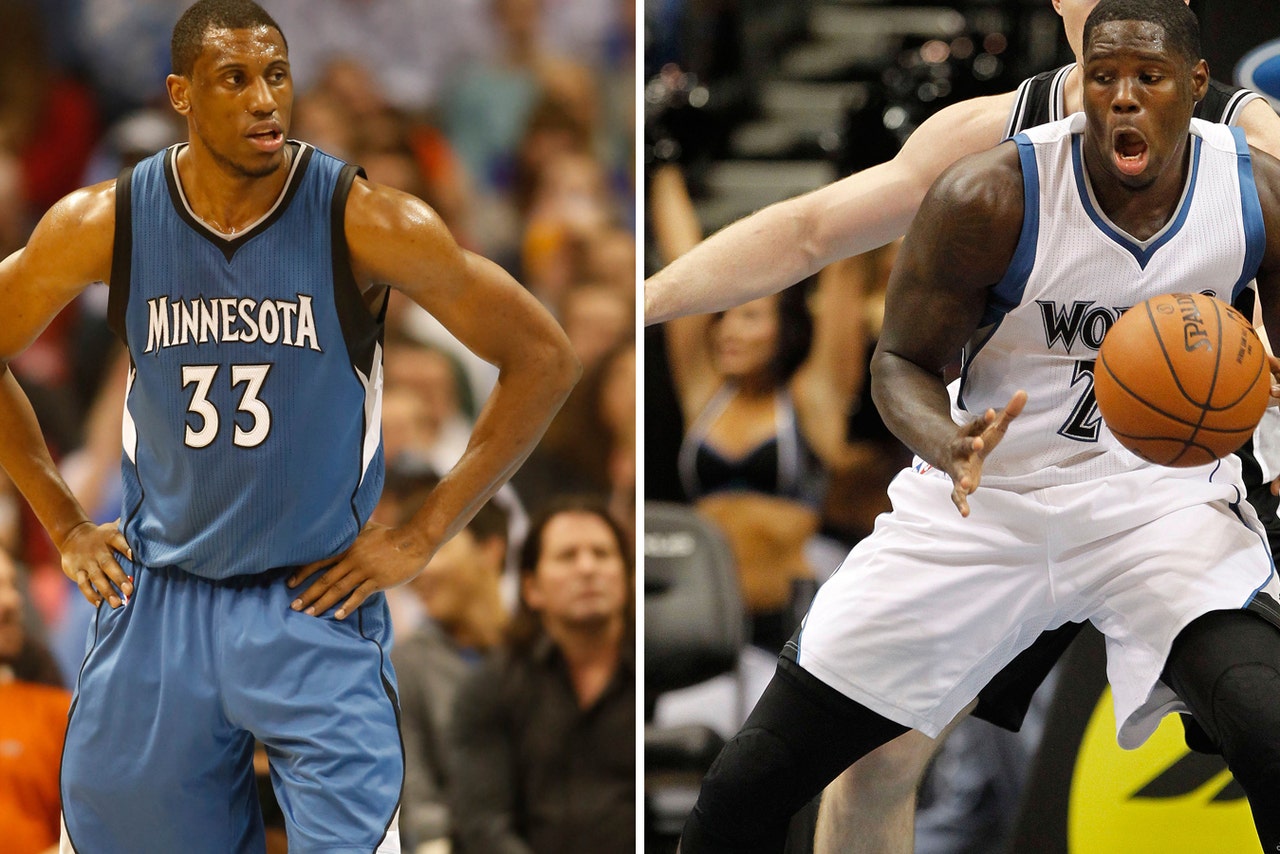 MINNEAPOLIS -- Sitting in front of his Target Center locker before Wednesday night's game, Thaddeus Young eased back into his chair and entertained reporters with tales from his seven seasons in Philadelphia.
There was the time Shavlik Randolph broke his ankle during practice and claimed he was fine despite his foot jutting in a direction it isn't supposed to. There was Reggie Evans, the greatest teammate a guy could ask for despite his well-earned reputation as an agitator. And there were games when Young, 6-foot-8 and 220 pounds, had to play center on a depleted Sixers roster.
Off on the other side of the dressing room, Young's backup appeared just as relaxed. Anthony Bennett serenely bobbed his head to music pumping through his ear buds, loosening up his back with a foam roller.
It was as tranquil as the Timberwolves' power forwards have been seen in a while, and the way their respective seasons are going, it might not have been expected. They're accustomed to optimal four-spot play around here, after all, and while the Kevin Love trade was always going to represent a step back, uneven performances from Young and Bennett have rendered it a significant one.
Respectively, the pair ranks 42nd and 48th at their position in Hollinger player efficiency rating. Both obtained in the blockbuster deal that sent Love to Cleveland, neither player has lived up to expectations.
Young and restless
At one point during the Wolves' loss Dec. 30 at Utah, Young turned to assistant Sam Mitchell and lamented, "I'm just having one of those years."
"Every player has a year where he's not having the greatest year," the Memphis native said. "My first time was my third year. I played pretty decent, but it was just one of those years where everything was going wrong. It was just one of those situations. Hopefully, I'll get past it."
Like that 2009-10 campaign in Philly, Young has been solid, but nothing more than that. His scoring (13.8 points per game), shooting percentage (43.8), rebounding (4.5 per game) numbers are all slightly down from last season, and his 56.6-percent free-throw mark is the lowest of his career.
That's cost the Wolves late in games more than once during their current 13-game losing streak.
Part of it is playing in a new system. Part of it is playing in a starting lineup with a pair of 19-year-old rookies while Ricky Rubio, Kevin Martin and Nikola Pekovic rehab from injuries.
Young also missed five games in November to deal with the death of his mother.
"I'm very hard on myself at all times," said Young, whose 13.67 PER puts him about a point-and-a-half below the league average and is also the lowest of his career. "I just want to win basketball games, and if I can put myself in a position to help us win, that's great."
Dirty work
Bennett, the No. 1 overall pick in the 2013 draft, teased fans' imaginations with a Yeoman's type of preseason, averaging 10.8 points on 51.4 percent shooting and 6.5 rebounds per game. He used his strength to outman opponents inside and his athleticism to get to the rim and play sound defense.
But when the regular season rolled around and more minutes began going to Young, the mystique quickly wore off.
Bennett's regular-season metrics -- 5.8 points per game, 43.5 percent shooting, 3.9 rebounds per game, 12.95 PER -- are all up from a tumultuous rookie season that had some observers already calling him a bust. That's not a label becoming of a now-serviceable backup power forward. But coach and president of basketball operations Flip Saunders expected more than that when he insisted on including Bennett in the Love trade.
The physical tools -- a more chiseled, 6-8, 245-pound frame and a 7-1 wingspan -- are there. So is Bennett's health after multiple offseason operations (LASIK, tonsil and adenoid removal, etc.) and conditioning and strength following two separate stints in California with trainer Frank Matrisciano.
"A lot healthier," Bennett said of how he feels compared to a year ago. "I don't even think I was healthy at this moment.
"But at the same time, I'm just trying to put all that behind me, start fresh here and try to improve."
Now, Saunders says, the mental part of Bennett's game has to catch up.
"I believe he believes he's got to show by making shots," Saunders said. "We've told him, 'You have a better chance of getting out of a game by trying to shoot your way into the game than you do by doing little things -- playing defense, being aggressive, communicating, being a force defensively, rebounding the basketball.
"We need someone that does dirty work for us."
In 16.2 minutes per game, Bennett averages 5.8 field-goal attempts per contest.
"Every time he checks into the game, I try and give him some words of confidence," Young said. "'I know you want to go out there and score lots of points and do lots of different things, but sometimes, the small things is what gets you the most points.'"
Said Saunders: "He's got the makeup, he's got the body, he's got everything he needs in order to do that. And hey, if you embrace that type of role, you can be successful."
Now and then
Despite his relative placidity, Young came out flat Wednesday, going 0 for 5 from the field in a scoreless first half. But after the break, he settled in, finishing with 13 points and eight boards.
"I just went in there and locked in," Young said. "I think the biggest thing was just being aggressive and attacking the basket and shying away from the jump shots."
Bennett's night was the opposite. Ten of his 14 points and six of his 10 rebounds came in the first half, but he went quiet down the stretch. It was his first double-double since Dec. 6.
That's been the pair's season thus far: a dose of effectiveness here, a step in the wrong direction there.
Young has a player option on his contract for next season and may be wise to take it and hit free agency in 2016 when the NBA's new TV deal kicks in. Bennett is under contract through 2017-18, with a team option and a qualifying offer on the final two years of his rookie deal.
Another year to develop behind Young might behoove Bennett. The 21-year-old Bennett is part of the club's run-and-gun future centered on fellow Canadian Andrew Wiggins, the lynchpin in the Love trade.
That's the future. Right now, unless Young and Bennett each establish some more consistency, the power will remain sapped from the four spot in Minnesota.
Follow Phil Ervin on Twitter
---