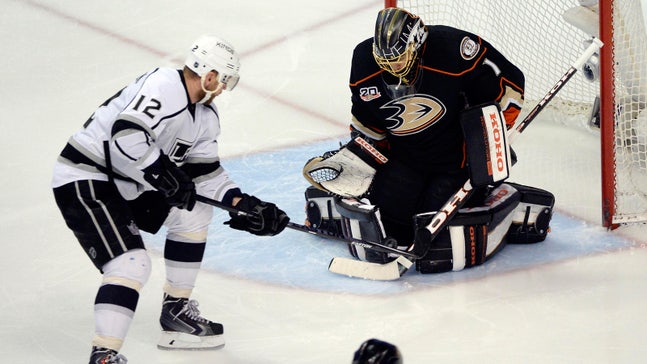 LA Kings shut down Ducks 3-1, take 2-0 series lead
Updated
Mar. 4, 2020 10:02 p.m. ET

ANAHEIM, Calif. (AP) -- When the Los Angeles Kings are on top of their formidable defensive game, they revel in the silence they can create in a frustrated road arena.
Although they're not used to the cheers and chants that filled Honda Center while Jonathan Quick composed his latest shutdown symphony Monday night, they plan to ride that momentum right back up the freeway.
Quick made 36 saves, Marian Gaborik scored his third goal in two games, and the Kings beat the Ducks 3-1 to take a 2-0 lead in their second-round series.
Alec Martinez also scored for the Kings, who opened their first playoff series against their local rivals with two victories at a road arena packed with their own fans. The Ducks' faithful had almost nothing to cheer during a remarkable effort by the NHL's best defensive team.
"It doesn't even feel like being on the road," Kings coach Darryl Sutter said. "We played really good in this building in the regular season. It was the same for us tonight."
Game 3 is Thursday at Staples Center.
Dwight King added an empty-net goal for Los Angeles, which has won six straight postseason games and is halfway to its third straight trip to the Western Conference finals. Less than two weeks ago, the Kings were down 0-3 in their first-round series against San Jose.
The Kings' defense is just that good -- and they're also scoring just enough goals to beat even the high-powered Ducks.
"We could only dream of this, really," said Kings defenseman Drew Doughty, who played more than 26 minutes. "They might say we don't deserve it, but we won two games here, and that was our goal."
Los Angeles didn't need any last-minute heroics from Gaborik, who scored in the opening minute instead. Martinez added another first-period goal, and King scored after a bad pass by Cam Fowler with an extra Anaheim attacker.
NHL postseason scoring leader Anze Kopitar had another assist for the Kings, who followed up their overtime victory in the opening game of the first postseason Freeway Faceoff with a methodical defensive performance against the high-flying Ducks.
Los Angeles managed just nine shots in the final two periods, but Quick comfortably sat on a one-goal lead for more than 46 scoreless minutes until King's empty-netter.
"We found a way to squeak one out tonight because we have the best goalie in the world," captain Dustin Brown said.
Patrick Maroon scored a power-play goal and Jonas Hiller stopped 14 shots for the Ducks, who couldn't crack the Kings' NHL-best defense despite controlling play for long stretches.
The Kings played without injured defensemen Robyn Regehr and Willie Mitchell, yet still kept the Ducks' offensive stars largely on the perimeter. Hart Trophy finalist Ryan Getzlaf was held to one assist, while Corey Perry still hasn't scored a point in the series.
"I'm ticked off right now," Getzlaf said. "We're in playoff time now, and there are no excuses for anything. We've got to be better, I've got to be better, and I expect my group to respond."
The game didn't look like a defensive struggle in the opening minutes when Gaborik continued his postseason scoring spree with his third goal in roughly 13 minutes. The Slovak right wing, acquired from Columbus near the trade deadline, scored the tying goal in Game 1 with 7 seconds left in regulation before getting the overtime winner.
Gaborik's line broke out on an odd-man rush on the opening shift of Game 2, and he turned the corner on defenseman Ben Lovejoy to skate in alone on Hiller for a short-side shot. Kopitar, the NHL's playoff scoring leader, set it up with his 10th assist of the postseason, giving him a point in every Kings game.
"It's tough for you to have almost a half-breakaway for your first shot," Hiller said. "They were 100 percent ready at the puck drop. They were just a little sharper, especially early. The first period wasn't our best. We kind of found our game later, but can't expect to come back every night."
The Ducks evened it during 4-on-3 play midway through the period, with Maroon's pass attempt deflecting off Kings defenseman Jake Muzzin's stick.
Los Angeles reclaimed the lead less than 2 minutes later when Martinez's shot from the point deflected off Anaheim's Jakob Silfverberg, giving the Kings two goals on their first five shots.
NOTES: D Jeff Schultz replaced Regehr in the Kings' lineup, playing nearly 20 minutes. Schultz, the longtime Washington defenseman who spent this season in the AHL, is the fourth player to make his Kings debut in a postseason game, joining a club that includes current teammate Tanner Pearson, who did it last season. ... Doughty limped to the dressing room late in the second period after an unpenalized slash by Francois Beauchemin, but returned a few moments later. ... Getzlaf, Fowler and Perry had minus-2 ratings.
---