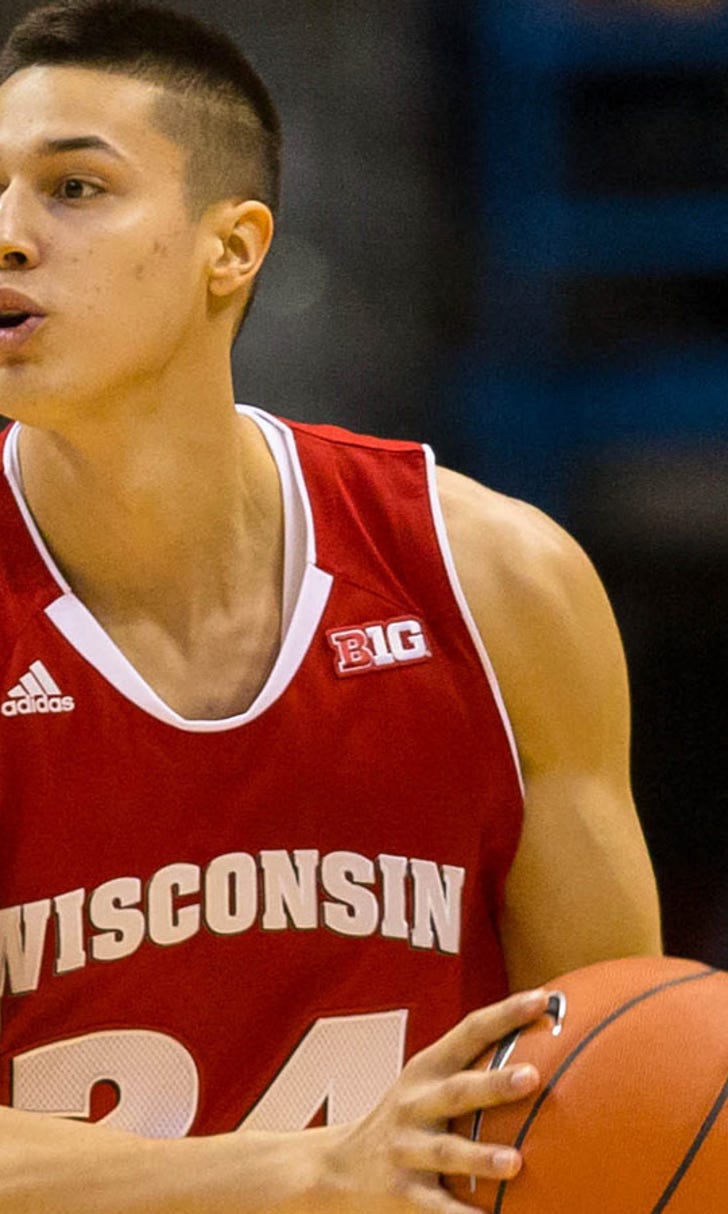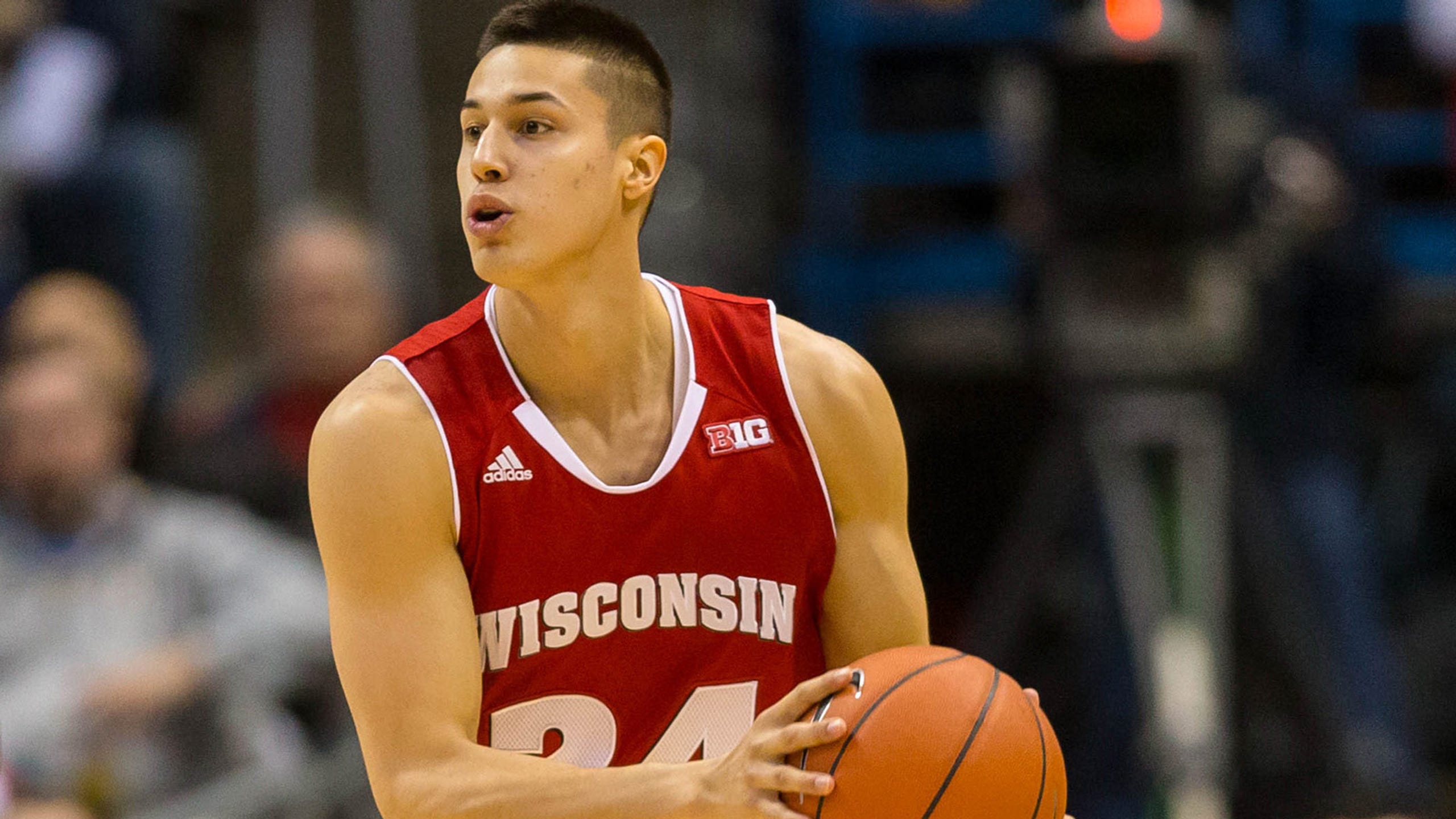 Koenig ready to take turn piloting Wisconsin's offense
BY foxsports • January 13, 2015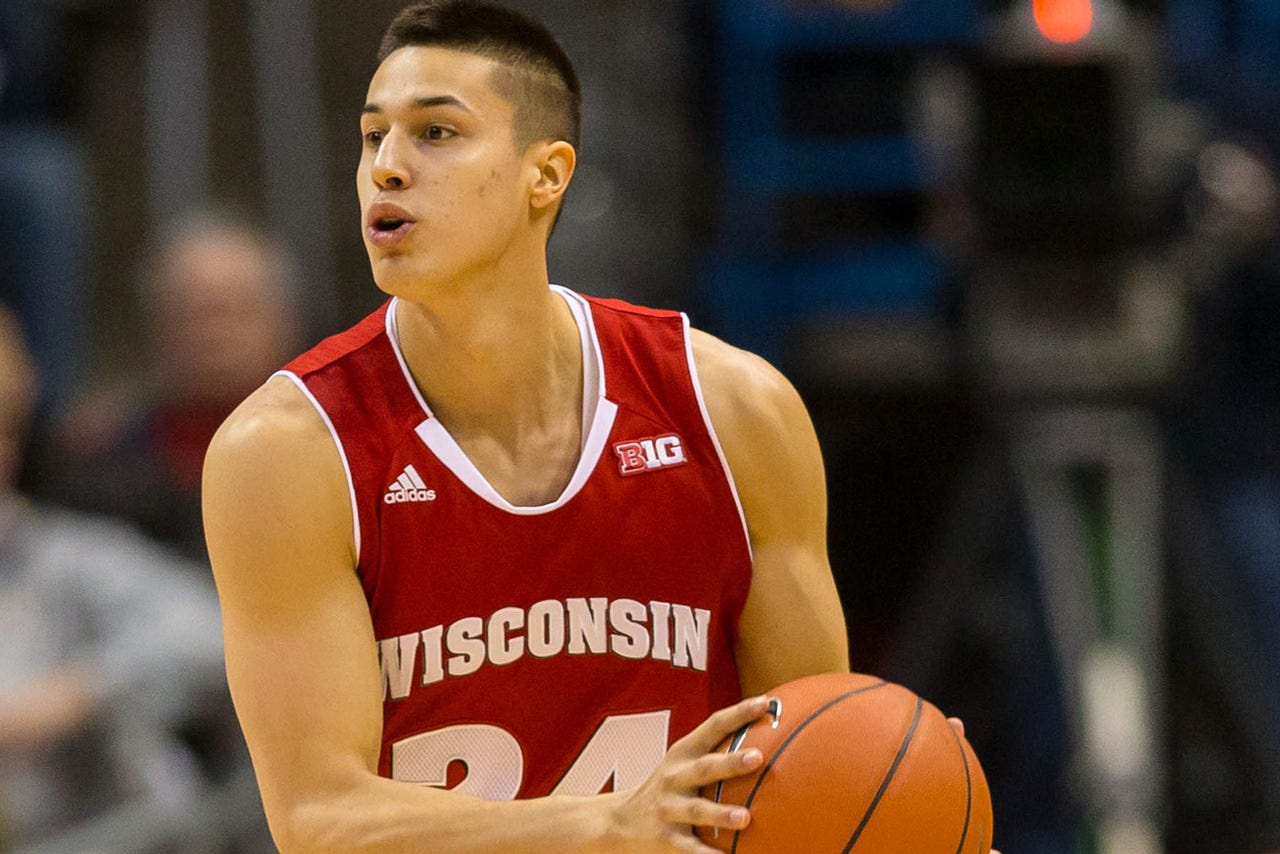 MADISON, Wis. -- Bronson Koenig knew when he began his sophomore season that he would take on a bigger role with Wisconsin's basketball program. But to suddenly be thrust into the Badgers' starting point guard spot at mid-season? That's something even the most optimistic Koenig backers likely could not have seen.
Yet that's exactly where Koenig finds himself after starting point guard Traevon Jackson suffered a broken right foot against Rutgers on Sunday night. Jackson will undergo surgery Thursday, will not begin rehab for 2-3 weeks and very likely will miss up to six weeks.
That means Koenig has been handed the keys to one of the most reliable machines in college basketball. And it'll be up to him to push the right buttons, although this is not the way in which he hoped to earn the job.
"It's very unfortunate that Trae had that injury," Koenig said before Tuesday's practice. "But someone goes down like that, people have got to be ready to step up. I'm sure I'm ready to step up. My teammates and Trae also, which is going to be big, are definitely going to support me the whole way."
Koenig will make his second career start -- and first replacing Jackson -- when No. 7 Wisconsin (15-2, 3-1 Big Ten) plays host to Nebraska (10-6, 2-2) at 8 p.m. Thursday in the Kohl Center. His first start came Sunday against Rutgers in place of center Frank Kaminsky, who missed the game because of concussion-like symptoms. But Koenig's role will be entirely different on Thursday.
"Bronson's going to have a lot on his hands the next few days," said Kaminsky, who was medically cleared to return to practice Tuesday. "It is definitely tough going from a sixth or seventh guy to playing starter's minutes literally overnight. He's ready for it, and I know he'll figure everything out. It might take a few days, but I know he'll be ready for when Nebraska comes."
This season, Koenig is averaging 4.9 points and 1.2 rebounds while playing 20.5 minutes per game. He also is coming off a game in which he played a career-high 31 minutes. What Koenig will be asked to do is run Wisconsin's team, make smart decisions and put teammates in position to score. He is exceptional as a passer and has 36 assists to eight turnovers, which is the best ratio on the team.
One area Koenig will need to improve is his leadership ability -- an area in which Jackson excels. Jackson, however, had started 84 consecutive games and also showed a willingness to be a playmaker in critical late-game situations. Now, Koenig will have no choice but to try and do some of the same things.
"He's going to have to," Badgers guard Josh Gasser said. "There's no way around it, really. Point guard in the system, you're given a lot of opportunities, a lot of freedom to make decisions and be a leader on the court. A lot of time the ball's in your hands and you've got to make plays for yourself and others. Bronson's shown he can do that. But doing it more consistently and throughout a longer period of time."
Koenig said Jackson had been a mentor to him during his first two seasons in the program, taking him under his wing and teaching him the intricacies of being a point guard in Badgers coach Bo Ryan's system. That support, he said, isn't going to change with Jackson sidelined.
"Coming in as a freshman point guard, I was very tentative and just hesitant to play my game, shoot and stuff like that," Koenig said. "He's kind of taught me to not be that way and like coach (Greg) Gard said, let it rip and let it fly. I think he's taught me to be more aggressive. He's going to continue to do that, too."
Statistically, Koenig has taken a small step back compared to last season. His overall shooting percentage is down from .443 a year ago to .421, and his 3-point accuracy has dipped from .328 to .318. Still, Koenig has the support of coaches and teammates, who recognize this is his time to shine.
"I don't know if we've ever had a backup as prepared as Bronson," Gard said. "I think he's ready for this. We've just got to see him play. I've watched him for a lot of years and know what his potential is. It'll be fun to watch him grow."
Jackson upbeat: Jackson was not made available for interviews Tuesday, but teammates said he was approaching his injury with a positive attitude. The broken foot occurred with 12 minutes, 17 seconds left against Rutgers when Jackson landed awkwardly on the foot of a Scarlet Knights player. He did not play the rest of the game, and the Badgers went on to lose, 67-62.
"Some people could feel down in the dumps, but I know Trae is just doing whatever he can to get back," Kaminsky said. "It's really unfortunate timing-wise, but I know he'll be back as quickly as possible and ready to lead the team again."
Gasser, who missed the entire 2012-13 season while recovering from a torn ACL, said he tried to offer Jackson some advice about how to handle the waiting process. He added Jackson was in a much better spot because he'll return in time to finish the season.
"I just told him when you get back we're going to be a better team overall, and then we're going to go out there and win the thing," Gasser said. "I told him to rehab hard and when he gets back, we're going to be a better team than we were before."
Jackson was averaging 9.4 points, 2.9 assists and 1.7 rebounds in 27.4 minutes per game.
Follow Jesse Temple on Twitter
---