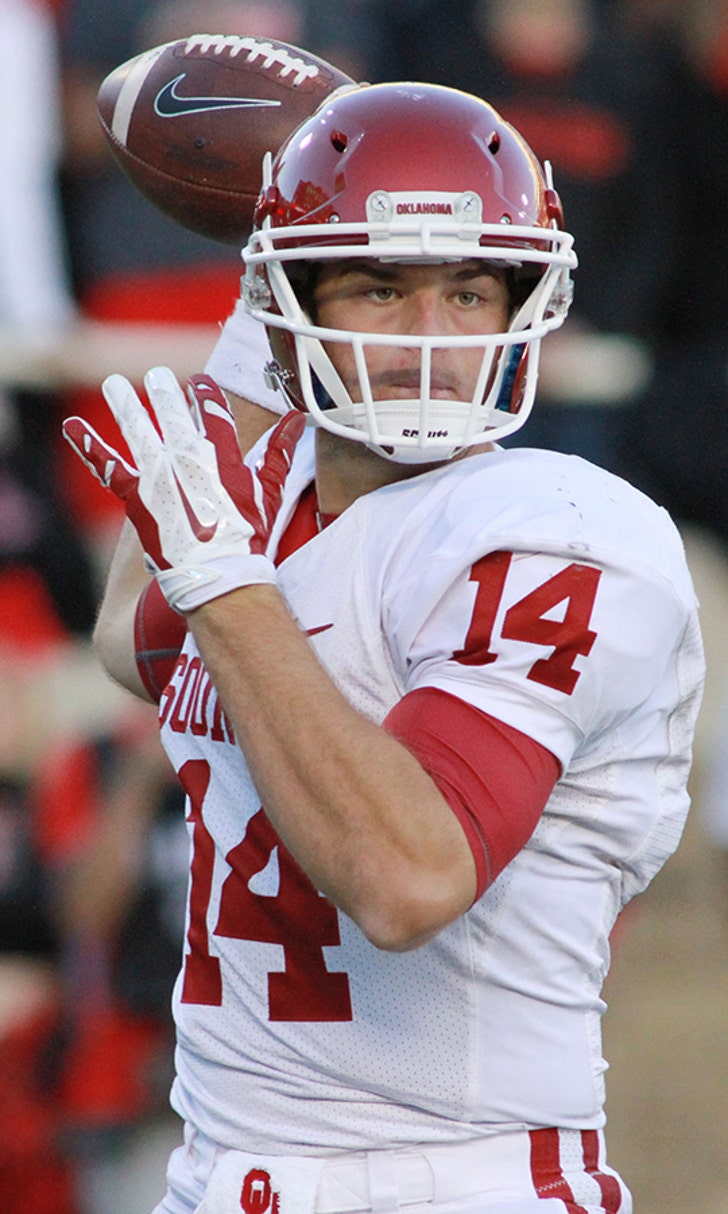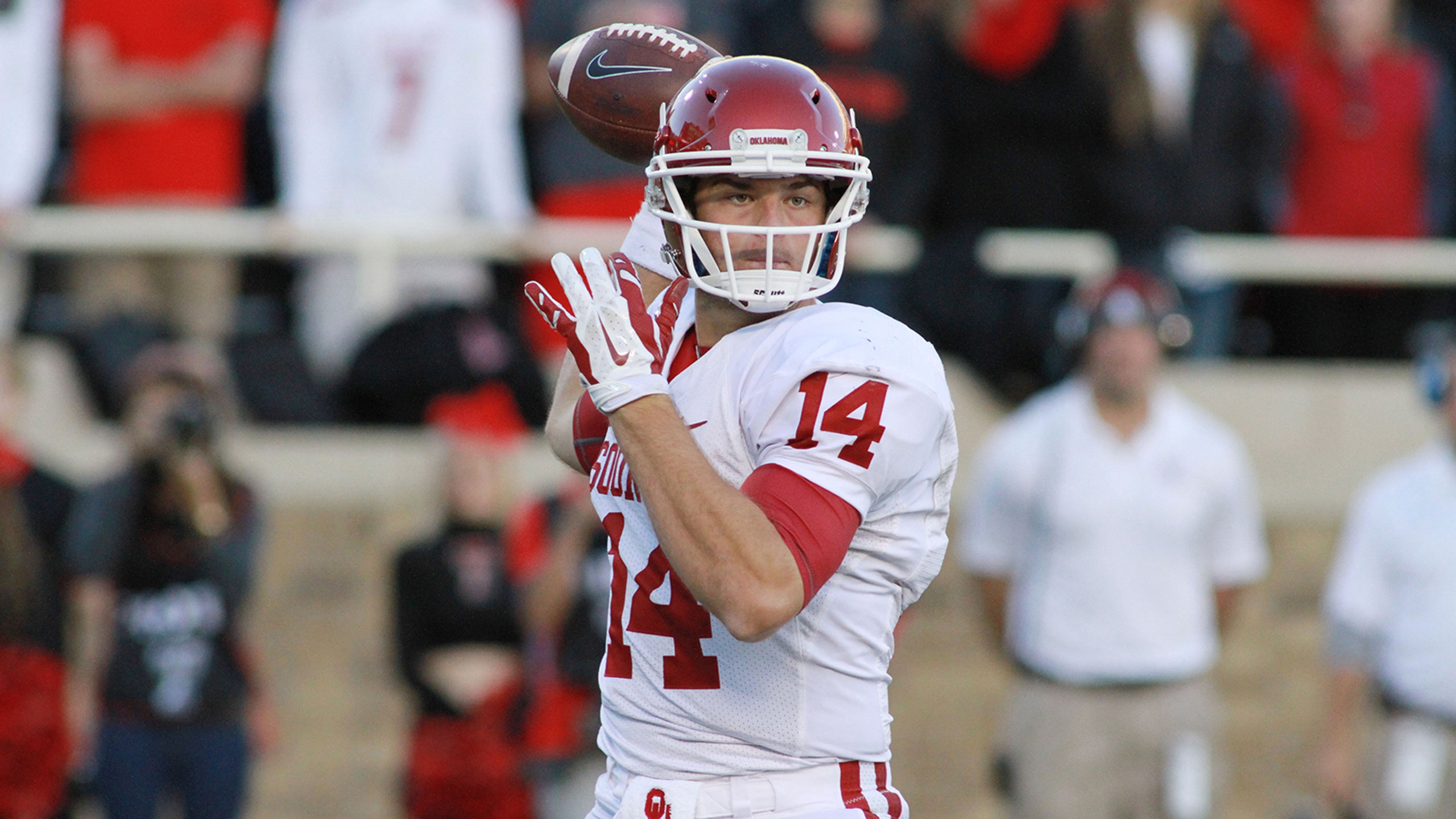 Knight won't play against Kansas, Thomas to start at QB for Sooners
BY foxsports • November 17, 2014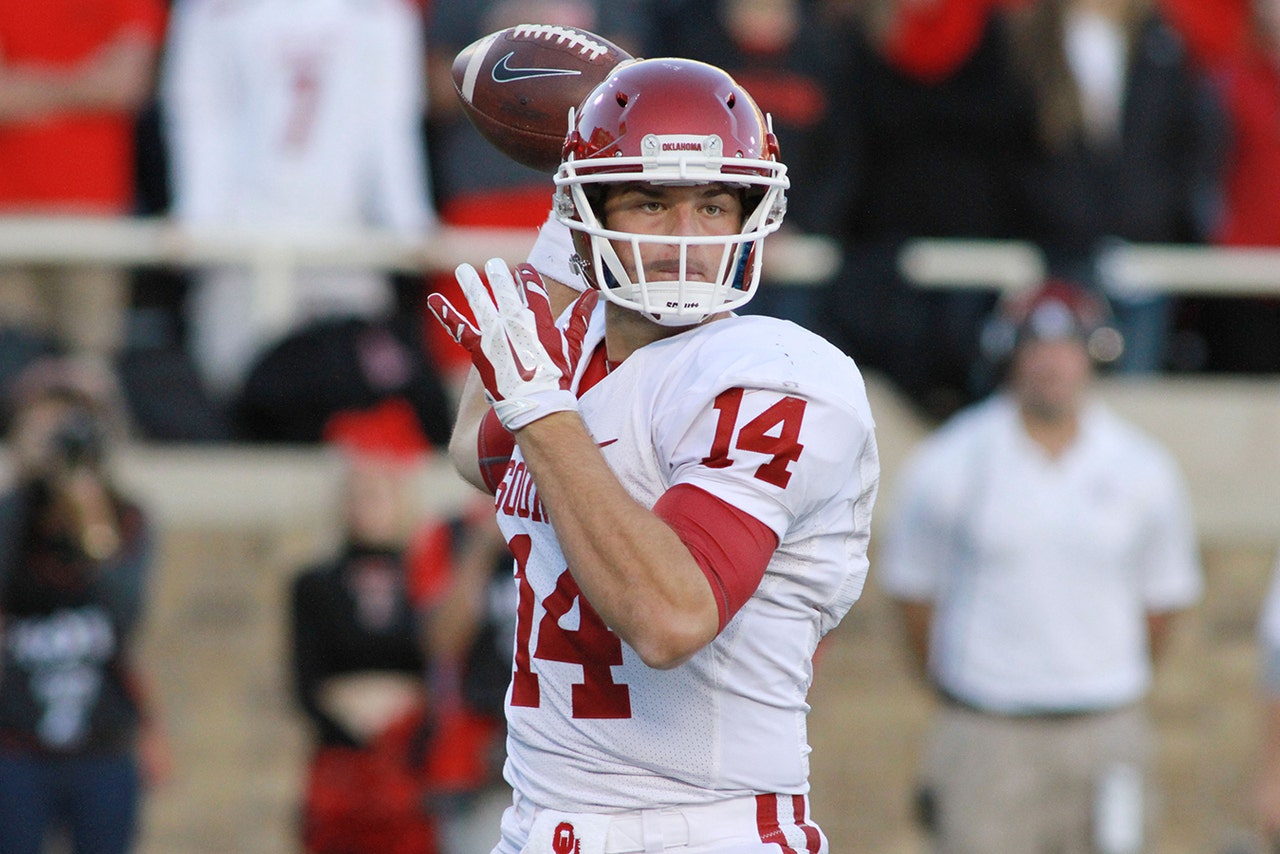 Trevor Knight didn't play against Texas Tech and the Sugar Bowl winning quarterback won't play against Kansas, either.
And now Oklahoma offensive coordinator Josh Heupel isn't committing to Knight when the Sooners take on Oklahoma State for Oklahoma's last regular-season game on Dec. 6.
Freshman Cody Thomas played throughout the Sooners' 42-30 win at Texas Tech Saturday and Thomas will start again as Knight isn't healthy enough to play after suffering what looked like a head injury in the fourth quarter of Oklahoma's loss to Baylor on Nov. 8.
Coach Bob Stoops announced Monday morning Knight would not be playing against Kansas and later Monday afternoon Heupel wouldn't say whether a healthy Knight would be back in the starting lineup against Oklahoma State.
"I'm saying I'm not going to answer any question about a hypothetical two weeks down the road," Heupel said. "When we get to that bridge, we'll cross that bridge."
The question is whether the bridge is burned down. By most accounts, Knight has not been very good this year. Since winning the Sugar Bowl with an electric performance against Alabama, Knight has been inconsistent. The sophomore has started just 14 games in his career, but the he and the Sooners have underperformed against top competition this year.
Knight has 14 touchdowns and nine interceptions in nine games this season. He has completed just 58 percent of his passes overall.
Not exactly the kind of numbers expected from Knight this season. Certainly the production isn't all Knight's fault as the team has not been able to establish a No. 2 receiver behind Sterling Shepard.  But Knight threw a crippling interception against Kansas State in a loss and was a combined 26-of-62 with three interceptions and three touchdowns in OU's other losses against TCU and Baylor.
And now with the Sooners 7-3 overall with no hope of winning the Big 12 or to play in a marquee bowl game, much less make the college football playoff, maybe Stoops and Heupel might be interested in making a more-permananent change. There's not much to lose. 
Meanwhile, Knight has a history of being hurt. Before the Sugar Bowl win, Knight played in eight games and started just five last year. He was the starter for the Sooners last year to begin the season, but was hurt in the second game of the year and was eventually replaced by Blake Bell, before returning late in the season.
Thomas has played in five games this season. He completed just 10-of-20 passes Saturday against Texas Tech, but threw it only three times in the second half. Thomas threw three, first-half interceptions against the Red Raiders.
A strong performance against Kansas and a start against OSU would effectively put Thomas ahead of Knight heading into the spring. The Sooners also will have Baker Mayfield in the quarterback mix next season.
"I don't want to answer questions," Heupel said. "You don't know anything about the situation. How is he (Knight) coming back? How is he feeling? You don't know. When we get to that week, I'll answer any question you got about it. You're talking about hypotheticals in two weeks against Oklahoma State.
Follow Andrew Gilman on Twitter: @andrwegilmanOK
---