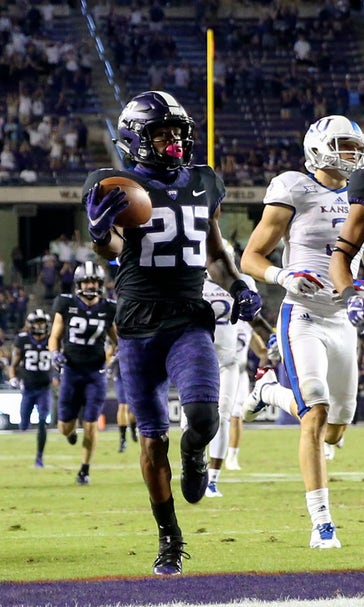 Kansas suffers second straight shutout loss, 43-0 to TCU
October 22, 2017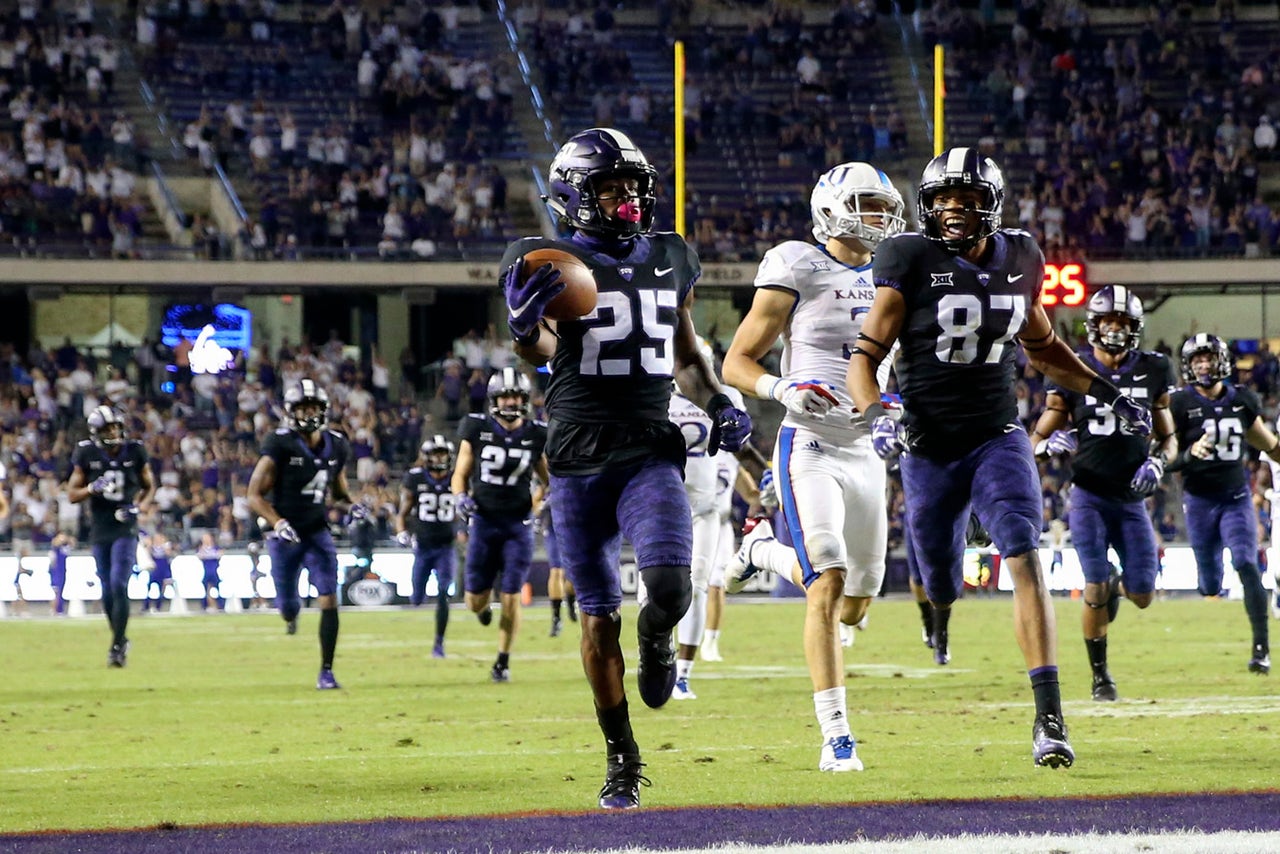 FORT WORTH, Texas -- TCU's KaVontae Turpin went backward to set up a dazzling 90-yard punt return for a touchdown.

The Kansas offense mostly just went backward.

Kenny Hill matched his career high with five touchdown passes, Turpin's return after backtracking to the 3 capped the scoring in the third quarter and the TCU defense dominated the overmatched Jayhawks in the fourth-ranked Horned Frogs' 43-0 victory Saturday night.

Kansas (1-6, 0-4) had 21 yards total offense while tying an 81-year-old NCAA record with its 44th straight loss in a true road game.

With severe weather approaching, both coaches agreed to a running clock from the 12:49 mark of the fourth quarter with TCU leading by the final margin.

"We started hot, slowed down for a minute and picked it back up," Hill said. "The defense was locked down all day. I thought we played well. We played really well."

John Diarse had a 67-yard catch-and-run touchdown for a 24-0 lead in the second quarter and finished with 130 yards on four receptions to help the Horned Frogs (7-0, 4-0 Big 12) improve to 19-0 at home as a Top 10 team under coach Gary Patterson.

TCU outgained Kansas 305-3 in the first half, finished with 475 yards and was never challenged after winning the past three against the Jayhawks by a combined 11 points, including 24-23 last year when the Horned Frogs needed 10 fourth-quarter points to win on the road.

The Jayhawks have lost 47 straight away from home overall since a 34-7 win at UTEP on Sept. 12, 2009. Kansas' Big 12 road losing streak is up to 37 games since a 35-33 win at Iowa State on Oct. 4, 2008.

Western State of Colorado set the record for consecutive true road losses from 1926 to 1936.

On his highlight-reel touchdown, Turpin caught the punt just inside the 10 and took a few steps forward before reversing field and running backward. He slipped out of a tackle as he turned at the 3, broke another one inside the 10 and outran everyone up the right side of the field for a 43-0 lead.

Kansas' visit marked the return of offensive coordinator Doug Meacham, who clearly doesn't have the weapons he shared with Sonny Cumbie in that role the past three years at TCU.

Peyton Bender was 7 of 16 for 38 yards and was sacked four times for 24 yards in the loss. Deron Thompson was the Jayhawks' leading rusher with 10 yards on five carries. The Horned Frogs had 11 tackles for loss, with 10 players getting at least half of one.

"We've got to pick out a few things that we can do well," Kansas coach David Beaty said. "And then we've got to really, really practice them and get good at them so we have something to go to and be able to create some offense for us. That's a challenge that rests on my shoulders."

Jalen Reagor had touchdown catches of 22 and 15 yards from Hill, who sat the fourth quarter and finished 19 of 26 for 278 yards without an interception. He now has 15 TDs and three picks this season. Taj Williams caught Hill's final TD pass, a 26-yarder early in the third quarter.



POLL IMPLICATIONS

With no losses among the top 3 in the poll, the Horned Frogs figure to stay put with one more game before the first College Football Playoff rankings come out. But TCU did exactly what it needed, overwhelming an outmatched opponent from the start.

THE TAKEAWAY

Kansas: The Jayhawks had four first downs, two by penalty. The only first downs on plays that gained yards came on Kansas' first and last series. The Jayhawks had minus-6 total yards after Steven Sims was dropped for a six-yard loss on a reverse on the last play of the third quarter.

TCU: The 24-0 halftime lead didn't reflect TCU's domination. And while the final score won't get much attention, two TD drives to start the second half put the Horned Frogs up 37-0 with nine minutes left in the third quarter. "We need to be able to stop those guys there," Beaty said.

NITPICKING TIME

If the Horned Frogs need a point of emphasis in the coming week of practice, they can start with the kicking game. TCU missed its last two extra points, and by two different kickers (Jonathan Song, and Cole Bunce).

UP NEXT

Kansas: Home against Kansas State next Saturday, seeking its first win over the in-state rival since 2008.

TCU: At surging Iowa State next Saturday, with the Cyclones poised for their first AP Top 25 ranking since 2005.
---