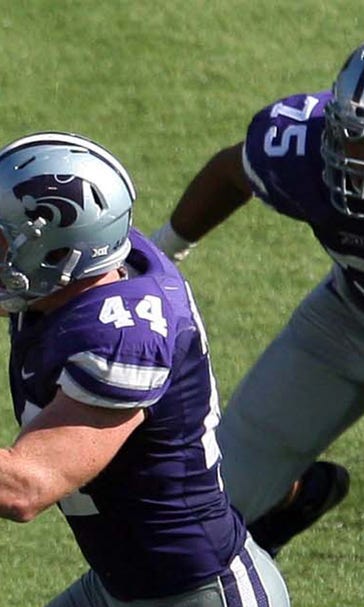 K-State has heard about trap games -- and swears KU won't be one of 'em
BY foxsports • November 25, 2014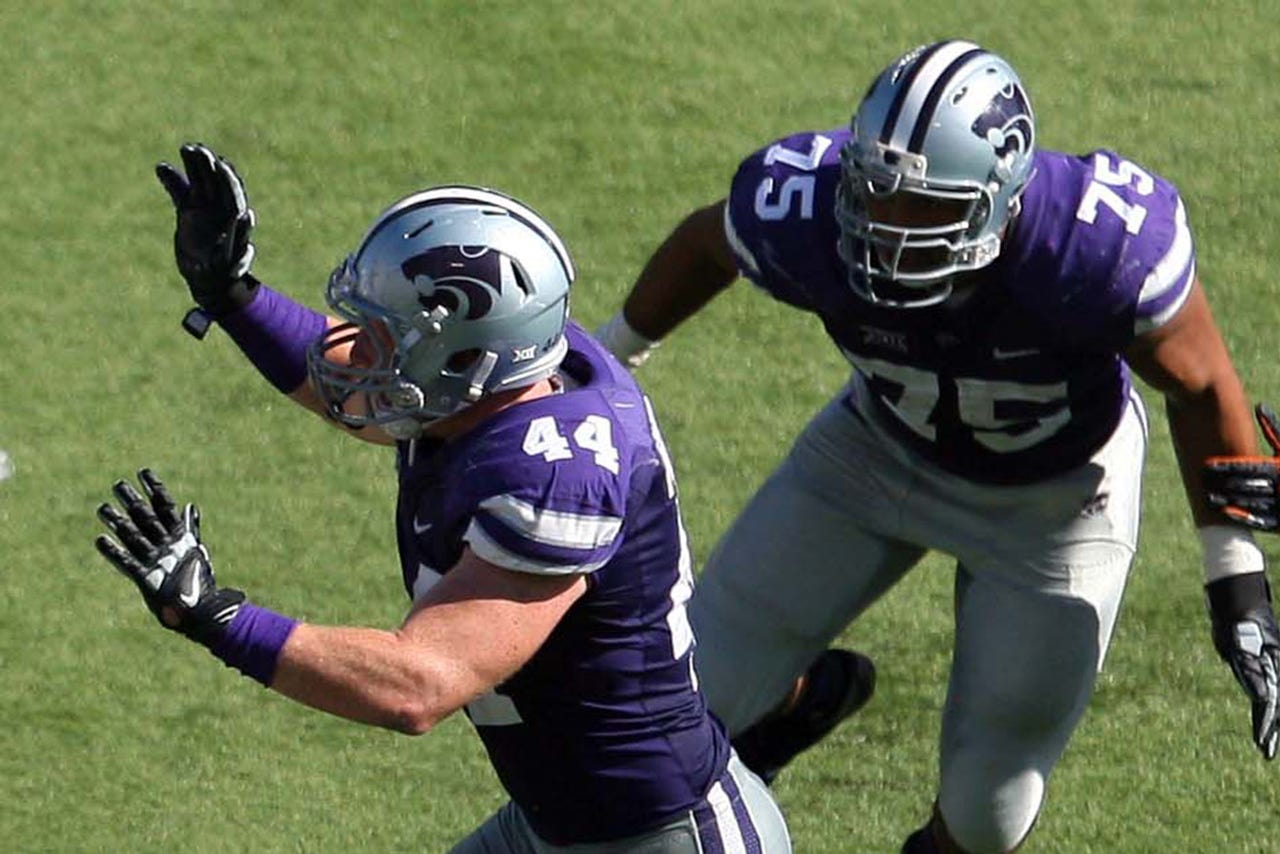 MANHATTAN, Kan. -- Ryan Mueller believes in trap games. He also believes that the Kansas Jayhawks aren't one of them, that 3-8 record be damned.
Because even if this isn't TCU, even if it isn't Baylor, even if it doesn't move a single needle west of Scott City or east of Prairie Village, it's one of those weeks he'd rather slide bareback over a tarmac of hot coals than lose.
"I'm from Leawood, Kansas, the heart of Jayhawk Country," Kansas State's All-Big 12 defensive end explained, slowly and pointedly, after the subject of Saturday's 2014 Sunflower Showdown was broached. "All my neighbors are KU fans. When I get home, I see nothing but KU flags. And my family is the only family that flies the K-State flag.
"And anytime I go out anywhere in public, it's always blue and red anywhere and everywhere. And all the billboards that I see of the KU Jayhawks on the way home from Manhattan to Kansas City -- it's just a lot of motivation."
In other words, if you're looking for the Big-12-leading and 12th-ranked Wildcats (8-2) to look past KU at home, pal, look somewhere else.
"No, no, no, no. This game means so much to me, especially (as) I'm from Kansas City and I know what this game means to everyone that's a K-State fan," Mueller said of his home finale in Manhattan. "And I'm going to do everything in my power just to get all 11 guys on defense ready to go and ready to get a victory.
"And I'm sure Jake (Waters), Curry (Sexton) and Tyler (Lockett) will take care of the guys on offense. But I've got pretty good control of the 11 guys (on defense) and have no problem getting in their face and letting them know how important this game is to me."
To understate things somewhat, we'll just go with one word: Very. In his previous two meetings with the team his dad once played for, the team he grew up rooting for as a kid, the team that didn't recruit him ("In their defense, they were going through a coaching transition, and (I) probably got lost in the shuffle or whatever," Mueller says, rather diplomatically, now), the ex-St. Thomas Aquinas standout has collected eight tackles, a sack and two pass break-ups. More to the point, his EMAW Gang has rolled by an average score of 44-13.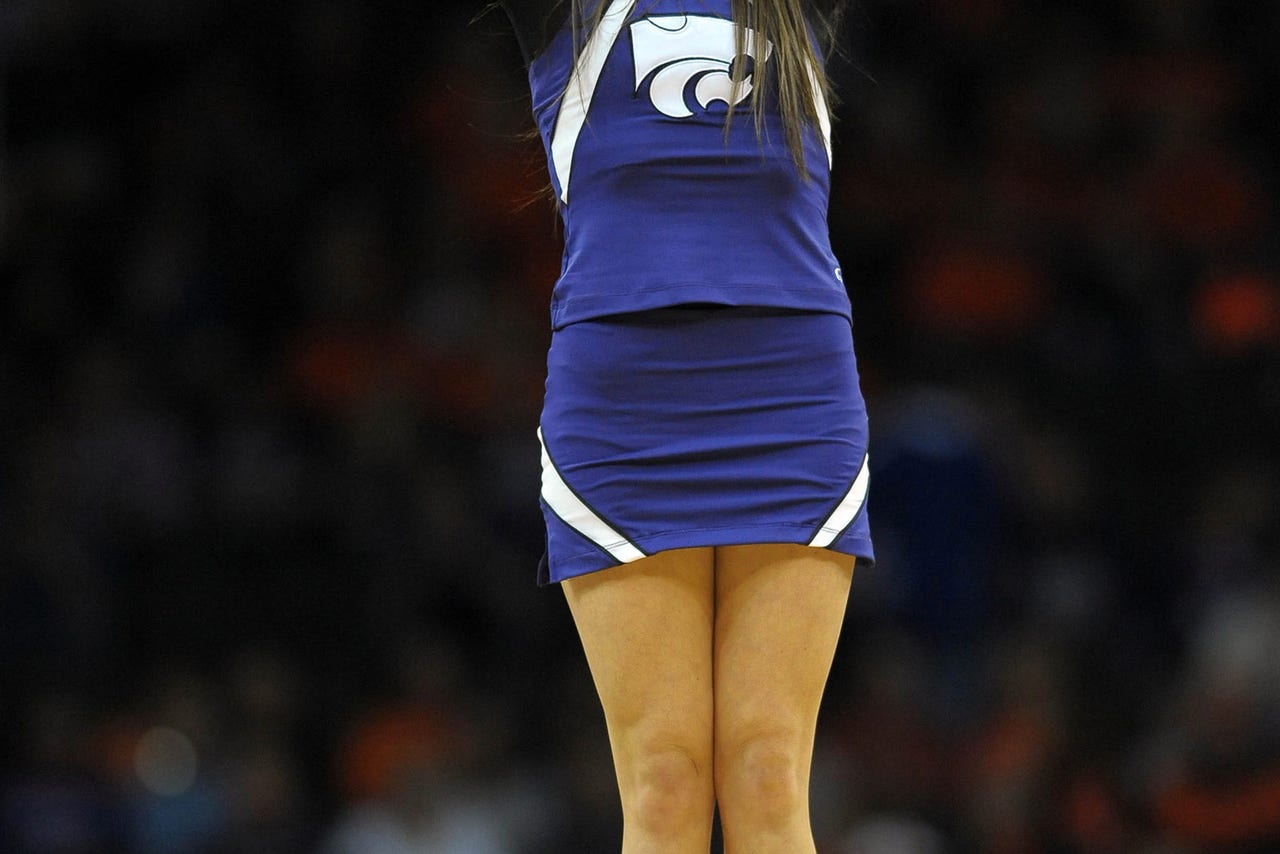 Lookin' good! Check out our gallery of Big 12 cheerleaders.
This isn't business, kids. It's personal.
"I think over the whole season, we've had like three games where people say it (was) a 'trap' game," offered Wildcats cornerback Morgan Burns, a Wichita native with several friends on the KU side of the equation. "As a team, I don't think we focus on that too much. We just have to take it one game at time, one practice at a time and one day at time.
"We know KU has played a lot of good teams really close that may not have come out the way they wanted it to, but they are going to be a tough team to play. They are going be hungry to win this game. They understand that they are a better team than a lot of people think they are."
With better players, too. Burns played at the Shrine Bowl several years ago with Jayhawks linebacker Ben Heeney, Mount Oread's tackling dervish. The Beard left quite an impression. That and bruises.
"I was the running back and he was the linebacker when we were at practice and there was a 'thud,'" Burns recalled. "And he was trying to take my head off. I was (like), 'Ben, Ben, Ben, chill out a little.'
"A team that's following a guy like that, and in his senior year, his last game as a senior, that can be a dangerous football team."
With nothing to lose, of course, except another game. There was a prevailing whisper in the wind in recent weeks that this might be interim KU coach Clint Bowen's last open audition for the full-time job, although the elegiac tone of some of his Tuesday comments give one the impression that his particular ship -- while the Jayhawks have cowboyed up against a brutal slate, they're also 1-6 since Charlie Weis got his walking papers -- might have already sailed.
"You have heard me say so many times and you have seen it happen week in and week out, you can beat anybody on any given day if they prepare as well as they can and play well," coach Bill Snyder said. "That has always been our approach no matter who the opponent is."
Snyder ain't dumb. His kids aren't, either. They've seen the tape. They watched the KU-TCU game live during one of their Saturday byes, given that the Horned Frogs had just handed them their lunch (and several other meals) during that ill-fated visit to Fort Worth.
"They're a vastly improved team since he's taken over as the coach," junior left tackle Cody Whitehair noted. "You know, I think the Iowa State (win) gave them a little momentum going into it, and you know, staying close with TCU ... I think that was great motivation. We've been watching film and saw the vastly improved team that they've become, and it'll be a tough challenge for us.
"I mean, it's KU. You can't overlook KU."
Not if that Dec. 6 visit to No. 7 Baylor (9-1), the last of the pit stops on Team EMAW's personal Bataan Death March, is to mean something.
Lose Saturday, and everything's off the table. Everything.
"I'm going to do everything in my power to remind my guys that this is the most important game that we play in ... and we need to come away with a victory," the Wildcats' defensive end added. "No ifs, ands or buts about it."
Hell hath no fury like a Mueller scorned. In the Little Apple, that's more than motivation enough.
You can follow Sean Keeler on Twitter at @SeanKeeler or email him at seanmkeeler@gmail.com.
---