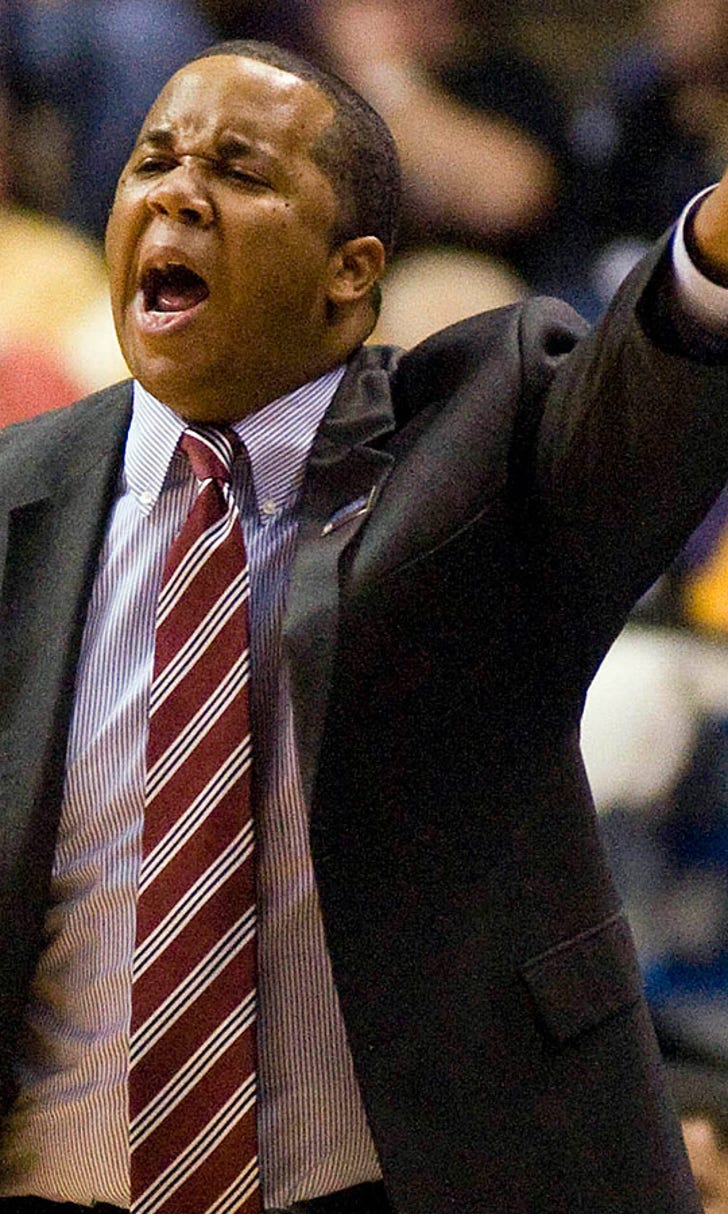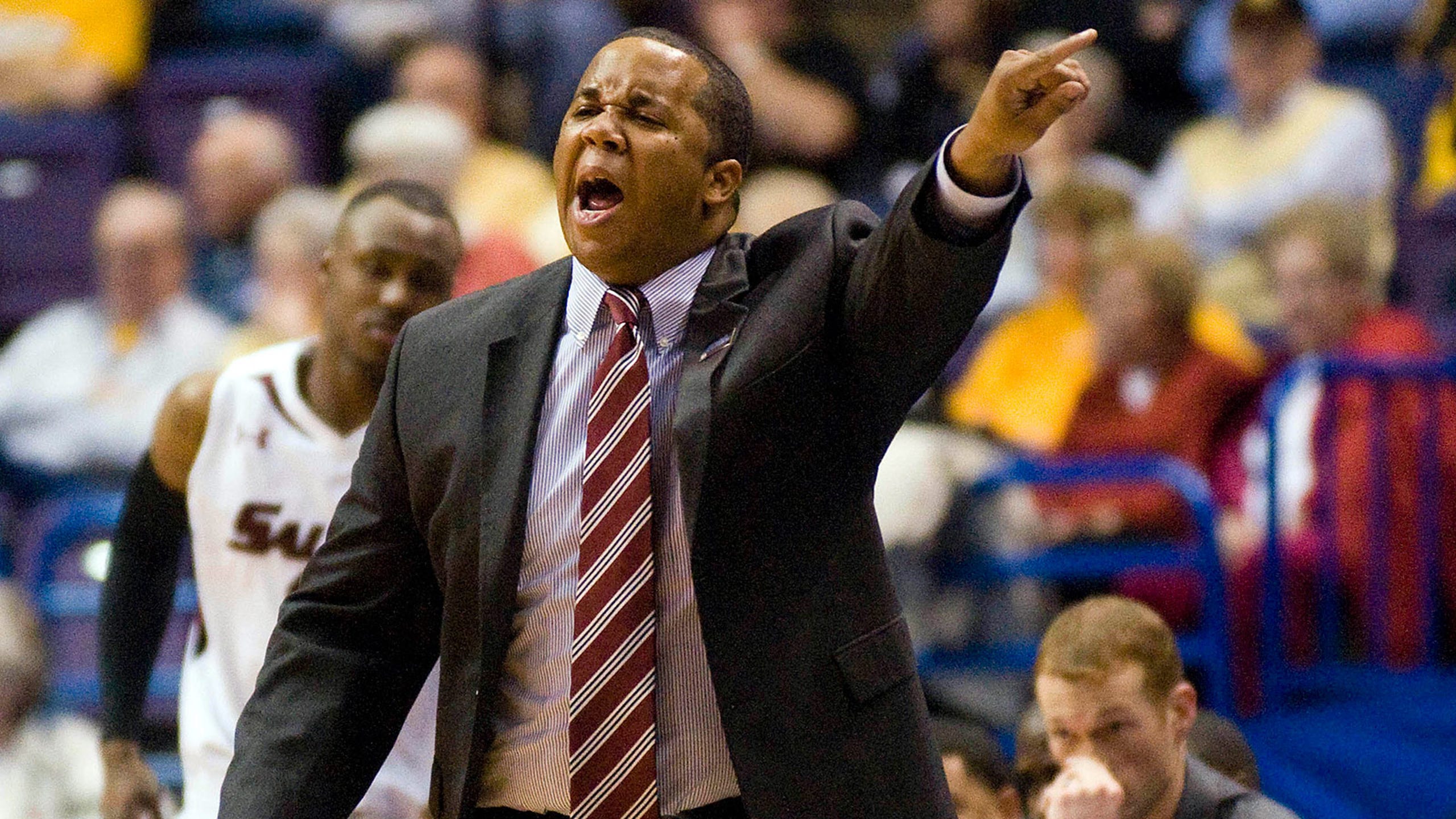 K-State assistant Lowery might be even more of a 'Wildcat,' deep down, than Bruce Weber
BY foxsports • January 30, 2014
KANSAS CITY, Mo. -- If Bruce Weber coaches with a chip on his shoulder, Chris Lowery stalks the sidelines with the whole stinking bag. As a point guard at Southern Illinois 20 years ago, he was Mr. Scrap, a plugger, a pesky hand grenade in sneakers. A little undersized, often overlooked, tougher than two-day-old steak. Here he was, a Wildcat all the time, and he never even knew it.
"I know what I'm good at," Lowery, in his second season as Kansas State associate head coach and de facto "defensive coordinator," says, laughing. "Coach (Weber) allows me to do that.
"I mean the biggest thing is that we work for Bruce Weber. And obviously, if you go to our practice and watch things, you know how we set things up. You know (that) hey, we're good at what we do."
And, in Lowery's case, among the nation's very best. K-State (15-6, 5-3 Big 12) heads to West Virginia this weekend ranked 23rd in the country in terms of Points Allowed Per Possession (0.92), down from a solid 0.95 number last year. From 2004-05 through 2007-2008, with Lowery as head coach, Southern Illinois ranked 29th (0.92), fourth (0.87), 19th (0.93) and 44th (0.94).
There's a pattern there, one that usually leaves a bruise. Kansas coach Bill Self went out of his way to heap praise upon Lowery's schemes in advance of the first Sunflower State Showdown up in Lawrence on January 11.
Then he went out and dropped 86 points on the Wildcats, mind you.
"Of course, it's good to hear another coach say good things about you and about how you play and defend and work at it," Lowery says. "But it's ultimately (about) Kansas State. You take it with a grain of salt."
A pinch of professional pride, too. What's more impressive: Winning a share of the Big 12 title in Year 1 at the Little Apple, the first at Kansas State since 1977, with "Frank's Guys?" Or being on course to reach the NCAA tournament again without your best two players and best shot-blocker from the previous season, with two freshmen in the starting five, and navigating a completely reconfigured backcourt?
"I think (this season) is bigger when you look at who we lost, and see our length and see how we're playing the freshmen major minutes," Lowery tells FOXSportsKansasCity.com. "And we're asking guys who have never been in this position as leaders to try to lead. And put them in uncomfortable situations with the team and say things that they never have said.
"I think that last year, Coach (Bruce Weber) did a great job of giving credit to (former coach) Frank (Martin); every one of those guys were Frank's kids, except D.J. Johnson. I think the one thing about it now is, they're our players now ... they run what we run. It's our stuff. And the foundation is the freshmen (Marcus Foster, Wesley Iwundu, Nigel Johnson, Jevon Thomas), those are the ones where you look and say, 'OK, if these freshmen are contributing, this stuff is going to work.'"
Which it does, more often than not, even on bad nights. Lowery had the scout on Texas Tech, whom the Wildcats on Tuesday night held to just 33.9 percent shooting from the floor and 58 points -- 18 below its scoring average in league games. Lowery's got the scout on Kansas, too; the 'Cats entertain the Jayhawks in the intrastate rematch on February 10.
"It's before -- you don't sleep before," he says. "It's putting together the whole thing, watching games ... I went back to some teams that I felt defended like we did, who were defensive-minded -- Arizona, Pittsburgh. I went back and watched what (Tech) struggled with and what they didn't like. And we pretty much executed that to perfection in the first half."
The second half, not quite so much. The Red Raiders turned K-State misses into runouts, while draining 3-of-7 from beyond the arc and scoring 38 of their 58 points over the final 19 minutes.
"Sometimes, you gotta let 'em grow up on the floor," Lowery says. "And (Tuesday) was one of those days."
No Rodney McGruder? No Angel Rodriguez? No problem. The defense, that mindset, Lowery's mantra, remain constant.
Watch 'The Bruce Weber Show' at 10:30 a.m. Saturdays on FOX Sports Kansas City. Check your local TV listings.

"We lost a lot," Lowery says. "Angel (transferring) like that, we had no idea how were going to keep it together. How we were going to put it together, how are we going to hold down the fort until Jevon got eligible (after the first semester)? (Forward Thomas) Gipson had concussions early (but) we didn't make any excuses."
At the Christmas break, the schedule intensified: Workouts and lifting in the morning, drills later in the day. Plus ...
"We knew (freshman guard) Marcus Foster would be good," Lowery continues. "We didn't know he'd be that special from Day 1, from the first day he stepped on campus."
Foster showed up in the Flint Hills with a point to prove. So did his coaches, a year earlier. For Lowery, his eight seasons in charge of SIU were the best of times (two Missouri Valley Conference Coach of the Year trophies, a Sweet 16 in 2007) and the worst of times (8-23 in 2011-12), all in one era. While he praises his former employer (and alma mater) publicly, the 41-year-old assistant also filed a lawsuit against the university over alleged breach of contract, which the Salukis terminated with two years remaining on the deal.
"I think the biggest thing for us (when Weber and I) got here last year, we had both gotten fired, and that motivated us to work very hard and to prove that what we do and what we teach can work at a high level," Lowery says. "That motivated us more last year than this year."
As to whether Lowery, who compiled an 145-115 record in Carbondale, would ever like to return to the head-coaching ranks, the Indiana native's stance is, more or less, that you never say never.
But you don't look back, either. Not with a team this young. Not with a second straight trip to Bracketville in the crosshairs.
"It is amazing," Lowery says of K-State. "And I'm not just talking about our sport -- I'm talking across the board. It makes you want to be successful for the fans and alums. It's one of those places which is unique -- when they show up, they just show up, all the time."
As testament to that devotion, he cites the aftermath of the Wildcats' win over No. 21 Gonzaga in downtown Wichita back on December 21. While the EMAW Gang were putting on the finishing touches, an ice storm had turned the roads in central and southern Kansas into a giant outdoor skating rink. It got so bad, at one point, Lowery had to abandon his car and bundle his family on to the team bus with the players for a lift all the way back to campus, a two-hour trek in normal conditions that took about seven that night.
"I was at Illinois, and there's a lot of passion and love for the school, but I've never been at a place like K-State, where it is unbelievably genuine, win, lose or draw," Lowery says.
"The first thing me and Coach (said when we) got here, we're like, 'Are people here really this nice?'"
They are. Especially when you're winning.
You can follow Sean Keeler on Twitter @seankeeler or email him at seanmkeeler@gmail.com.
---