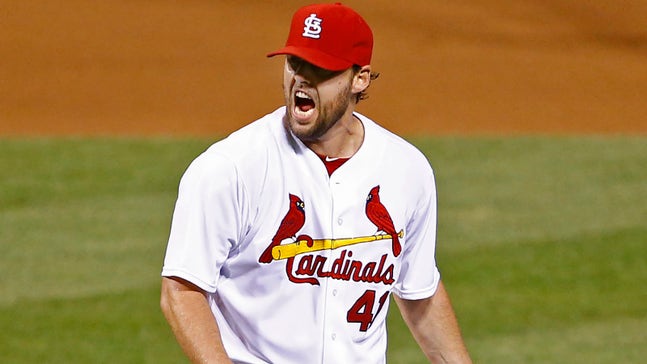 John Lackey, Cardinals continue displaying home dominance in win over Dodgers
Published
May. 30, 2015 12:23 a.m. ET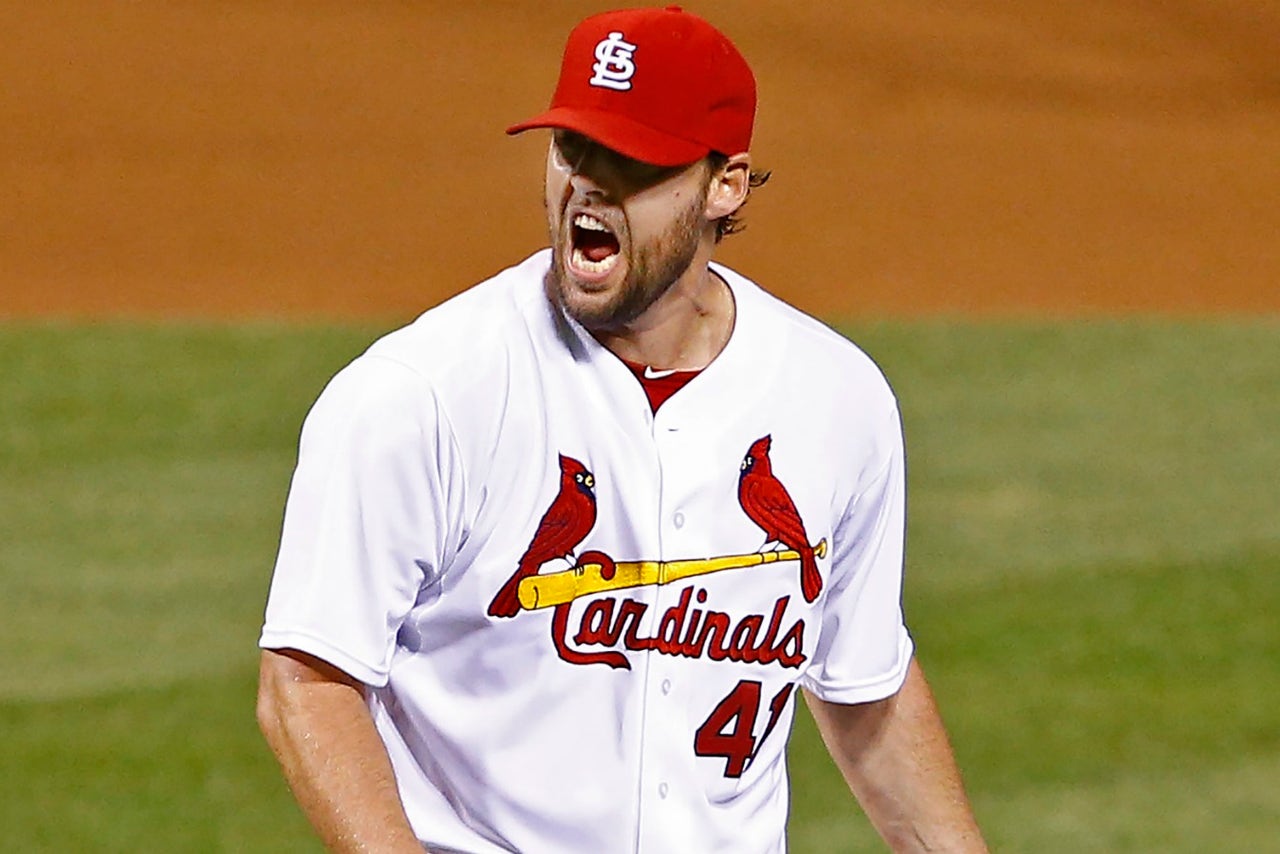 ST. LOUIS -- Andre Ethier just watched as a four-seam fastball sailed through the bottom of the strike zone. A.J. Ellis couldn't stop himself from waving feebly at a nasty cutter trailing low and away.
Neither even came close to converting a rare opportunity to score against John Lackey in another dominant home performance by the Cardinals' veteran right-hander. Lackey easily overcame a pair of leadoff singles in his seventh and final inning to carry St. Louis to a 3-0 triumph over the Dodgers for the Cardinals' fifth straight win.
"They've got a good lineup," Lackey said of Los Angeles. "You've got to keep grinding. You don't take anything for granted. I was fortunate enough to make some pitches."
His ninth strikeout capped off seven shutout innings, during which the Dodgers mustered only five hits, all singles. Meanwhile, second baseman Kolten Wong led off and scored for the fifth straight game, and the Cardinals later added two more runs to give Lackey his third win of the season.
Los Angeles leadoff hitter Joc Peterson drew a one-out walk in the third and advanced into scoring position on Jimmy Rollins' slow groundball to Wong. The Dodgers didn't have any other walks or baserunners reach second base in the first six innings.
Lackey said that establishing his fastball with great command early on made it easier to get hitters to chase other pitches, often out of the strike zone. When the Dodgers did hit it in play, each Cardinals outfielder caught just one flyball behind him as Lackey effectively kept the ball down in the zone to induce six groundouts, including a double play to end the top of the sixth.
"He's been mixing his pitches well," said left fielder Randal Grichuk, who extended the lead to 2-0 with an RBI double in the third. "He's a bulldog out there. He's going to give you everything he's got for as long as he can until Mike (Matheny) pulls him. That fires us up to make plays behind him."
Matheny doesn't mind letting Lackey go deep into games when the situation allows it, and the right-hander continues to raise the bar in his second season with the Cardinals. Friday marked the second time this season he's thrown seven shutout innings, and only twice in his past six starts has he allowed more than a run.
Watch the Missouri Lottery Cardinals Live postgame show on FOX Sports Midwest after every St. Louis Cardinals postseason game.
It's the kind of veteran leadership on the mound Matheny said St. Louis needed, even before ace Adam Wainwright went out for the season with an Achilles injury.
"He's got the velocity, he's got location with his fastball," Matheny said. "He's got a slider that you can see he's getting a lot of swing and misses from so you know he's got the deception and everything's coming out in the same release point and slot."
Lackey also welcomed some more offensive support Friday night; in New York, the Cardinals were a ninth-inning run away from losing his past three starts -- even though Lackey never gave up more than three runs. All of those were on the road, where St. Louis holds a 13-11 record.
The Cardinals have been nearly unbeatable at home, posting an MLB-best 19-5 record, including five straight. Lackey's numbers are considerably better at Busch Stadium, where he's 3-1 with a 1.30 ERA in five starts.
"Yeah, I don't know," Lackey said when asked for an explanation. "I've pitched pretty well here, but for the most part I've felt pretty good all year."
You can follow Luke Thompson on Twitter at @FS_LukeT or email him at lukegthompson87@gmail.com.
---