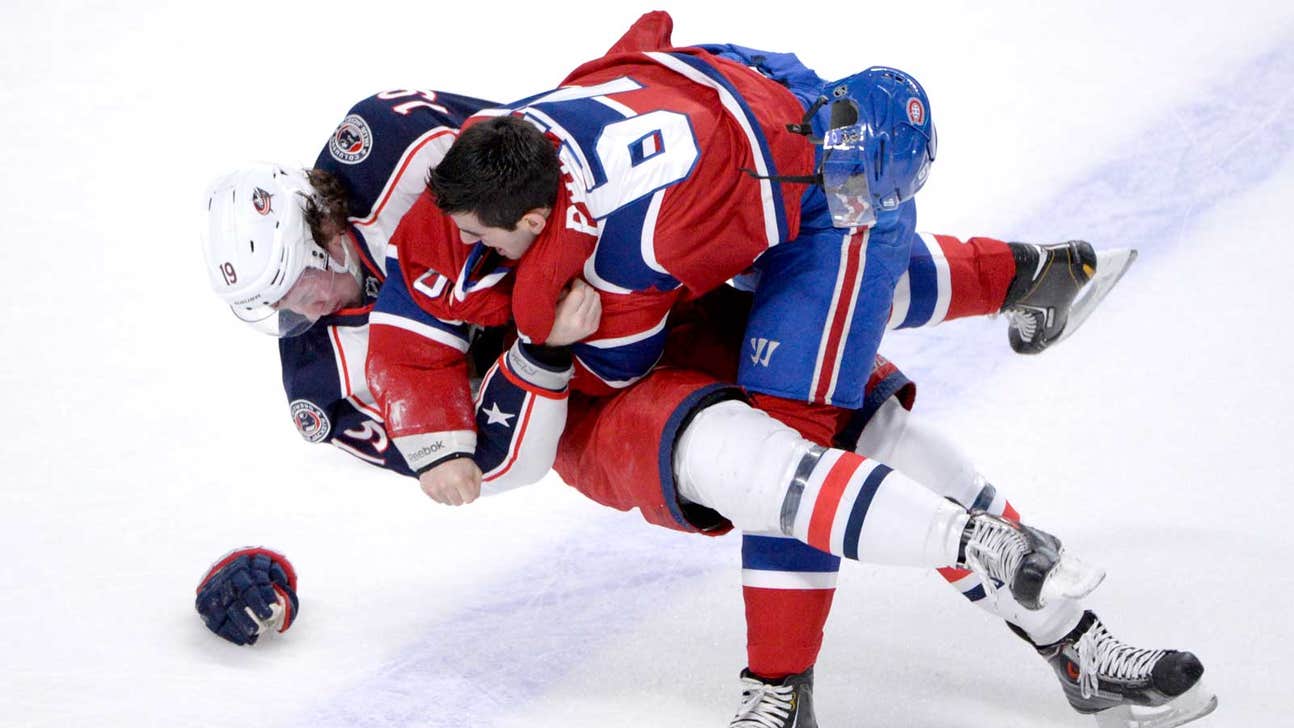 Johansen continues coming of age for Blue Jackets
Updated
Mar. 4, 2020 10:36 p.m. ET

When so much is riding on every game, perhaps even every shift, at this point of the season, the two points being offered usually comes down to one player making one pivotal play. Last night, within the Bell Centre in Montreal, Ryan Johansen was the owner of that pivotal moment.
With the game tied at two goals apiece between the Blue Jackets and Canadiens and three minutes left in the third, Johansen intercepted a pass from the Canadiens Jarred Tinordi as they crossed center ice. The 21-year-old center was off to races with two Canadiens in pursuit. He hit the brakes as he entered the slot and beat Carey Price for the game-winning goal.
"I was wondering what the far defenseman (Mike Weaver) was going to do," said Johansen, "whether he was going to charge at me or poke it with his stick. I kind of stopped up and I guess I caught him off-guard a little bit and just tried to fire it far side."
His 27th goal of the season puts him in third place all-time for the Blue Jackets for goals scored in a season, behind only Rick Nash and Geoff Sanderson. In the span of 10 months, Johansen (27-25-52) has gone from being scratched in the playoffs while with the Springfield Falcons last May to emerging as bona-fide star for Columbus.
Although this is his third year as an NHL player, the normally mild-mannered Johansen had his entrée into the pantheon of an NHL fight with the Canadiens Max Pacioretty in the first period. After taking two, almost back-to-back penalties, Johansen gave Pacioretty a bit a shove in the back. Seconds later, the gloves were dropped.
Asked post-game if he liked seeing Johansen drop the gloves, Columbus head coach Todd Richards said, "Absolutely. The christening... whatever you want to call it... the baptism of playing in the league, you know, sometimes you've got to get into a fight. This was his first fight.
"He had two penalties. I didn't really care for the calls on the penalties. When you see somebody like that get into a fight, you have to be into the game. You have to. So when you see Joey drop the gloves, not that we want to see it that often with him. A young guy, getting into his first NHL fight, that's over with and done. Sometimes, that's a rite of passage, too."
The team surrounding Johansen played with a measured physicality that served to limit Montreal's speedy transition game. They outshot Montreal 40-27 and outhit the Habs 36-17.
Columbus moved away, somewhat, from the dump and chase strategy, choosing to enter the Canadiens zone with speed and alacrity, all the while keeping possession of the puck. They were fore-checking well and playing with an efficient intensity. The playoffs might be just around the corner, but they started for this club a few weeks ago.
"I thought a lot of things went right," said Richards. "It was a 3-2 win in a tough building. Five-on-five I thought, for the most part, we were carrying the play. I thought really the only downer and we had good moments on the power play, but our power play needed to be better, at times.
"I thought we battled and competed. I thought our defensemen were good. (Bobrovsky) made some key saves for us when we needed him to. And I thought that our forwards did a great job skating tonight, tracking the puck and putting pressure on (Montreal)."
While Johansen's game-winning goal is highlight worthy, a major force of the Blue Jackets drive comes from the grit and energy of the fourth line players. They've got speed and opportunistic scoring ability. They are not afraid to go the hard areas around the net to try and pot a goal.
And the mainstays of this line are Mark Letestu and Derek MacKenzie. Last night, they were joined by Blake Comeau. They are a tough line of two-way players and have been for the majority of the season.
"That's those guys' game," said Mark Letestu. "I try and get pucks in deep for them and let them do their thing. Whether it's PK (Subban) or other elite defensemen in this league, you've got to make them pay. Kind of body-blows all game and take their legs away from them. That's the goal for our line every night, make it hard on the other 'D' and hopefully get some scoring chances out of it."
The 3-2 victory vaults Columbus back into third place in the Metro division with the second tilt of back-to-back games set for tonight within the friendly confines as the Blue Jackets host the New York Rangers. This game also marks the return of former captain Rick Nash to Nationwide Arena.
With 13 games remaining on the schedule and a very tight divisional playoff race, the intensity of this matchup in Columbus should be sky-high. Emotions will need to be kept in check, as both clubs look to skate away with the two points that are up for grabs.  
---