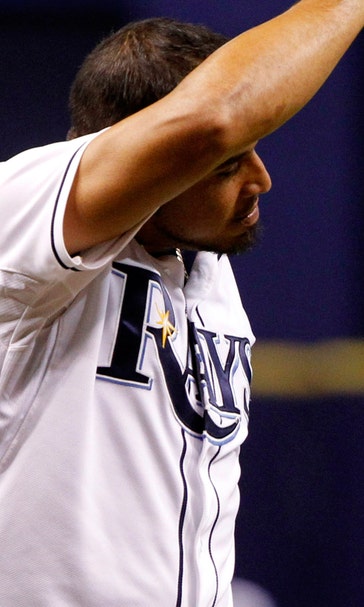 Joel Peralta falters in eighth inning in Rays' loss
May 6, 2014

ST. PETERSBURG, Fla. -- Joel Peralta stared toward the back on his locker for a few brief moments to end a frustrating night. He dipped his face and shook his head in frustration before rising from his chair. Normally one of manager Joe Maddon's most trusted bullpen options, the right-handed reliever fell short of his standard for the third time in his past five appearances.
Peralta's goal is simple yet demanding: Be airtight and allow no runs. The eighth inning is Peralta's to lock down before bowing to closer Grant Balfour in the Tampa Bay Rays' vision for victory.
But Tuesday, Peralta allowed two runs and three hits, which proved to be the difference in a 5-3 loss to the Baltimore Orioles at Tropicana Field. This time, the plan was scattered, and Peralta wasn't pleased.
"It was me," Peralta said, eager to leave. "I was missing the pitches. I was making bad pitches. They got to me. It's my fault."
Ryan Flaherty's single to right field with the bases loaded and one out was the clinching hit, one that scored Matt Wieters from third base. But the damage began long before: A single by Wieters to begin the inning, a double by Steve Clevenger that advanced Wieters to third with one out, a walk to Steve Pearce. The sequence included a strange 19-minute delay caused by a power outage with the lights in centerfield. (Clevenger scored later in the inning on a fielder's choice groundout by Nick Markakis off reliever Juan Carlos Oviedo.)
The performance meant Peralta has allowed runs in three of five appearances since April 29. He allowed one run and three hits in a loss to the Boston Red Sox on April 29. He allowed three runs and three hits in a 14-inning victory over the New York Yankees on May 2.
Prior to the span, Peralta had allowed two runs all season, both of which came against the Texas Rangers in a loss April 6. Overall, he's 1-2 with a 5.54 ERA in 14 appearances this season.
"The bullpen was in pretty good shape," Maddon said. "I kind of liked the way it was trending, actually. And Joel, who I have had as much confidence in him as anybody that I've ever had as a relief pitcher, just did not have a very good night. Otherwise, really good game. They pitched well. We pitched well."
Sometimes, baseball can be that simple: He just didn't have a very good night. Peralta's track record shows why he has earned Maddon's trust. He has been a workhorse out of the Rays' bullpen the past three seasons: In 2011, he pitched 67 2/3 innings, in 2012 he pitched 67 and in 2013 he pitched 71 1/3 -- the most since he threw 87 2/3 with the Kansas City Royals in 2007.
Still, Peralta's recent slide is something to watch. Injuries to prominent faces within the Rays' rotation -- right-handers Jeremy Hellickson and Alex Cobb -- leave little room for error for a taxed bullpen. Everyone must be sharp.
Usually, Peralta is considered a sure-bet for Maddon. If this slump becomes a larger issue, there will be cause for concern.
"I know in the past, he has had some rough starts, but then he really comes on," Maddon said. "I have all the faith in the world with him. I know he's fine. It's just one of those moments."
The moment Tuesday affected Peralta. Normally one of the clubhouse's most jovial personalities, he spoke in a hushed tone with no hint of a smile. He shrugged off the possibility that the power delay played a part in his struggle.
His night was one to forget, and he was eager to place it in the past as soon as possible.
"They got base hits," he said. "So it's on me."
You can follow Andrew Astleford on Twitter @aastleford or email him at aastleford@gmail.com.
---