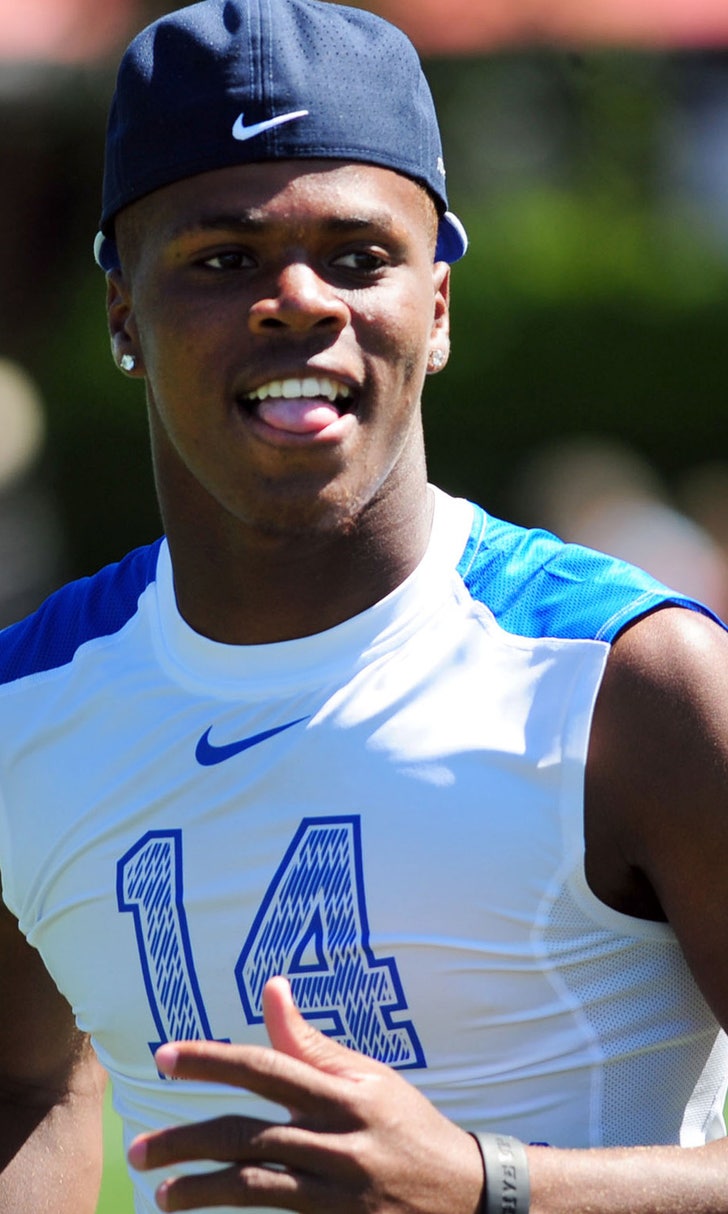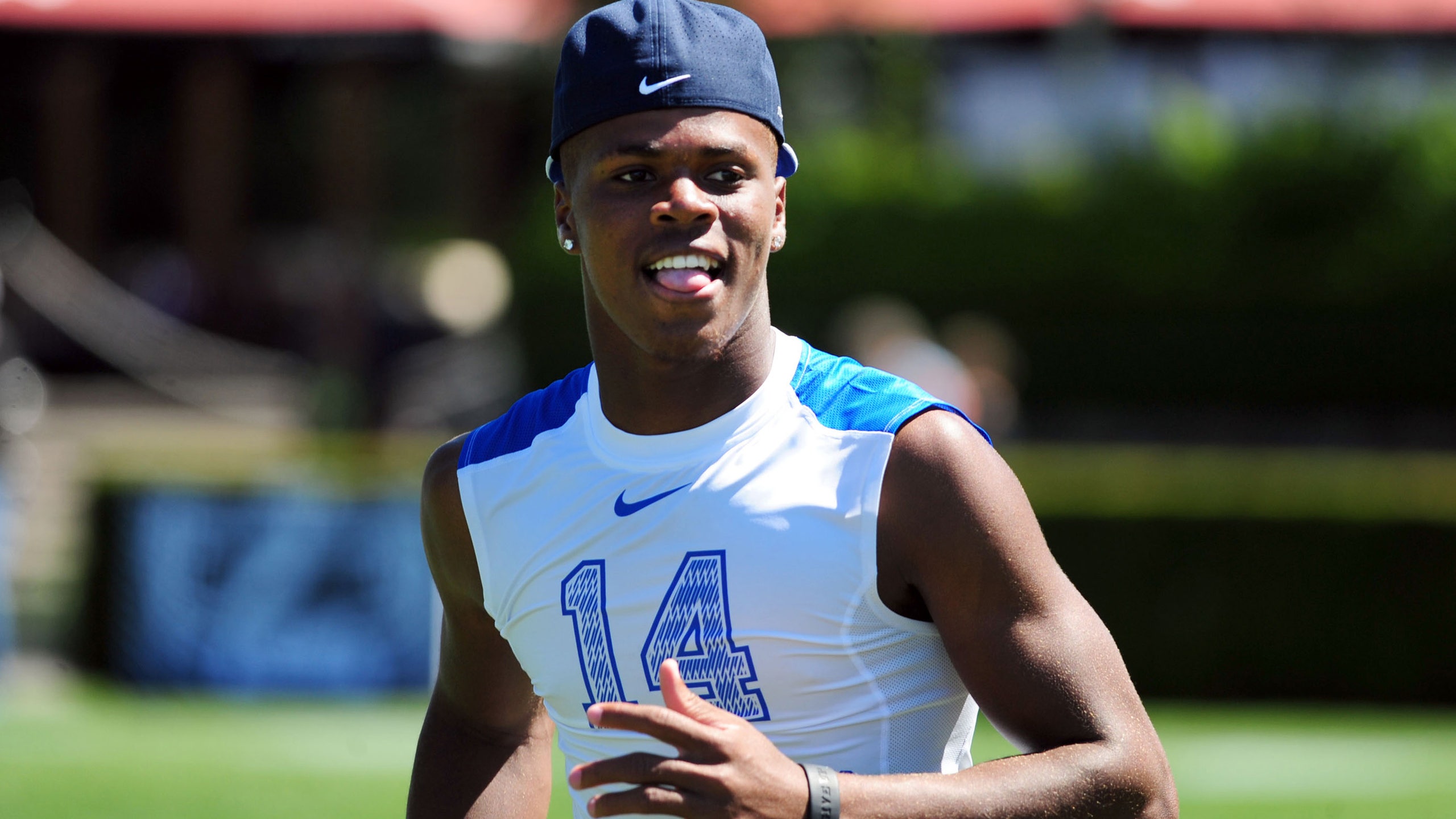 Jimbo Fisher, Florida State welcome another highly rated recruiting class
BY foxsports • February 4, 2015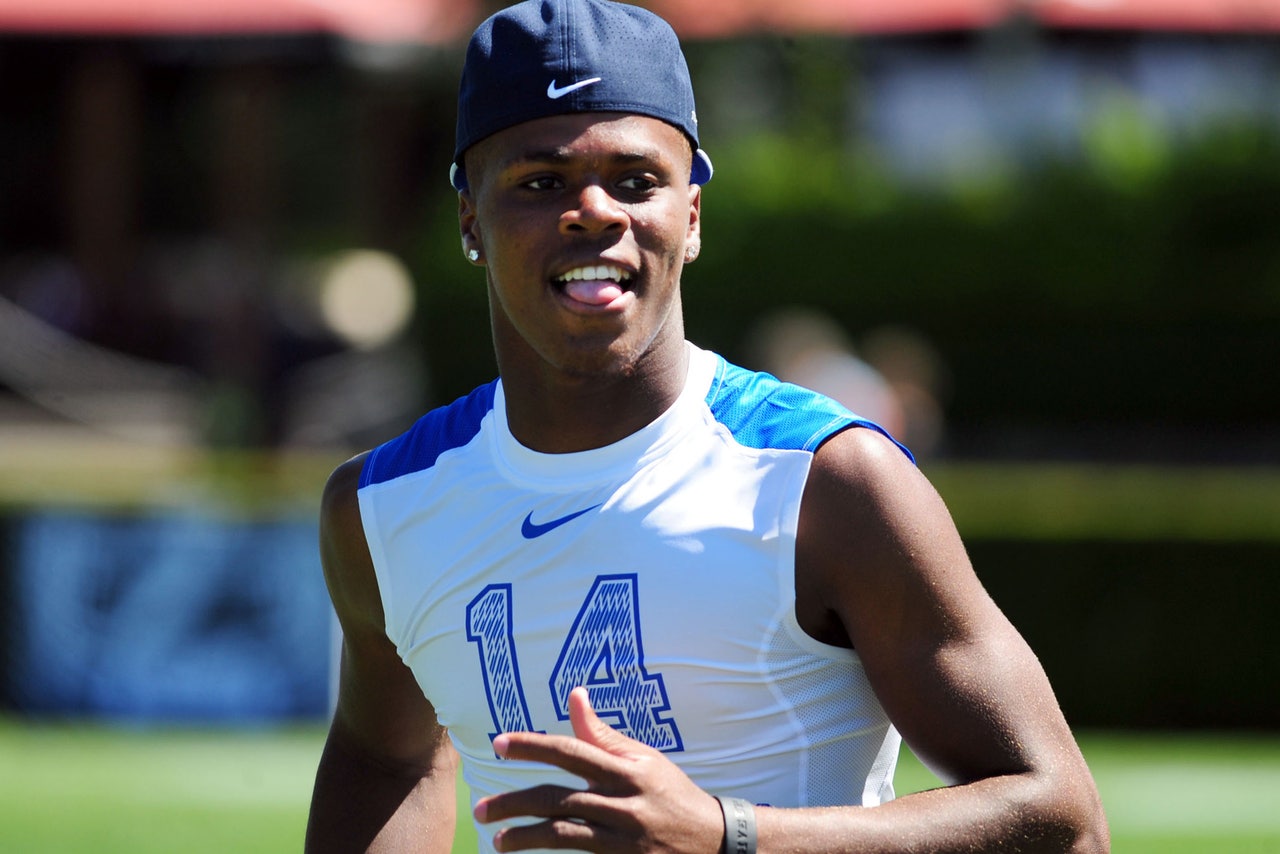 TALLAHASSEE, Fla. -- Florida State and head coach Jimbo Fisher entered Wednesday's college football National Signing Day looking to finish off an already strong class.
With eight early enrollees on campus, FSU's class of 2015 added 13 more letters of intent by 11 a.m., bringing the total to 21 recruits for the Scout.com's No. 11 class. Rivals and 247Sports both rank the Seminoles' class No. 3 overall.
"Very pleased with the class we have," Fisher said in a Wednesday afternoon press conference. "Another outstanding class coming in. Really excited about eight of those guys being able to come in early, which I think is very important not only for their development but also our development as a team.
"Across the board very pleased that we were able to fill our needs," Fisher added. "That's rare that you do that."
Out of the 13 players to sign with the Seminoles on Wednesday, three were defensive backs (Tarvarus McFadden, Marcus Lewis and A.J. Westbrook) and three were offensive linemen (Abdul Bello, Cole Minshew and David Robbins) -- two positions that Florida State lost multiple starters from last year's team and needed to add depth.
Defensive back Tarvarus McFadden, ranked a 5-star by Scout.com, is a 6-foot-2, 198 pound cornerback who has a chance to come in and compete for playing time right away.
Bello, Scout.com's No. 68 player in their Top 300, is a monster of a man standing 6-foot-5 and weighing in at 300 pounds. He has only played football for a few years since immigrating to the United States from Africa, but his raw power and athleticism makes him a fantastic prospect for the future.
"I think Bello is off the charts," Fisher said of his newest tackle. "I think that guy's upside is ridiculous."
The Seminoles also added 4-star QB Deondre Francois out of IMG Academy in Bradenton, Fla. Francois is a dual-threat quarterback and someone who is thought to be a contender for the starting quarterback position once on campus. He verbally committed to FSU last year, but after a recent visit to the University of Florida many thought he may have changed his mind. Clearly not the case, the Seminoles landed the No. 118-ranked player in Scout.com's Top 300 list.
Francois will be joined in the class by early enrollee and 2014 Mr. Football in the state of Florida, QB De'Andre Johnson. Johnson will have the early jump because he is already on campus and getting acclimated to the team and routine.
A quarterback battle will surely ensue throughout the spring with redshirt junior Sean Maguire, redshirt freshman J.J. Cosentino and sophomore John Franklin all competing for the starting job along with the two new recruits.
"Good players at that position want to come and compete," Fisher said of his plethora of quarterbacks. "It's tough because you talk about 'how ya gonna get reps' but we do the way we practice, we do get reps for our guys."
The Seminoles did miss out on 5-star DT Terry Buckner Jr. and DB Iman Marshall who both chose to stay close to home -- Buckner a the University of Missouri and Marshall at USC. Outside of those two decisions, there were no real surprises for the Seminoles on National Signing Day as they locked up most of their top targets weeks and months ago.
Florida State finished the 2015 recruiting year with 12 players in Scout.com's Top 300, including four 5-stars -- DE Josh Sweat, WR George Campbell, DB Derwin James and DB Tarvarus McFadden. Like every class, however, it will be shown over time how good the players actually are and Florida State's head coach understands this well.
"The big thing we've got to remember in the end is don't judge them in the first year, don't judge them in the second year, we've got to let those guys develop," Fisher stated. "We've got to let them develop and put them in positions to succeed, but with the talent level and character level of this group I think you'll see a lot them compete early on just like last year."
Finally, with the negative media attention that the university and football team received this season, mostly regarding Winston, Fisher was asked if his recruiting was negatively affected in any way.
"No, it was actually very positive, probably as positive as its ever been," Fisher answered emphatically. "Because at the end when the truth came out, parents saw that we were right and respected that we didn't cave into pressure and didn't cave to media or public opinion... It actually helped us, everything was positive."
MOST SIGNIFICANT SIGNING
DB Derwin James
James has been committed to Florida State for four years. Fisher built a relationship with James and his family at an early age and it paid off with the Seminoles landing the nation's best safety and No. 6 player overall.
"I think Derwin is very special," said Fisher with a smile. "Derwin committed when he was a freshman. That guy is as good a player as there is anywhere, any place, any time."
BIGGEST SURPRISE
DB Marcus Lewis
Lewis never officially visited Florida State's campus throughout the recruiting process and FSU only extended an offer to him within the last week once they felt they had lost out on now Alabama CB Minkah Fitzpatrick. Regardless, he is a Top 300 player on Scout.com's board and helps fill a position in need of depth.
"Marcus Lewis really helped out," said Fisher. "Reminds me a lot of Terrence Brooks in a lot of ways."
THE ONE(S) THAT GOT AWAY
DT Terry Beckner Jr. and DB Iman Marshall
Both Beckner and Marshall are 5-star recruits that would have obviously helped FSU fill slots left void by Eddie Goldman, Ronald Darby and P.J. Williams entering the NFL draft.
RANK (SCOUT.COM)
Overall: No. 11; ACC: No. 1
| | | | | | |
| --- | --- | --- | --- | --- | --- |
| Player | Pos | HT | WT | Stars | Scout.com rank |
| Josh Sweat | DE | 6-5 | 236 | 5-star | 5 |
| Derwin James | DB | 6-1 | 199 | 5-star | 6 |
| Tarvarus McFadden | DB | 6-2 | 195 | 5-star | 17 |
| George Campbell | WR | 6-3 | 190 | 5-star | 34 |
| Jacques Patrick | RB | 6-1 | 224 | 4-star | 61 |
| Abdul Bello | OL | 6-5 | 298 | 4-star | 68 |
| Deondre Francois | QB | 6-2 | 198 | 4-star | 118 |
| Calvin Brewton | DB | 6-0 | 175 | 4-star | 187 |
| Da'Vante Phillips | WR | 6-1 | 206 | 4-star | 189 |
| Marcus Lewis | DB | 6-2 | 194 | 4-star | 224 |
| Darvin Taylor II | DT | 6-2 | 311 | 4-star | 256 |
| Sh'Mar Kilby-Lane | LB | 6-2 | 220 | 4-star | 271 |
| Lorenzo Phillips | LB | 6-3 | 220 | 4-star | N/A |
| David Robbins | OL | 6-4 | 315 | 4-star | N/A |
| Auden Tate | WR | 6-4 | 199 | 4-star | N/A |
| Ethan Frith | OT | 6-7 | 330 | 3-star | N/A |
| De'Andre Johnson | QB | 6-2 | 186 | 3-star | N/A |
| Cole Minshew | OL | 6-4 | 305 | 3-star | N/A |
| Nyqwan Murray | WR | 5-11 | 164 | 3-star | N/A |
| A.J. Westbrook | DB | 6-0 | 180 | 3-star | N/A |
| Jalen Wilkerson | TE | 6-4 | 220 | 3-star | N/A |
---