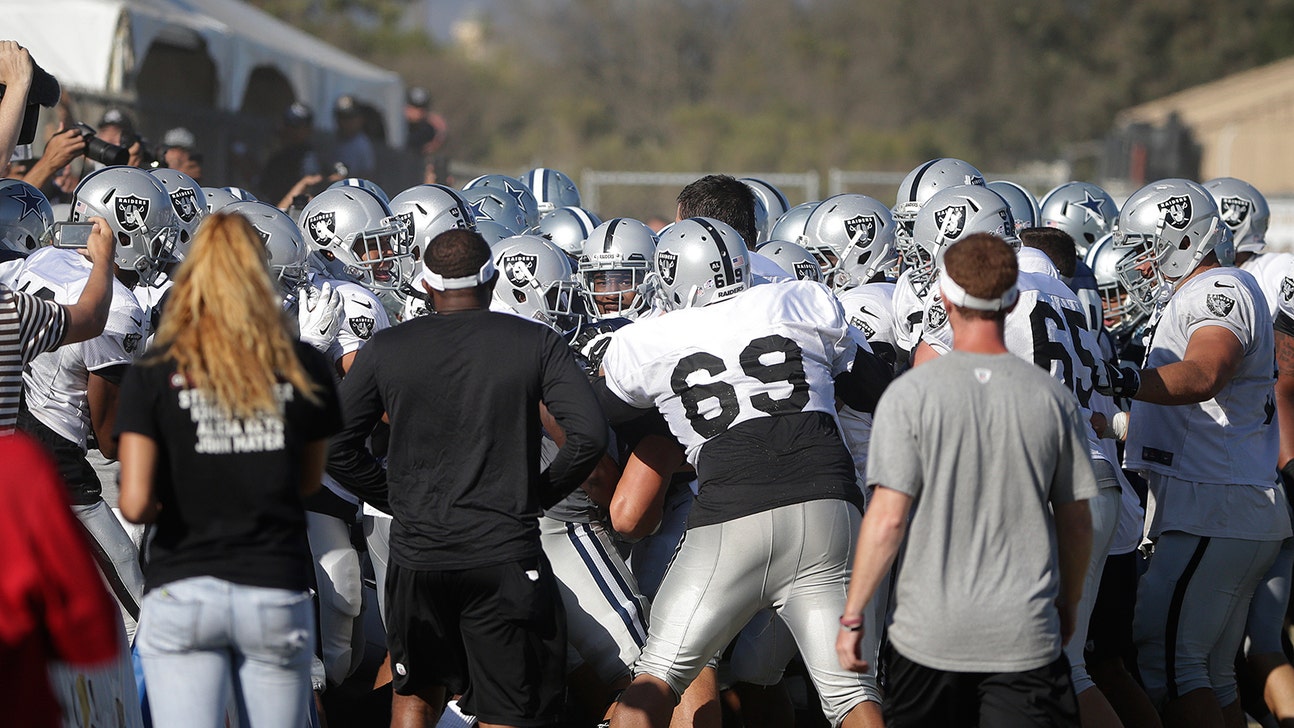 Jerry Jones expected passion at Cowboys-Raiders practice
Published
Aug. 13, 2014 11:07 a.m. ET

OXNARD, Calif. -- It's no coincidence the most spirited day of training camp involved a visit from the Oakland Raiders. This was the same facility where the Raiders used to train. 
Apparently the good citizens of Oxnard never truly got over the Raiders because the fans in silver and black significantly outnumbered Cowboys fans. By the time practice began at 3:45 pacific time, Raiders fans had started a thunderous "Cowboys suck!" chant. Fans then were thrilled to see a melee ensue shortly after Cowboys cornerback Morris Claiborne body-slammed Raiders tight end Mychal Rivera after a short catch. Claiborne later explained that he took exception to Rivera lowering his shoulder into him.
"That passion, that's mostly what I'd hoped what we would get out of getting these teams together," said Jerry Jones. 
Things got so out of hand on one field that a fan started swinging a helmet at Cowboys cornerback B.W. Webb. It was surreal to watch at least 20 Raiders players rush to Rivera's defense once he was thrown to the turf. Webb and others raced to Claiborne's defense. On the undercard, the Cowboys' first-team offense and the Raiders' defense got in a fight at the end of practice. It was a fitting end to a pretty volatile practice.
The best play for the Cowboys in team drills came when defensive end Kenneth Boatwrght flushed Raiders quarterback Matt Schaub out of the pocket. Linebacker Justin Durant finished off the task witht a faux sack. 
FOX SPORTS DAILY
COWBOYS EDITION
Cowboys News To Your Inbox!
*By clicking "SUBSCRIBE", you have read and agreed to the Fox Sports Privacy Policy and Terms of Use.
It was a practice that also featured appearances from legendary Dodgers manager Tommy Lasorda and former Lakers great Magic Johnson. Both men addressed the Cowboys. Johnson said he was a huge fan of Tony Romo's. He thinks the Cowboys' quarterback gets too much criticism. 
I also asked Johnson if he's optimistic that an NFL team will land in Los Angeles. Johnson said he believes it will happen within the next two years. He said he would love to see the Raiders move to Los Angeles, but that's unlikely. It's far more likely the St. Louis Rams might take their talents to Hollywood. 
Back to practice, it will be interesting to see when the Cowboys start taking reps away from Orlando Scandrick. He was still lining up with the first-teamers in team drills Tuesday. At some point, though, the Cowboys have to prepare for live without him...for four games. Sterling Moore is the No. 1 candidate to take over for Scandrick in the slot. He was repeatedly burned in Tuesdays practice. The other alternatives are rookie cornerback Terrance Mitchell and Webb. 
Harsh as it sounds, it's time to put Scandrick in the deepfreeze. He's earned it with that decision he made to take a banned substance. 
---