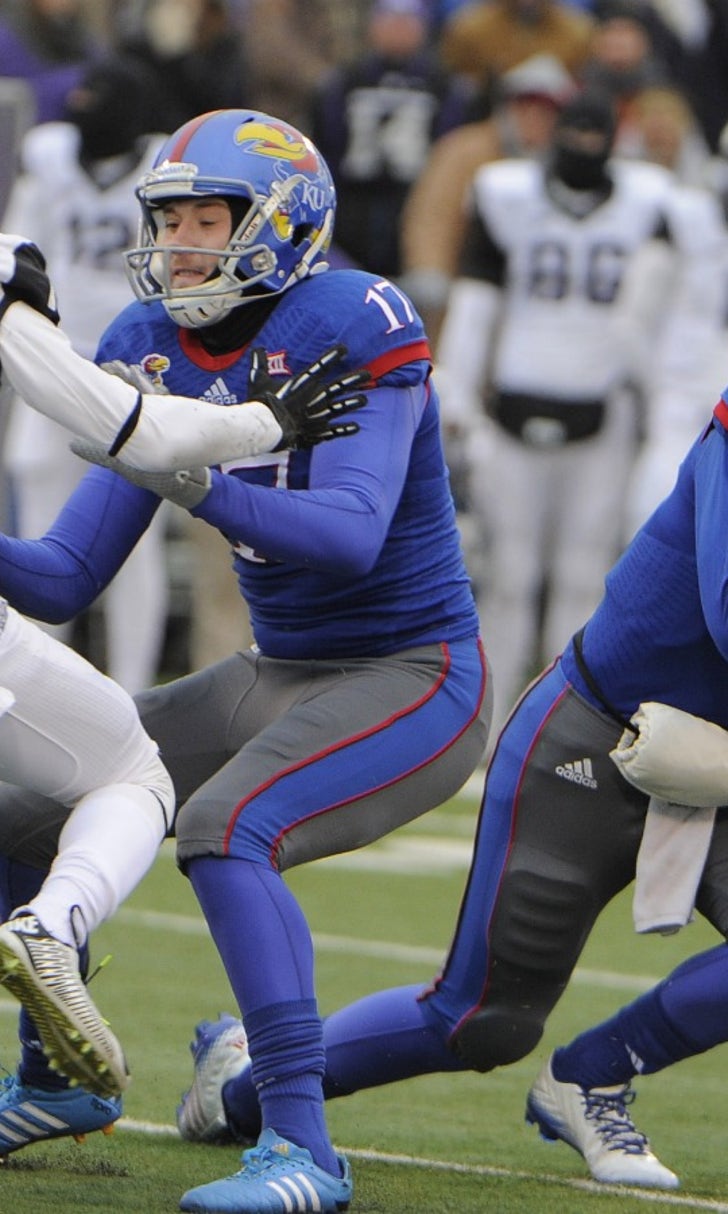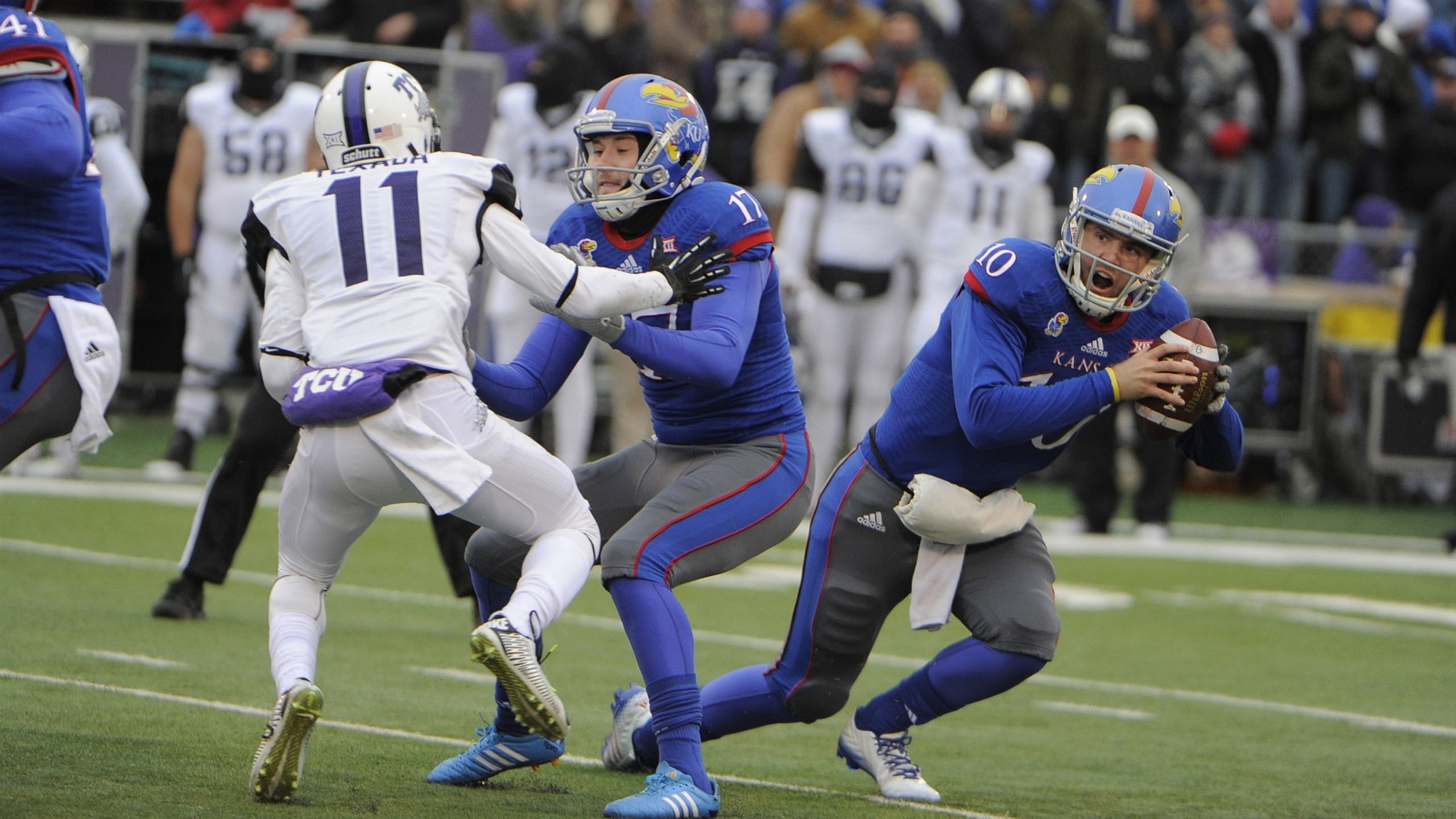 Jayhawks put No. 5 TCU to test in 34-30 loss
BY foxsports • November 15, 2014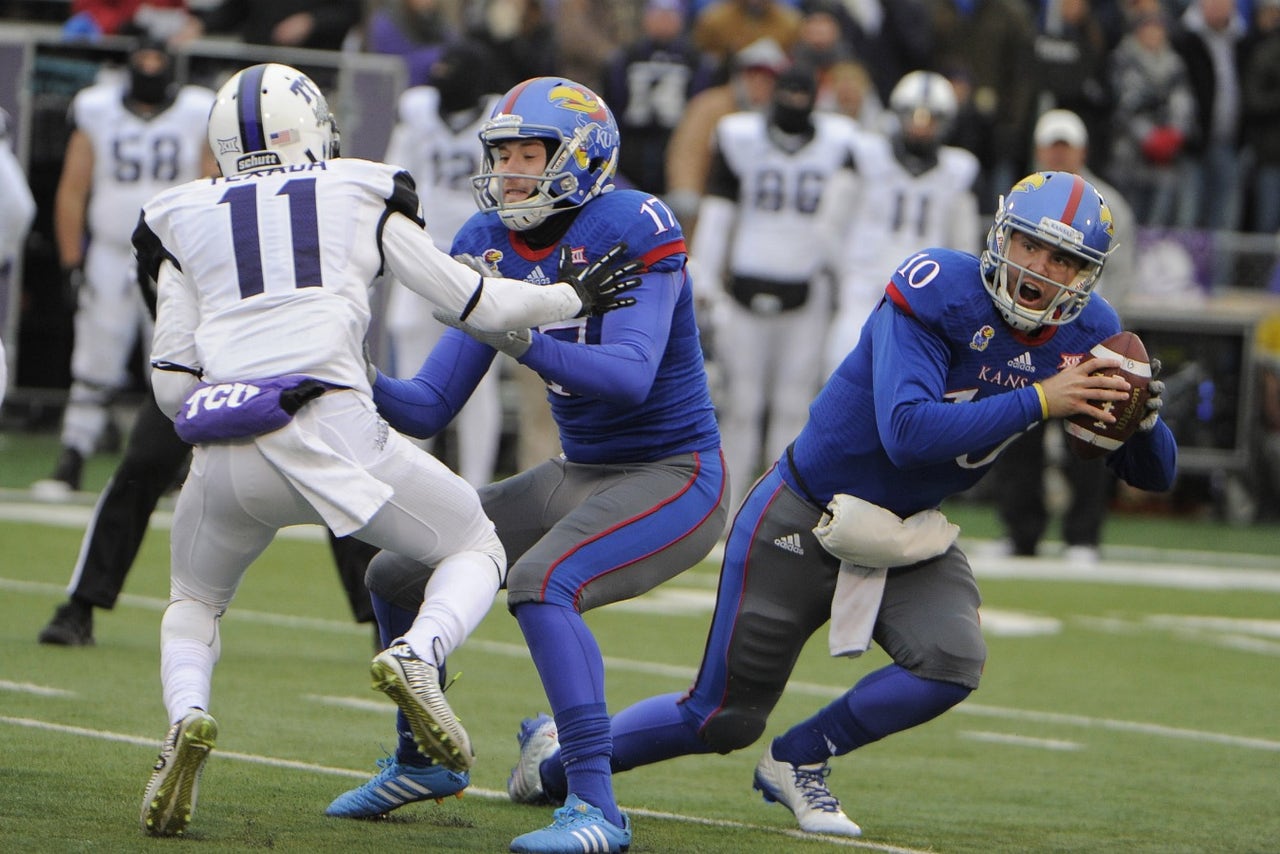 LAWRENCE, Kan. -- One week after its fans pulled down the goalposts to celebrate a win over lowly Iowa State, Kansas nearly gave them a much more appropriate reason to storm the field.
Michael Cummings threw for 332 yards and two touchdowns, and the Jayhawks frustrated fifth-ranked TCU for most of Saturday afternoon. The game still hung in the balance until the closing minutes, when the Horned Frogs converted a key fourth down to wrap up a 34-30 victory.
The Jayhawks (3-7, 1-6) were trying for their first regular-season win over a top-five team since beating Colorado in 1995.
"We were a play or two away from probably a better day," interim coach Clint Bowen said.
Jimmay Mundine had 137 yards receiving and a touchdown, and Nigel King had 128 yards and a score as the Jayhawks gave a sparse crowd of about 10,000 fans reason to cheer.
They also made another statement in support of Bowen, who has steadied the program after Charlie Weis was fired. After leading the Jayhawks to their second Big 12 win in the past four years last week, the Lawrence native and Kansas alum has become a strong contender for the job.
He certainly has the support of TCU coach Gary Patterson.
"I've already publicly said that they've done a great job, him and his staff," Patterson said. "You can tell that he really cares about this program."
TCU's Aaron Green ran for 128 yards and two touchdowns, and Cameron Echols-Luper returned a punt 69 yards for another score. Trevone Boykin added 330 yards passing and another score as the Horned Frogs (9-1, 6-1 Big 12, No. 4 CFP) rallied from a 27-17 third-quarter deficit.
Chris Hackett's interception with 3:26 left sealed the victory.
"We had some things go our way toward the end," Hackett said.
The Horned Frogs won their fifth straight, even without top running back B.J. Catalon. And with a trip to Texas followed by a home game against the Cyclones, they may have the easiest road standing between them and the inaugural four-team playoff for the national title.
"We're not too worried about it," Boykin said. "It's not up to us. It's up to the committee."
TCU did what most expected on the game's opening drive, going 67 yards in just over 2 minutes for a touchdown. But after that, nothing went as expected for quite some time.
After holding Kansas, TCU was flagged for roughing the punter. Later in the drive, the Jayhawks attempted a field goal and holder T.J. Millweard dropped the snap, scrambled to his left and threw a pass for a first down instead. Then, a TCU player batted a third-down pass and it was caught by the Jayhawks' Nick Harwell for another first down.
Finally, Corey Avery capped the bizarre 17-play drive with a 2-yard touchdown run.
The Horned Frogs quickly went the other way, but Kansas held on fourth-and-1 at its 11 to get the ball back. The Jayhawks promptly put together an 89-yard drive, with Mundine hauling in a 13-yard touchdown pass to give Kansas the lead.
By that point, the few thousand fans in Memorial Stadium sat in stunned silence.
Not everything went perfectly for Kansas. A 22-yard interception return for a TD was wiped away by an illegal substitution penalty, and a 16-yard pass into the red zone for a first down was taken away by a review that showed the ball had skipped off the turf. The Jayhawks wound up punting.
Still, they headed into the locker room with a 13-10 lead.
Kansas pushed the lead to 20-10 with an 82-yard drive to start the second half, and the Horned Frogs answered with a 72-yard drive that Green capped with a short touchdown run.
That set up one of the game's highlights: Cummings threw a pass to King down the sideline, and the big wide receiver caught the ball after three bobbles and ran 78 yards for a score.
There was still plenty of time, and the Horned Frogs showed plenty of poise.
After a quick drive downfield, Green's 24-yard touchdown run pulled TCU to 27-24. And after the Horned Frogs' defense forced a punt, Echols-Luper sliced through the coverage for his big return that gave them their first lead since the game's opening minutes.
TCU held on through a tense fourth quarter to avoid the upset bid.
"The TCU players told us, `Don't let anybody tell you you're not good enough,'" King said. '"You guys played your (butts) off today.'"
---