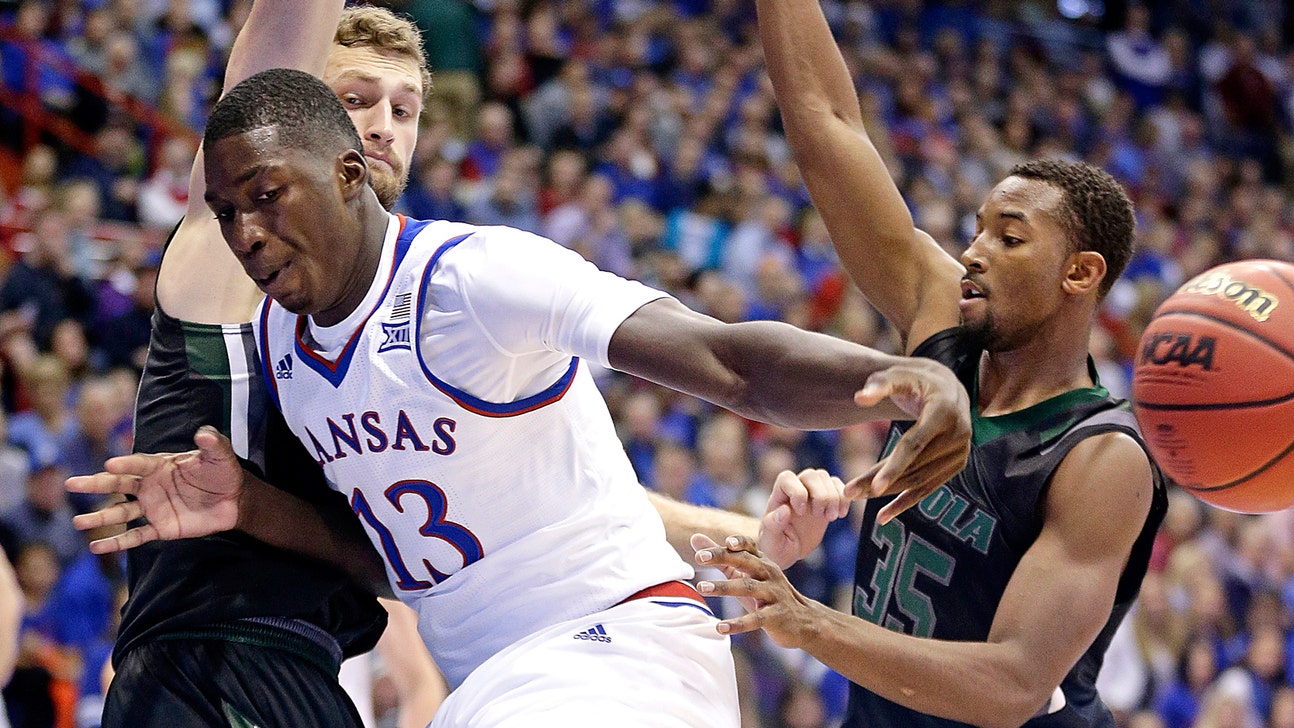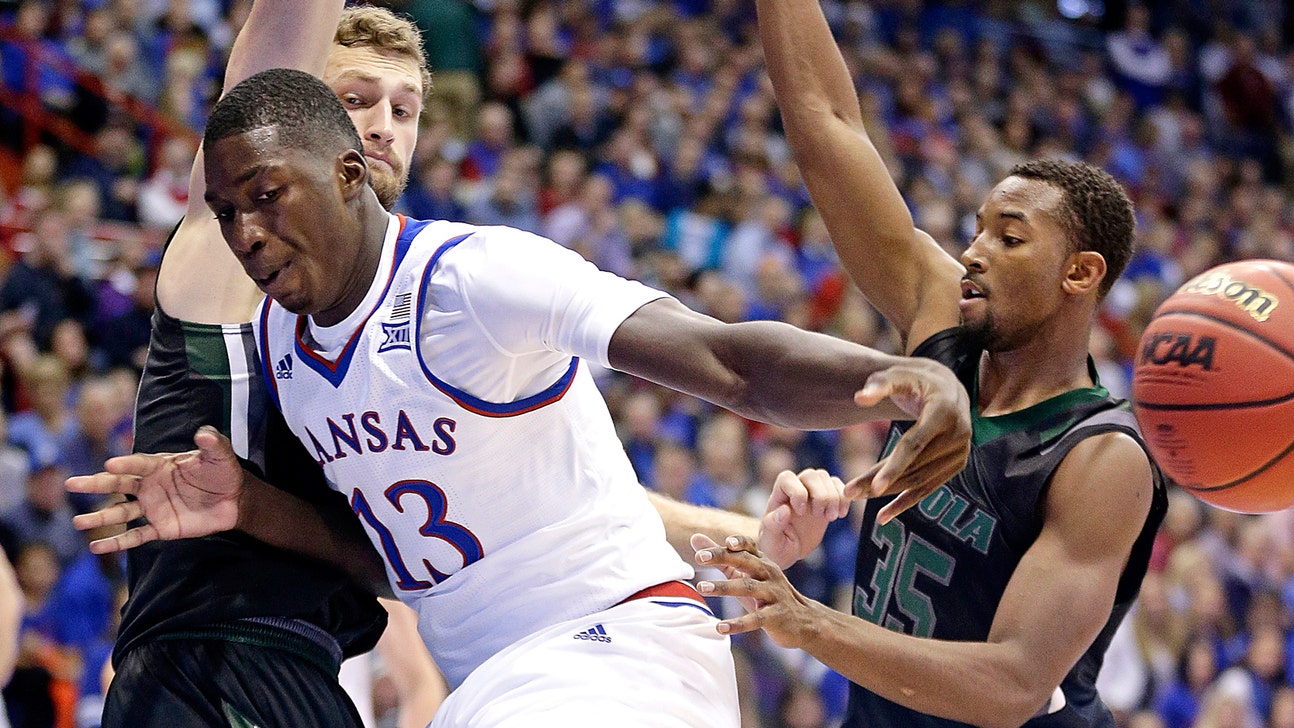 Jayhawks blow out Loyola 94-61 in Diallo's debut
Published
Dec. 1, 2015 10:14 p.m. ET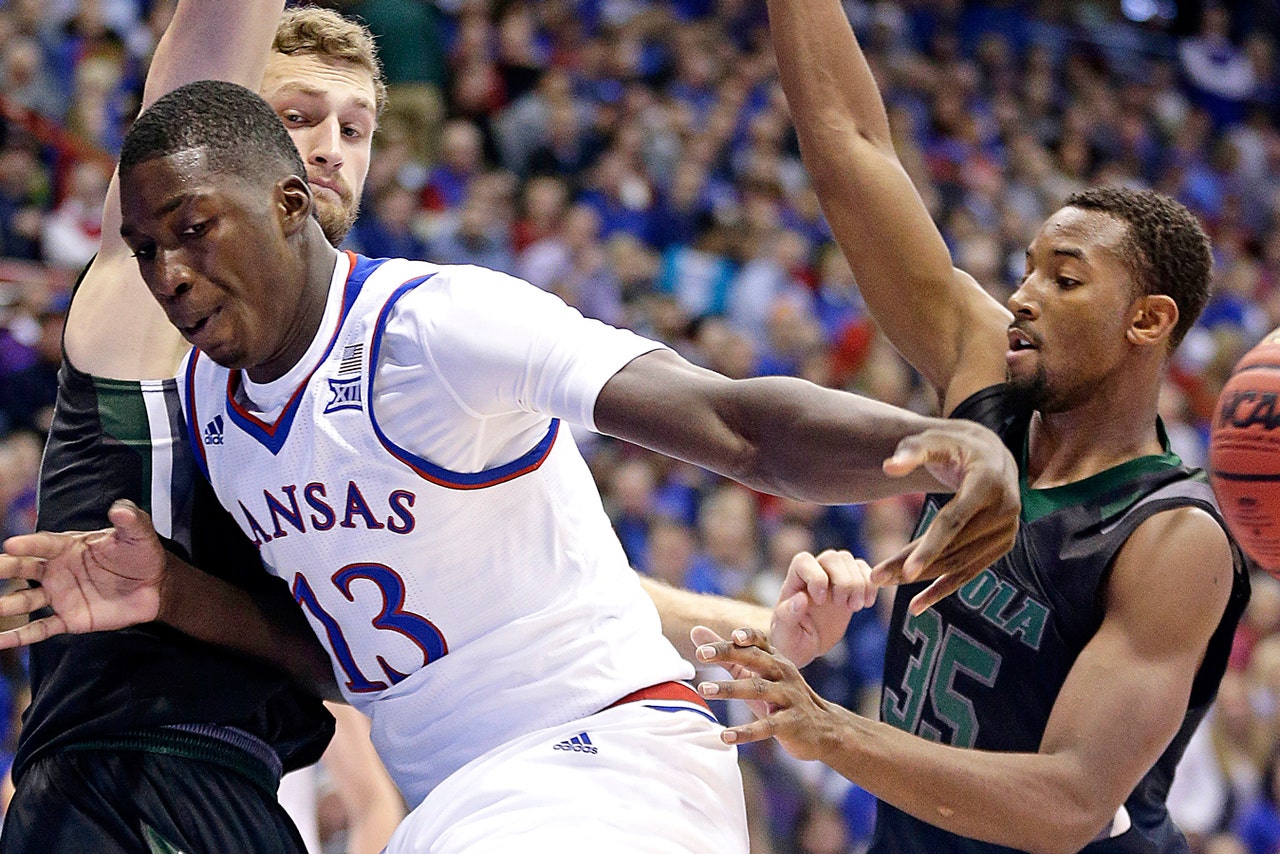 LAWRENCE, Kan. -- Wayne Selden Jr. sliced down the lane, saw the defense collapse and whipped a pass behind his back, hoping against everything that Cheick Diallo would be there to catch it.
Not only was he there, Diallo was ready to flush it.
In his much-anticipated debut for fourth-ranked Kansas, the 6-foot-9 freshman from Mali had a trio of highlight-reel dunks Tuesday night. He finished with 13 points, six rebounds and three blocks while helping the Jayhawks overcome a first-half malaise for a 94-61 victory over Loyola.
"At first, I don't know what I was doing. I was so excited. I turned the ball over so easily," said Diallo, who was the subject of an exhaustive eligibility inquiry by the NCAA. "I was so excited, I didn't know what I was doing. At the end of the game, I was playing so good."
Yes, he sure looked like he knew what he was doing on Selden's nifty pass.
"I wouldn't have thrown it if I didn't think he'd catch it," said the junior guard, who finished with a game-high 18 points. "He was in the right place at the right time."
The Jayhawks (5-1) led just 40-36 at halftime before going on a 15-1 run to start the second half. Diallo finished off the flurry with the that first dunk, then added another off an alley-oop pass from Carlton Bragg, and finished with a breakaway dunk with 4 1/2 minutes left.
"He was having fun. That's great," Kansas coach Bill Self said. "I'm happy for him. The kid waited a long time to get out there."
While the Jayhawks struggled on the boards early, and never got into an offensive rhythm until they came out of the locker room to start the second half, they still had no problem putting away an overmatched opponent from the Patriot League for their 26th straight win at Allen Fieldhouse.
That winning streak is tied for the eighth-best in school history.
Eric Laster had 16 points and Andre Walker had 10 for Loyola (1-6), which missed its first five shots and committed five turnovers to start the second half, when the Jayhawks went on their big run.
"We played really hard in the first half, four-point game," Greyhounds coach G.G. Smith said. "In the second half, they started on an 11-0 run and we just couldn't catch up."
That's because the second 20 minutes belonged to Diallo and the Jayhawks.
Diallo was held out while the NCAA examined his academic work from a New York prep school and his relationship with his guardian. Eventually, Diallo was deemed to have accepted a modest amount of improper benefits, resulting in a five-game suspension.
That ended on Tuesday night, and Diallo was given a standing ovation when he checked in. Several members of the student section even painted "FREE AT LAST" across their chests.
"I was nervous for Cheick," Self said, "because I knew this was a highly anticipated game in large part because of all the other stuff."
While raw on offense -- Diallo has only been playing basketball about five years -- he was active on the offensive and defensive glass. And his infectious energy and boundless enthusiasm allowed the Jayhawks to pull away in what had been a tight game at the half.
"He told me two days ago, 'I don't get nervous.' Then yesterday, 'Oh, coach, I'm so nervous!'" Self said with a smile. "Fortunately he got an easy basket and after that he was fine."
LUCAS SITS
Kansas forward Landen Lucas sat out with a sprained toe. He has not practiced since the Maui tournament but hopes to participate in Thursday's workout. "He wanted to play today," Self said.
TIP-INS
Loyola: Leading scorer Jarred Jones was held to four points. ... The Greyhounds are in the midst of playing seven of nine on the road. ... Loyola also lost to Kansas in January 2008.
Kansas: Frank Mason III had 10 points, six rebounds and five assists. ... The Jayhawks were just 12 of 26 from the foul line. ... Kansas forced Loyola into 21 turnovers.
UP NEXT
Loyola tries to snap a four-game skid Saturday against Mount St. Mary's.
Kansas continues a three-game homestand Saturday against Harvard.
---