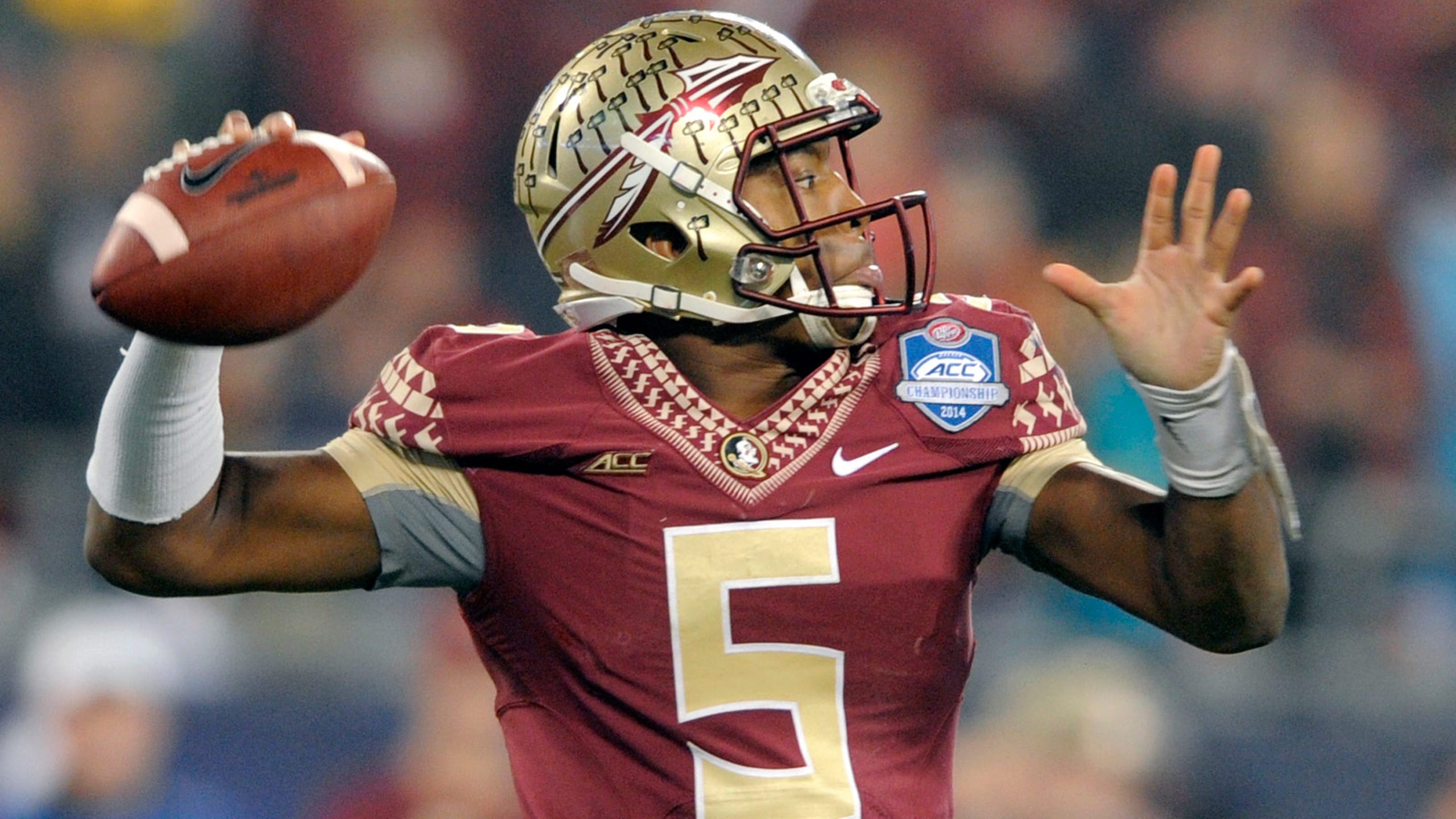 Jameis Winston's top 10 most memorable performances at FSU
BY foxsports • January 7, 2015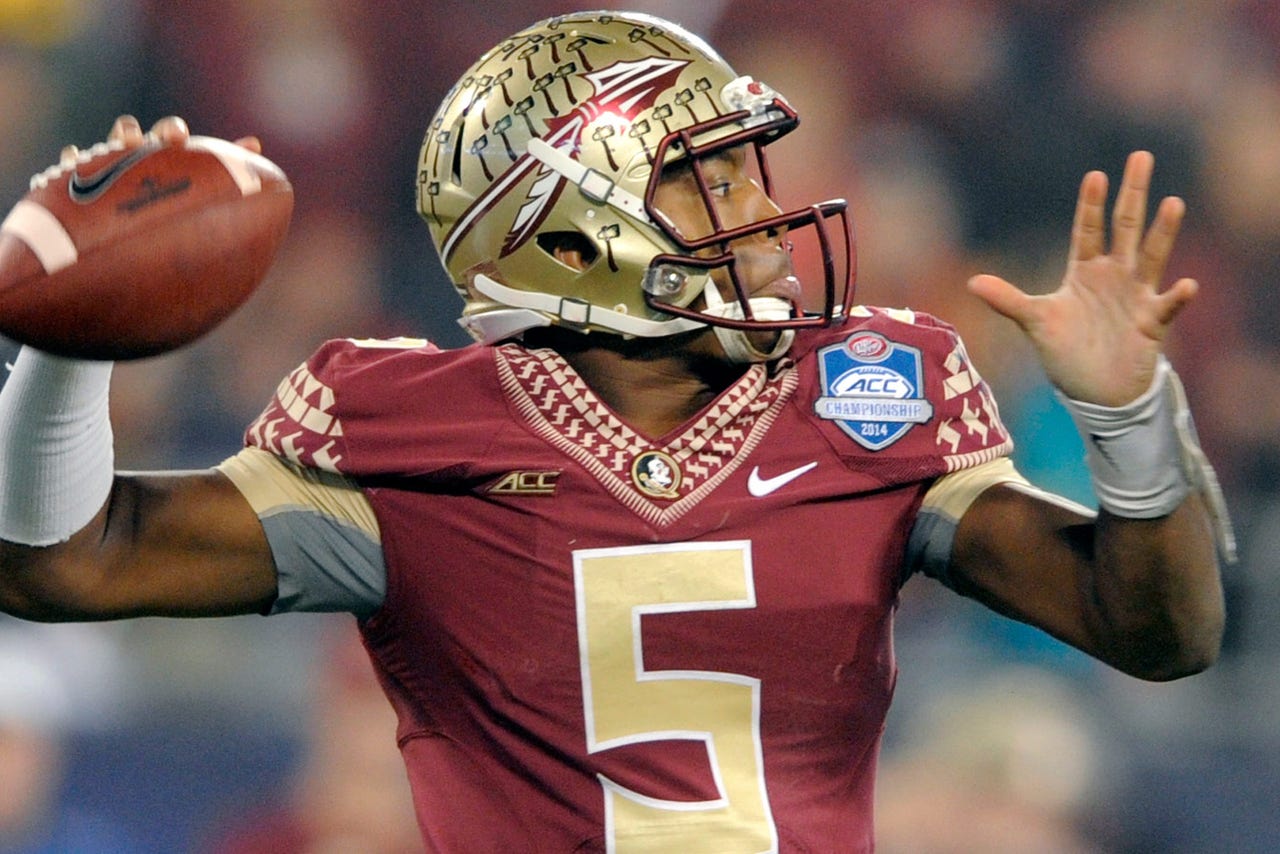 Florida State quarterback Jameis Winston, who announced Wednesday that he is declaring for the 2015 NFL draft, will be remembered as one of the greatest players to ever wear the garnet and gold of the Seminoles.
He played in just 27 games, but he made them count, coming away victorious all but once. With a 26-1 record as a starting quarterback, he'll leave Tallahassee as the school's all-time leader in winning percentage.
Over the two-year span, Winston won a BCS National Championship, two ACC championships, a Heisman Trophy and rewrote the school's quarterback record books. He delivered phenomenal performances, pulled off jaw-dropping plays and led several comebacks.
Here's a look at his 10 most memorable games...
10. AUG. 30, 2014 -- FSU 37, OKLAHOMA STATE 31
The first game on the list isn't necessarily Winston's best statistical game, but it did produce an exciting beginning to his redshirt sophomore season and one of the most memorable plays of the quarterback's career. Winston led the Seminoles to a surprisingly close 37-31 victory over the Oklahoma State Cowboys in the 2014 season opener, tossing a late fourth quarter 50-yard touchdown pass to WR Rashad Greene that put the game out of reach. But it's a third quarter, 28-yard touchdown scramble that will be remembered most from this game. Winston hurdled his own offensive lineman, then quickly side-stepped a Cowboys defender before finally diving into the end zone for the longest running score of his collegiate career.
9. DEC. 7, 2013 -- FSU 45, DUKE 7
Playing in the first postseason game of his college career, Winston showed no signs of nervousness. He torched the Blue Devils defense to the tune of 330 passing yards, connected on 19 of 32 passes, threw for three touchdowns, ran for one and added 59 rushing yards. Duke proved no match for Winston and the powerful Seminoles, who reached their first National Championship game since 2000.
8. SEPT. 28, 2013 -- FSU 48, BOSTON COLLEGE 34
Winston's fourth career start, a game at Boston College, would prove to be the first true test of his college career. Trailing 17-3 a third of the way into the second quarter, Winston picked up the intensity and led his team to 21 unanswered second quarter points, including a highlight reel Hail Mary touchdown pass to WR Kenny Shaw right before halftime. He evaded the Eagles' rush by ducking out of tackles, then scrambled right and unloaded a 55-yard bomb just before getting hit by a Boston College rusher. Winston continued the hot statistical start to his career by racking up 330 yards and tossing four TD passes. He also added a career-high 67 rushing yards in this game.
7. SEPT. 27, 2014 -- FSU 56, NC STATE 41
Florida State entered its matchup with the undefeated (4-0) Wolfpack on a 19-game win streak. Winston -- fresh off of a one-game suspension -- returned to action and looked rusty as the Seminoles quickly fell behind by 17 after the first quarter (24-7). Shaking off the slow start, Winston threw four touchdown passes to lead the rally. The 17-point comeback was the second largest of his career and Winston finished the day 26-39 for 365 yards, four scores and three turnovers.
6. DEC. 6, 2014 -- FSU 37, GEORGIA TECH 35
Coming off of a roller-coaster, yet undefeated, regular season, Winston and the Seminoles found themselves playing in their third consecutive ACC Championship Game. The opponent was Georgia Tech and their explosive triple-option offense. After falling behind in the first quarter twice, the FSU defense settled, allowing Winston and his offense to put together a phenomenal performance. Winston led the team on seven straight scoring drives as he connected on 21 of 30 passes for 309 yards and three touchdowns. The victory vaulted the Seminoles to the No. 3 ranking and a semifinal playoff matchup in the Rose Bowl where they would eventually lose to the Oregon Ducks.
5. OCT. 19, 2013 -- FSU 51, CLEMSON 14
Florida State versus Clemson is one of biggest rivalries the ACC has to offer and this was Winston's first time experiencing it as a player. The No. 5 Seminoles had to travel to Death Valley and take on the No. 3 Tigers, drawing questions as to whether or not Winston was prepared for such a hostile environment. Those questions were answered quickly and they were answered often. The redshirt freshman quarterback accounted for four total touchdowns (three passing and one rushing) while throwing for a career-high 444 yards on 22-34 passing as FSU crushed the Tigers and made college football fans across the nation take notice of the young quarterback.
4. OCT. 30, 2014 -- FSU 42, LOUISVILLE 31
The only Thursday game on the Seminoles 2014 schedule, their meeting in Louisville against the Cardinals would prove to be one of the largest challenges of Winston's season. He struggled throughout the game throwing what at that time amounted to a career-high three interceptions. After one of the interceptions, however, Winston was able to tackle the Louisville player who picked it off and jar the ball loose, allowing Florida State to recover and retain possession. Then in the fourth quarter, with his team down by three, Winston unloaded a throw over the middle that somehow got through three Cardinal defenders and landed in WR Ermon Lane's hands for 47-yard catch and run. Both fans and commentators were left speechless and in shock -– Winston had once again brought his team back from the cusp of defeat, this time with a fantastic thread of the needle.
3. OCT. 5, 2013 -- FSU 63, MARYLAND 0
This next game on the list was the 2013 Heisman winner's finest statistical outing as a college quarterback. Winston threw for 393 yards, five touchdowns, zero interceptions and just nine incompletions (23-32) in a dismantling of the Terrapins. That day's domination can be summed up in one incredible play. Late in the third quarter Winston took a shotgun snap on the Maryland 12-yard line and was immediately engulfed by Terrapin defenders, but then somehow spun out of the pile still on his feet and delivered a strike to TE Nick O'Leary in the back of the end zone.
2. SEPT. 2, 2013 -- FSU 41, PITTSBURGH 13
Going into the first game of the 2013 season, Winston had never played in a collegiate game and all fans and the nation knew of him was a rhyming nickname of "Famous Jameis." The young quarterback out of Heuytown, Ala., quickly made it clear to the country that he wasn't just any regular freshman. Winston put together a scintillating performance in which he picked apart the Panthers defense for 365 yards and four touchdown passes. But what made this debut even more remarkable was that he only missed on two throws the entire game. He completed 25 passes on 27 attempts, good enough for an incredible 92.5 completion percentage; by far his career best. Under the primetime lights and on the road, Winston lived up to the nickname and introduced himself to the rest of college football.
1. JAN. 6, 2014 -- FSU 34, AUBURN 31
Throughout his career, when all eyes were on him, Winston rarely disappointed. Which is why it came as no surprise when the Heisman Trophy-winning quarterback shined his brightest on the biggest stage -- the BCS National Championship Game. His overall statistics weren't impressive by any means, but he did save his finest performane for when Florida State needed it most. Trailing by four with just 1:19 remaining in the game, Winston orchestrated a seven-play, 80-yard game-winning drive that culminated in a 2-yard TD pass to WR Kelvin Benjamin. Winston struggled early and fought through adversity (down 21-3 in the first half), but in the end came out on the winning end with the largest comeback of his college career.
---