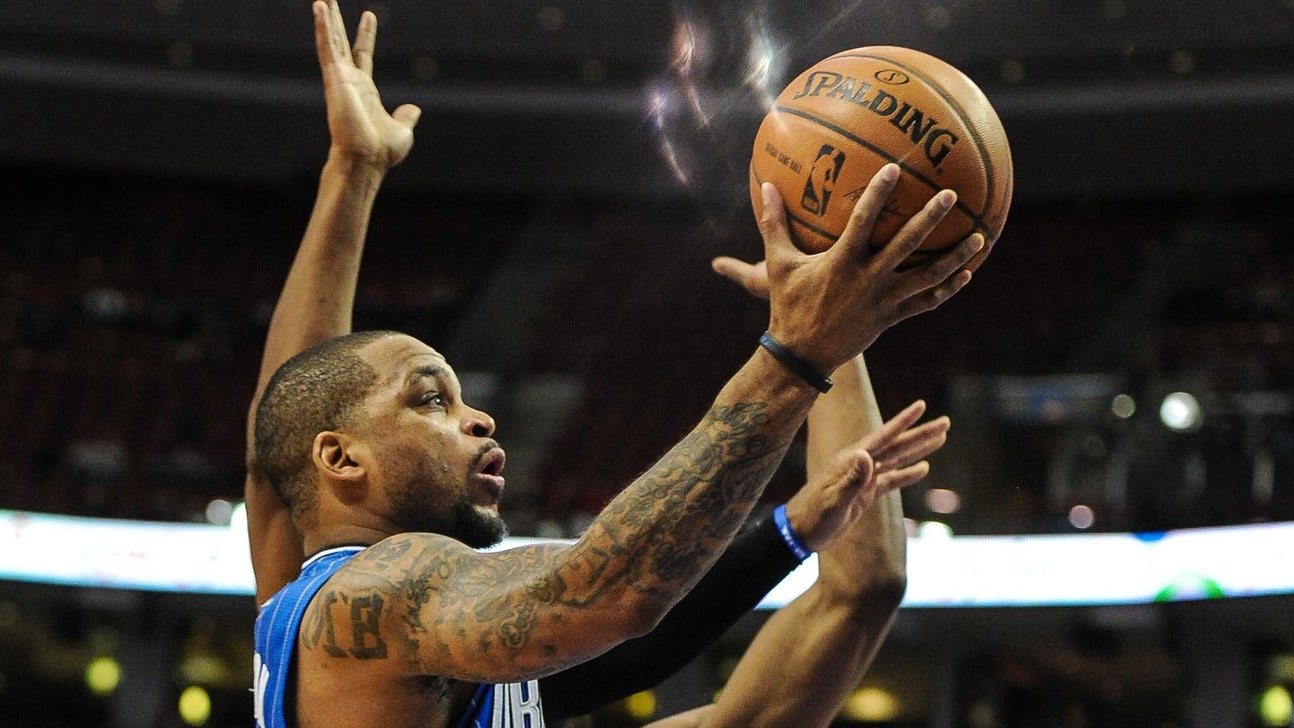 Jameer Nelson steps up late to lead Magic past 76ers
Updated
Mar. 4, 2020 1:46 p.m. ET

PHILADELPHIA (AP) -- A strong team defensive effort in the second half and Jameer Nelson's fourth-quarter offense helped the Orlando Magic snap a 16-game road losing streak. Playing the Philadelphia 76ers didn't hurt, either.
Nelson scored 12 of his 16 points in the final quarter and Nik Vucevic had 21 points and 13 rebounds to lead Orlando to a 101-90 victory over the Philadelphia 76ers on Wednesday night.
Nelson added 12 assists for the Magic, who last won on the road at Chicago on Dec. 16. Victor Oladipo added 17 points, and Maurice Harkless and Tobias Harris scored 13 apiece.
"We did some really good things in the fourth quarter," Magic coach Jacque Vaughn said. "We were smarter in the second half and smarter in the fourth quarter by making them take shots and make plays over us."
Thaddeus Young had 19 points for the Sixers, who lost their 12th straight overall and 11th in a row at home. Tony Wroten scored 15 points, Eric Maynor 13 and Henry Sims 10 for Philadelphia, which bought out the contract of Danny Granger earlier Wednesday.
The 76ers finished 0-11 in February. Philadelphia has stockpiled draft picks and cleared room under its salary cap, making the future its priority.
"There's a competitive side that it stinks and we want to win, that's the bottom line," Sixers coach Brett Brown said. "But it doesn't cripple anything that we're doing in regard to how we wake up and do the next day. It hasn't been debilitating. We move on."
Philadelphia did manage to keep the margin closer against Orlando. The Sixers entered having given up an average of 117.4 points during the losing streak, and they had been beaten by an average of 20.3 points before Wednesday.
The Sixers actually led by four, 44-40, at halftime thanks in large part to 20 fast-break points. Philadelphia had just five fast-break points after halftime, something the Magic emphasized at the break.
"You felt disgusted, the way we were playing, the way we weren't getting back on defense," Nelson said. "It's one of the things you have to learn as a team. You have to do everything right. We have times in the game where we don't play or hard or don't get back on defense, the things we can control. As long as we take care of the things we can control, we put ourselves in a situation to win on the road."
The teams began the fourth quarter tied at 67, but the Magic used an 18-8 run over the first 3:52 of the final quarter to take their largest lead to that point, 85-75, with 8:08 remaining. Nelson scored 10 of Orlando's points during the spurt, including a pair of 3-pointers. Orlando's lead grew to as many as 13 points and the Sixers never recovered.
Nelson was 2-for-7 shooting from the field with four points entering the final period but said he remained confident.
"This is one of those situations where you're not shooting well, but you don't stop shooting," he said. "I put a lot of work in the offseason to make myself who I am, to be a good enough shooter and good enough player to be in the NBA. I don't lack any confidence when I'm 2 for 7. I'm going to shoot the next shot."
Vaughn said Nelson's play was a key to the Magic's victory.
"Vintage, to say it in one word," Vaughn said. "We put the ball in his hands. He made shots for us, made plays for us. His ability to get in the paint was pretty good for our group tonight."
Besides snapping the road skid, the victory was gratifying for Nelson, who grew up in nearby Chester, Pa., and attended Saint Joseph's University in Philadelphia. Nelson was visited in the locker room afterward by Hawks coach Phil Martelli.
"It's definitely special," Nelson said. "It's always fun to come back and see my friends and family."
Two 3-pointers from Hollis Thompson to start the second half helped Philadelphia take its largest lead to that point, 50-42, 50 seconds into the third quarter. But Orlando ran off 11 straight over the next 4:18 to go in front 53-50 with 6:52 left in the period. The Magic lead grew to as many as seven points, 65-58, with 3:05 left in the quarter on Harris' free throws before Philadelphia closed the period by scoring nine of the final 11 points to enter the final quarter tied at 67.
Philadelphia completed a buyout of Granger's contract on Wednesday night, enabling the veteran forward to sign with any team if he clears waivers by 5 p.m. on Friday. Granger was acquired from the Indiana Pacers last Thursday for Evan Turner and Lavoy Allen but never played a minute for Philadelphia. The 76ers also received a 2015 second-round draft pick in the deal.
NOTES: Orlando's Arron Afflalo (right ankle sprain), who averages a team-leading 19.7 points per game, missed his third straight game. ... The Magic entered Wednesday averaging 89.4 points during their road losing streak. ... The Sixers are scheduled to retire Allen Iverson's jersey during Saturday's game against Washington. ... The Sixers' home losing streak is the longest since they lost 12 straight in the 1996-97 season.
---