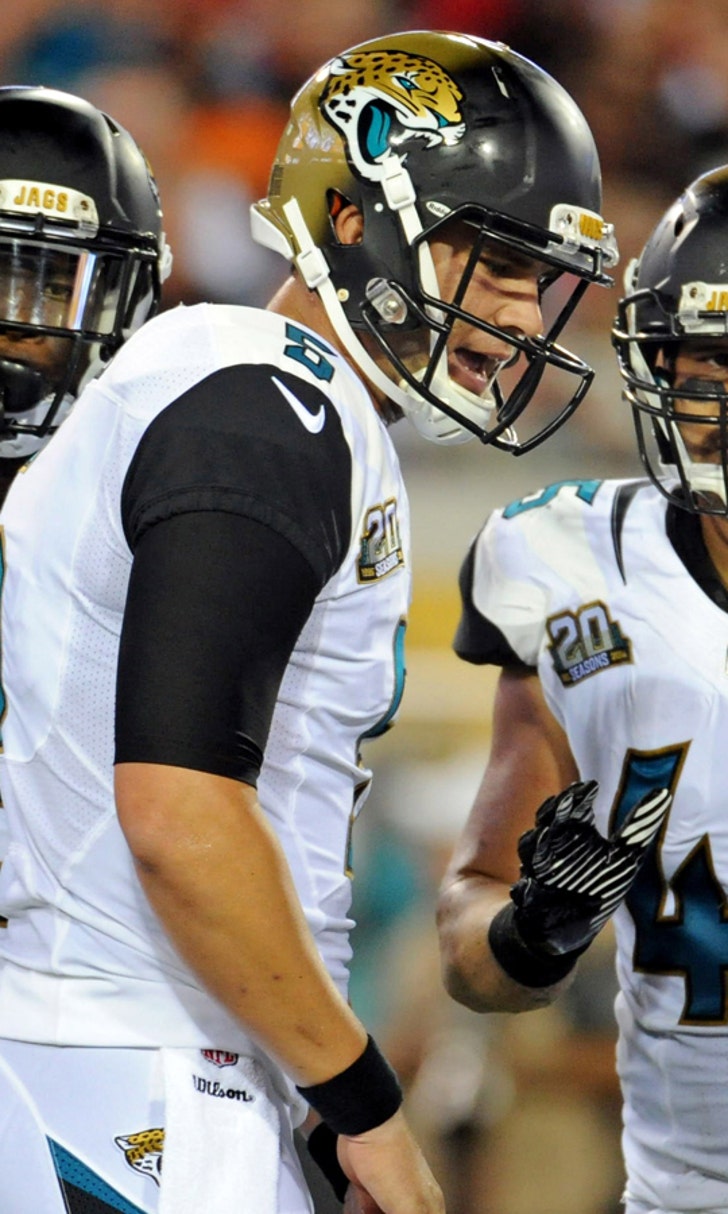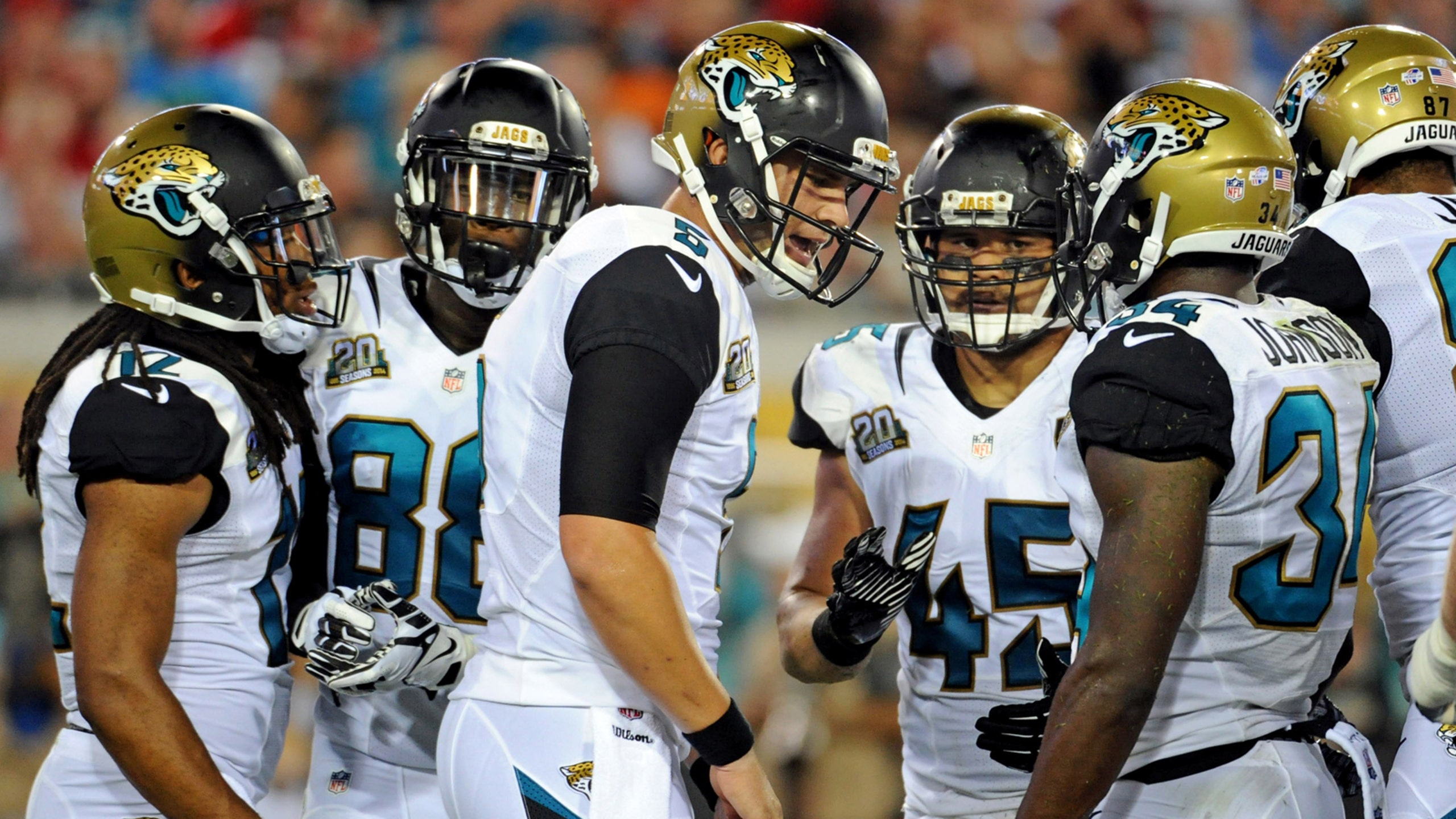 Jaguars sticking to slow and steady plan with Blake Bortles
BY foxsports • August 9, 2014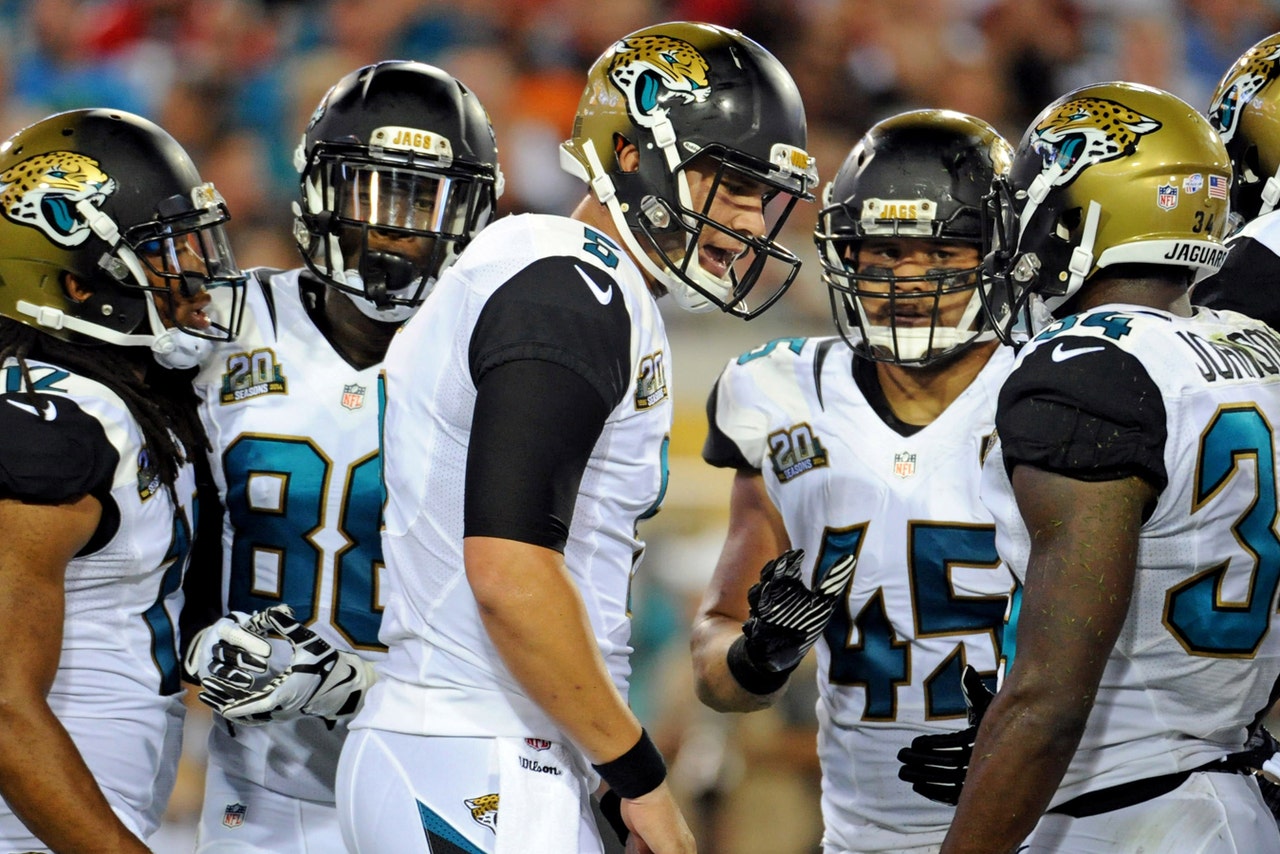 JACKSONVILLE, Fla -- In every statistical category, Blake Bortles had a better passing performance Friday night in his Jacksonville Jaguars debut than incumbent starting quarterback Chad Henne.
But the numbers that need to be taken into account more than any other when evaluating the play of both signal-callers are 1 and 2. Henne, the starter in the final 11 games of 2013 for the Jaguars, was operating with the first-team offense against the first-team defense of the Tampa Bay Buccaneers. Bortles, the third overall pick in the 2014 draft, took his snaps with the second team offense against mainly a collection of Bucs reserves.
And even after Bortles threw for 117 yards and guided the Jaguars to a field goal on his final series in their 16-10 victory, coach Gus Bradley said "I wouldn't count on" the rookie from UCF taking snaps with the first team next week in practice or in Thursday night's game at Chicago.
Bradley's comment Saturday was in line with what he said Friday night about wanting to bring along rookies at something of a deliberate pace before throwing them into a full-speed NFL game. An exception to that has been undrafted wide receiver Allen Hurns, who has worked with the first team because of so many injuries at that position.
"We do that with other guys," Bradley said. "And I'm sure we'll do it with Blake as well."
Although Hurns was targeted on an incompletion by Henne in the first quarter, his two receptions were on passes by Bortles in the second quarter. None of Henne's four completions were to wide receivers, and the only one to pick up more than nine yards was a throw to tight end D.J. Tialavea that bounced off the hands of three Bucs defenders before ending up in his arms.
Tialavea, another undrafted rookie, was working with the first team in a two tight end formation because neither Clay Harbor (calf) nor Brandon Barden (illness) dressed for the game.
Of Bortles' seven completions in 11 attempts, all but one went to wide receivers -- two each to Hurns, Kerry Taylor and Mike Brown. The highlight was a 31-yard strike down the middle to Brown where the Jaguars picked up an additional 15 yards when Bucs tackle Akeem Spencer was flagged for roughing Bortles.
"The chemistry felt really good with all the receivers," Bortles said following the game. "I think they did a great job getting open, and the offensive line did a really good job of protecting up front."
The only sack given up by the Jaguars came late in the second quarter with Bucs end Steven Means having a clear shot at Bortles. One play later, the 6-foot-5 Bortles took off running and, while sliding to the ground, had his helmet knocked off by 5-10 safety Keith Tandy.
"I've got to try and slide earlier," he said.
Conspicuous by his absence on the receiving chart was Marqise Lee, the first of the two wide receivers drafted by the Jaguars in the second round three months ago. Lee didn't have a pass thrown his way, and Bradley strongly hinted there was a lack of consistent effort on the part of the rookie from USC.
"I'd like to visit with him about what happened (Friday)," he said. "He did play good, but he could have done some more things even more precise. It wasn't exactly where we need him to be."
Allen Robinson, their other second-rounder, and Cecil Shorts III, their top receiver last season, are expected to miss the game against the Bears because of hamstring injuries earlier in training camp. Bradley sounded more encouraged about possibly having running back Toby Gerhart available in practice Monday.
Excluding the 23-yard touchdown by Denard Robinson that snapped a 10-10 tie in the fourth quarter, the top three running backs behind Gerhart on the depth chart ran for only 39 yards on 20 carries.
You can follow Ken Hornack on Twitter @HornackFSFla or email him at khornack32176@gmail.com.
---