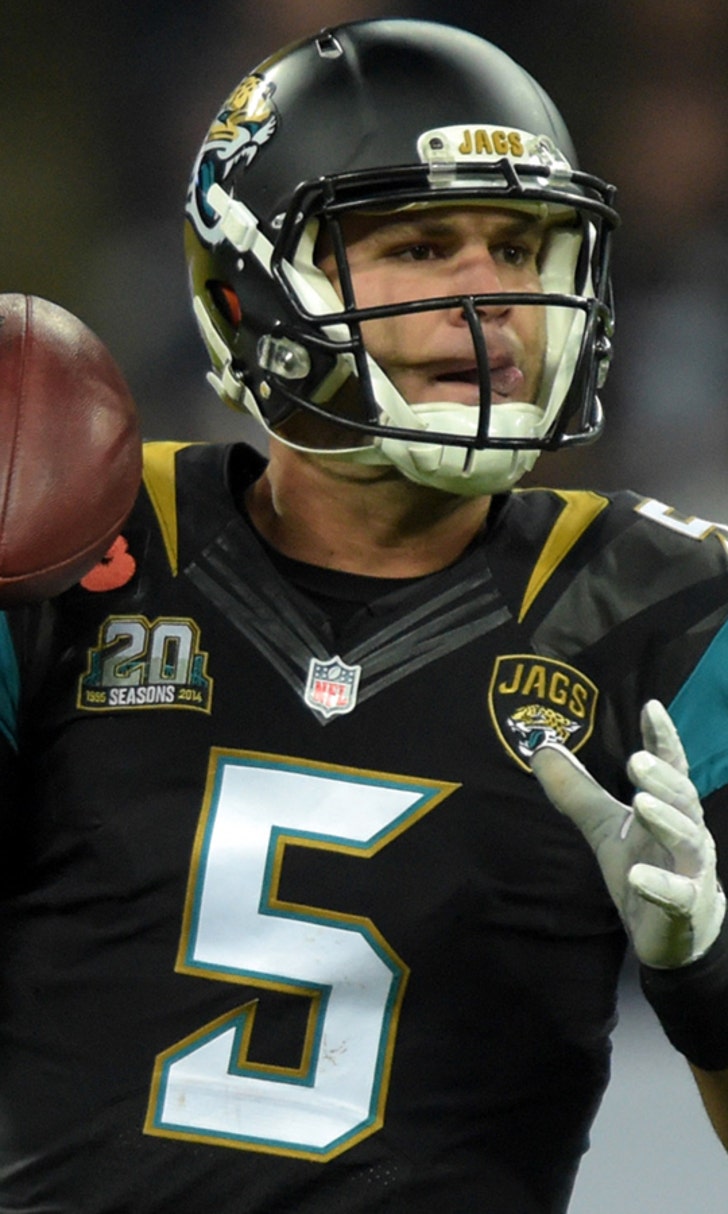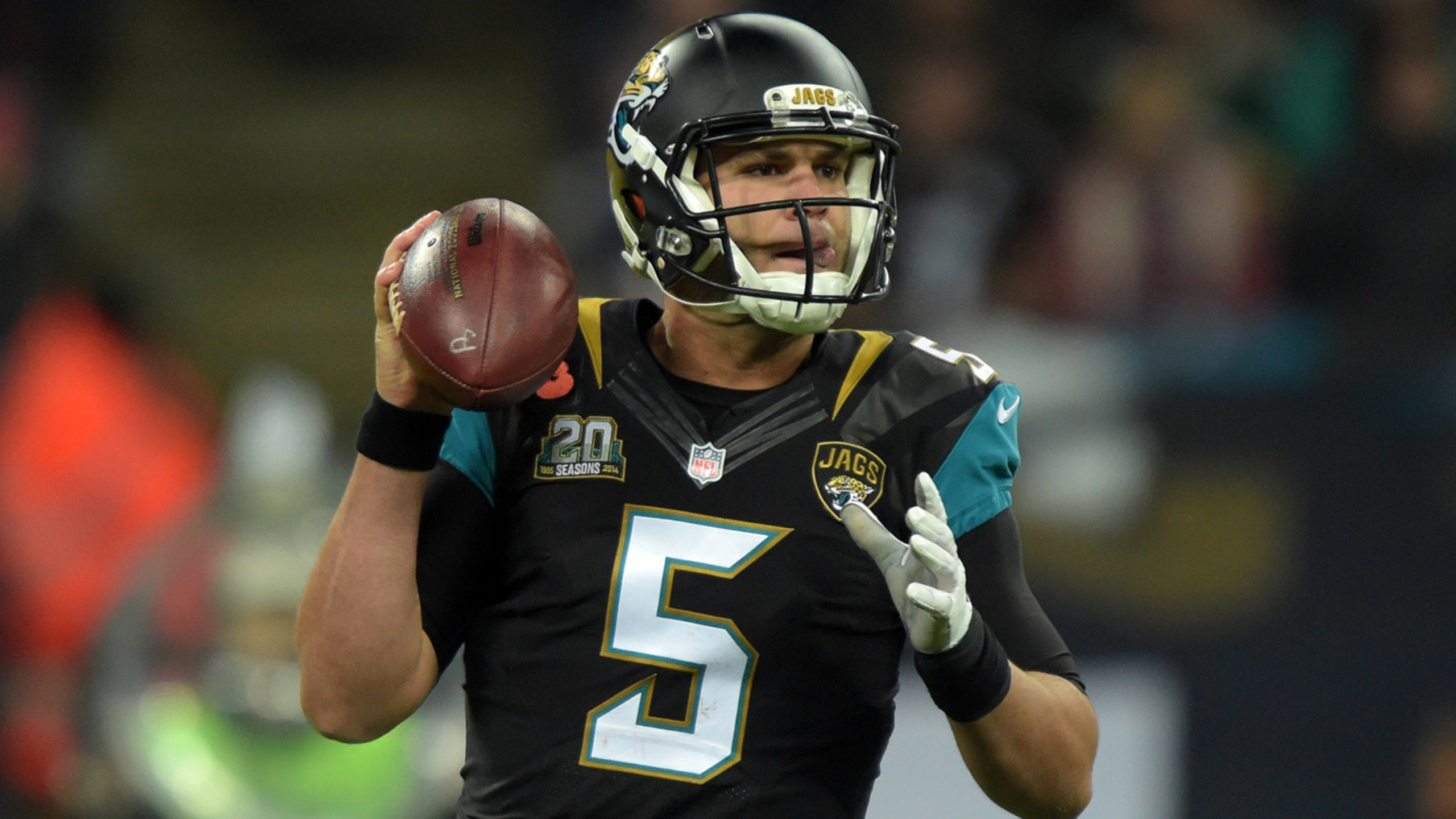 Jaguars expect more from struggling rookie QB Blake Bortles
BY foxsports • November 24, 2014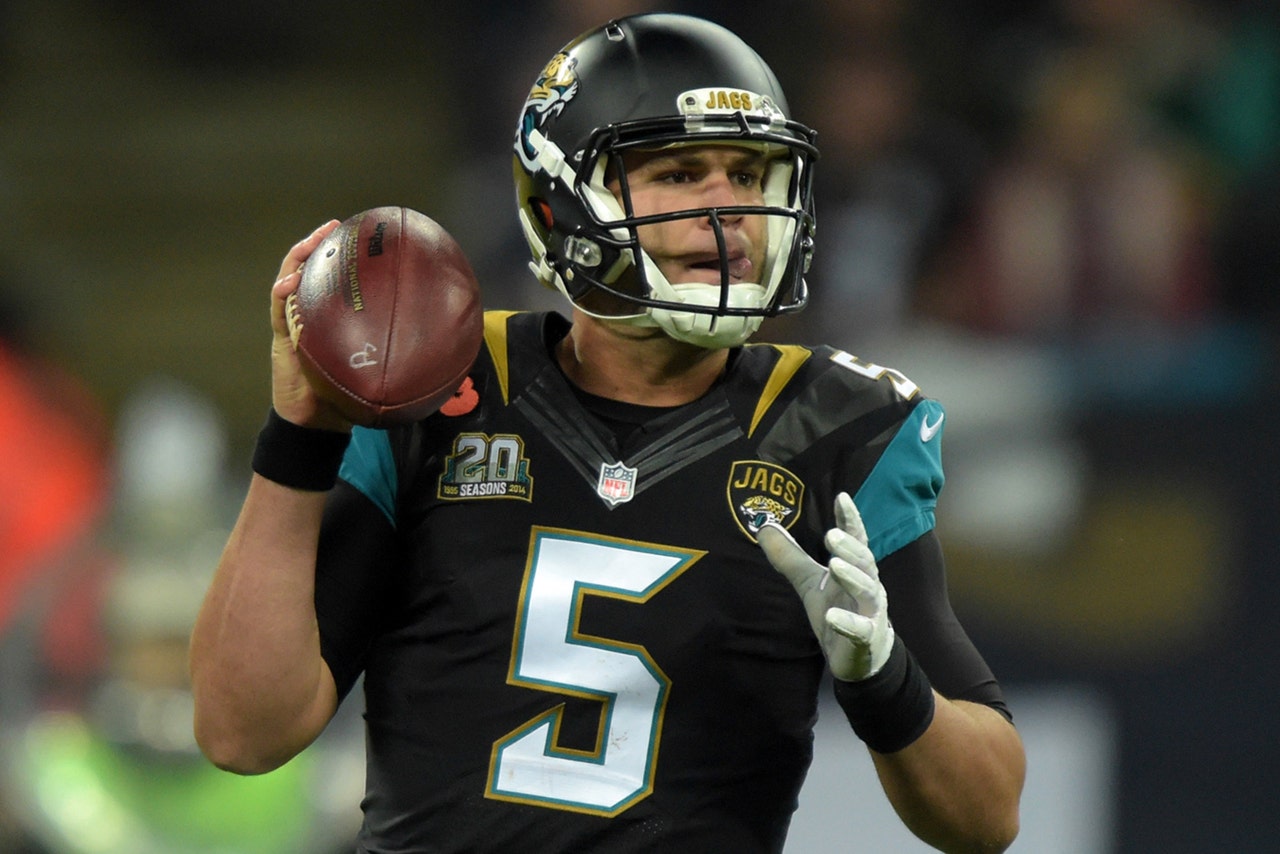 JACKSONVILLE, Fla. -- The eighth start of Blake Bortles' young NFL career began badly Sunday, and it didn't improve a whole lot from there.
Based strictly on quarterback rating, Bortles has had two worse games than he did in the Jacksonville Jaguars' 23-3 loss to the Indianapolis Colts. One of those even came in the only victory the Jaguars have recorded all season.
But after watching Bortles throw for a career-low 146 yards, including only 39 through the first three quarters, coach Gus Bradley admitted Monday he's concerned about whether the rookie is starting to regress.
"My hope is that fear hasn't entered in the equation for Blake, where he gets in there and he's going, 'Oh, I made an interception' and, 'Oh, I've thrown a couple interceptions. Boy I need to make good decisions and I'm going to hold onto the ball,'" Bradley said. "That's not what we want. We don't want that from him."
Four of Bortles' 14 interceptions going into the game had been returned for touchdowns. Colts cornerback Vontae Davis almost made it five on the Jaguars' second play from scrimmage when Bortles threw behind tight end Marcedes Lewis, who was playing for the first time since injuring an ankle in September. Davis would have scored if Jaguars fullback Will Ta'ufo'ou hadn't hauled him down.
Although Bortles wasn't picked off the rest of the day, he didn't exactly look like the strong-armed kid taken with the third overall pick in the NFL Draft out of UCF either.
Of his 15 completions, nine went to running backs. He had only three completions of more than 10 yards -- a quick slant-in to Marqise Lee that the rookie wide receiver turned into a 37-yard gain, a 19-yard swing pass to Denard Robinson with the Jaguars backed up to their 1-yard line, and a 13-yard completion to Allen Hurns on a third-and-24 play.
Bortles also took a pounding in the second half, getting sacked four times as the Jaguars were forced into repeated second-and-long and third-and-long situations.
"At times he holds the ball a little bit too long," Bradley said. "His decision-making is not as quick as we need it to be. Those are things that are coming up. I know you can say he's young, but we expect more."
Thanks to a drive in the fourth quarter with the game out of reach which included the completion to Lee, Bortles finished with a rating of 55.5. That was better than the 52.0 mark he had in a loss to the Pittsburgh Steelers or the 40.3 figure when he threw three interceptions in a victory over the Cleveland Browns.
The Jaguars amassed only 194 total yards, their worst showing since being held to 148 yards in Week 2 at Washington when the Redskins sacked Chad Henne 10 times.
"Offensively, I cannot say we got better (Sunday). I can't argue that," Bradley said. "We can't be in situations where we're in second and 22, third and 15 when we preach all week about doing things right in practice. That doesn't make any sense to me, nor should it to you or our fans."
Down 6-3 at half, the Jaguars got the ball to begin the third quarter. On first down, the only completion to Lewis all game resulted in a loss of five yards. On second down, Bortles simply dropped the snap out of the shotgun formation and fell on the ball for a loss of six more yards.
The Jaguars went three-and-out on their other two possessions of the quarter, including one where Bortles was sacked for a 12-yard loss on first down.
"We can't put ourselves in that hole," wide receiver Cecil Shorts III said. "There's no play-calling for second and 22. There's nothing you can do."
Bortles hasn't thrown multiple interceptions since the Miami Dolphins returned two of his passes for scores Oct. 26. But save for a brief stretch in the second half the following week at Cincinnati, the Jaguars haven't done much on offense since then.
"There's got to be a heightened sense," Bradley said. "You can't sugar-coat it. It's the game of football and it's the NFL and you're expected to play at a high level. And there's going to be challenges and you've got to be able to face those challenges and still perform at a high level. That's what he's learning."
If Bortles' confidence is shaken, Shorts has yet to see signs of it.
"I feel like Blake's handling it fine," he said. "We kind of get the same Blake each and every day, each and every week, the same Blake in the huddle. He's calm. He's cool. He's Blake. So he's not down on himself, not that we can see. He's handling it like a professional, and that's big for a rookie especially when you've been picked that high.
"Blake's a confident guy. That's just his nature. He's a competitor. And from me, I see no fear creeping in."
You can follow Ken Hornack on Twitter @HornackFSFla or email him at khornack32176@gmail.com.
---