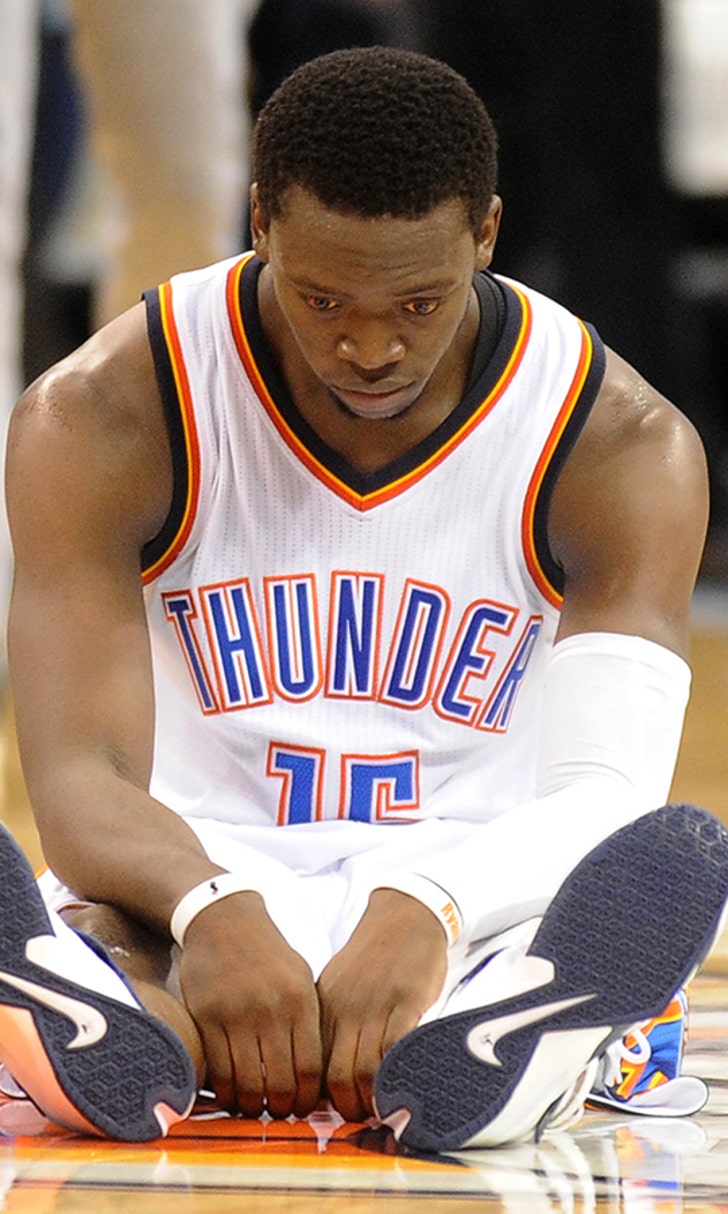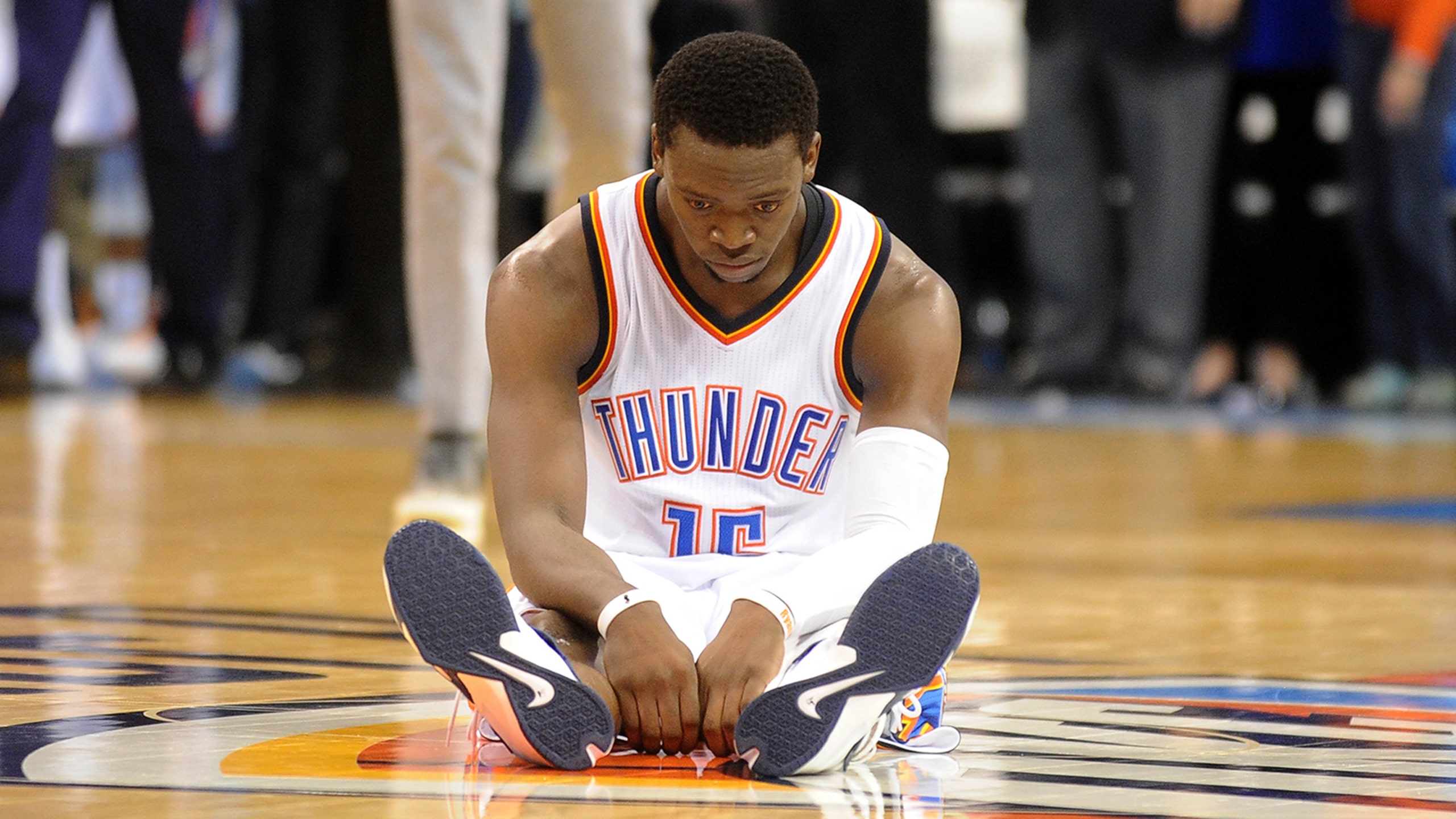 Jackson misses shot at buzzer, Thunder lose to Nets
BY foxsports • November 22, 2014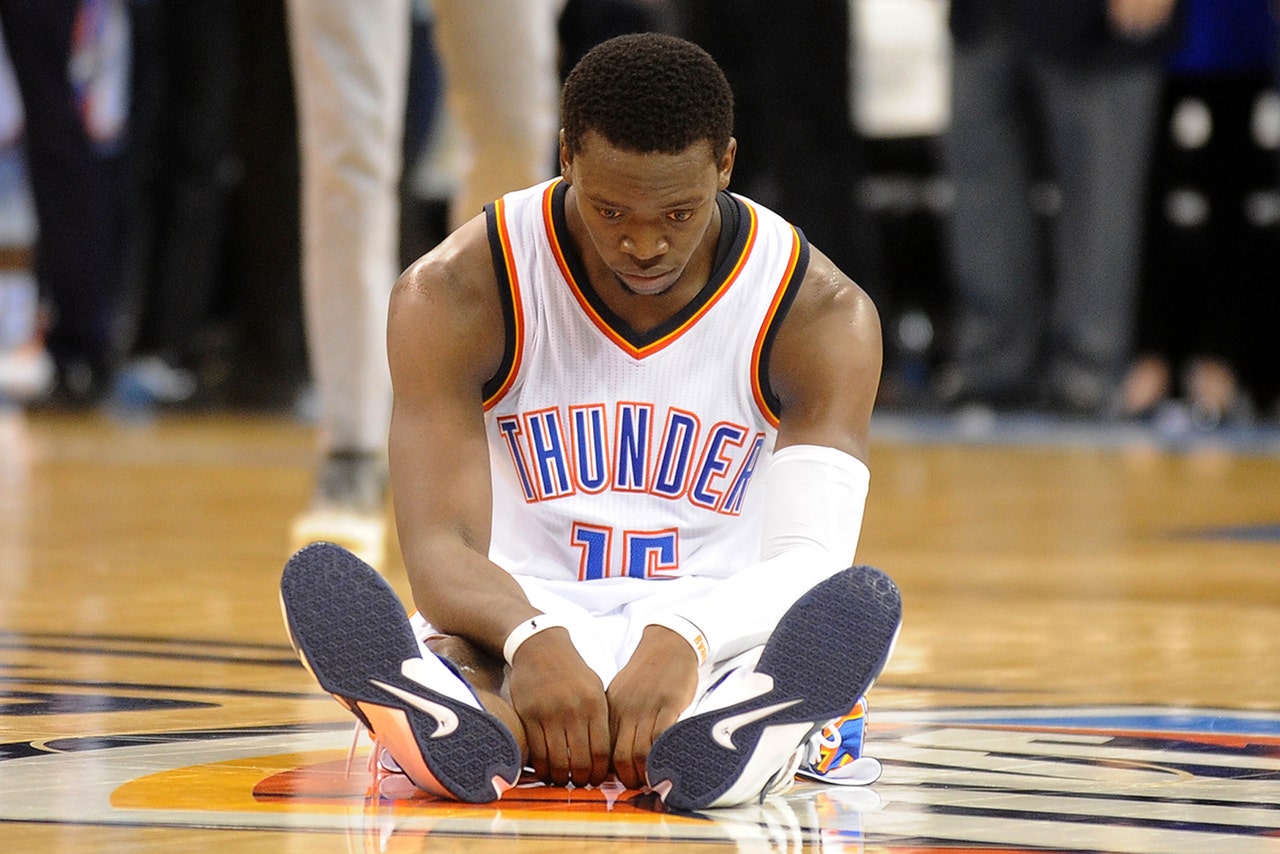 Kevin Durant charged the court ready to celebrate with Reggie Jackson.
Then Durant stopped. 
Jackson's shot missed. Skipped out when it looked like it was going in, and instead kicking off a Friday night party after a last-second win, Durant did the only thing he could – he offered a hug and a smile and held onto Jackson as Jackson held off tears.
Yeah, we know the feeling. 
Another game, another close loss, another Reggie Jackson miss at the buzzer. Seriously, what else is there to do at this point but find a shoulder to cry into?
It's been that kind of season in Oklahoma City. Five times this season the Thunder have a had a chance to win it or send the game to overtime on their final shot and each time that shot has missed.
Serge Ibaka missed last-second tries against the Clippers and Memphis and Jackson missed against Detroit and Houston. Jackson's clean attempt from 24 feet looked so good Friday night, but then again, so did this season before it all came undone in a series of crippling injuries which ultimately are way worse than any missed shot.
Instead of a victory, the Thunder lost again. This time it was 94-92 to the Nets. And in place of celebration is the sinking feeling the Thunder may not be able to find a way to escape what looks to be a massive hole. OKC is 3-11 and at the bottom of the Western Conference.
Maybe that's why Durant offered a hug to Jackson after the game. Maybe that's why Jackson sat in front of his locker for at least 10 minutes in a comatose state with his palms pressed together as if in prayer. 
"I didn't like the outcome of the game," coach Scott Brooks said. "We have demonstrated we were more than capable of winning games. A couple of shots drop the game could have easily gone our way. I'm proud of the effort and we're going to keep playing for each other."
The effort has been there, but the wins haven't and there's really no reason to think things should have been any different or better. This is what happens when there's no Durant or Russell Westbrook and you're forced to play Lance Thomas 32 minutes. 
Expecting anything other than disappointment is more ridiculous than assuming Sebastian Telfair will be able to give you something better than a three-for-eight kind of performance.
The Thunder aren't finding new ways to lose, they're perfecting all the old ways. But that doesn't mean it doesn't hurt just as much.
Jackson was close to tears Friday when he left the court and also in the locker room. Last week when the Thunder lost to Detroit, he took full responsibility for the loss. He did the same when Houston beat Oklahoma City.
Once again, OKC missed free throws (12-of-19) and couldn't sustain its play after starting hot. The Thunder shot 66 percent in the first quarter and 27 percent in the fourth quarter, going nearly four minutes without a basket. 
"We've just got to figure out what we've got to do to get over that hump," Thomas said after the game. 
Well, that's pretty obvious. A healthy Thunder team wins these games. A beat-up and beat-down Thunder team is just good enough to stay close enough for a bit of heartbreak.
"We're close," Brooks said. "I love the spirit that we play with.  We're going to keep fighting."
Probably so. And they're going to need a few more hugs, too.
Follow Andrew Gilman on Twitter: @andrewgilmanOK
---