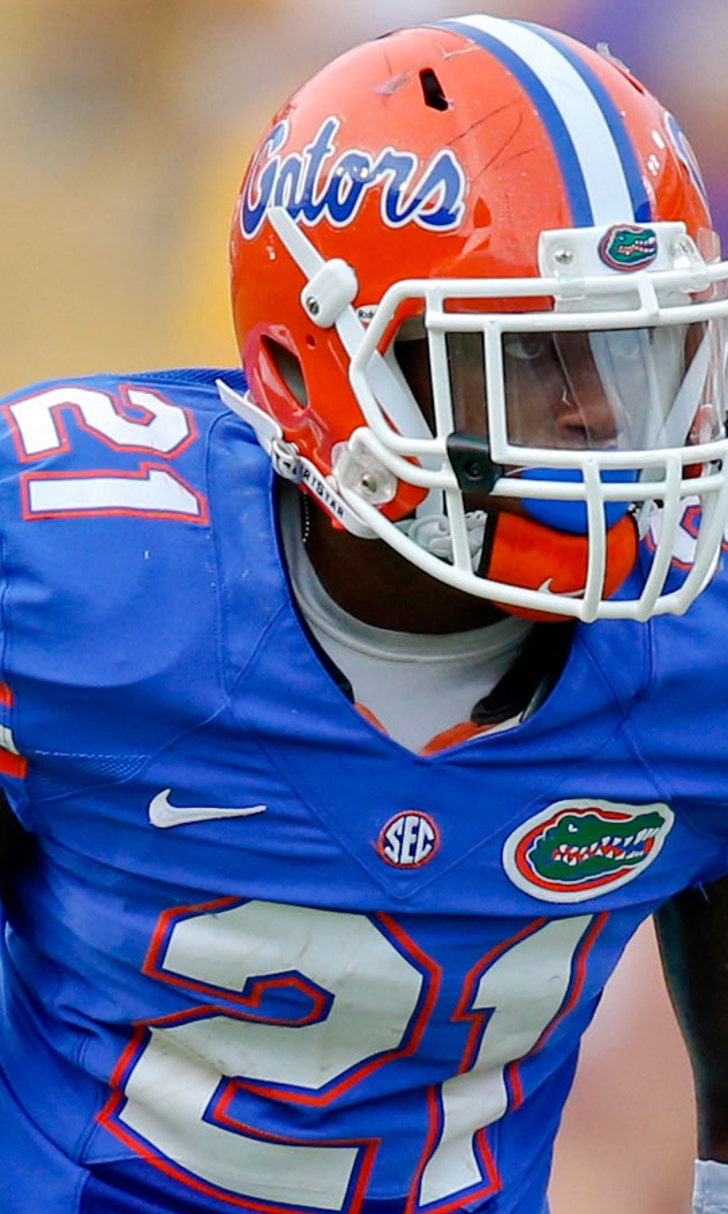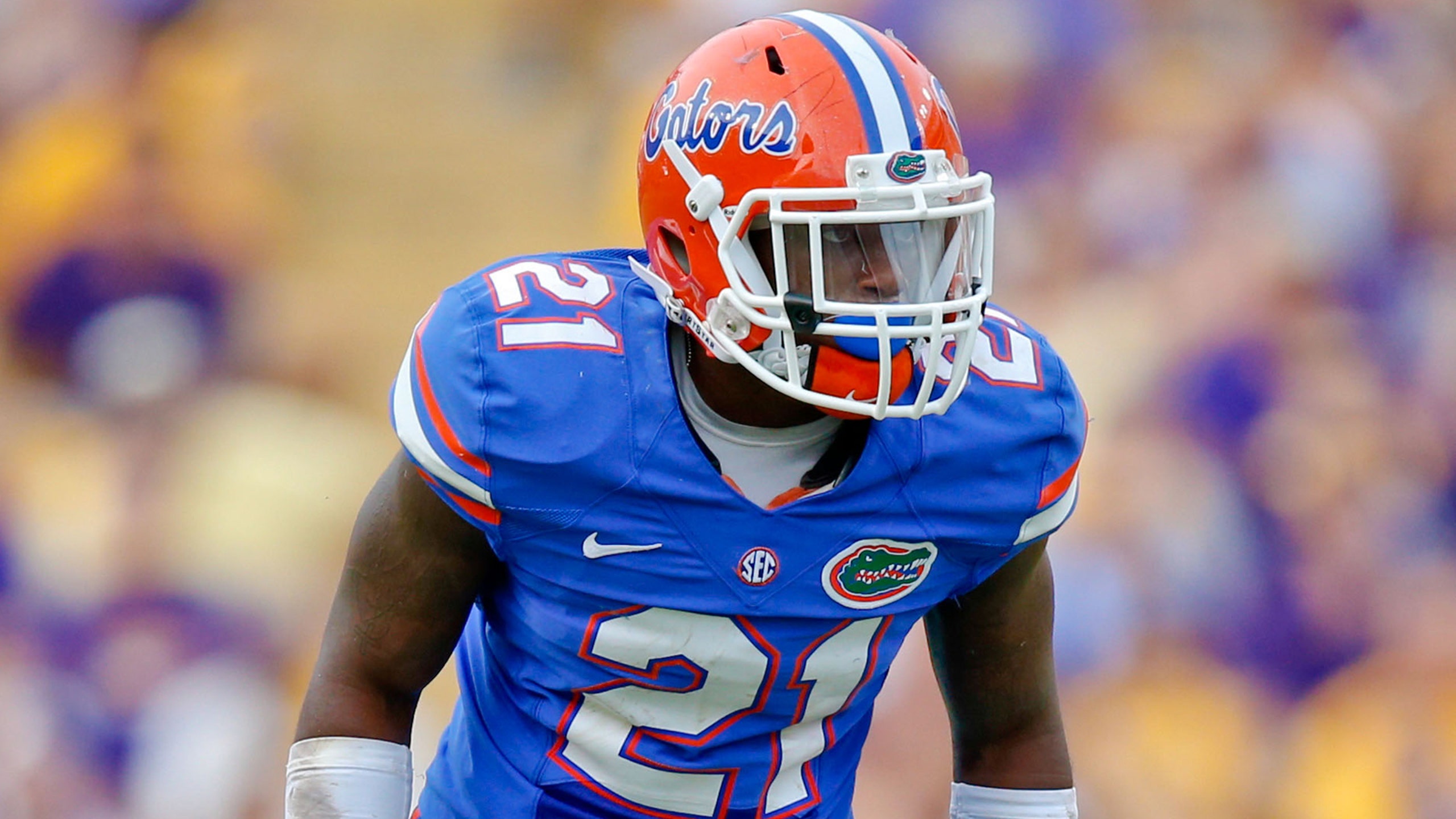 Jabari Gorman playing 'Godfather' role for young Gators secondary
BY foxsports • August 12, 2014
GAINESVILLE, Fla. -- Secondary coach Travaris Robinson was filling his glass at the drink station during a team meal last week when he was hit with a question.
Tell me something about about Jabari Gorman that I don't know.
"We call him 'Sledgehammer,' " Robinson said.
What?
"Watch this."
Robinson then scanned the room, locked in on Gorman, the Florida senior safety eating dinner, and sent a shout his way.
"Hey, Sledgehammer!"
Gorman turned around. And smiled.
"Told ya," Robinson said.
When you think of Gators defensive players who have punished opposing ballcarriers and quarterbacks the last few years, Gorman isn't exactly the first guy who comes to mind. Matt Elam? Yes. Jon Bostic? Absolutely.
The story goes, though, that during Gorman's freshman year, he leveled running back Mack Brown during a practice. It was a hit that not only planted his freshman classmate, but planted a reputation on the young safety.
"Mack got the same treatment every other running back got," Gorman grinned. "Seriously."
The moment gave Gorman a moniker that's stuck around for a while. Maybe that's fitting, given that Gorman, the senior from Miami, is the only defensive back remaining from a 2011 signing class that was hailed for its talent in the secondary. Marcus Roberson, Loucheiz Purifoy and De'Ante "Pop" Saunders are all gone. Valdez Showers remains with the team, but was converted last year to running back.
That makes Gorman the godfather of a group of Florida defensive backs -- mostly redshirt and true freshmen -- that don't have a lot of game experience to draw on. Just a ton of talent.
That's a tradeoff the Gators can live with.
"I think that's kind of the natural progression of things," said Gorman, the 5-foot-10, 184-pounder out of Monsignor Pace High, of his battlefield promotion to leader of the DB pack. "They ask a lot of the safeties here. We're the quarterbacks of the secondary, which means there are guys looking to you for leadership. I'm the oldest, so that puts a little more responsibility on me. I take that very seriously."
Gorman is not the Gators' best safety. Keanu Neal, the sophomore out of Bushnell (Fla.) South Sumter, has had an eye-popping preseason camp and is locked into that single-high deep spot in UF's base defense. But Gorman, with his reliability, knowledge of the playbook and consistent tackling skills, gets the nod at nickel back. Florida operated out of its nickel package upwards of 75 percent of the time last season.
"He's smart, knows what to do, knows how we want to get things done on the back end and understands the communication -- and that's a huge part of it," UF coach Will Muschamp said. "We're really looking forward to him having a good year."
In 2013, Gorman worked his way into the starting lineup by midseason; partly by production, partly by attrition. He played in all 12 games, with five starts, and finished sixth on the team with 48 tackles to go with seven pass breakups, an interception and forced fumble.
Cornerback Vernon Hargreaves III got the headlines and postseason honors back there, and rightfully so.
Gorman just did his job and did it well.
"This season, there's going to be a lot on the rest of us, and he's taken us under his wing and sort of guided us through it all," Neal said. "Inexperience isn't a bad thing when you've got a bunch of talent. We have talent back there, so the experience is going to come. We can look to Jabari to help us along the way."
Neal is doing just fine, so far, after totaling just five tackles all of last season while playing almost exclusively on special teams. Sophomore Marcus Maye, redshirt freshmen Nick Washington and Marcell Harris, plus true freshmen Duke Dawson are in the mix back there, too.
The pool of cornerbacks are mostly newcomers, also.
All of them look to Gorman for counsel. They also look to him for his impersonation of former Gator defensive end Ronald Powell, a performance that has been known to lighten up a few secondary meetings.
"He's got the dance and the hair flip down," Hargreaves said.
There's something else we didn't know about "The Sledgehammer."
We may learn a lot more about him this season. Gorman saw how last year's 4-8 record ate away at that proud senior class. This fall is about rectifying all that went wrong in 2013 and righting the path of Florida football.
"How we leave Florida; that's something all of us seniors are thinking about," Gorman said. "We're trying to get these young guys to understand. The years in college are short. You can't imagine how fast it all goes by. I mean, I can't believe I'm a senior already.
"It just shows you that you can't take anything for granted. Before you know it, it's going to be over. It's about enjoying your time and making the best of it."
---