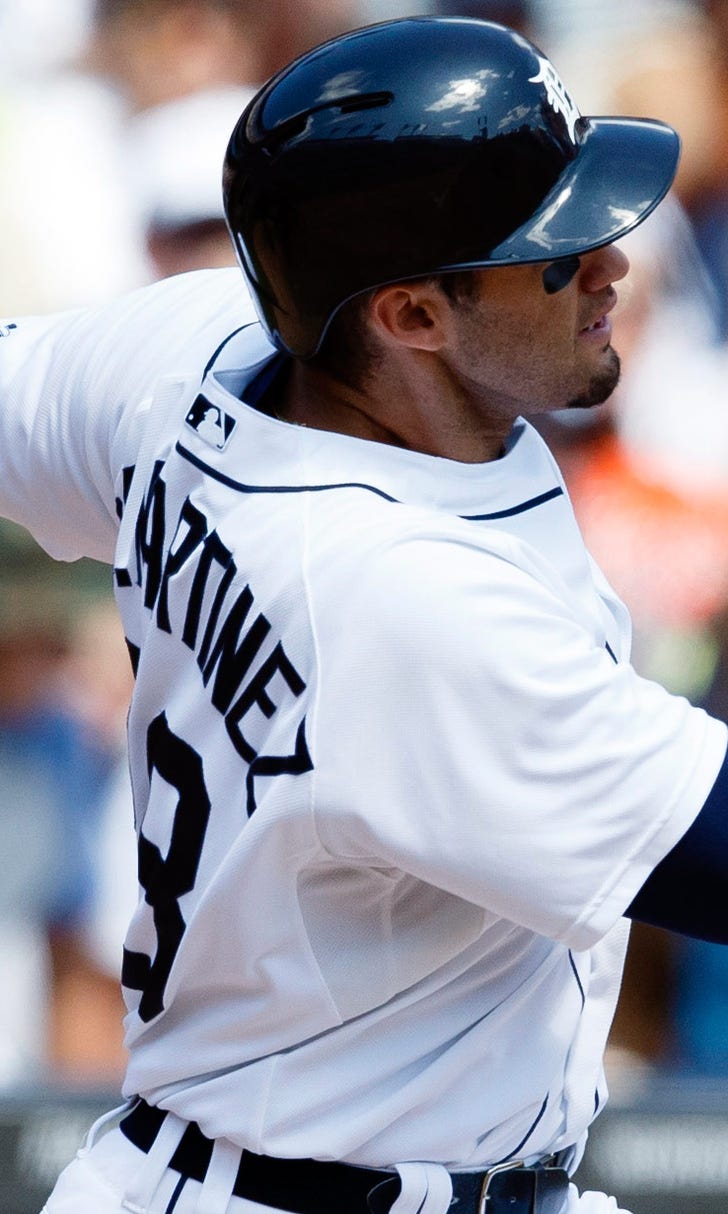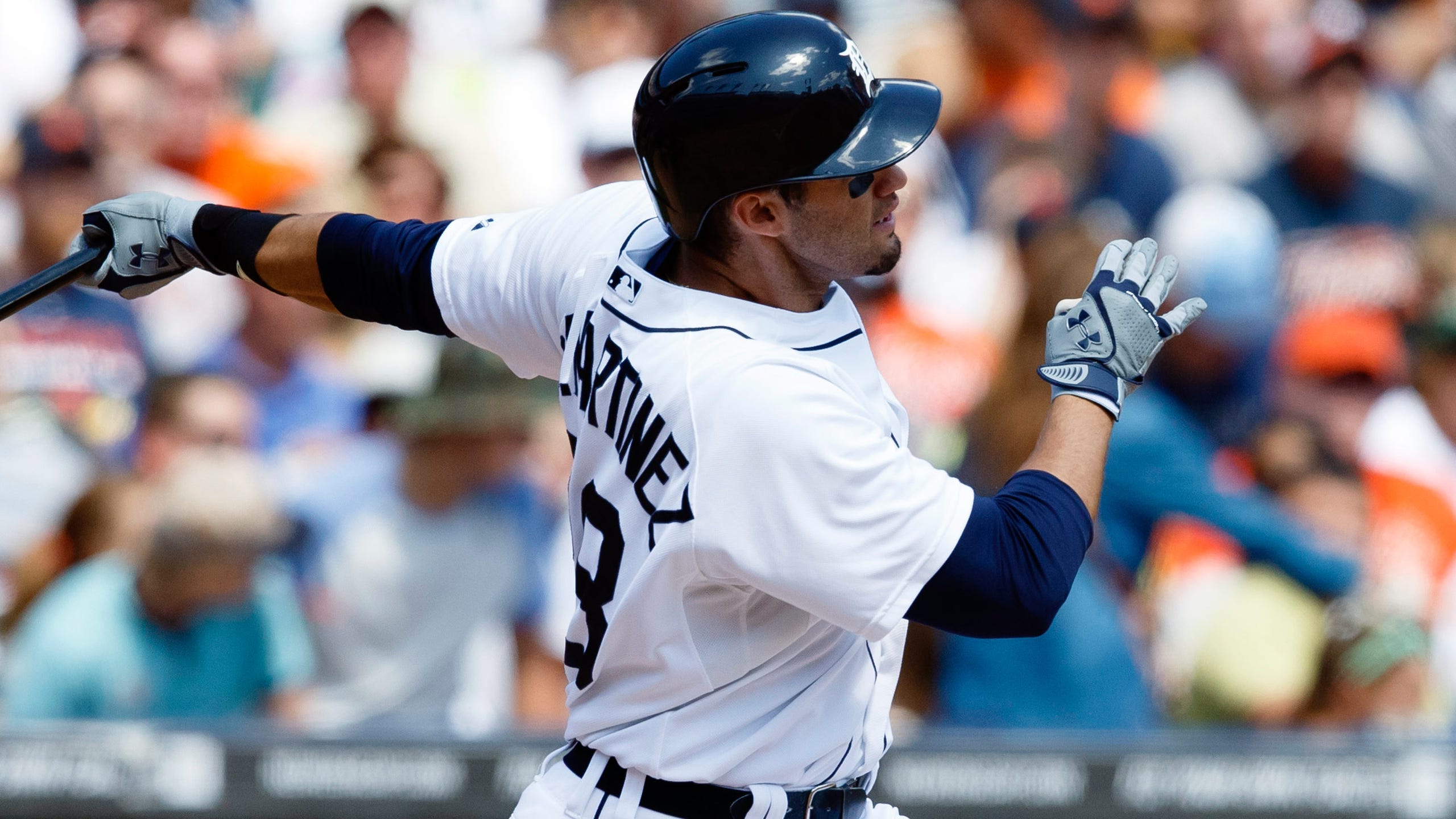 J.D. Martinez flashes power and glove for Tigers
BY foxsports • August 14, 2014
DETROIT -- Left fielder J.D. Martinez did it all for the Detroit Tigers on Thursday afternoon, flashing both his glove and power to help beat the Pittsburgh Pirates. He made what winning pitcher Max Scherzer called the play of the game, and also had the biggest hit in a 5-2 win. His leadoff homer in the fifth inning broke up Francisco Liriano's no-hitter.
"That homer was great," said Tigers manager Brad Ausmus. "That was how we broke through."
Ausmus said it also broke the silence in the dugout of a team that had experienced far too much of that lately, and the manager added, "It was great to get everybody and the life back into it."
It was as big of a swing for Martinez as it was for his team.
Martinez had begun walking back to the dugout after at-bats rather than reaching or rounding the bases as he did in the first half of the season. Whispers were beginning to be heard comparing him to Chris Shelton and Matt Tuiasosopo, who went from red-hot to ice-cold with the bat in 2006 and 2013, respectively.
Martinez hit .346 with 13 homers and 43 RBI before the All-Star break, but had batted .193 with two homers and eight RBI in the month since then. And his batting average had dipped to .299 before getting two hits and knocking in a pair of runs Thursday.
He said the impressive numbers he'd put together earlier supplied confidence through the last month that he would regain productivity. But Martinez said his desire to continue at that pace also led to beating himself up and placing undo pressure upon himself.
However, something assistant hitting coach Darnell Coles said resonated with Martinez: "Do you think you are going to keep that up? Be real with yourself."
One game does not break a hitting slump. But Martinez felt a "tweak" he made with Coles and hitting coach Wally Joyner on Wednesday, when he did not play after batting .152 on the last road trip, could be the key to staying on track.
His footwork had gone awry, taking away the fluid stride necessary for hitting success.
"Today, my stride was back at the pitcher as it should be," Martinez said, "and not at the third baseman...I had hit 10 million ground balls to the left side recently. I'm good when I'm hitting fly balls to right-center, left-center and right field."
Martinez said the corrections made Wednesday were lost in his first round of batting practice on Thursday. But he used drills to return to the proper form before the game, allowing him to keep his stride in line in the game.
"Me and Wally are trying to put J.D. in the best position to get him to the ball comfortably," said Coles. "That way, he doesn't have to muscle it. The key now is repeating it. These little, subtle things are important."
After striking out in his first at-bat, Martinez drilled a 1-1 pitch from Liriano that was a no-doubter to left field for his 16th homer of the season.
"I was just happy to be able to crack Liriano and give Max a cushion," said Martinez. "That takes the aura away from the pitcher that he is unhittable. And he is tough."
The homer broke a scoreless tie between Scherzer and Liriano, and Martinez's highlight-reel catch saw to it that his starting pitcher had eight shutout innings.
Tigers right fielder Torii Hunter later made a superb diving catch coming in on a sinking liner for the second out of the ninth inning. Scherzer was asked whether that grab or Martinez's was better.
"Given the context of the game, probably J.D.'s," said Scherzer.
Travis Snider had led off the fourth inning with a double, and would've scored had Josh Harrison's hit gone off the fence in left. Scherzer said a rally might have ensued. But Martinez caught it over the shoulder and crashed into the fence, momentarily getting stunned. Many among the sellout crowd of 41,986 at Comerica Park gave him a round of applause, and Scherzer fired a fist in Martinez's direction to acknowledge the grab.
Martinez, though, said Hunter's was the better catch.
"It was Torii's for sure," Martinez said with a smile. "Any time you see a 45-year-old man dive like that, it's special."
Hunter is 39, but Martinez was having fun with him. And everybody in the Detroit clubhouse was enjoying the victory. The Tigers had won two straight games after dropping four in a row.
Detroit was 53-38 at the All-Star break, but had been 10-16 since then until winning a pair against the Pirates. Martinez's hitting has been symbolic of both the team's rise and decline. Only time will tell if Thursday was a turning point for both the Tigers and Martinez.
---