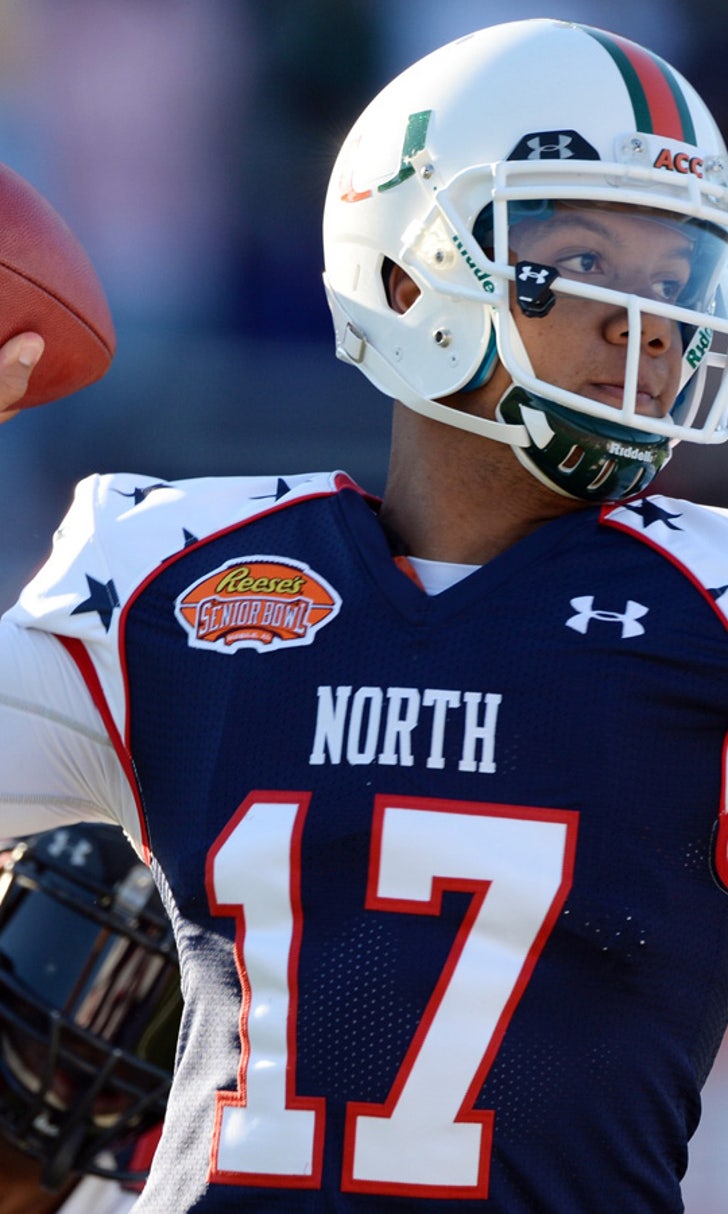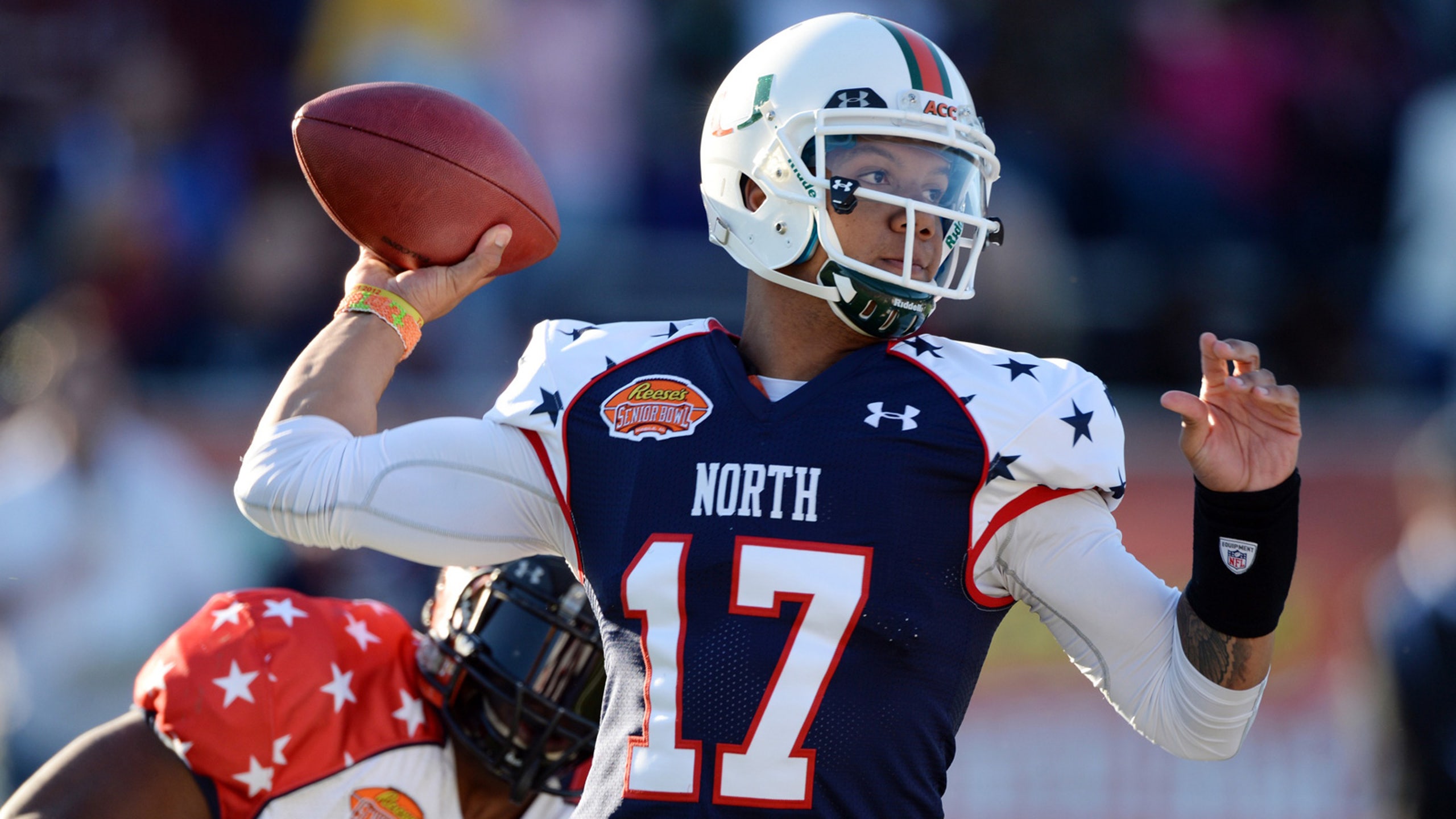 It's a lean year for Miami Hurricanes' NFL draft prospects
BY foxsports • February 21, 2014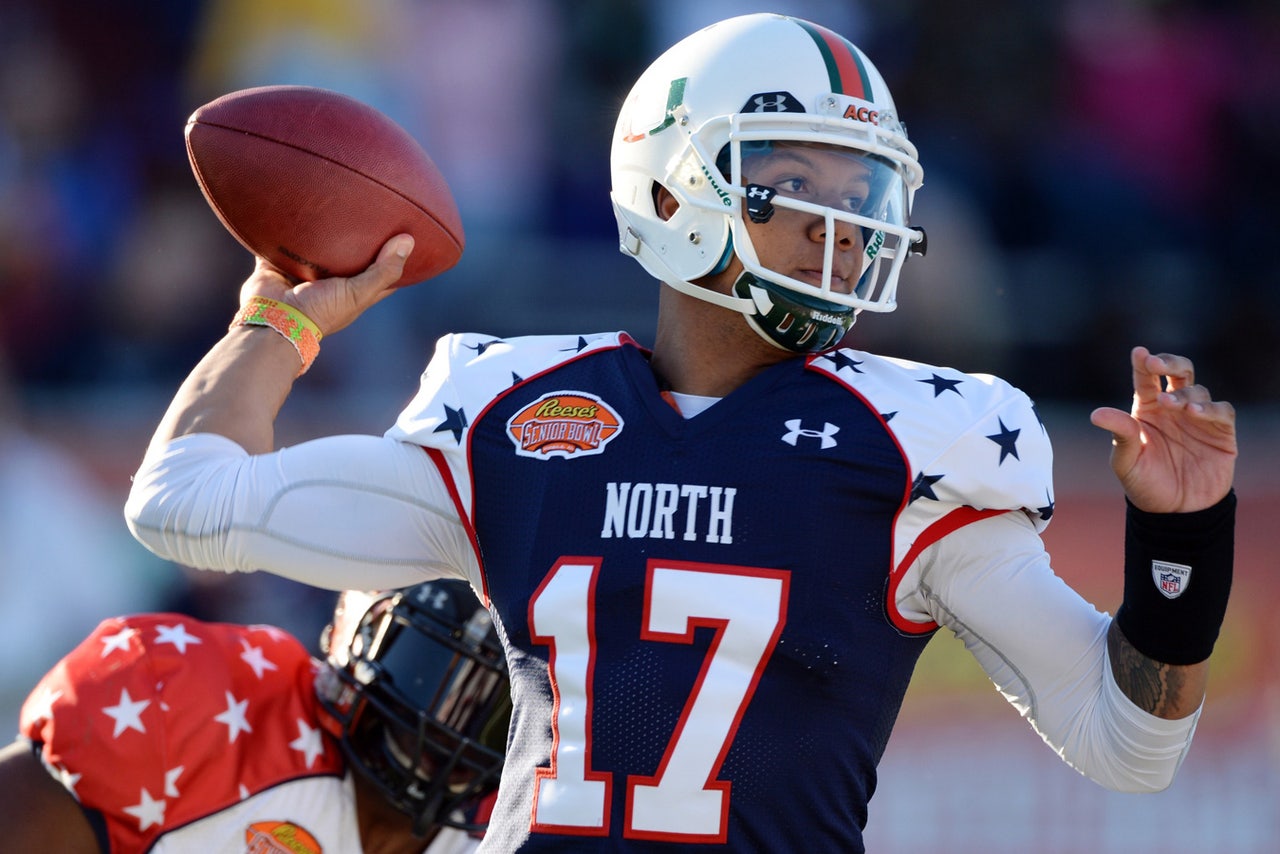 When the New York Giants selected defensive back Kenny Phillips with the 31st overall selection in 2008, at least one University of Miami player had been taken in the first round of the NFL Draft for 14 straight years.
That's significant to note because Phillips is the last Hurricane to achieve the feat, thus ending a record-breaking streak.
The dry spell will continue in May, with no Miami players expected to be drafted over the first few rounds.
This weekend, five Hurricanes -- quarterback Stephen Morris, offensive linemen Brandon Linder and Seantrel Henderson, wide receiver Allen Hurns as well as punter Pat O'€™Donnell -- will be evaluated at the NFL Scouting Combine at Lucas Oil Stadium in Indianapolis.
Linder, Henderson and O'Donnell will work out on Saturday, while Morris and Hurns will do so on Sunday.
NFL Network draft analyst Mike Mayock took part in a teleconference earlier this week to provide his take on a few prospects. Here'€™s a breakdown of UM's guys:
FORMER HURRICANES AT THE COMBINE
STEPHEN MORRIS | QB | 6-2 | 208
Career stats: 7,896 passing yards (third in UM history), 49 touchdowns (third in UM history), 30 interceptions
2013 season: Inconsistent. After sustaining an ankle injury against Savannah State in the third game, Morris struggled with mobility as well as short and intermediate throws. Expectations were high after wowing at last summer's Manning Passing Academy and finishing the final four games of the 2012 season with 11 touchdowns and no interceptions.
Accolades: 2013 All-ACC third-team selection; one of only two quarterbacks (Morris, Gino Torretta) in Miami history with multiple 3,000-yard passing seasons.
Mayock's take: ''He's another one that is interesting. I loved him last summer at the Manning (Passing) Academy when he was standing there in gym shorts throwing the ball. He really looked good. He's got a big arm, he's got an engaging personality, he's a smart kid. He had an inconsistent senior year. I know he had the (ankle injury). How much of that was a cause, I'm not sure. I thought the Senior Bowl was a mixed bag again.''
Projection: ''To me, he's a developmental mid-to-late round draft pick. I like his arm and I like his intelligence, and I think a team is going to draft him and try to give him a year or two and see what they get.''
SEANTREL HENDERSON | OT | 6-7 | 331
Career stats: Played in 43 games (26 starts); no sacks allowed and only one penalty against in 2011 as a sophomore.
2013 season: Turbulent. Character issues were Henderson's biggest obstacles in college. He was suspended at least three times. At the Senior Bowl, he admitted to getting in trouble a couple of times for marijuana.
Accolades: Top recruit coming out of high school; 2013 All-ACC third team; 2012 All-ACC honorable mention; NWAA Freshman All-American team.
Mayock's take: ''Seantrel Henderson to me is one of the biggest boom-or-bust guys in the draft. A year ago I watched him block the kid from Florida State -- Bjoern Werner -- who went the first round, and shut him out. He pitched a shutout against a first-round defensive end, and then you see him play at that level sometimes and at a completely different and lower level other times.
''You don't see him answer the bell, there's no consistency with this kid at all. From a talent perspective, he's a first- or second-round tackle. I don't think he's sitting in anywhere near there. ... Just because you don't know what you'€™re getting. Somebody could take him higher than that, but it's buyer beware.''
Projection: Fourth round.
ALLEN HURNS | WR | 6-1 | 193
Career stats: Seventh in program history in both receptions (121) and receiving yards (1,891); 14 touchdowns.
2013 season: Record-breaking. Hurns set a single-season school record with 1,162 receiving yards and finished with 62 receptions -- the third-most in a single season. That doubled his previous career-high output.
Accolades: Second-team All-ACC.
Mayock's take: ''He had a breakout year this year -- came out of nowhere. I saw him at the East-West (Shrine Game). His issue from my perspective is he's kind of got average size, average speed. I don't see him separating in man-to-man press coverage very easily. He's not overly big, he's not overly fast, so how does he fit in? He's got to be crafty, he's got to run great routes, he's got to catch everything. I want to see what he runs. I want to see how naturally he catches the football.''
Projection: Fifth-seventh rounds.
BRANDON LINDER | OL | 6-6 | 316
Career stats: 49 games (42 starts), ending collegiate career with 37 consecutive starts; overall grade of 90 percent as a sophomore by allowing just 1.5 sacks.
2013 season: Reliable. Linder was named Offensive MVP at Miami's end-of-season team banquet after anchoring an offense that averaged 33.8 points (33rd in nation) and 425.8 yards (48th) per game. He made 10 starts at right guard and three at right tackle.
Accolades: All-ACC second team in 2013; All-ACC honorable mention in 2012.
Projection: Fifth-sixth round.
PAT O'DONNELL | P | 6-4 | 220
Career stats: 54 games, 234 punts, 43.5-yard average, long of 76 yards, 78 inside the 20-yard line and 57 punts of 50-plus yards.
2013 season: Impressive. In his only year as a Hurricane, O'Donnell recorded a 47.1 yards-per-punt average (set UM single-season record), 23 punts of 50-plus yards and 19 downed inside the opponent's 20-yard line.
Accolades: First-team All-ACC in 2013 and All-America second-team by USA TODAY Sports; second-team All-BIG EAST in 2012; first-team All-BIG EAST in 2011.
Projection: Seventh round-free agent.
You can follow Christina De Nicola on Twitter @CDeNicola13 or email her at cdenicola13@gmail.com.
---