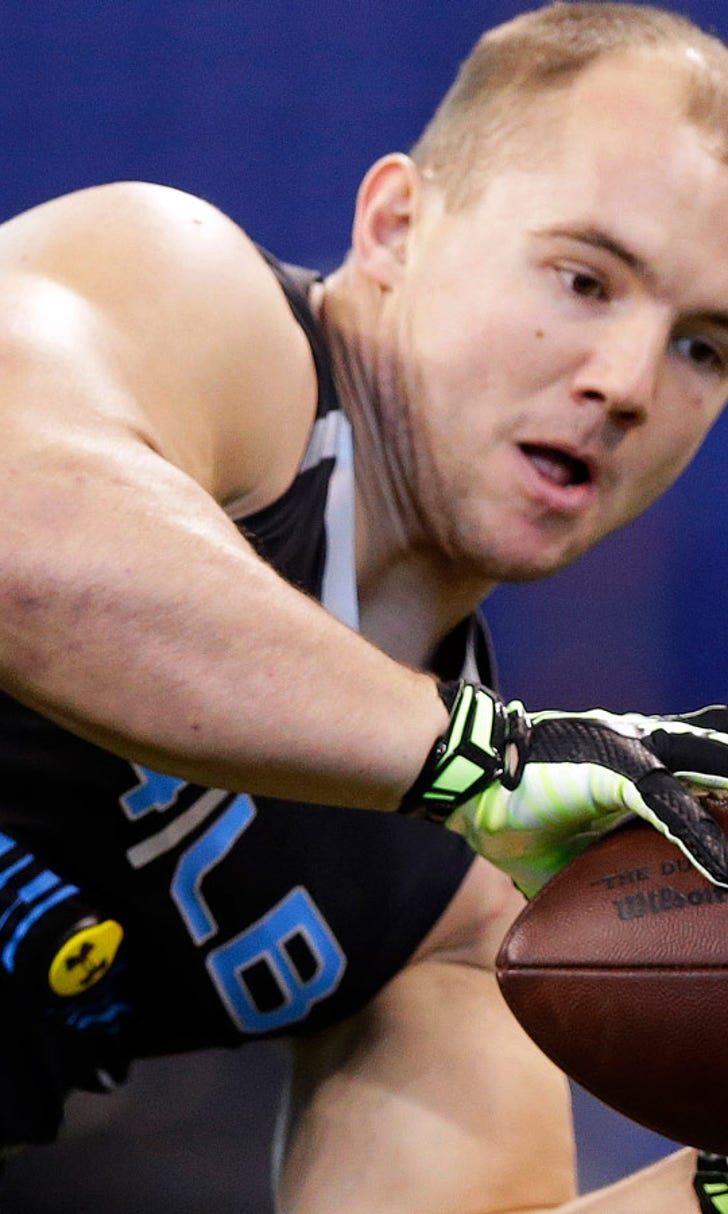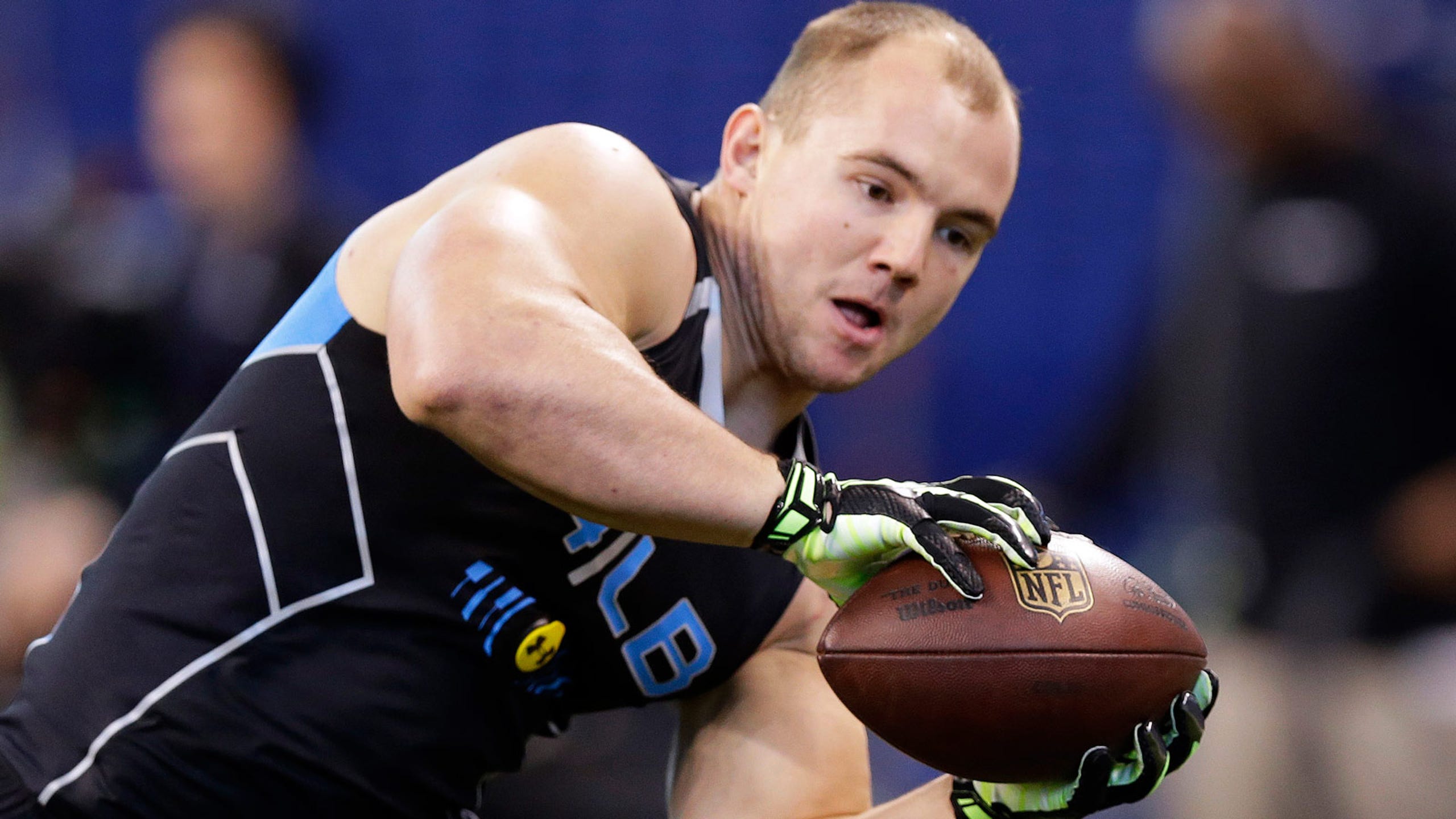 Is Borland answer for Packers at inside linebacker?
BY foxsports • February 26, 2014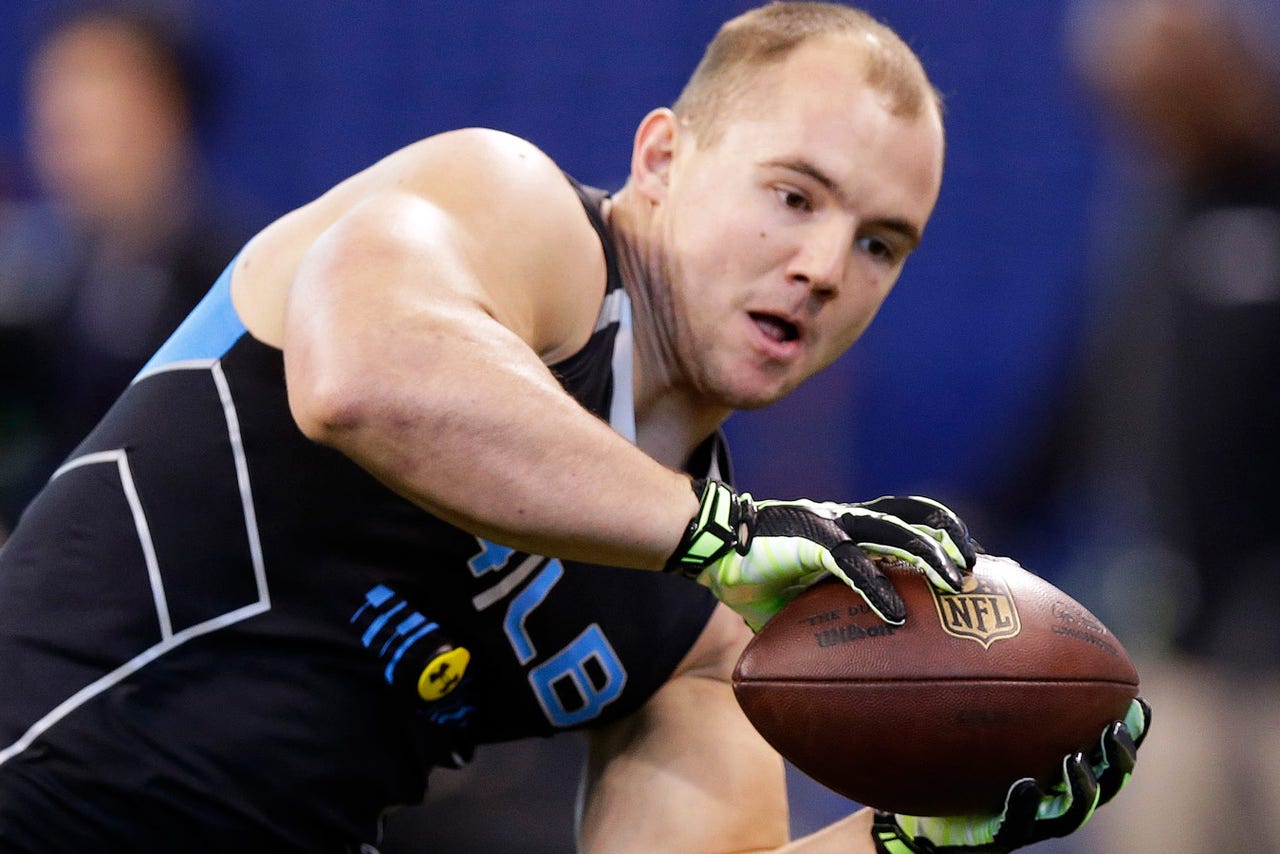 INDIANAPOLIS -- Chris Borland dismissed concerns about his height. He's heard plenty about his stature since first playing football in ninth grade. As the former Wisconsin Badgers inside linebacker sat at a table surrounded by reporters at the NFL Scouting Combine, he showed supreme confidence in his ability to play at the next level, regardless of his undersized 5-foot-11 frame and short 29-inch arms.
"I don't know that there are a lot of players that are a better all-around athlete," Borland said. "I don't get maybe a lot of credit for it. I'm small, and straight-line speed is not my strong suit necessarily. But as far as what it takes to play football, I've got all it requires."
Borland mentioned names of inside linebackers like London Fletcher (5-10) and Zach Thomas (5-11). That's the proof that Borland supplied to show that the game can be played at a high level at that position in the NFL without measuring in above six feet.
"A lot of guys have played very well at that size and they kind of paved the way for guys like me," Borland said.
Though Borland was born in Ohio, he was raised as a Green Bay Packers fan. His parents were from Wisconsin and stayed loyal to the Packers when they left the state, raising Chris on film of Green Bay's 1960s teams. Eventually watching current Packers teams, Borland grew up observing Brett Favre and Reggie White.
When Borland attended Wisconsin, he was closer to Green Bay than he ever had been before. But if he kept a close eye on the most recent Packers teams, Borland should have realized two things: One, that he is between two-to-four inches shorter than Green Bay's entire inside linebackers group. And two, that even though A.J. Hawk, Brad Jones and Jamari Lattimore were taller than him, the Packers are certainly in search of an upgrade at that position this offseason.
"Football's extremely important to me," Borland said. "It's my passion. I put everything into it, and I think that's more valuable than a half inch or an inch (of height)."
Borland didn't take the same love-letter approach to Green Bay as former Badgers teammate Jacob Pedersen, who described it as a "childhood dream" to play for the Packers. But Borland is well aware which team the majority of the people closest to him would prefer he get drafted by.
"I know there's a lot of fans in Wisconsin that want to see me in green and gold, which I'd love," Borland said. "But any team would be outstanding."
Whether it's Borland or another inside linebacker, there's no question that Green Bay general manager Ted Thompson realizes that reinforcements are needed before next season. Jones didn't live up to expectations in the first year of his three-year, nearly $12 million deal that was signed last offseason, and Hawk -- though coming off what coaches believe was his best NFL season -- is 30 years old and would benefit from a reduced role in the defense.
Perhaps it was once realistic that the Packers could have selected Borland with their third- or fourth-round pick, but he's been a riser on draft boards in recent weeks. He was a top performer on the bench press at the NFL Combine with 27 reps, but more importantly, many scouts noticed that, upon close examination, Borland's instincts at inside linebacker make up for some of his physical limitations.
"I feel like I'm the toughest guy here, or at least one of them," Borland said. "We've got a lot of tough guys here at the combine, but I've played through things, no complaints, practiced hard, all the right things. Probably the way I grew up. I've got four older brothers, six siblings, and we were playing sports all the time, so it's just kind of the way I operate."
As the reigning Big Ten Defensive Player of the Year, Borland has a lot of positives working in his favor as the upcoming May draft draws closer. But as Thompson and the rest of the NFL's general managers conduct a final assessment on him, the one big question will always come back to height. For inside linebackers, it's an important factor in coverage. However, Borland believes he'll overcome that with other strengths.
"If you know exactly where to be and you get there quickly, and I can jump and play the ball and things like that," Borland said. "I don't think it's an issue."
While Thompson is never forthcoming about his thoughts on specific draft prospects, former Packers executive and current Seattle Seahawks general manager John Schneider was one of many singing Borland's praises, describing him as "extremely instinctive."
Borland has little choice but to defend himself when it comes to his height. It's one of the few things about his game that he can't control. So, if his message to NFL teams was similar to his message to media members, Borland was selling hard the idea that height is just a number, and that whichever team picks him is getting a player whose overall game is bigger than his body.
"Height's not quite as important (as it used to be)," Borland said. "They're spreading things out, especially in the run game; a lot of 11-personnel in zones and zone-reads with guys who can run the ball. I've seen a lot of that in college.
"You don't need to be a 6-4 bruising linebacker up the middle anymore. You can be shiftier and quicker, and that works to my advantage."
Follow Paul Imig on Twitter
---