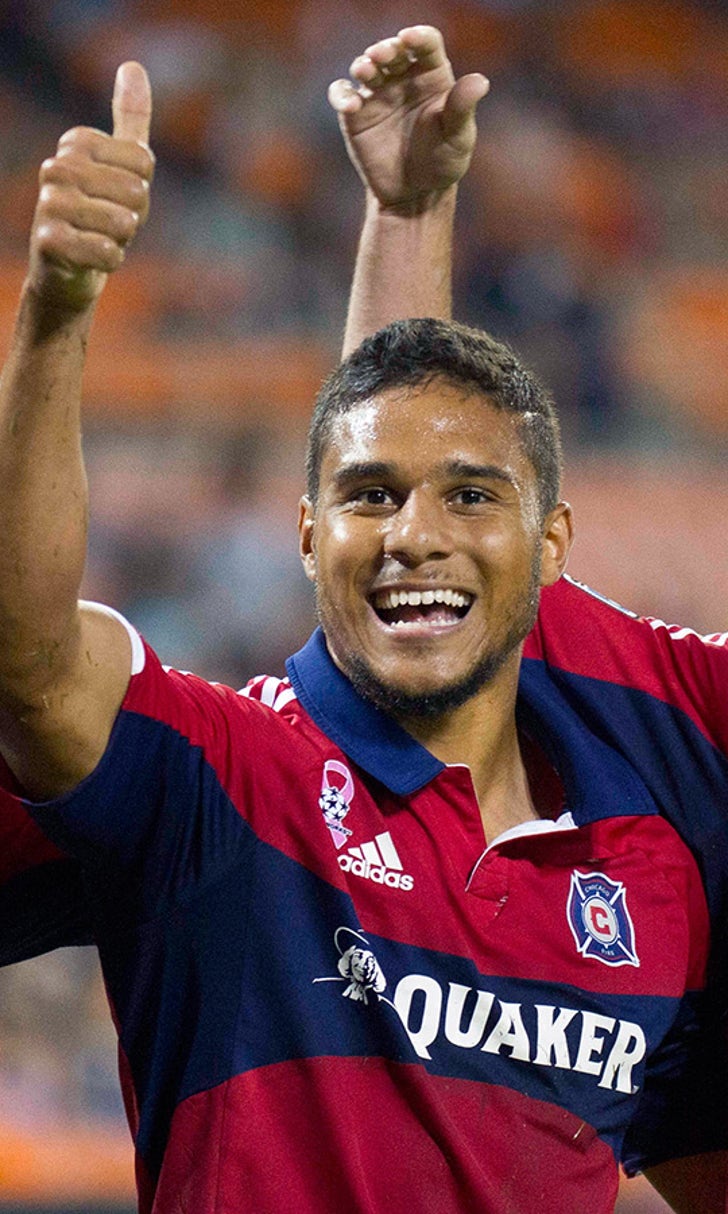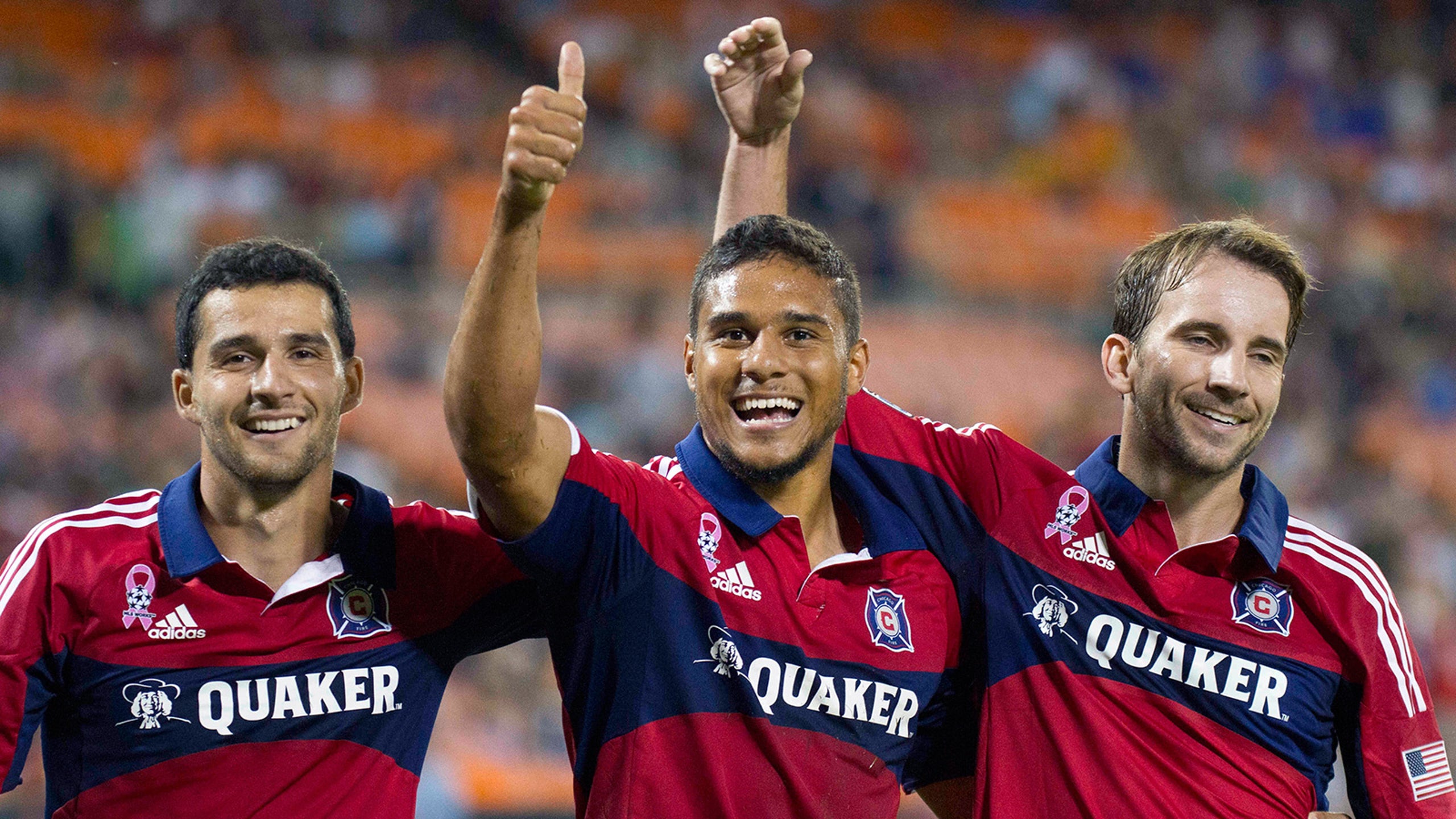 Inside MLS season preview: Chicago Fire
BY Kyle McCarthy • February 24, 2014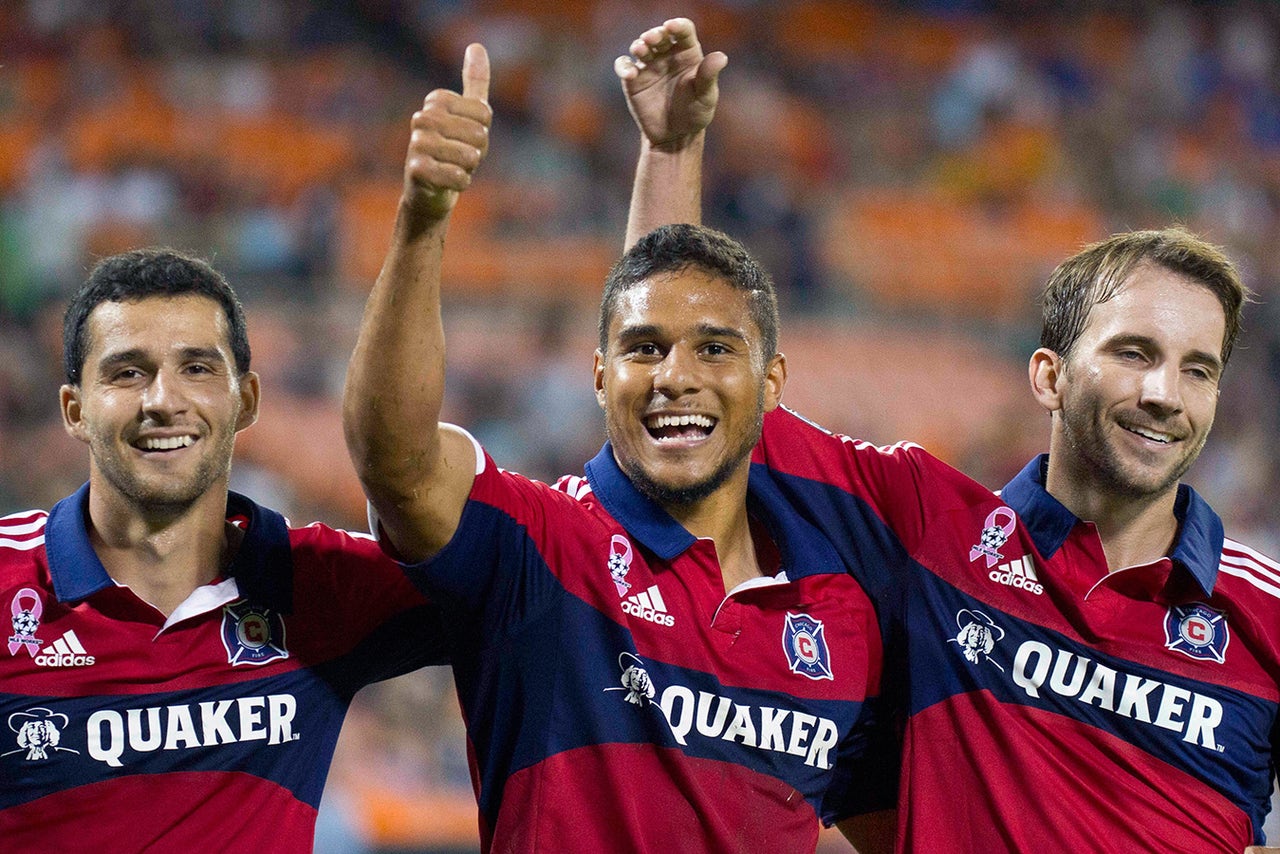 ESSENTIAL FACTS
Last year in a nutshell: Consider 2013 as a tale of two halves: a poor opening period fatally wounded the Fire's playoff hopes, while a Mike Magee-inspired revival came within a couple of goals of salvaging them anyways.
(as of February 23)
Incoming: COACH: Frank Yallop (unattached); GK: Kyle Reynish (New York Cosmos); DF: Jhon Kennedy Hurtado (Seattle), Patrick Ianni (Seattle), Lovel Palmer (Real Salt Lake); MF: Benji Joya (Santos Laguna/Mexico), Chris Ritter (Northwestern); FW: Orr Barouch (Bnei Yehuda/Israel – loan return), Giuseppe Gentile (UNC-Charlotte), Harrison Shipp (Notre Dame)
Outgoing: COACH: Frank Klopas (Montréal); GK: Paolo Tornaghi (Vancouver); DF: Jalil Anibaba (Seattle), Shaun Francis (San Jose); MF: Corben Bone (unattached), Brendan King (unattached), Joel Lindpere (Banik Ostrava/Czech Republic), Daniel Paladini (Columbus), Arévalo Rios (Morelia/Mexico), Wells Thompson (unattached), Michael Videira (unattached); FW: Kellen Gulley (unattached), Maicon Santos (Puebla/Mexico)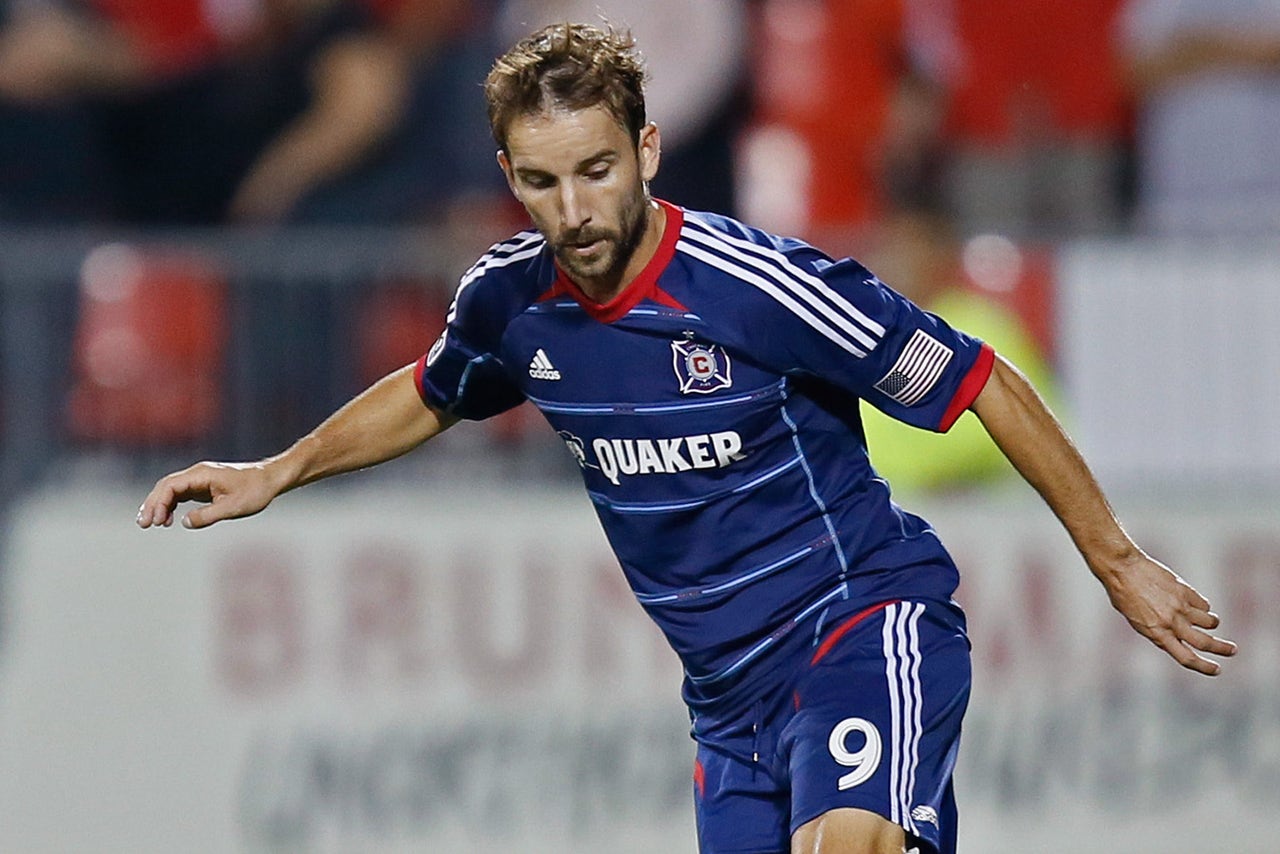 Reigning MLS MVP Mike Magee doesn't need to hit 15 goals again to help the Fire return to the postseason. 
FUNDAMENTALS
Key Player: Returning hero Mike Magee nearly propelled the Fire to the playoffs last season. His first full campaign in Bridgeview hands him a chance to exert a similar influence, though perhaps in a different fashion. Magee doubled his previous career-best haul (seven goals with the Metrostars in 2003) with his 15-goal return last season. It isn't reasonable to ask him to replicate the feat again, but he can combine his production (another double-digit season isn't beyond him) with neat work in the buildup for his teammates to supply the necessary incisiveness in the final third.
Strengths: Incoming Fire boss Frank Yallop will field an experienced starting XI capable of competing for a postseason berth. Bakary Soumaré offers a firm building block in central defense, while the offseason arrivals of Jhon Kennedy Hurtado and Patrick Ianni increase the alternatives to Austin Berry if required. Jeff Larentowicz remains one of the league's steadiest influences in the center of the park. Dilly Duka and Patrick Nyarko supply genuine width. Magee and Chris Rolfe present clever and dynamic threats in and around the final third.
Weaknesses: Chicago once again enters the campaign without an established center forward to lead the line. Juan Luis Anangonó threatened at times to fill the void last season, but he must prove his credentials in order to earn consistent playing time this year. Creativity behind the nominal front two also presents a concern with the inconsistent Alex currently in pole position to shoulder much of the burden. Depth presents a genuine concern in the wide areas.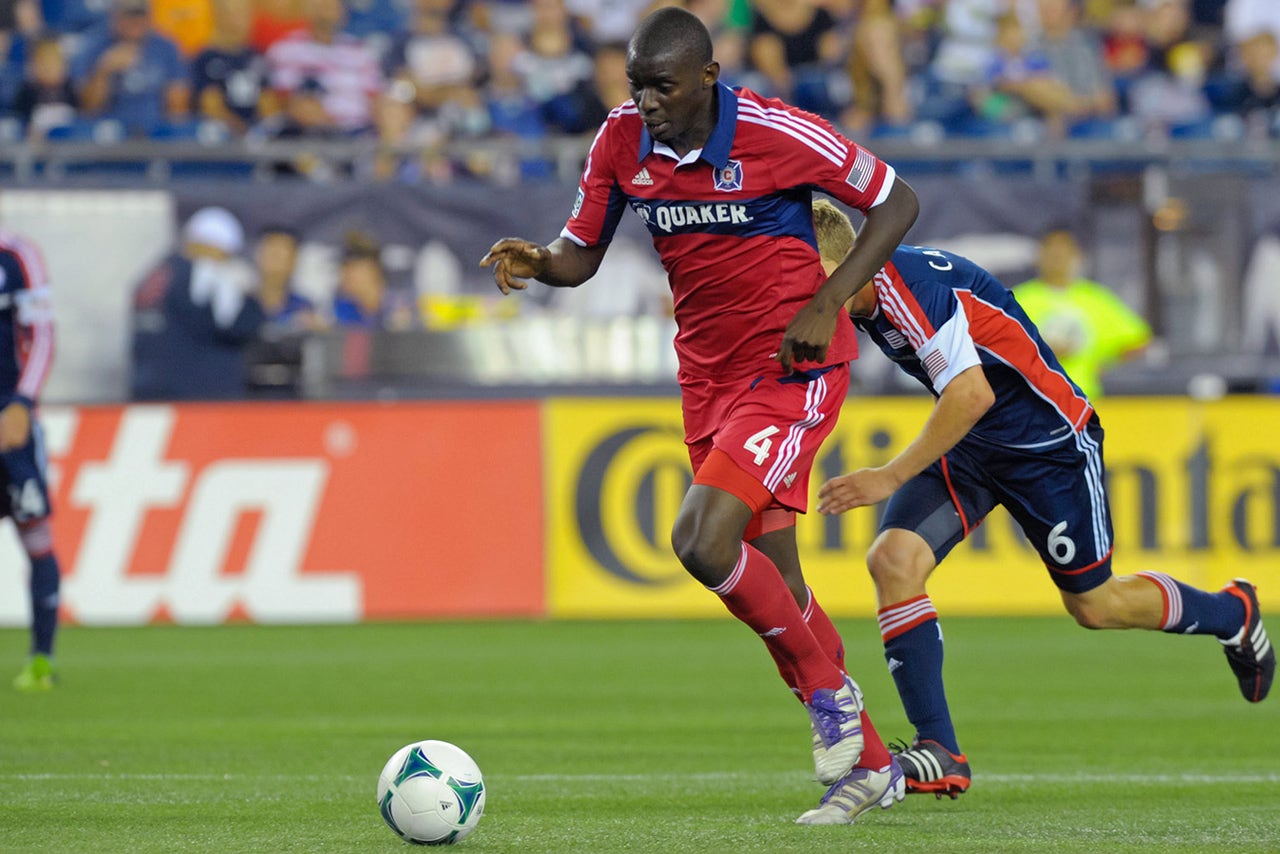 Bakary Soumaré is expected to lead the Fire's defensive efforts once again, but he'll need to ward off stronger competition for his usual spot in central defense.
PROSPECTS FOR 2014
Key questions
● What will the central defensive department look like by midseason?: Berry (returning from offseason shoulder surgery) and Soumaré (fresh off his first healthy offseason in years) enter the season as the incumbent duo, but former Sounders Hurtado and Ianni present a potential challenge to the status quo. If this group can stay healthy (and it is a major question mark) and soak up the tutelage of recently appointed assistant C.J. Brown, then the Fire appears well stocked in this particular department. If the chopping and changing starts, then the inevitable rotation could undermine the cause.
(ed. note: Chicago traded Berry to Philadelphia in exchange for allocation money on Feb. 24)
● Can the midfield construct steady supply lines?: Duka and Nyarko torment opposing defenses with their runs on the flanks, but they must ally their determined running with the proper service into dangerous areas (particularly if Anangonó is selected on any given day). Alex faces a similar concern with his work through the middle, though this is the sort of spot where perhaps Yallop will turn to Magee or Rolfe to help fill the void. Keep an eye on Larentowicz's diagonals from deep in midfield in case the other avenues start to falter.
● Where will the Fire get its goals?: This group cannot rely on Magee to reproduce his MVP form and shoulder the load for another extended postseason push. Magee bears some responsibility in the final third, but he requires help from Anangonó, Rolfe and others to compensate for the general lack of threat from the wide players in this department. Yallop will monitor his current group of reserve forwards – including the returning Orr Barouch and former Notre Dame star Harrison Shipp – to see if he can find a spark without dipping into the transfer market.
Best case scenario: The cohesion and the productivity shown during preseason transfers when the matches really matter. Soumaré leads a miserly defense near the top of the league in goals conceded. The midfield group constitutes the perfect blend of bit and incisiveness. Magee and Rolfe flourish once Anangonó finally gets off the mark. Yallop leads the Fire back to the playoffs and vindicates the club's decision to give him total control during the offseason.
Worst case scenario: All of the promising parts crumble once the matches start. Injuries ravage the defense and leave the Fire to chop and change all season. Larentowicz receives scant defensive support from his midfield colleagues. Alex, Duka and Nyarko struggle to contribute consistently and starve the forwards of service in the process. Magee reverts to his usual levels of production and his fellow forwards buckle under the weight of increased expectation. And the Fire misses the postseason yet again.
2014 INSIDE MLS SEASON PREVIEWS
FEB. 24: Chicago Fire – Mike Magee's encore – Chivas USA
FEB. 25: Colorado Rapids – Columbus Crew
FEB. 26: D.C. United – FC Dallas
FEB. 27: Houston Dynamo – LA Galaxy
FEB. 28: Montréal Impact – New England Revolution
==
MARCH 3: New York Red Bulls – Philadelphia Union
MARCH 4: Portland Timbers – Real Salt Lake
MARCH 5: San Jose Earthquakes – Seattle Sounders – Sporting Kansas City
MARCH 6: Toronto FC – Vancouver Whitecaps
---