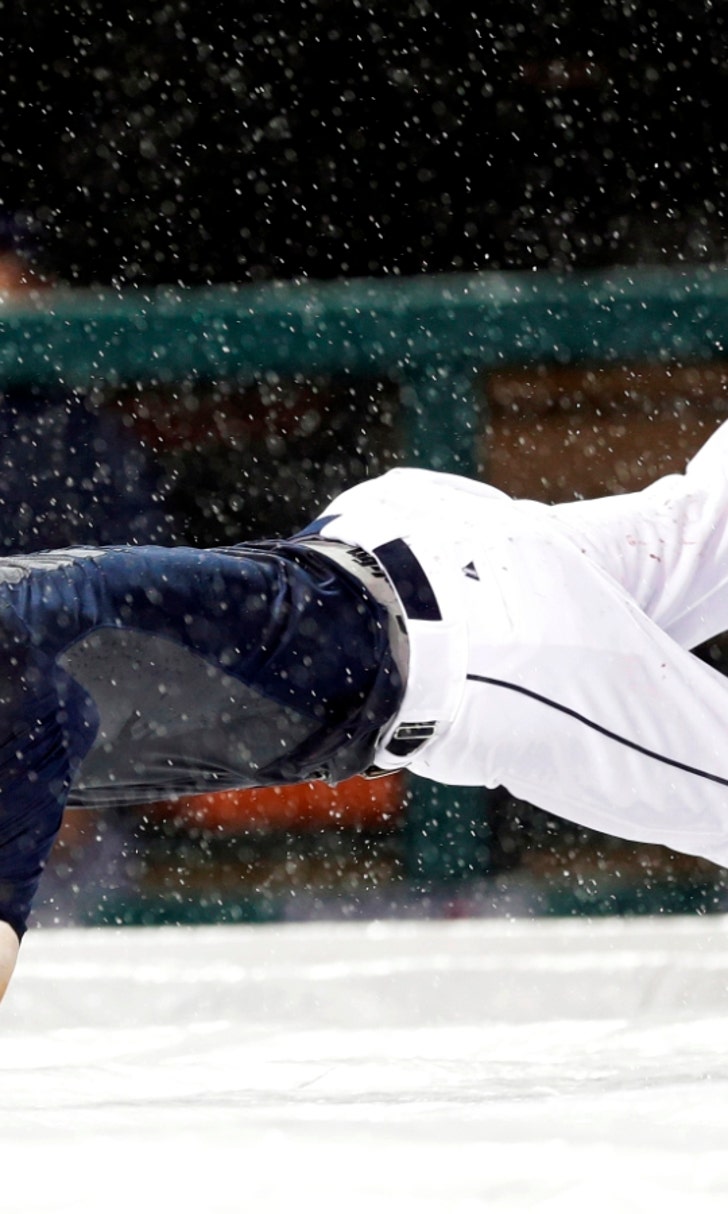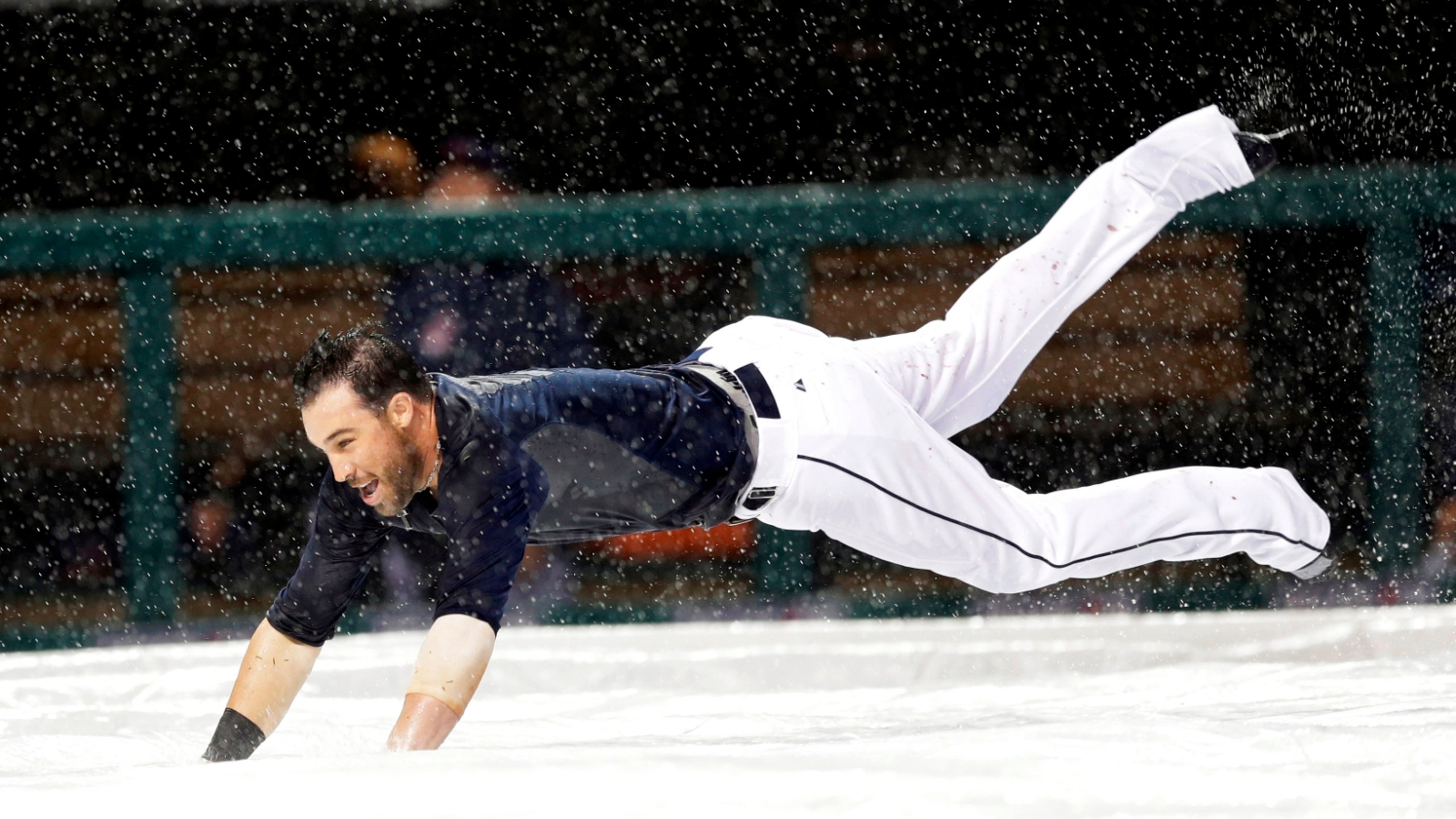 Indians slip and slide as game gets washed out
BY foxsports • August 12, 2014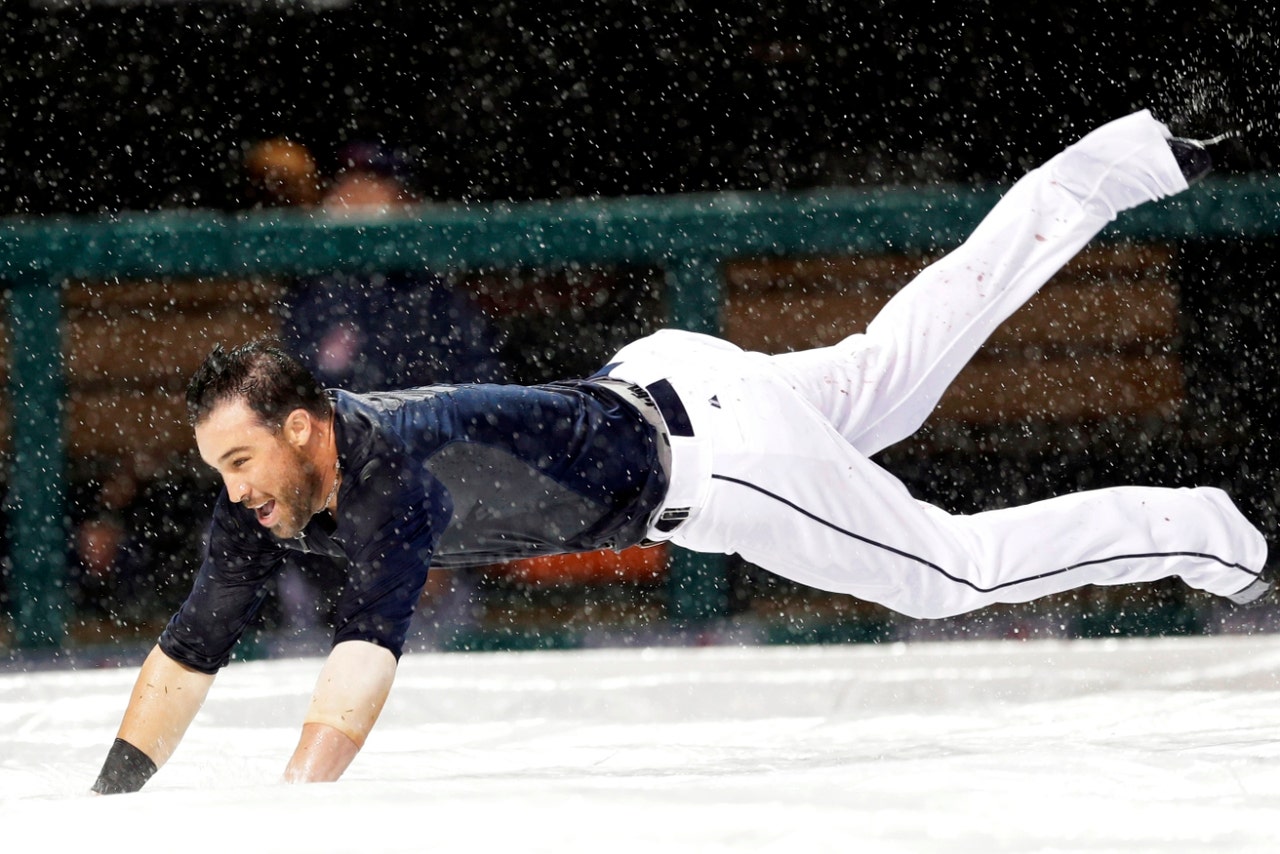 CLEVELAND -- The Indians and Diamondbacks got through three innings of Tuesday's game before it was all washed away. The two teams will now play a traditional doubleheader that will begin at 4:05 p.m. on Wednesday.
The Indians were leading 1-0 with one out in the top of the fourth when the rains came just before 8 p.m. The rains abated for a little bit and it appeared as if the game would resume at 11:30 p.m. before another deluge came.
"Me and rain don't get along. I don't know if I attract it or just Ohio treating me good," said Indians starter T.J. House, who allowed only two hits. "I thought it was a good game all around. That's one of the reasons why I was disappointed."
Right before the game was called, Jason Kipnis, Lonnie Chisenhall and Mike Aviles treated the tarp as one giant Slip 'N Slide as they treated the few remaining fans to some tarp diving. The game was postponed 3 hours, 47 minutes after the rains first came.
Kipnis said they called manager Terry Francona from the dugout to ask about doing a tarp slide. He said Francona didn't say yes, but he didn't say no either.
"We weighed the risk vs. reward and it was worth it," Kipnis said. "I got to tarp slide after a big-league game. I've always wanted to do it. You have to play this game as a fan sometimes."
Kipnis also said with a smile that he might have been a little bit emotional since his RBI double to score Chris Dickerson in the third inning was washed away.
"When you get to the point when it's like 11 o'clock, 11:30, and you're just over the whole thing, you get real restless," Aviles said. "That's pretty impressive for them to stay as long as they did. Hopefully they had a little excitement there at the end."
There will be an interesting matchup in Game 1. Trevor Bauer (4-7, 4.52), who was the fourth overall pick by the Diamondbacks in 2011, takes the hill for the Indians against his former team. For Arizona, former Kent State standout Andrew Chafin will make his Major League debut. Chafin, who was called up on Aug. 8, was the 43rd overall pick in 2011.
In the nightcap, Josh Tomlin (5-8, 4.68) will oppose Vidal Nuno (0-3, 4.05). Francona moved Tomlin to the bullpen after giving up five earned runs in 4 1/3 innings last Tuesday against the Reds. He went 1 1/3 scoreless innings against the Yankees on Friday.
---