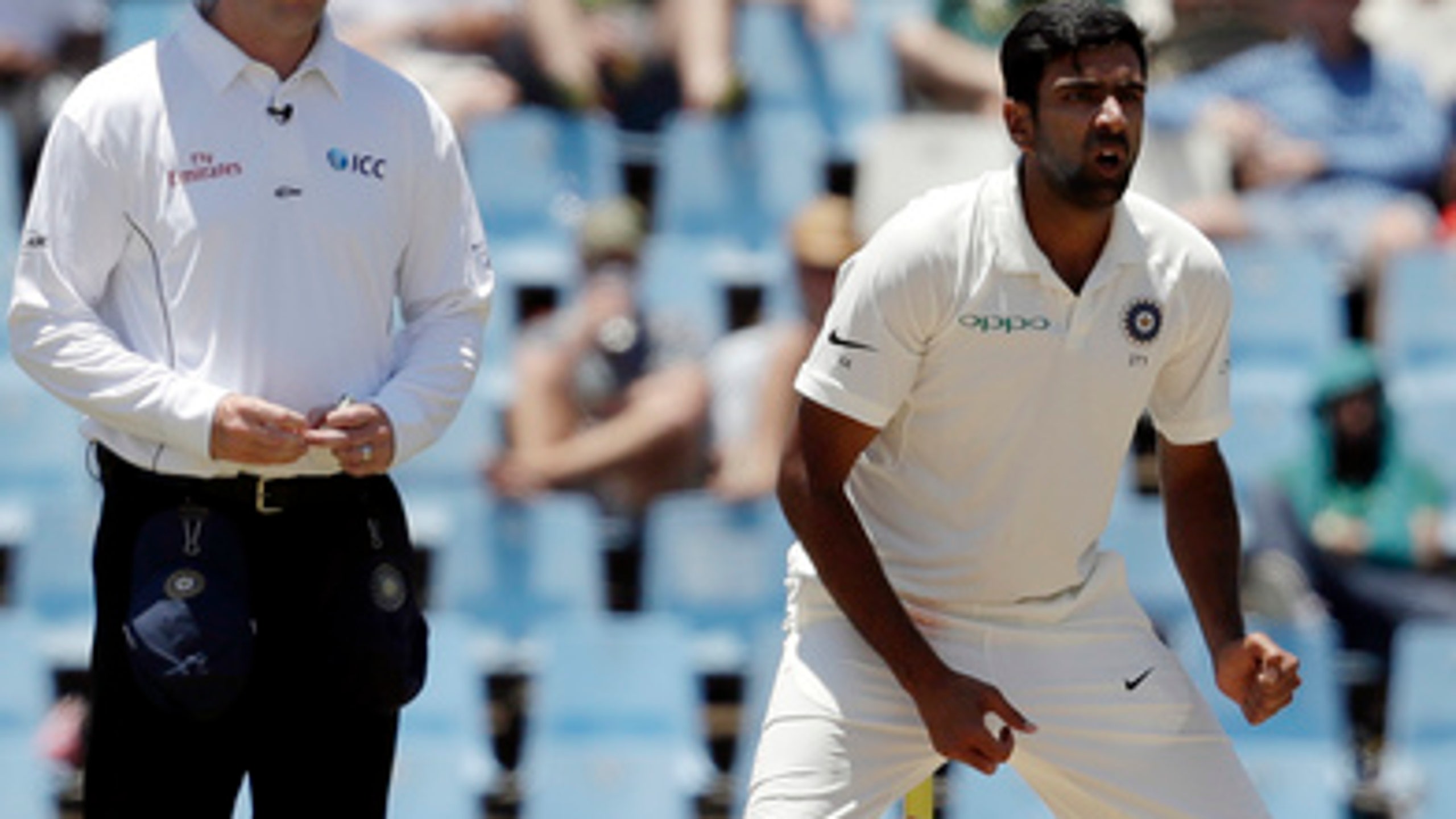 India spinner Ashwin sees South Africa as his turning point
BY AP • January 13, 2018
CENTURION, South Africa (AP) India's last visit to South Africa brings back tough memories for spin bowler Ravichandran Ashwin. It was also the turning point in his career.
Now with over 300 test wickets, it's hard to believe that Ashwin wasn't good enough for India just four years ago.
India was in position for a rare victory in South Africa in the opening test in Johannesburg in December 2013. Chasing 458, South Africa had its back against the wall and had to survive the last day on a deteriorating pitch at the Wanderers. The ideal situation for a spinner.
Except that Ashwin produced the hugely disappointing figures of 0-83 off 36 overs as South Africa claimed a draw, and nearly won. He was dropped from the team.
That test, though, gave Ashwin the push he needed to work on his game, and especially to develop the variation that leading spin bowlers must have in modern cricket since Muttiah Muralitharan and Shane Warne set the standard.
It worked. He's been one of the top spinners in world cricket over the last two, three years.
So, amid the battle between top-ranked India and No. 2 South Africa in the second test at Centurion on Saturday, there was some personal vindication for Ashwin with his 3-90, something to replace those Wanderers memories.
''It was a reality check in terms of not being able to win a test match for the country on day five when all things were actually set up for a spinner,'' he said of the Wanderers test. ''It was kind of a hit on my professional pride and from there on I knew I had to work on certain things.''
Work he did, proudly listing on Saturday the changes he made: Making his action more fluid and ''repeatable,'' changing his wrist position and adding a few different deliveries to his repertoire, including ''the flipper.''
''Obviously these things have combined over the last few years,'' he said. ''I have had a great time over the last two, three years.''
Ashwin's initial revenge came in India in 2015 when South Africa was beaten 3-0 in a four-test series and Ashwin took a series-leading 31 wickets, seven more than anyone else.
To perform in South Africa, though, was even more satisfying.
''I would actually like to believe I have gathered a lot more respect,'' he said.
At Centurion, Ashwin wasn't sure he was going to play this test. Two days out from the match the pitch looked so green and fast bowler-friendly that he thought India might go with an all-pace attack. The pitch changed, and the 31-year-old Ashwin has learned to jump at any chance after losing his place the last time he was in South Africa.
''That's the way it goes, right?'' he said. ''I have seen a lot of cricket matches where people who haven't been in contention to play the match come in and get those wickets.
''I mean, I play (only) test cricket now, get a lot of breaks in between, so I might as well be ready when I get an opportunity. There is no reason to unfasten the seat belt. You are always on.''
---