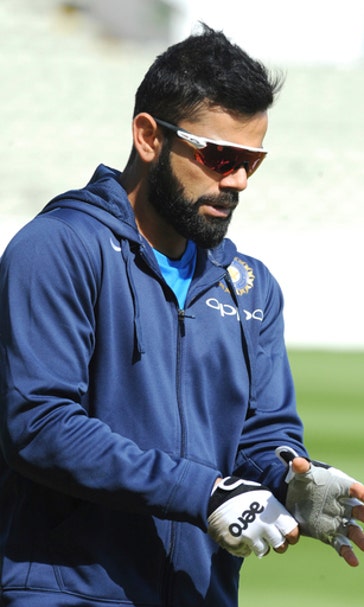 India set to be unchanged for Champions Trophy semifinals
June 14, 2017

BIRMINGHAM, England (AP) India is set to use an unchanged team for the Champions Trophy semifinal match against Bangladesh after what captain Virat Kohli called a ''complete performance'' in the winner-take-all group game against South Africa.
It means spinner Ravichandran Ashwin will retain his place in the team after coming in for paceman Umesh Yadav against the Proteas for his first appearance of the tournament. India won by eight wickets to top Group B.
Kohli played down concerns over the fitness of opener Rohit Sharma, who was seen working with India's physio in training.
India beat Bangladesh by 109 runs in their last meeting at a global 50-over tournament - a quarterfinal match at the 2015 Cricket World Cup in Melbourne - but lost 2-1 in a bilateral series played in Dhaka later that year. That was the last time the teams met in the ODI format.
Bangladesh has since risen to No. 6 in the ODI rankings and is no longer the pushover it was at the start of the century.
Kohli is not surprised by Bangladesh's emergence as a force in cricket.
''It's a credit to their set-up and the kind of players they have now who are taking more responsibility,'' said Kohli, who rose Wednesday to No. 1 in the ODI batting rankings. ''They are a very dangerous side on their day.
''They have cricketers who are skilled, who are committed to play for Bangladesh and play with a lot of passion, and they're really keen to win a lot of games at this level, and that shows in their attitude.''
Bangladesh is playing in the semifinals for the first time at an ICC tournament, leaving many to call this the country's biggest ever cricket match.
The Tigers finished ahead of Australia and New Zealand - the finalists of the 2015 Cricket World Cup - in Group A in their first appearance in the Champions Trophy since 2004.
''I know that on our day, we can do anything, to be honest,'' Bangladesh captain Mashrafe Mortaza said. ''I think India have got more pressure than us because the huge population is there, and people love cricket in India a lot.''
---