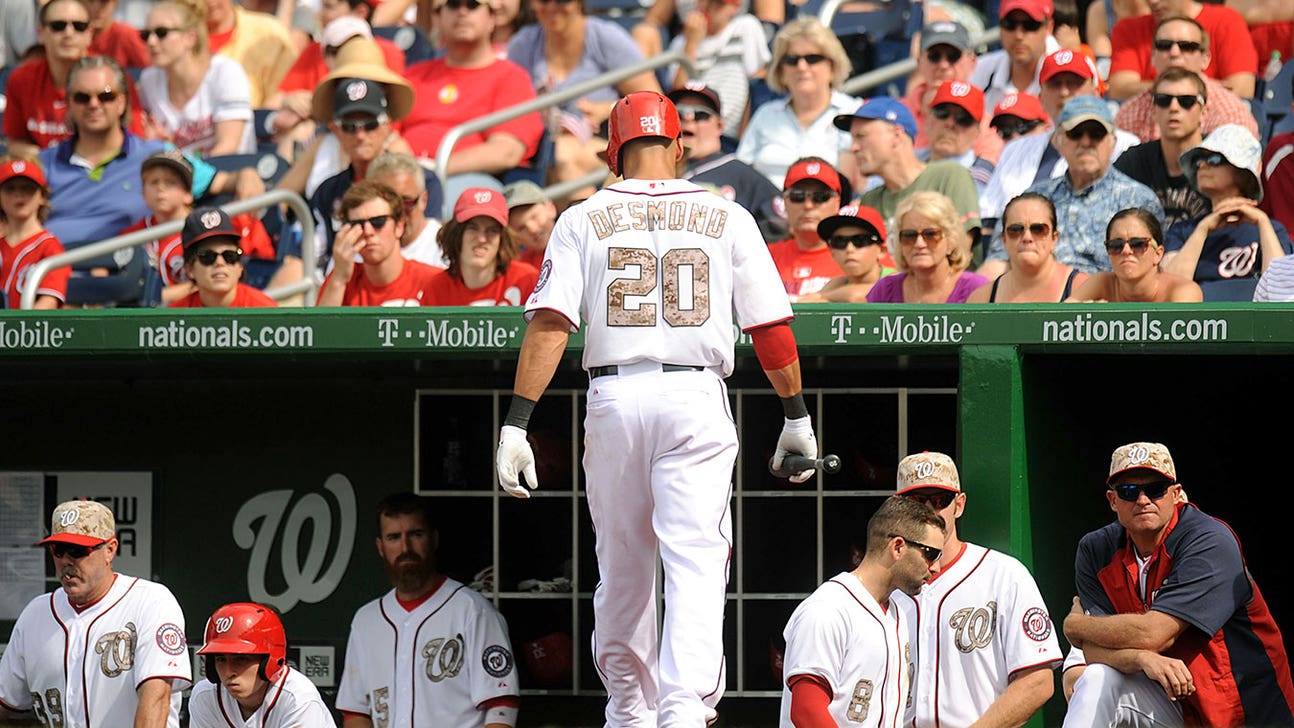 Ian Desmond: The Nationals' last Expo
Updated
Mar. 4, 2020 6:50 p.m. ET

Sometimes I do wonder where I would be without Twitter, feeding me ideas for columns around the clock ...
For example, this popped up during Sunday night's game:
Just for fun, let's set the bar just a bit lower ... Since 2012, there are 13 65-RBI seasons by shortstops. Desmond's got three of them, J.J. Hardy's got two ... and oddly enough, nobody else has more than one. So far, that is; Starlin Castro, Alexei Ramirez, and Troy Tulowitzki might all get their second later this season.
Anyway, the point stands: When it comes to knocking runners home, no shortstop has been as consistent as Desmond in recent seasons. Which got me to wondering just how good he's been. Or if maybe he's actually been great.
Well, no. His sub-par on-base percentage and replacement-level defense makes him merely very good. Not that there's anything wrong with that. But at 28, he's probably not getting any better. The Nationals have him locked up through next season, after which they should probably cut him loose. Just because you shouldn't pay a player in his 30s for what he did in his 20s. No matter how good that was.
Whatever. We'll see what the Nats do when the time comes. Somebody does have to play shortstop, they don't have any hot shortstop prospects in the system, and it'll really be difficult to let Desmond walk if they've won a World Series in the interim. Which the Nationals well might, considering they're probably the best team in the National League and should be essentially as good next year.
Believe it or not, I didn't come here to write about Ian Desmond. I mean, this was going to be just a little Baseball Joe post about Ian Desmond, but then I happened across something that tickled me: Ian Desmond was drafted by the Montreal Expos.
I know, I know: It wasn't really that long ago. But don't the Expos already seem like a generally friendly, but-occasionally-bitchy-if-you-don't-speak-French dream, peopled by athletic fellows wearing tri-colored chapeaus who just can't seem to win the big game? If I didn't know Jonah Keri personally, I would swear his book was a maniacally creative work of fiction, perhaps the product of one of those fevered dreams.
But no, the Expos were real. Ten years ago, the Expos grabbed Ian Desmond in the third round of their last-ever draft. Which got me to wondering how many other traces of the Expos might be found in their current incarnation as National League East frontrunners. Or just around the major leagues.
In that last Expos draft, they used their first-round pick on Bill Bray. He did enjoy a couple of nice seasons as a reliever in the major leagues – although not with the Nationals, who traded him early on – but retired last March after suffering through all sorts of arm problems. The Expos' second-round pick was catcher Erick San Pedro, who lasted five seasons in the minors and batted .195 in his career. Third round, Desmond.
The Expos used 47 more picks. Three of those picks reached the majors. The best of them by far was Collin Balester, who went 7-16 with a 5.30 ERA in parts of five seasons, four with the Nationals.
Okay, so the 2004 draft didn't go well except for Desmond.
What about 2003? Chad Cordero was the Expos' first-round pick, and he was really good for a few years. Eight other picks from that draft reached the majors, and you might remember White Sox outfielder Jerry Owens and Brewers reliever Jim Henderson, who saved 28 games last season but has missed most of this season with a debilitating shoulder injury.
But wait, because 2002 was even worse. Five major leaguers, and Darrell Rasner was the best of them. The 2001 draft yielded six major leaguers, and Mike Hinckley was the best of them. Essentially, the Expos took an oh-fer in two straight drafts. Looking at their last four drafts, one can imagine some pretty lean times if they'd stayed in Montreal, considering their dearth of prospects and the franchise's likely inability to spend gobs of money.
But wait again — four years isn't a nice round number! But five is. So let's go all the way back to the 2000 draft and ... paydirt!
The Expos actually missed with their first-round pick, Stanford right-hander Justin Wayne, as the fifth overall pick racked up a 6.13 ERA during his brief stay in the majors. They didn't even have a second-round pick.
Ah, but in the third round they drafted Grady Sizemore. In the fourth round they drafted Cliff Lee. In the 22nd round they drafted Jason Bay. And in the 35th round they drafted Russell Nathan Coltrane Martin, who graduated from high school just a few miles away from Montreal's Olympic Stadium.
I don't know how to check, but that's gotta be one of the better drafts ever, at least if you don't start counting until the third round.
That's the good news. The bad news is that none of those guys ever played a single inning for the Expos or the Nationals. Sizemore and Lee – plus Brandon Phillips, drafted in 1999! – went to the Indians in a trade for Bartolo Colon. Somehow management traded Bay to the Mets for Lou Collier, a utility player who batted 14 times for the Expos before drawing his release. And Martin? Oh, he didn't actually sign with his hometown team, instead going to college in Florida for a couple of years before the Dodgers drafted him (in the 17th round, another smart move).
There are still traces of les Expos, of course. Most notably, there's Endy Chavez and Bartolo Colon, but ex-Expos Scott Downs and Bruce Chen are both still kicking, too (and both for the Royals, coincidentally). And then there's the draftee Desmond, along with Cliff Lee and Brandon Phillips and (maybe someday) Jim Henderson. But that's just about it, friends. Toward the end, a lot of things weren't working for the Montreal franchise. Including the Rule 4 Draft.
---