Hurricanes wrap winning month with loss to Rangers
Published
Jan. 31, 2015 11:58 p.m. ET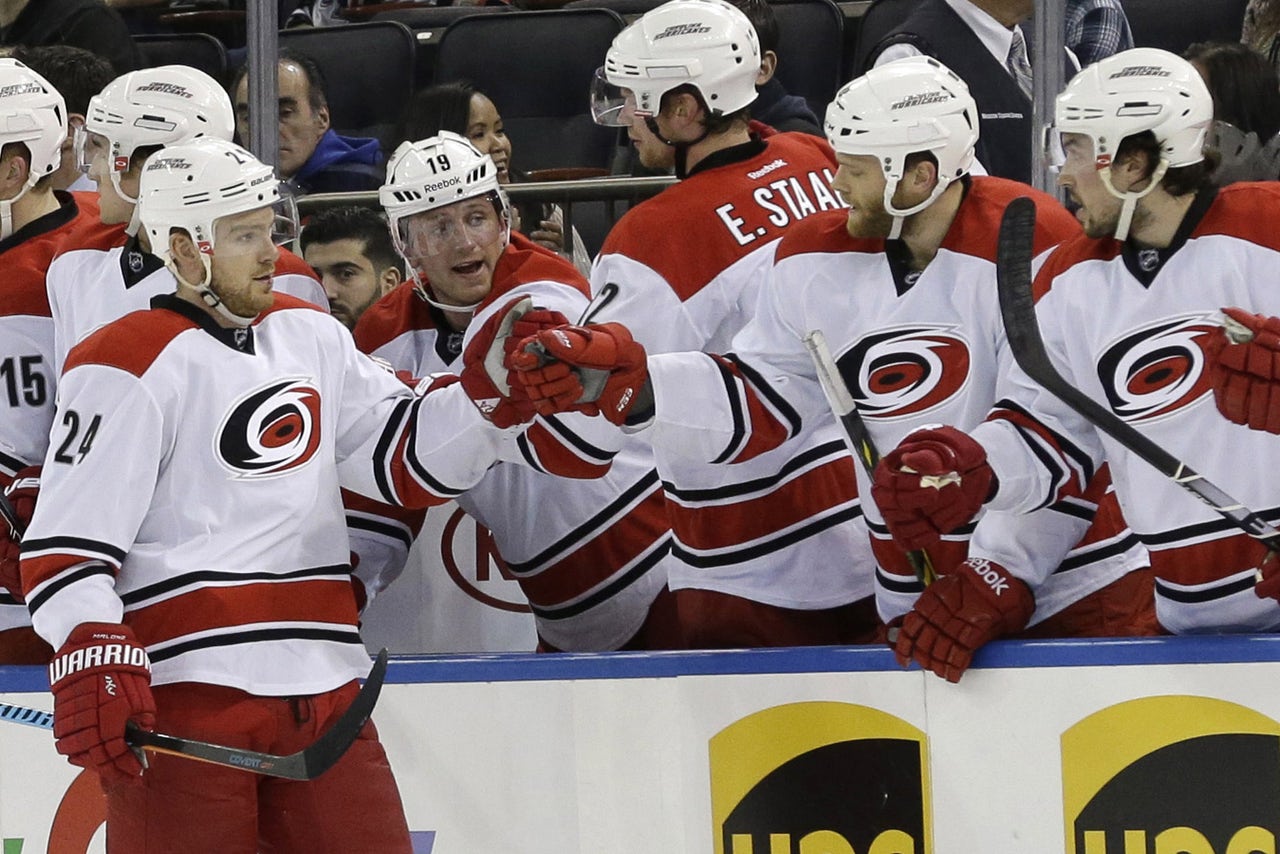 NEW YORK -- Henrik Lundqvist took a puck to the throat and was scared and in pain. His New York Rangers felt every bit of both as they watched him writhing on the ice.
Lundqvist was struck by a shot from Carolina's Brad Malone in the second period after teammate Ryan McDonagh's stick pushed up his goalie mask. Lundqvist shook that off, stopped 31 shots overall, and backstopped the Rangers' slump-busting 4-1 win over the Hurricanes on Saturday night.
"I was getting ready for the shot, and I could feel a stick under my chin pull up my helmet, so I lost vision of the puck," Lundqvist said. "I had a bad feeling about it because I could kind of see the puck coming, but then I lost track of it.
"When I got hit, it was obviously extremely painful and it was hard to breathe for a couple of minutes."
That pain subsided, but Lundqvist still felt headaches and light-headedness that the medical staff attributed to a lack of oxygen after being struck. By the time the Rangers stretched their lead to 4-1 in the third, he was feeling much better.
The Rangers had lost two straight since the All-Star break, mustering only one goal in the process, but Rick Nash and Dominic Moore scored in the first period, and Chris Kreider and Dan Boyle added insurance tallies 21 seconds apart in the third.
That was enough to get Lundqvist his 24th win.
"You're nervous for him, and your stomach drops a bit," said Rangers defenseman Marc Staal, who faced brothers Eric and Jordan -- Hurricanes forwards. "Anytime a guy is kind of rolling around and kicking his legs, you know it's not good."
Malone had the lone goal for the Hurricanes, who went 7-3-2 in January -- their first winning month this season. Cam Ward stopped 33 shots in Carolina's first game of four-game trip that will continue out West.
"I thought we controlled a lot of the play, just a few breakdowns," Jordan Staal said. "That's a good team that will make you pay quick. We have to rebound."
The Rangers have taken the first four meetings from the Hurricanes this season and have won 15 of 16 overall against Carolina, including nine straight at home.
Lundqvist has been a big reason why. He also has experience with getting hit in the throat. He said he and his brother got into many fights because of his wayward high slap shot.
"My brother was an expert at that, actually, in practice," Lundqvist said. "He hit me on the throat a lot of times, but not like this where my helmet kind of came off and I lost track of the puck.
"It could have been a lot worse. I feel lucky."
After being treated for about 5 minutes, Lundqvist gathered himself as chants of "Hen-rik, Hen-rik!" filled Madison Square Garden.
"It was just unfortunate timing by me," McDonagh said. "I'm trying to box a guy out, and my stick kind of gets his mask up.
"I was a little nervous, but knowing the guy that he is, I thought for sure he would battle through."
Lundqvist's best save came just over a minute into the second when he got his skate on the puck to prevent Andrej Nestrasil from scoring into an open right side.
Malone brought Carolina within a goal at 2-1 at 5:38 when he deflected in a pass from defenseman Ryan Murphy for his fourth of the season and third in five games.
"We've played better, had the puck more," Hurricanes coach Bill Peters said. "Our starts have been better. Have to crack the riddle (of) scoring goals."
The Rangers spent much of the first period pinned in their zone. They were outshot 15-8 and relied on Lundqvist to bail them out multiple times -- including in the closing seconds when he rolled onto his back to keep the puck from getting past him -- and yet carried a 2-0 lead into the intermission.
"The first half of the game, we might have been up 2-0 but that was mostly because of Hank's play," said Rangers coach Alain Vigneault, who shuffled up his forward lines multiple times. "We were up 2-0 but they had been the better team."
Nash got New York's slumping offense rolling 6:30 in on the Rangers' second shot. He intercepted Andrej Sekera's clearing pass in the neutral zone and brought the puck into the Carolina end. He snapped a shot from above the left circle and beat Ward for Nash's 29th goal -- tying the NHL lead -- and first in four games.
---