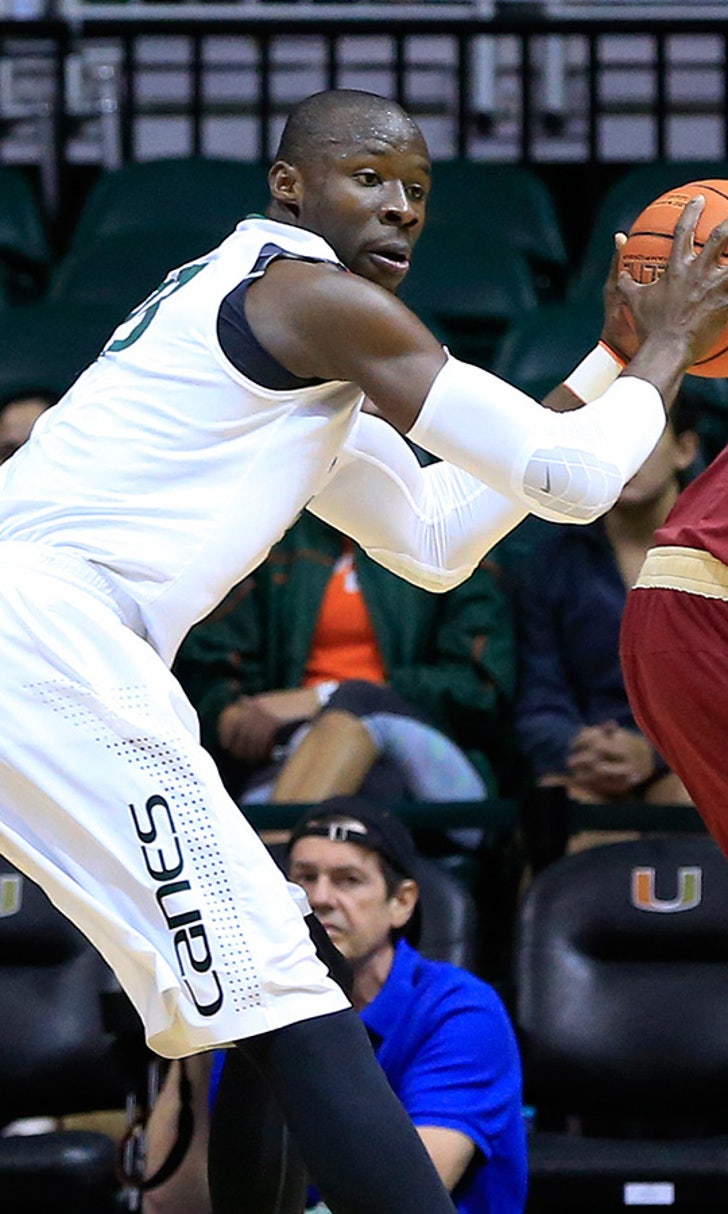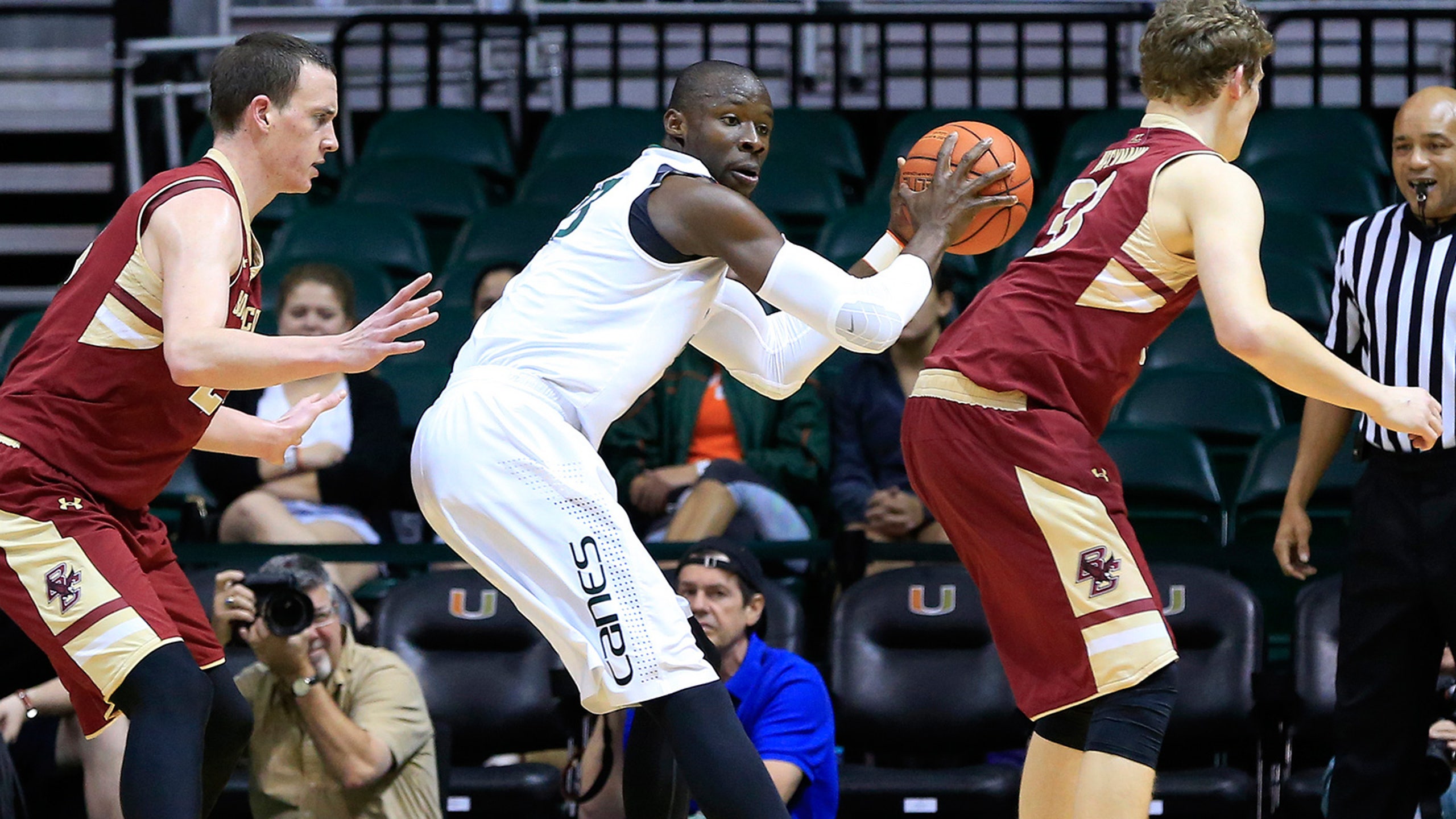 Hurricanes withstand second-half comeback to defeat Boston College
BY foxsports • January 10, 2015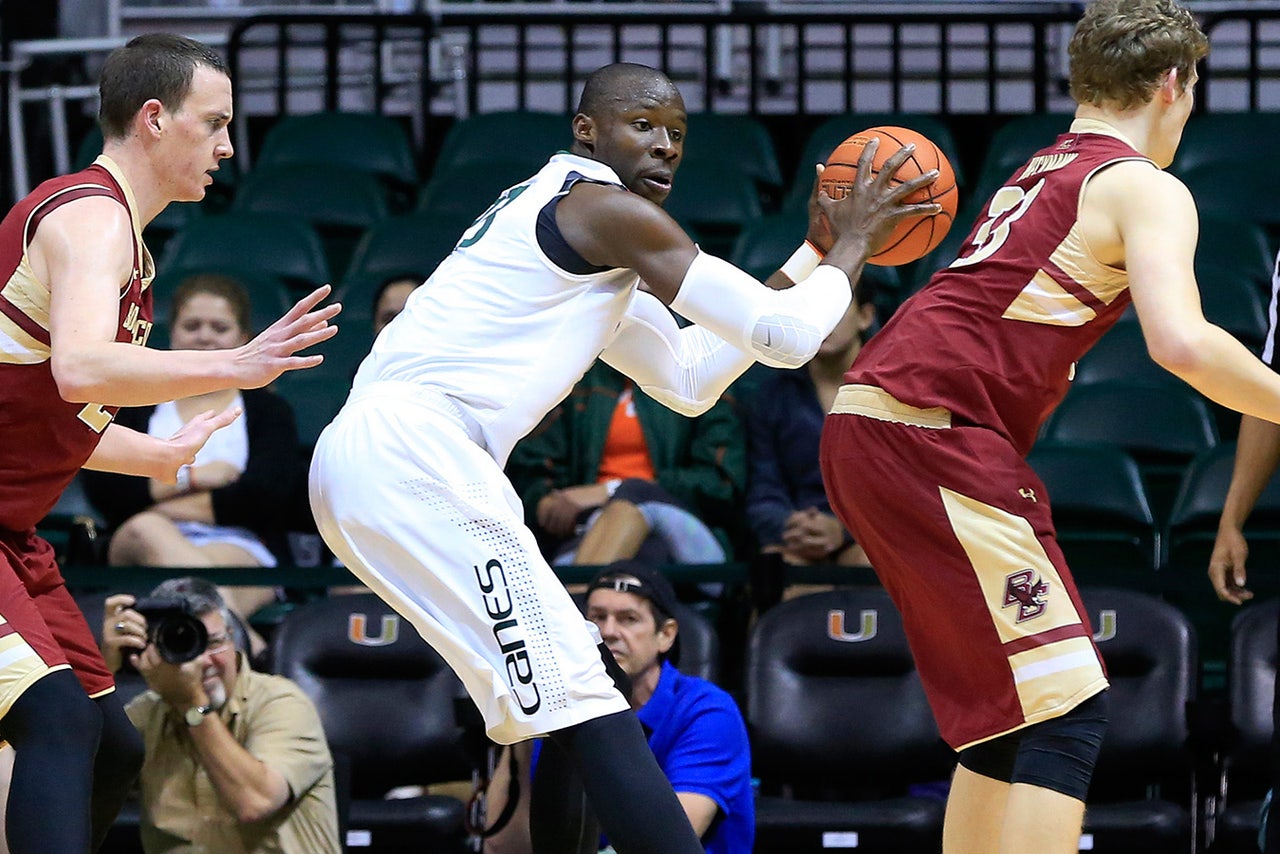 CORAL GABLES, Fla. (AP) -- Tonye Jekiri and the Miami Hurricanes held on.
Jekiri grabbed 15 rebounds Saturday, and the last one was the biggest. It came with four seconds left after Boston College missed a potential game-tying shot, allowing Miami to preserve a 60-56 victory.
Boston College erased a 13-point deficit in the second half to tie the game before the Hurricanes dug in.
"We were saying, `We've got to find the energy,'" Jekiri said. `"Everybody was kind of tired, but we were fighting and trying to help each other."
The Hurricanes (11-4, 1-1 Atlantic Coast Conference) beat Boston College (7-7, 0-3) for the ninth time in a row.
Olivier Hanlan had 19 points and four assists for the Eagles, but he missed a potential tying 3-pointer with six seconds left. Jekiri then made a clinching free throw.
The 7-foot Jekiri's point total tied a season high. When asked whether he likes points or rebounds better, he chuckled.
"I like both, but you want to help your team with rebounding, because second-chance rebounds really hurt the team," he said.
Jekiri also had three blocks against one of the nation's tallest teams, but the junior's performance was notable mostly for his offensive contribution. He shot 5 for 7.
"Before this game I've got guys coming up to me telling me, `You've got to start dunking the ball and being aggressive. Stop passing. Look to score. We're not going to get mad,'" he said. "That's what I came out tonight and tried to do."
Coach Jim Larranaga praised Jekiri's performance -- with a caveat.
"The whole key is consistency," Larranaga said. "If you do it once, that's good. But can you do it night in and night out?"
Larranaga improved his record against Boston College to 7-0.
The Eagles trailed 39-26 with 12 minutes left but made eight of their next 11 shots and tied the game at 50 on a 3-pointer by Aaron Brown. But they never had the lead in the final 38 minutes, and Miami went ahead to stay on Manu Lecomte's 3-pointer to make it 53-50 with 4:40 left.
Boston College's Dennis Clifford and Hanlan each missed the front end of a one-and-one in the final 1:48. Aaron Brown, averaging 15.3 points per game, was held scoreless for the first 33 minutes and finished with five points.
It was another tough loss for the Eagles, who were beaten in overtime Tuesday by Pittsburgh.
"The last 12 minutes of the game, I told the team, that's the way we should play," coach Jim Christian said. "We played free. We played with confidence. They hit some big shots, and so did we."
Angel Rodriguez had 17 points for the Hurricanes, who bounced back from two-overtime loss to Virginia a week earlier.
"Coach always says every game in this league is going to end up close, and you saw it today," Rodriguez said.
HOMECOMING
Boston College senior Eddie Odio, a Miami native, scored a career-high 13 points. That included a trio of 3-pointers, and the Eagles made a season-high nine in 22 attempts.
"That has not really been their bread and butter," Larranaga said.
TIP-INS
Boston College: The Eagles had only six turnovers but forced just five.
Miami: The Hurricanes went with only their third different starting lineup this season. Freshman Deandre Burnett made his first start and scored seven points.
UP NEXT
Boston College plays host to Harvard on Wednesday.
Miami plays at No. 2 Duke on Tuesday. The Hurricanes are 5-1 away from home.
---