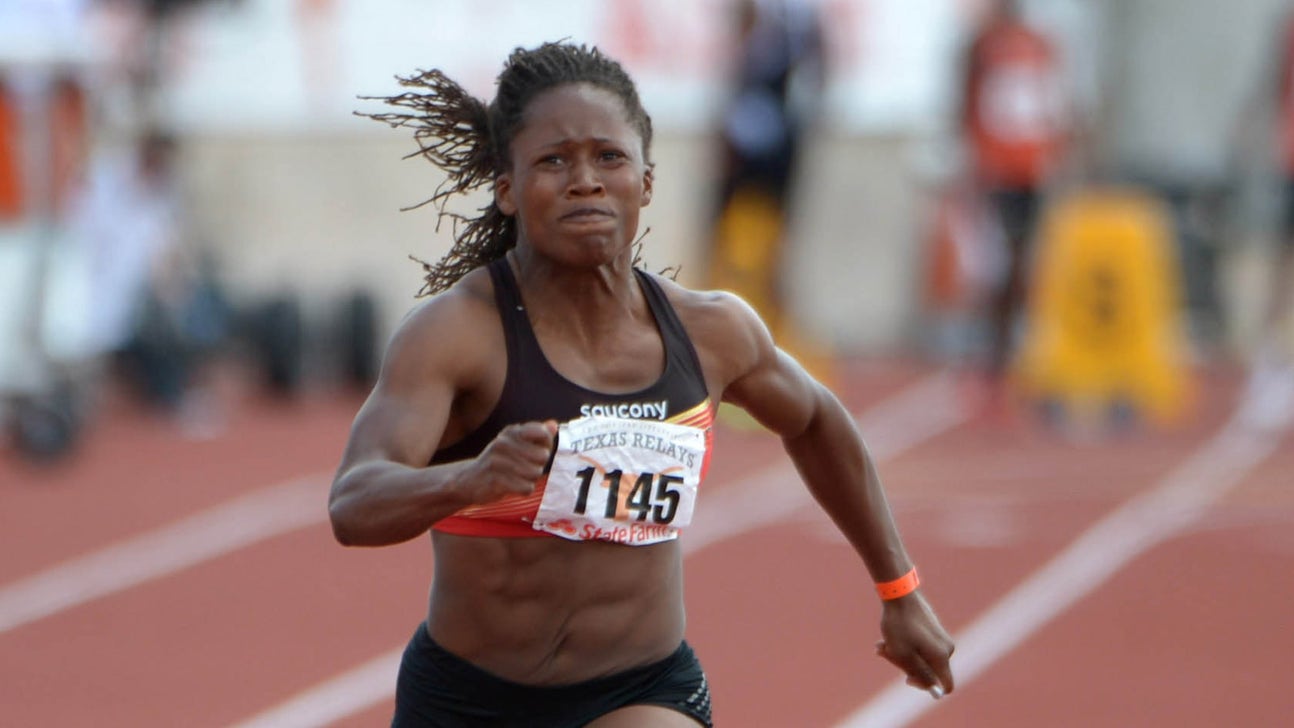 Hurricanes track star Lauryn Williams takes her spikes to ice
Published
Jan. 30, 2014 12:30 p.m. ET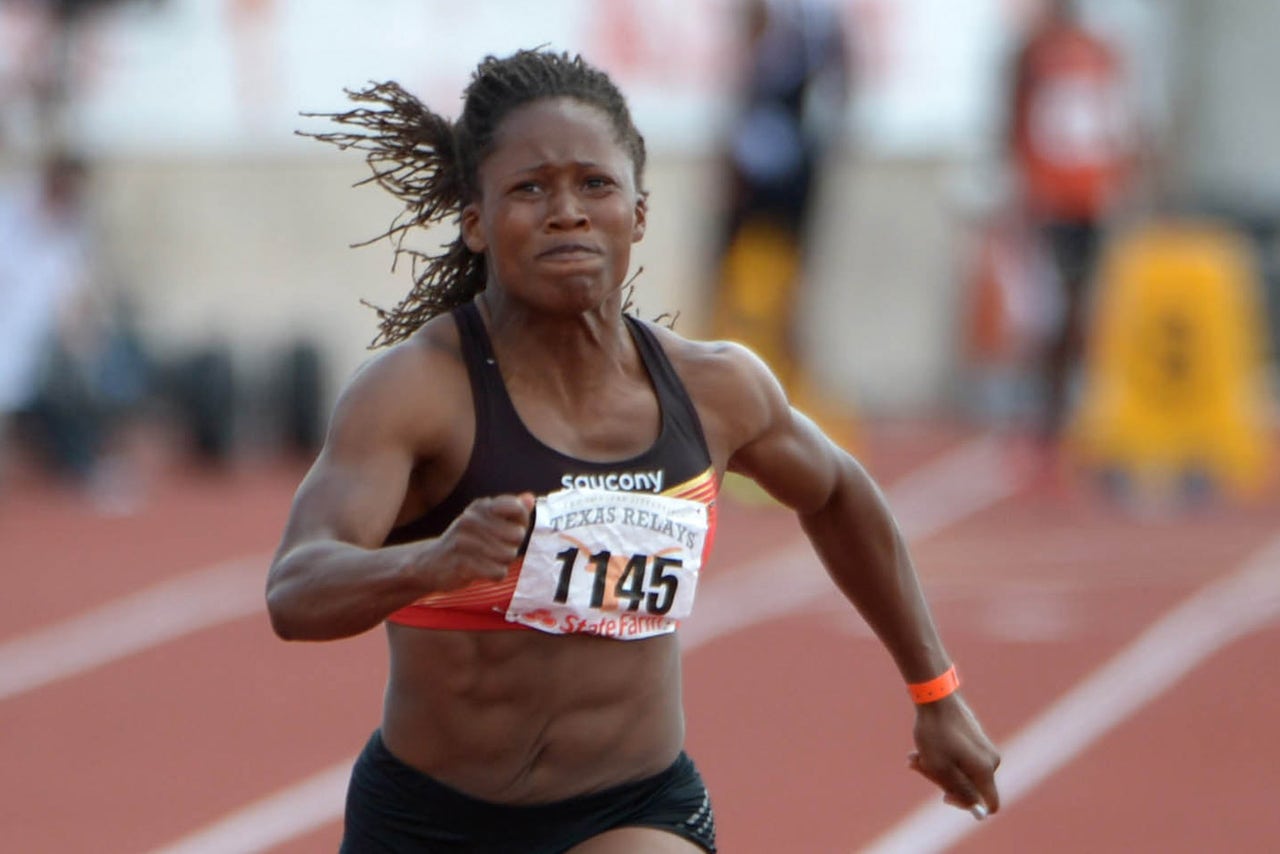 First comes the silence, then the distinct sound of cowbells.
That's what Lauryn Williams hears as she races in a bobsled at speeds topping 90 mph.
They're loud enough to appease Christopher Walken and Will Ferrell, and far removed from anything she experienced on a different kind of track.
"When you get to the line you're pretty much tunnel vision," Williams told FOXSportsFlorida.com from Germany. "It's all kind of a blur the actual taking off and getting ready.
"Those cowbells... You hear that noise and the next thing you know I'm in the sled and there's not much hearing. I didn't ever hear any of the cheers in track (and field). In bobsled I definitely hear those cowbells, but I don't hear the people in that moment."
Williams, a three-time Summer Olympian, captured a gold medal in the 4x100 meter relay at the 2012 games in London and silver in the 100 meters eight years earlier in Athens. She also ran in Beijing.
On Jan. 19, Williams won gold alongside driver Jamie Greubel in a World Cup bobsledding event in Igls, Austria.
Hours later, she was selected to the U.S. Olympic team that will compete in Sochi, Russia beginning Feb. 7. Williams becomes one of just 10 Americans to represent the country in both the summer and winter games.
HOW IT HAPPENED
It all started six months ago when Williams and fellow track star Lolo Jones bumped into each other at the airport.
In October 2012, Jones, Tianna Madison and Hyleas Fountain gave bobsled a go, garnering national headlines. Williams brought it up to Jones, curious as to why they made the decision. Jones -- in turn -- offered a glowing recommendation.
"She explained the process and that it was as easy as showing up and trying out and if you had the basic skills they would teach you everything else you needed to know," Williams said. "So I did. I just showed up and tried out, and here I am."
Like many, Williams' introduction to the sport came via Walt Disney Pictures' "Cool Runnings." She didn't know much else.
Williams was taught to be a push athlete, which means she's tasked with getting the sled moving down the icy chute for 30 meters and then jumping into the back seat for the one-mile ride.
Amy Deem, her track coach at the University of Miami and at the London Olympics, compared Williams' role to that of dynamic track and field events.
"It's very hard to compete at the international and Olympic level if you don't have a good start," Deem said. "Those qualities are going to carry over. She's very strong and very explosive. She's always loved the weight room. It's a carryover for her."
After a couple of months training and getting to know the others, the 30-year-old arrived in Lake Placid, N.Y. in October for her first run.
That day, three wrecks occurred before it was her turn to go down the track. It was 70 degrees outside and ice conditions were bad.
"I was like, 'Oh my goodness, what have I gotten myself into?'" Williams said. "'Wrecking is a real thing and this is dangerous. I don't know if I should go down.' It was a moment of total anxiety.
"After that first trip down I figured I had to tough it out a little longer. The next track was Park City (Utah), and they said that one was a lot nicer. I was thinking I'd hold out for the next track, and if it wasn't nicer I'd quit. But it was a lot nicer."
ROOM TO GROW
Though she's competed in three Summer Olympics, Williams admits to nervous jitters and adrenaline every time she prepares to go down the track.
With just six months of experience, Williams is still new to the sport. Each result matters in an Olympic year, and the margin for error is small.
For one, Williams still hasn't mastered sanding the runners, which is an important part of raceday protocol. The sled must be free of scratches and shiny. If it's not sanded down properly it'll slow them down on the track, messing with physics and aerodynamics.
"They are their own pit crew," U.S. start coach Stu McMillan told the Miami Herald.
But it's not only Williams who learns and gains from her involvement in bobsled. With her and Jones' participation, Williams hopes it will shed light on the sport so that it can grow.
There are, however, a few major obstacles working against them.
Until 2010 in Vancouver, the last time the United States won the overall medal count in the Winter Olympics was 1932. Unlike football or track, there is no high school or college bobsled. It can be hard to relate to something viewers catch on the television every four years.
"I think a lot of people would appreciate it if they got to know it," Williams said. "There's just not a lot of awareness of what bobsled is or how to get into it. The depth will continue to get better and get a really good pool of people to pull from if we get people involved in the sport."
SCHOOL AND COUNTRY PRIDE
Her success has already drawn the attention of her alma mater, the University of Miami, which now has its first Winter Olympian.
The Hurricanes have sent congratulatory tweets and plan on posting results of her races. Deem now watches bobsled events on her DVR.
UHealth Sports Medicine is Williams' lone bobsled sponsor, what she calls the "only reason I'm breaking even with expenses that add up." She also earns a $1,000 stipend from the Olympic team.
Since graduating in 2004 with a degree in finance, the nine-time track All-American has continued to train at the Coral Gables, Fla. facilities.
"To see everyone cheering for me and the messages -- online, Facebook, Twitter -- is really fun to see I'm making my school proud," Williams said. "That school was very good to me. I love my school and I love the U."
Williams, who was born in Pittsburgh, moved to Detroit then back to Pittsburgh as a child. She has spent the past 12 years in Miami.
Sochi couldn't be further away -- 6,316 miles to be exact -- though she did visit Moscow in 2006 and won silver at the 2006 IAAF World Indoor Championships.
"It's really cool to represent Team USA and to get out there and know it's bigger than yourself and your family and school and state," Williams said. "It's your whole country that's looking after you and supporting you.
"It's that same feeling that you feel for the troops that they're out there fighting for us and representing the country and making everything safe so that we can have the opportunity to compete worldwide. It's a sense of pride when everyone's counting on you and cheering for you."
With the help of those noisy cowbells.
You can follow Christina De Nicola on Twitter @CDeNicola13 or email her at cdenicola13@gmail.com.
---