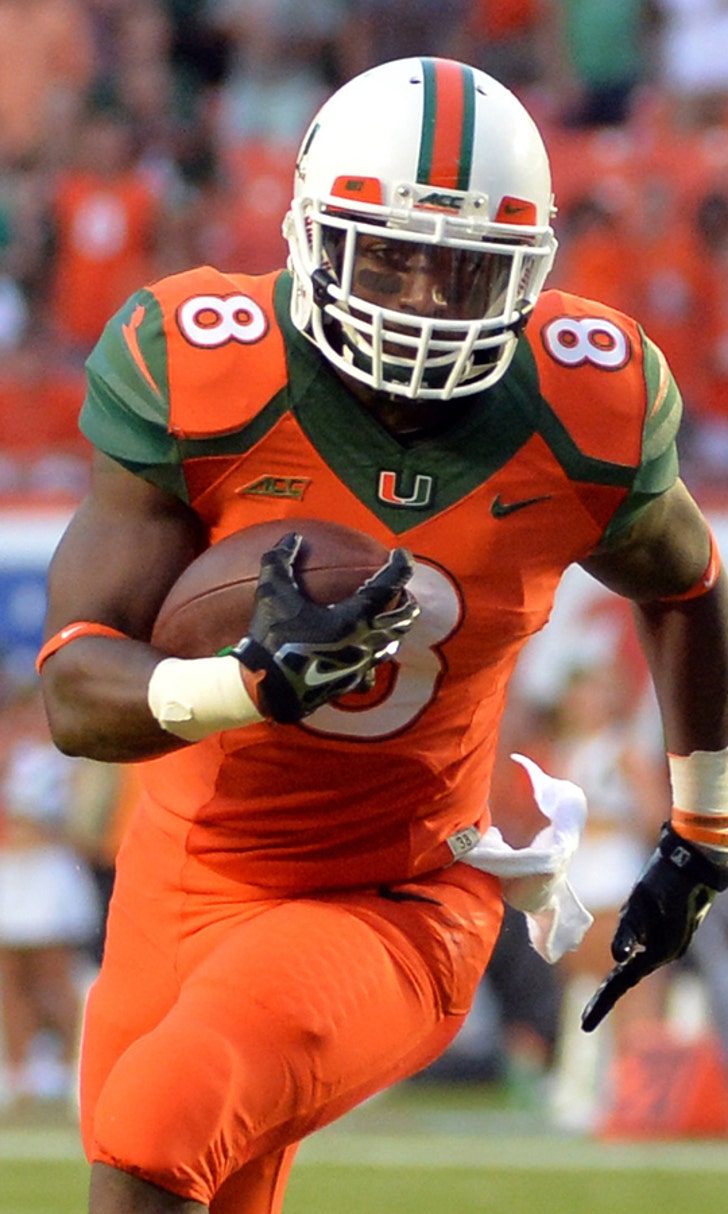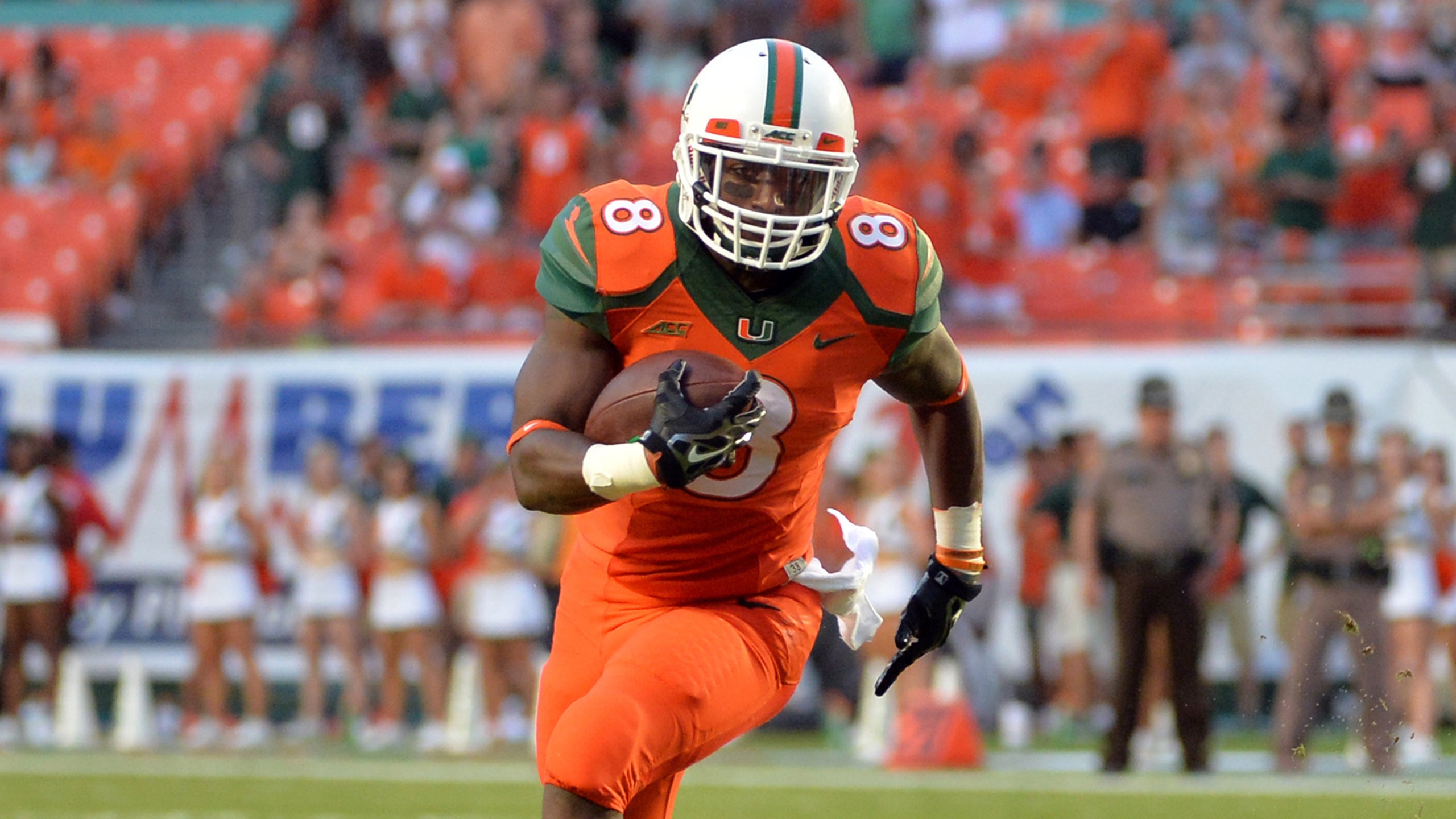 Hurricanes notes: Offense proving difficult for defenses to handle
BY foxsports • October 27, 2014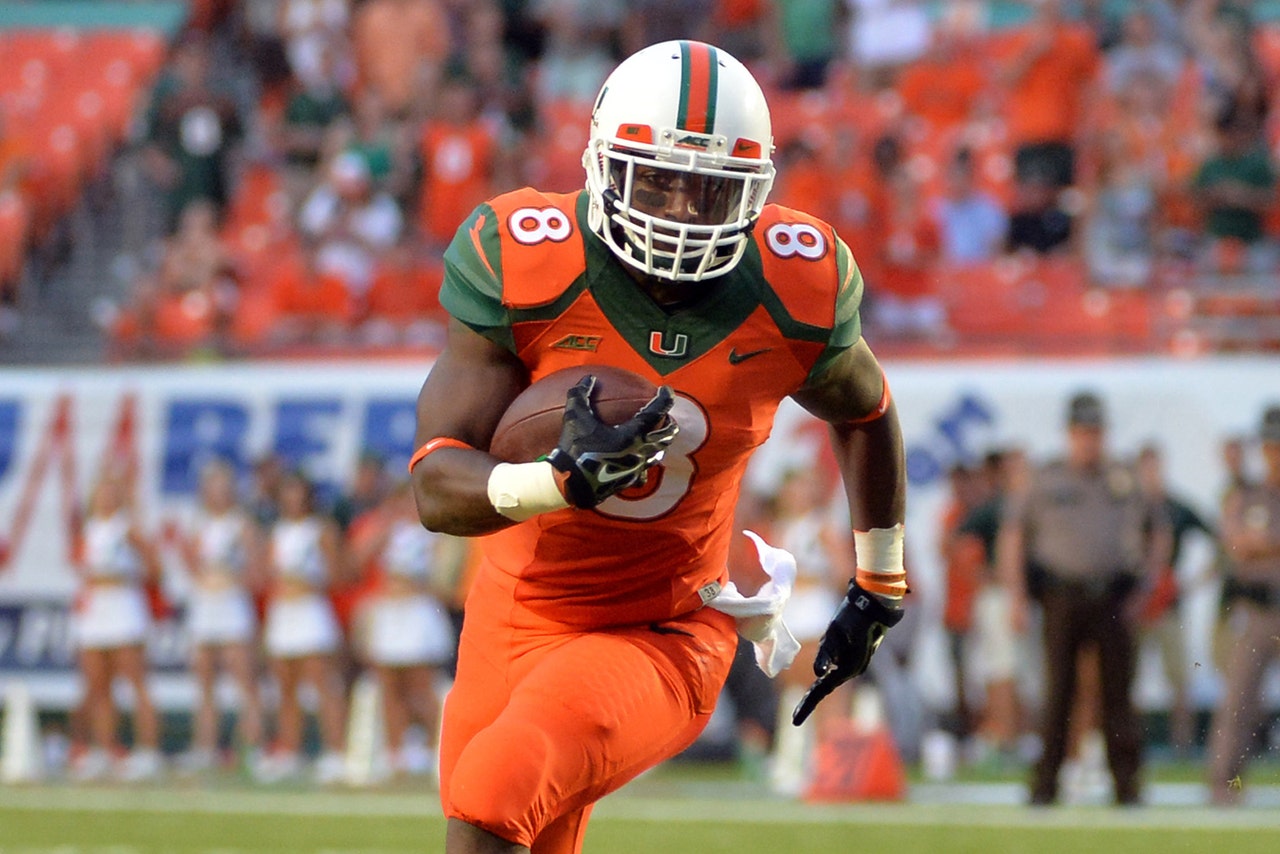 CORAL GABLES, Fla. -- Last Thursday's offensive performance showed many things about the Miami Hurricanes.
Freshman quarterback Brad Kaaya knows how to hand the ball off to junior running back Duke Johnson, whose NFL Draft stock is rising.
The offensive line, which has seen its share of ups and downs as well as injuries, earned a meal from Johnson by season's end. The receivers, tight ends and fullback blocked for nearly an entire game, proving their unselfishness.
Miami has a balanced attack that can either pass or run, adjusting according to the defense's look. For example, on the first play of the game, Virginia Tech had its safeties 30 yards deep and its corners 15 yards away.
"We're not going to force things," said Kaaya, who passed for just 92 yards and a touchdown. "We're not going to be one of those offenses that's one dimensional. That includes running and passing. We're going to make adjustments no matter what defense we play. It just shows we can make adjustments and vary things up."
Kaaya threw 16 passes, seven of which were completed. Both were lows in his young collegiate career.
But it's nothing new for him. At Chaminade Prep, Kaaya was teammates with Terrell Newby, now a sophomore running back for Nebraska, and once watched him run for nine scores. The defense didn't stop its five-man box coverage, so the offense continued running.
"Keep feeding (Duke)," Kaaya said about Thursday. "Sooner or later play action's coming. If they're going to play deep coverage let them play deep coverage and we'll run the ball. Let him do his thing. Let him eat."
Johnson, who became the first UM back to run for 200-plus yards since 2002, finished with 286 total yards and two touchdowns. In each of his past four games, he has rushed for at least 100 yards. He continues climbing the program ranks in several categories.
The All-ACC back credits the offensive line for the team ranking seventh in the nation in yards per play (6.8) and for the overall success of the unit. It has been giving Kaaya time to throw and creating lanes for Johnson, sophomore Gus Edwards and freshman Joe Yearby.
During a career performance, Miami even introduced the "Dukecat" on three occasions -- each going for positive yardage.
"A new wrinkle we put in to try and find a different way to get me the ball in space with Stacy (Coley) and coming out a of a speed play," Johnson said. "Help this offense move."
With his personal accolades accumulating, Johnson could very well be playing his final games as a Hurricane. He may turn pro and enter the NFL Draft this spring.
When asked about it, Johnson said he is set to graduate Fall 2015 as a sport administration major. The decision will ultimately come down to discussions between him and his mother.
"That's a decision we have to make, majority her," Johnsons said. "I'll have some say in my decision but for the most part it's her because she wants to see me get my degree and see me be successful after football. You can always come back, but it's something that we would have to sit down and really look at in the end of the season."
EARNING RECOGNITION
Senior Denzel Perryman became a semifinalist for the Butkus Award, given annually to the nation's top linebacker, for the second straight season.
Perryman, one of 15 semifinalists and one of just two from the Atlantic Coast Conference, is the only two-time semifinalist.
"I just found out about that actually," Perryman said. "I thought about that the other day, but I pretty much didn't put all my attention to that. I feel pretty good. I was a semifinalist last year, now it's just becoming a finalist."
In eight starts this season, Perryman leads the Hurricanes with 62 tackles. The 2014 Preseason All-ACC selection also has four tackles for a loss, one sack, one interception and two forced fumbles. He has started 21 consecutive games.
Not only is Perryman UM's active tackles leader with 303 stops, but he is just 25 away from reaching the top 10 in program history.
Perryman decided to return for his senior year rather than enter the NFL Draft this past spring. One of his goals was to become a finalist and win the Butkus Award. He would become just the fifth Hurricane to do so. Dan Morgan is the only UM player to win it (2000).
"It is," Perryman said. "Like I said I got to this last year and start going downhill from here (laughs). Not going to let it get to me. Just continue to play well."
ADDITIONAL HONORS
Three players -- Johnson, senior center Shane McDermott and sophomore linebacker Jermaine Grace -- were recognized with ACC Player of the Week honors.
Johnson tallied a career-best 249 yards, the third-best single-game mark in program history, on 24 carries. He also achieved his first 1,000-yard season.
McDermott, Miami's starting center for the past three seasons, helped the offense accumulate 456 total yards, including 364 on the ground. Sophomore Gus Edwards also set a career high with 115 yards.
Grace recorded four tackles (three solo), the first two fumble recoveries of his career and a sack.
PERSONNEL UPDATES
Asked how the team looked on the injury front, Golden replied with, "We're good."
Offensive linemen Taylor Gadbois and Kc McDermott, both who were listed on the report prior to the Virginia Tech game with lower-extremity injuries, are "done." Junior linebacker Tyriq McCord, who at one point exited with an injury on Thursday, is fine. So is Yearby, who did not play because of a hamstring.
"There's no injury problems right now," Golden said. "We're good."
Added Johnson: "(Yearby's) fine. He came out to practice no problem. No extra need from the training staff. He was fine."
Another reporter asked the status of redshirt freshman cornerback Ray Lewis III and Golden said, "Ray is still part of our team."
STAYING IN TOUCH
Carter Hucks, the 8-year-old from South Carolina who visited with the program during Cincinnati week thanks to the Make-A-Wish Foundation, made the drive up to Blacksburg with his parents for the Virginia Tech win. The Hurricanes have played two of their more complete games with him in attendance.
Hucks, who has Fanconi anemia, a blood disorder that leads to bone marrow failure, had his transplant postponed but will likely undergo it soon.
"We'll get constant communication and send notes," Golden said. "Whenever we can reach out to the family we'll do that. He's in our thoughts and prayers. He's obviously -- like I said -- left a mark on our team and made an impact. We're blessed to have him around."
You can follow Christina De Nicola on Twitter @CDeNicola13 or email her at cdenicola13@gmail.com.
---