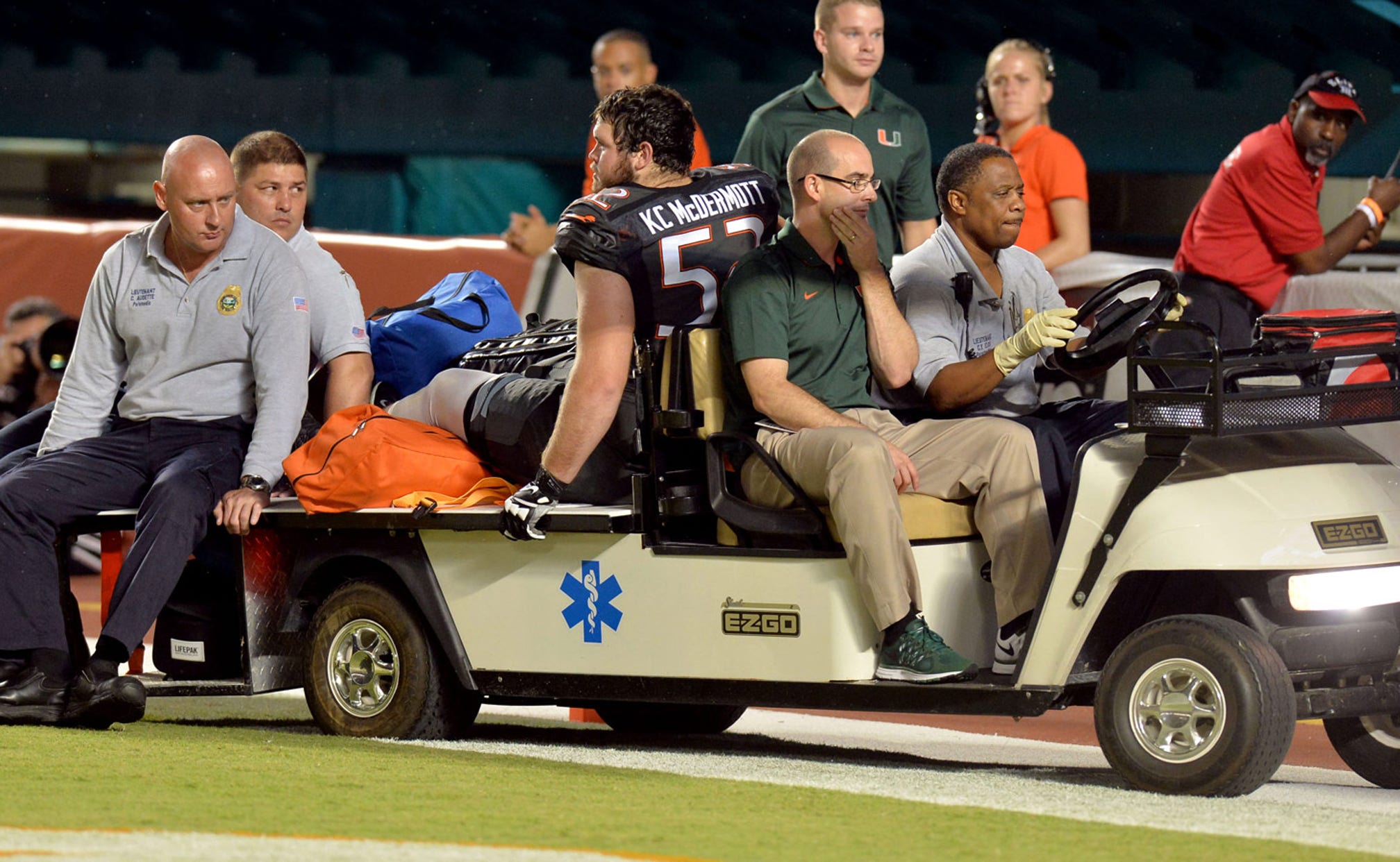 Hurricanes notes: Injuries to Gadbois, McDermott have Miami reshuffling offensive line
BY foxsports • September 29, 2014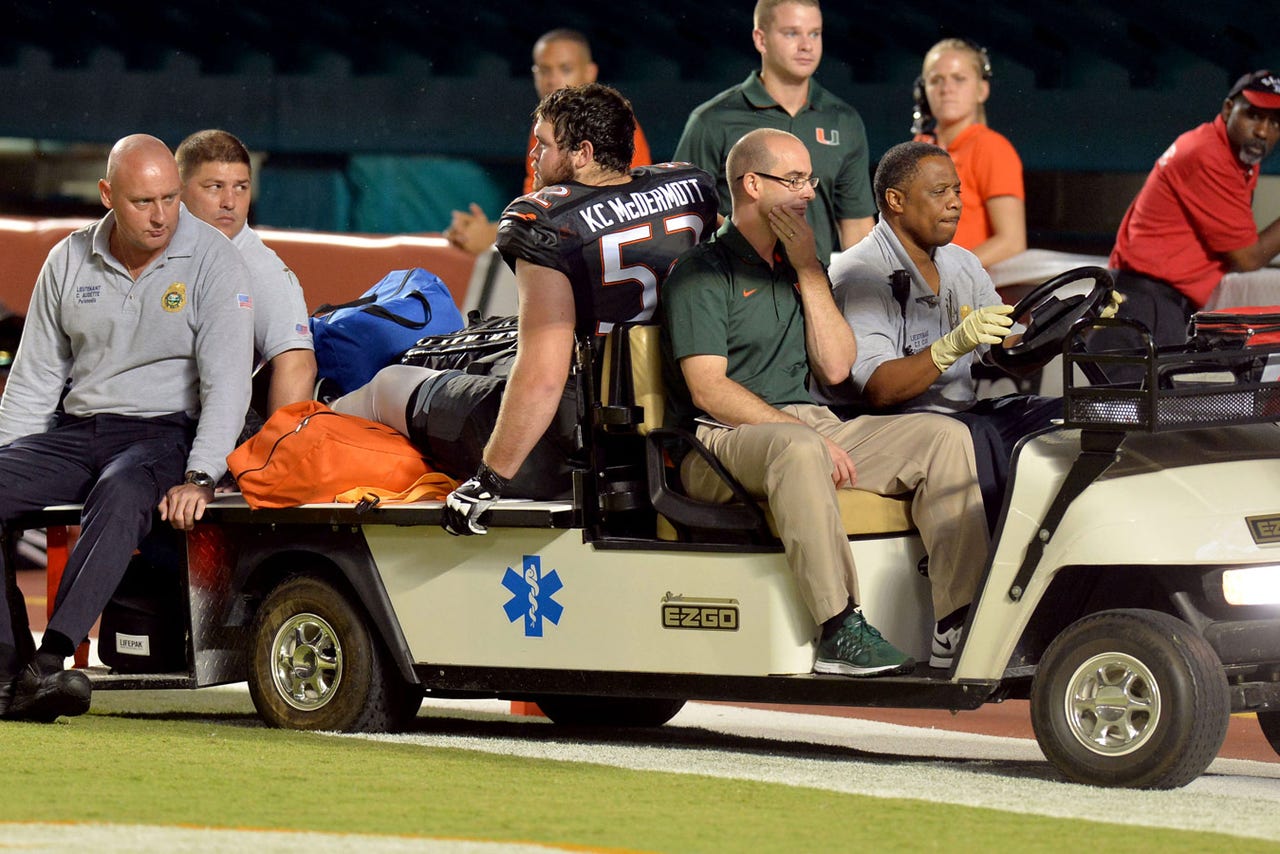 CORAL GABLES, Fla. -- One of the more under-appreciated units on a football team is suddenly drawing attention this week.
With sophomore Taylor Gadbois and freshman Kc McDermott sustaining injuries in the University of Miami's 22-10 victory over Duke on Saturday, there has been a reshuffling of personnel along the offensive line. Their availability for the remainder of the season in question.
"We're operating without them right now," head coach Al Golden said. "Great opportunity for (Hunter) Wells, for (Nick) Linder, for Trevor Darling, Sunny (Odogwu) -- for all those guys who have worked with us today. We'll see if (Alex) Gall can make it back. It's an unbelievable opportunity for somebody, and obviously that's why we worked all those different combinations all training camp and all year as we get ready for games."
Wells is a junior who entered this season with nine games of collegiate experience -- all on special teams. He was suspended for Saturday's game for conduct detrimental to the team but is back. Wells provides flexibility since he can play center, guard or tackle.
"Again, he's worked hard for this opportunity and he's got to step up now," Golden said. "He's strong enough now, he's smart enough, he has a lot of experience. We rotated him with the 1s in camp. ... It's time."
Linder is a freshman whose older brother, Brandon, played for the Hurricanes and now starts for the Jacksonville Jaguars. When the injuries took place on Saturday, he became the guy to fill in and stabilize the line.
"Great practice week, prepared hard, was ready for his opportunity and played really well," Golden said. "He was nine out of 10 reps. That's not dissimilar to what we see in practice every day. He brings a poise and a real familiarity in there, and that's good."
Should senior Jon Feliciano get hurt, either Odogwu or Darling would take his place. Odogwu, a redshirt freshman, stands at a towering 6-foot-8 and 312 pounds. Darling, an early enrollee this past spring from Miami Central High, made his debut against Florida A&M.
"He's been with the varsity now for three weeks meaning he wasn't doing the scout stuff," Golden said of Odogwu. "That part we're fortunate we fell into that and brought him up three weeks ago."
Gall has been sidelined the past two weeks with a lower-extremity injury. His return would provide another option and more depth.
The defense plans to do its part to prepare the offensive line for its matchup on Saturday at Georgia Tech. Freshman lineman Chad Thomas said it would be ready for "Tough Tuesday." Sophomore wideout Stacy Coley, meanwhile, has confidence in the guys coming in.
"With Gadbois and Kc out they're being leaders right now talking to the young guys like Linder, who's probably going to start, Trevor," Coley said. "They're doing real good right now."
SOPHOMORE SLUMP?
Coley, an All-American wide receiver, admits he needs to take more mental reps and have fun again.
During Saturday's game, he dropped a would-be touchdown on a deep ball thrown from true freshman quarterback Brad Kaaya. It sparked flashbacks of last season's season opener against Florida Atlantic when he couldn't hold onto a pair of scores.
"I took my eyes off the ball," Coley said. "In college football or football period those balls -- one of the hardest to catch. I got lackadaisical, and it won't happen again."
Through four games, Coley has caught just eight passes for 38 yards and no touchdowns. He missed the Arkansas State game with a bruised right clavicle.
His experience from last year has helped him move on from a drop by increasing his concentration. Even on special teams, kickoffs have been an issue getting anything going with an average of 18.6 yards.
Coley attributed it to miscommunication in the blocking scheme but something that could be easily fixed.
"It's a matter of fighting through it, catch a few balls," Coley said. "Stay focused. Talk to mom, talk to God. Mom always the person to call and God too. Those are the people in my corner and the wide-receiving group."
BACK AT IT  
Thomas, who didn't travel to Nebraska with muscle spasms, returned for three plays on Saturday against Duke.
"I felt right in the game," Thomas said. "I was jumping on the sidelines going crazy. I feel good. Ready to play."
Several times on "money" downs, Franklin held up a sign with Benjamin Franklin's face on it. It is used to encourage the unit on the field to execute in a key situation.
"Somebody else was supposed to be holding it, so I just grabbed it from him because I was hyped," Thomas said.
WORTH NOTING
-- Freshman kicker Michael Badgley and sophomore punter Justin Vogel will compete for kickoff duties. Golden said he hasn't been pleased with the distance on kicks, noting they must be deeper so players can cover.
Vogel was named Co-Specialist of the Week by the Atlantic Coast Conference Monday afternoon, his first such honor. On eight punts, he averaged 43.4 yards. Three of them went inside the 20-yard line and another sailed 56 yards, matching a season best. Vogel shared the accolade with Clemson punter Bradley Pinion.
You can follow Christina De Nicola on Twitter @CDeNicola13 or email her at cdenicola13@gmail.com.
---