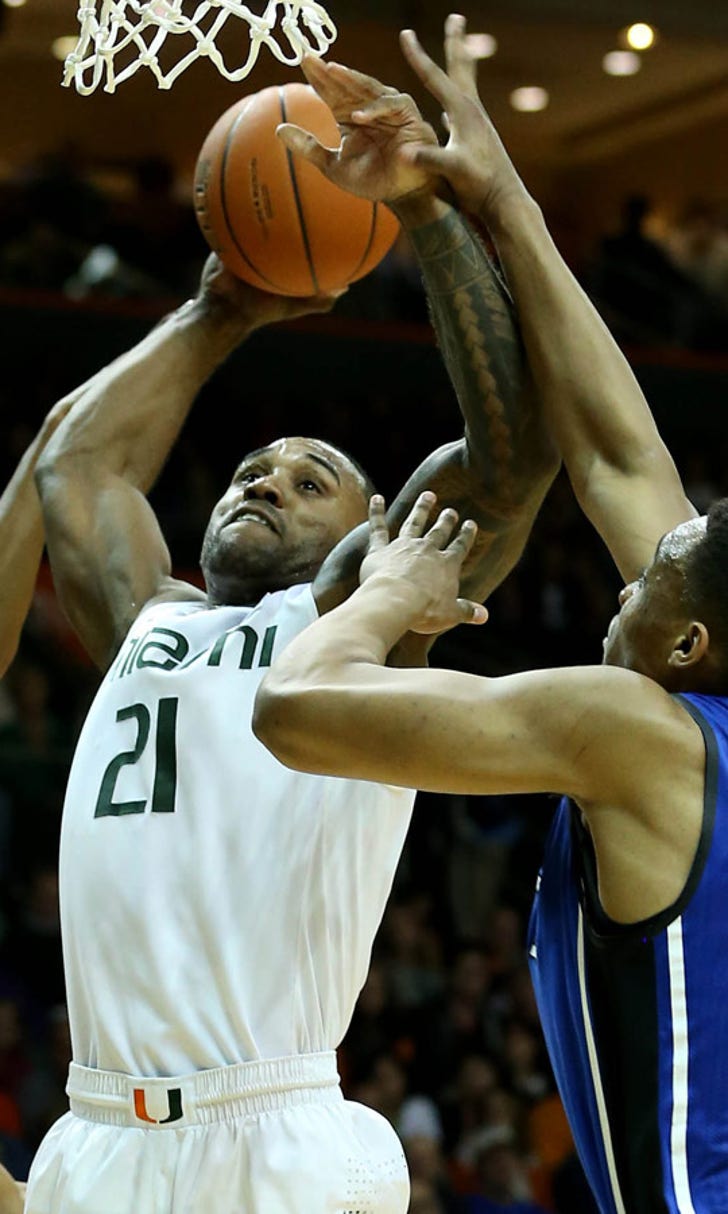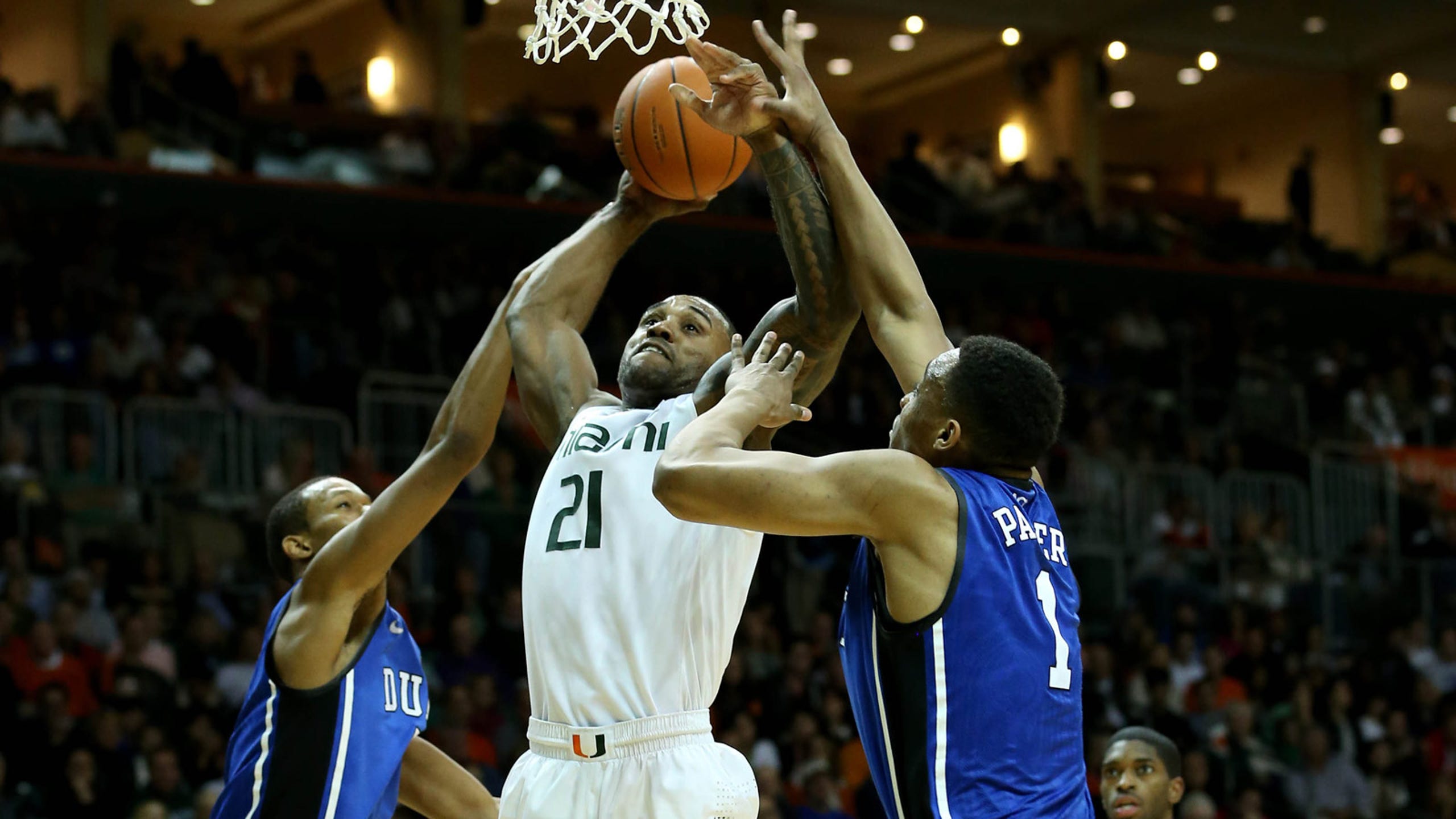 Hurricanes end up on wrong side of blowout vs. Duke this time
BY foxsports • January 22, 2014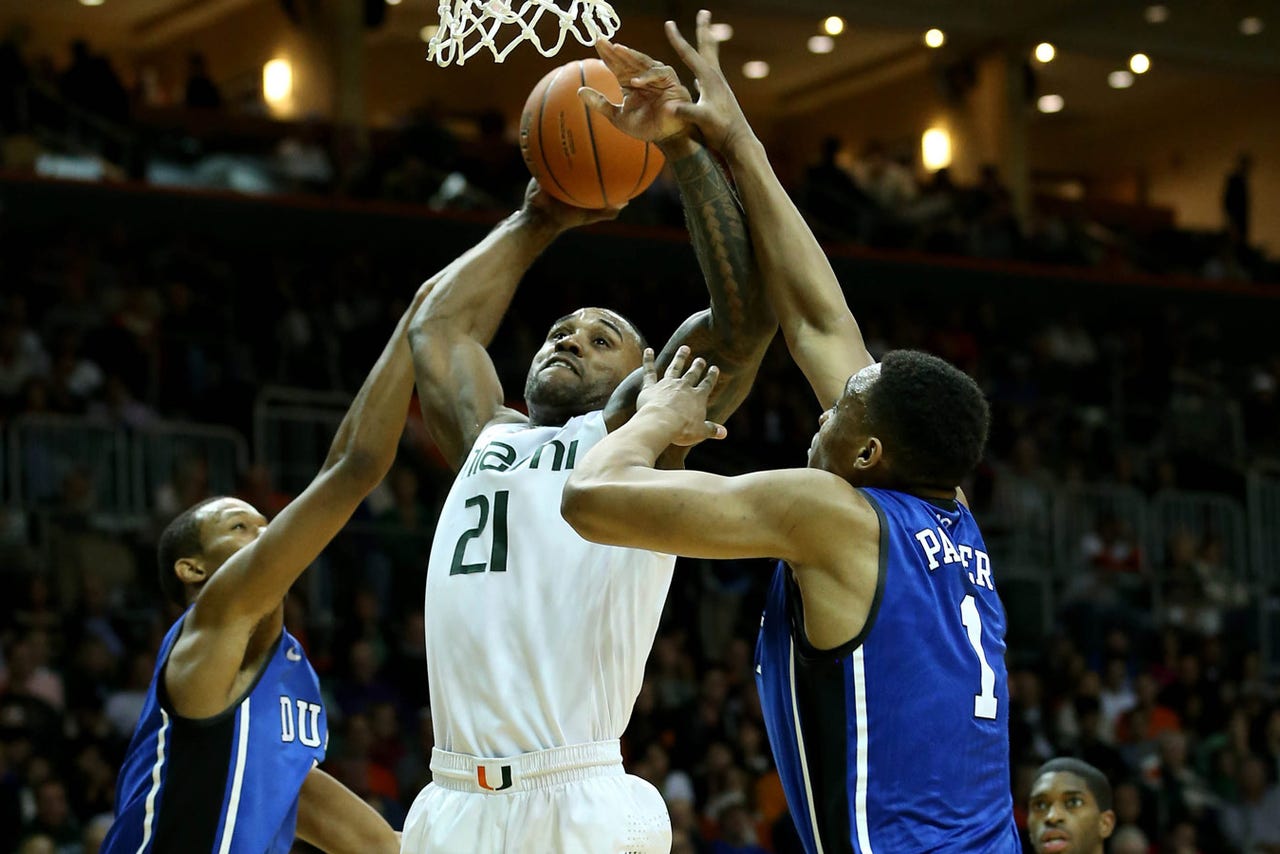 CORAL GABLES, Fla. -- A day shy of the one-year anniversary when the Hurricanes routed top-ranked Duke, the University of Miami men's basketball team was set for a repeat performance Wednesday night.
Miami Heat superstars LeBron James and Dwyane Wade once again sat courtside.
Legendary broadcaster Dick Vitale called the game minutes after mingling in the student section, posing for photos in a UM cap.
A basketball-playing Shane attended the game, but it was the Heat's Battier and not Mavericks guard Larkin.
It served as a reminder of how different things are from 364 days ago.
Instead of students rushing the court -- basking in Larkin's breakout performance -- the sellout crowd of 7,972 began filing out halfway through the second half as the Blue Devils blew out the Hurricanes 67-46.
"We were like deer in headlights," Miami coach Jim Larranaga said. "All the attention this game got. We didn't do that at Syracuse or Carolina. Maybe with all the celebrities -- a lot of NBA players here, great crowd, and instead of that igniting us I think we froze in that environment and didn't play with the same kind of competitive spirit that we have."
Larranaga noticed it coming off the game's first timeout at 16:52 when his players neglected to follow the scouting report.
Instead of covering redshirt sophomore forward Rodney Hood off the inbound, he got open for a 3-pointer. Later in the half, the zone defense forgot about freshman forward Jabari Parker as he cut right in and made a layup for two of his game-high 17 points.
Trailing by just three points with 4:12 left in the first, the Hurricanes watched Duke (15-4, 4-2 ACC) end it on an 11-2 run to take a 33-21 halftime advantage.
That stretch followed freshman guard Manu Lecomte's basket and then subsequent turnover in the backcourt after junior guard Quinn Cook's missed shot.
"I cant really speak for the team, but I would tell you the effort was there but it wasn't 100 or 99 percent," said sophomore center Tonye Jekiri, who scored Miami's first four points but finished with just four more for the game. "Coach at a timeout told us they were putting more effort than us. We were putting in a little bit of effort. The aggression wasn't there."
Only graduate forward Donnavan Kirk scored double-digit points. As a team, Miami collected just six assists and 11 turnovers. Seven of its shots were blocked.
For a team that already struggles to score -- averaging just 62.4 points per game (335th in nation) -- Larranaga saw tentativeness from his players.
Miami (10-8, 2-4 ACC), which lost by double figures for just the third time, was outrebounded 42-28. Duke tallied 22 second-chance points thanks to 15 offensive boards. The Hurricanes shot 35.4 percent and made only two of 10 field goals from behind the arc.
"We had a lot of trouble with rebounding, and I think that is what hurt us the most," said Kirk, who scored a team-high 11 points but collected just one board. "It's something that's very, very important. Let up tonight, and it bit us in the butt."
Duke coach Mike Krzyzewski said he spoke to his team about last year's game, when the Hurricanes embarrassed the Blue Devils 90-63.
Duke shot 43 percent from the floor (8-for-25 from 3-point range). Hood added 12 points. Less than five minutes into the game, Krzyzewski subbed in five players to showcase the team's depth.
"How we got killed," Krzyzewski said. "They don't have the same team, though. Glad I didn't see Larkin or (Kenny) Kadji and those guys."
A zone defense that has changed the dynamic of Miami's team surrendered the most points since making the switch from man last month. They were the most points allowed since a 71-63 overtime loss to George Washington on Nov. 28 at the Wooden Legacy in Anaheim.
The Hurricanes trailed by as many as 23 with just over a minute to go and never led in the game.
"I'm surprised about the way we played tonight," Larranaga said. "One thing I told the players after the game is rebounding is nothing more than going after a loose ball. It's really about effort. They basically outworked us in the first half. We've got a good, big rebounding team. We're strong, we can be physical, and we didn't show that tonight."
You can follow Christina De Nicola on Twitter @CDeNicola13 or email her at cdenicola13@gmail.com.
---