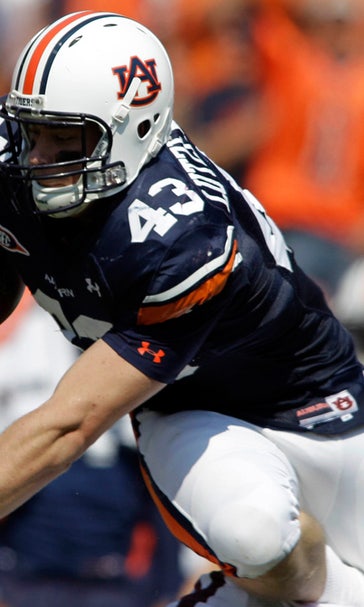 Hundreds celebrate Lutzenkirchen's life at public memorial
BY Zach Dillard • July 3, 2014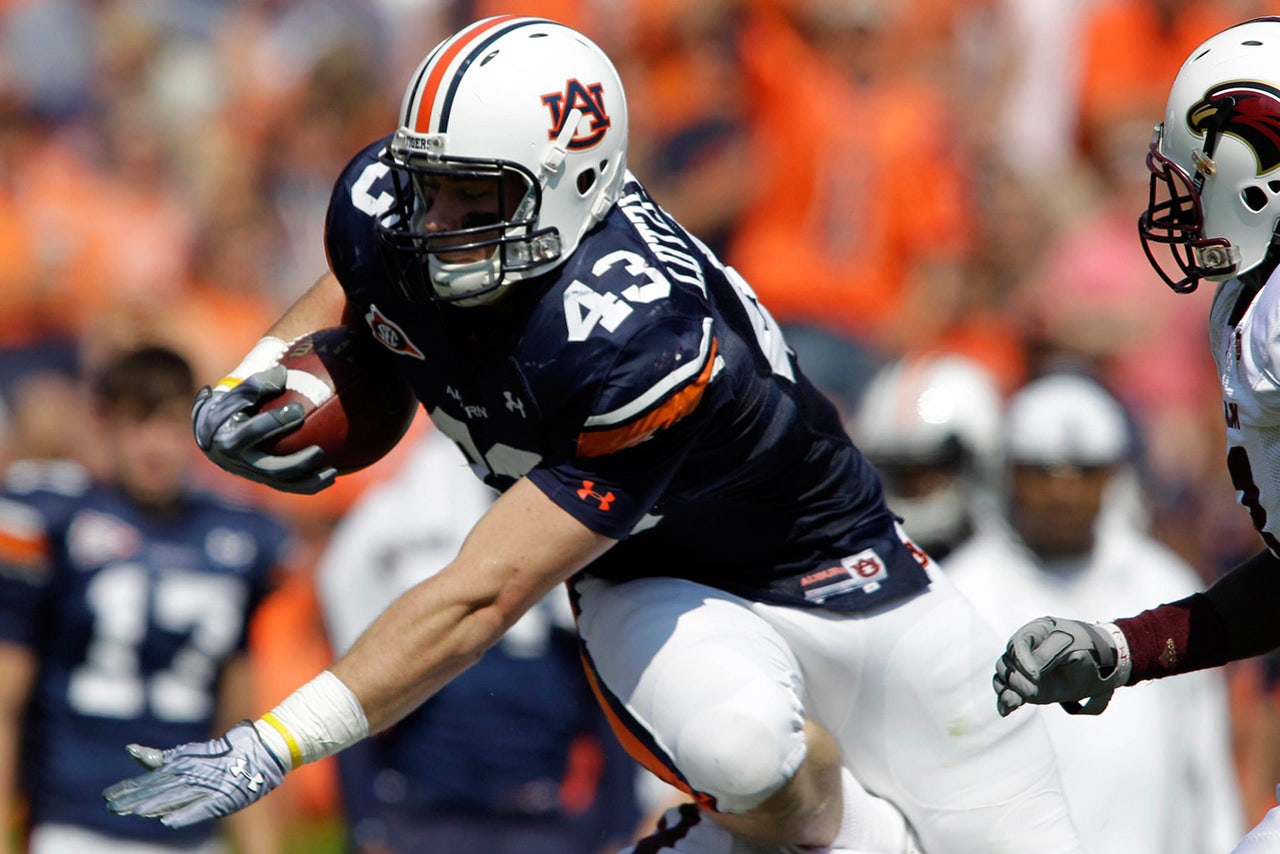 Walking in from the staff parking lot toward the field house at Lassiter High School's Frank Fillmann Stadium, there is a mural reading "Home Of The Lassiter Trojans" painted in maroon on the siding of one of the school's athletics facilities. The display features the school's mascot bursting through the center. The paint is fading now, years of Georgia sun taking its toll.
On Wednesday night, just past the sun-bleached artwork, teenagers in maroon-and-gold uniforms lined the walkway leading into the stadium, handing out bulletins and small candles and talking quietly amongst themselves. The end zone, the stadium seating and the trim on the encompassing track shared in the color scheme. It's the shared aesthetic of the suburban high school, which sits 20 minutes northwest of Atlanta.
But on this night, orange dominated the landscape.
The Auburn Tigers made "The Frank," as it is affectionately known, their home on Wednesday to celebrate the life of one of their own: former tight end Philip Lutzenkirchen, who was killed in a single-car accident early Sunday morning along with his driver, Joseph Ian Davis. Two other passengers suffered non-fatal injuries in the accident. Lutzenkirchen, 23, was a starter on the Tigers' 2010 national championship team and one of the more outgoing and beloved members of the Auburn football family. The former Lassiter and Auburn star's passing drew a crowd of hundreds to his public memorial service and candlelight vigil held at The Frank, his former high school stomping grounds.
Orange shirts and No. 43 jerseys flooded the home side of the stadium. Many former Auburn teammates, including the likes of safety Zac Etheridge and wide receiver Kodi Burns, lined the track. A few of the service's speakers would later toss in a "War Eagle" for good measure. There was laughter and tears dispersed throughout, mourning in its many stages and variations.
When Lutzenkirchen's family -- parents Mike and Mary and his three sisters Amy, Ann and Abby -- walked arm-in-arm along the track to reach their seats, the nostalgia-filled music stopped and everyone rose to their feet. A No. 43 uniform was at the center of it all. And when the proceedings began, an unscheduled speaker, Mike Lutzenkirchen, made his way to the front.
"There's a new tight end up in heaven," he said. "He catches everything. A little slow ... but he's my Boofer, my little Boofer. I'm a father that had a son that's his best friend."
By the time his father made his way down a list of names, offering thanks, it became readily apparent just how far Lutzenkirchen's personal reach had been. The names included former teammates, coaches, friends, girlfriends and family members. Slowly, the names became more and more familiar to the sporting world at large -- Tommy Tuberville, Gene Chizik, Gus Malzahn, Dr. James Andrews, Jeff Fisher -- and the ripple effect stemming from the life of this one young person, a high-quality football player that very few close to him memorialized for his on-field achievement, enveloped the place.
It should be pointed out that Lutzenkirchen will be remembered for his time in an Auburn uniform as well, because he developed into a very good player on the Plains, a formidable redzone target with a knack for coming up with big plays. The Alabama-Auburn rivalry will not soon forget his game-winning catch in the 2010 Iron Bowl -- followed by, as Auburn team chaplain Rev. Chette Williams so aptly described and demonstrated, his "Lutzie" endzone dance -- and his 14 career touchdowns rank first in program history among tight ends. There were big catches against South Carolina, Mississippi State and Ole Miss, too. He was a standout, one that stuck with the school during a coaching change when he was a senior at Lassiter, and the Tiger faithful loved him all the more for it.
"It was just really sad. I was heartbroken because he was just 23 and he had his whole life ahead of him," Burns said of when he heard the news. "I was actually blessed to have the opportunity to spend -- about a week prior to (the accident) -- a good amount of time with him. When I heard the news, it was heartbreaking."
Auburn football coach Gus Malzahn and his wife, Kristi, were overseas on vacation when the news of Lutzenkirchen's accident broke. Auburn athletic director Jay Jacobs, who also spoke at the public memorial, said that when he called to deliver the news and the timing of the memorial, there was zero hesitation on Malzahn's part: "We'll be there." They flew overnight on Tuesday and arrived early Wednesday morning in Atlanta.
The tight end's death struck a particularly personal chord for Malzahn, who served as the Tigers' offensive coordinator during Lutzenkirchen's time in the program. Lutzenkirchen was the first player he recruited as a Tigers coach; Lutzenkirchen's family hosted his first in-home visit. Safe to say, he knew his way back to Lassiter High.
"He truly cared about people. He made you feel like family," Malzahn said. "He also probably had more friends than any player I ever coached. Old players loved him, and that's rare for a young guy coming in. A lot of those old players are here tonight. Younger players, they attracted to him. They just wanted to be around him. He was like a magnet. Players on other teams. He knew numerous players every time we played someone, and they were friends. Outside of football, he had numerous friends. It always blew my mind how he had the time outside of football to develop the relationships that he did. But that's just who he was."
As is customary on occasions such as these, stories echoed through the stadium's PA system and into the fading light. There was the one where, upon meeting his new coach, Chip Lindsey, who is now the offensive coordinator at Southern Miss, before his senior high school season, his first words were, "Hey big guy, ready to win some games?" There were the ones about encouraging text messages sent to coaches after tough losses. There were stories about high school, college, football and everything in between.
Perhaps most succinct of all was the one Rev. Williams told of former Auburn baseball player Will Kendall, a pitcher in the Pittsburgh Pirates organization, calling and telling him, "The life that Philip Lutzenkirchen lived, I want that life." That all but summed up the evening's overarching message.
During the ceremony's closing moments, following a video tribute that featured outtakes from his numerous interviews as a college football standout and leading into the final prayer, the sun dipped low behind the trees that serve as the backdrop to The Frank's scoreboard. There weren't many clouds in the sky, just wisps on a blue canvas, but the ones that remained reflected the sun's orange glow down onto the crowd. A few minutes later it faded, replaced by hundreds of candlelit faces, Trojans and Tigers saying their public goodbyes.
---