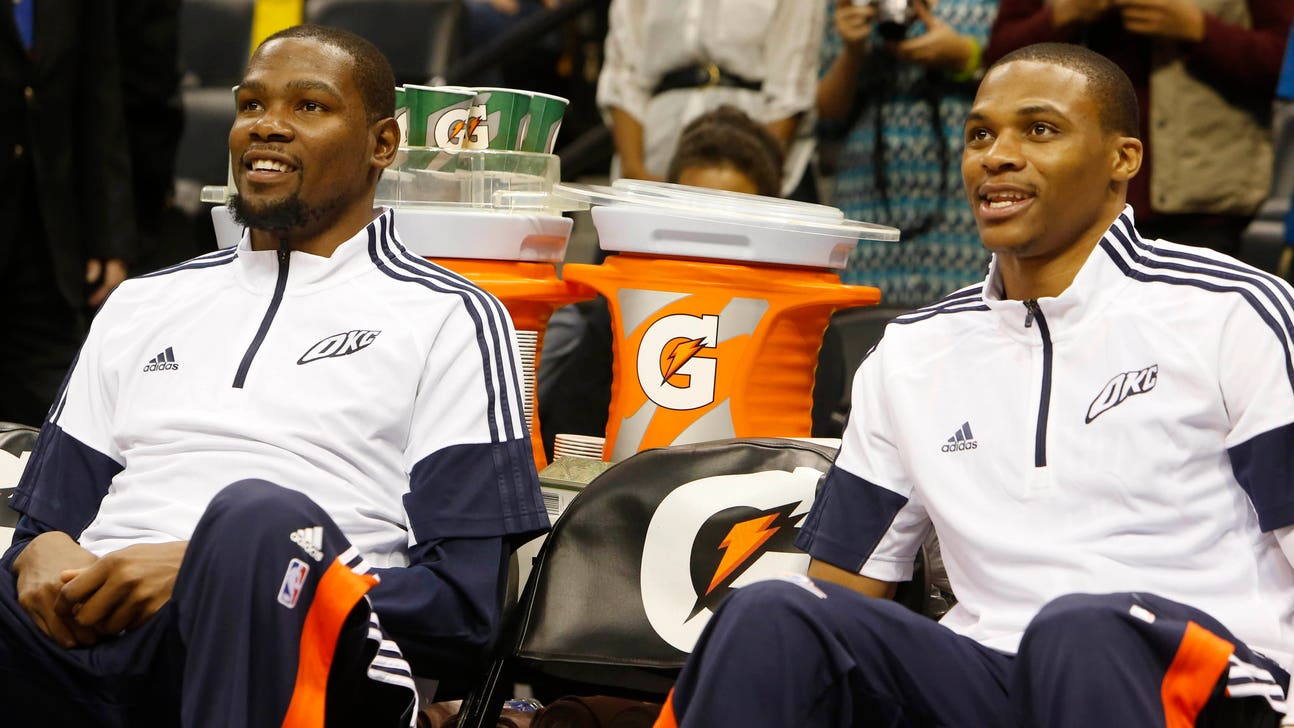 How will Thunder fare with Durant, Westbrook out?
Published
Oct. 31, 2014 5:55 p.m. ET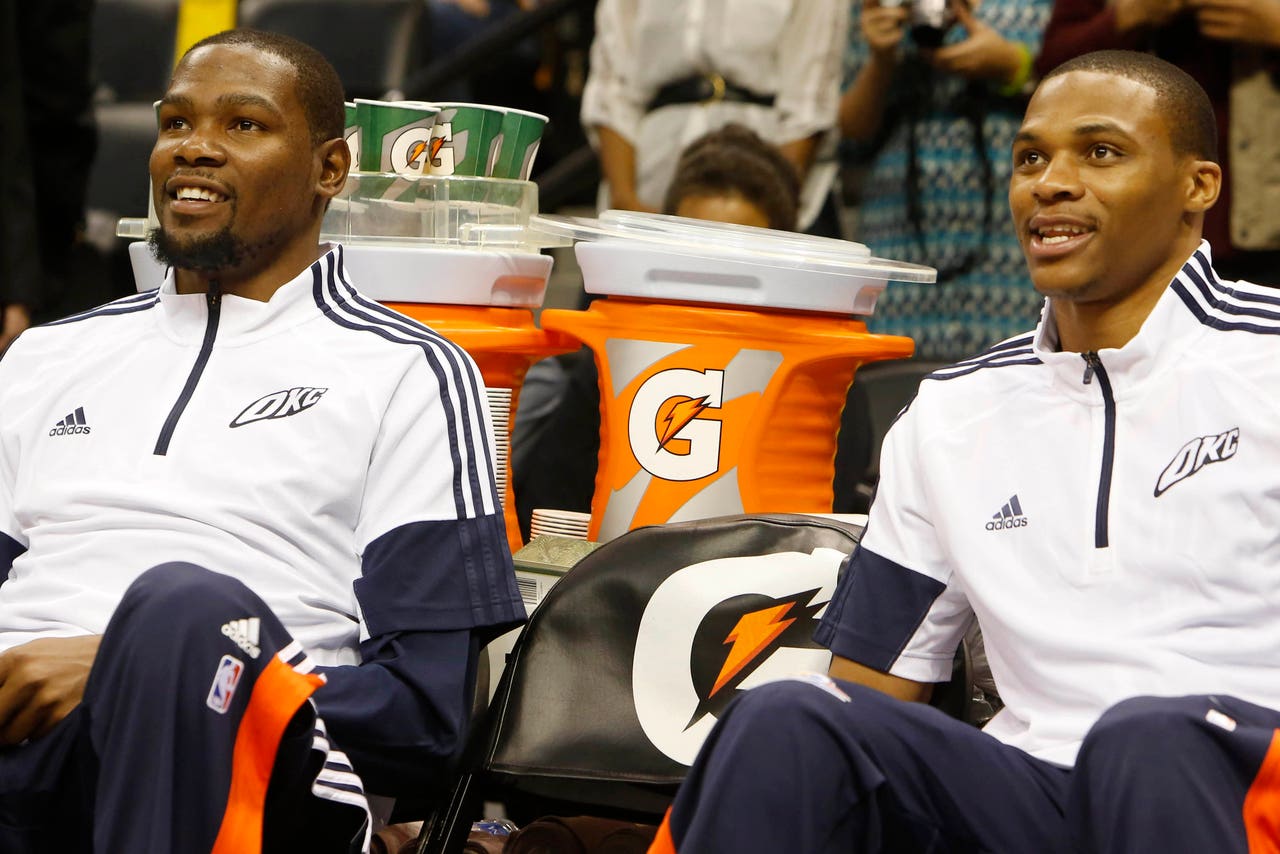 Nick Collison talked about laughing off the most-recent Thunder injury.
Of course, he wasn't, but at this point what other options really are there?
The latest injury/setback/complication came late Thursday night when Russell Westbrook left the game against the Clippers with a fracture in his right hand. 
Westbrook is expected to be out for the next four-to-six weeks, but the Thunder haven't officially announced the timetable for Westbrook's return.
By now you know the narrative. The Thunder are without Kevin Durant, Reggie Jackson, Anthony Morrow, Mitch McGary, Grant Jerrett and Jeremy Lamb as well as Russell Westbrook.
But what narrative will the Thunder follow the rest of the season?
Here's a look at a few that could come to be as Durant and Westbrook will be out for the next 25 or so games.
Best-case scenario
There are a lot of possibilities for success for the Thunder. Yes, this season. The glass-half-full approach would be the fact Durant and Westbrook will be plenty rested by the time they come back, which should be sometime before the beginning of 2015.
Half-full also means fewer minutes and less wear on injured and weary bodies – especially Durant, who carried the team when Westbrook went down a season ago.
Meanwhile, even if the Thunder plays 10 games under .500 the next 25 or so games without its stars, when both return, they could easily be a dangerous playoff team.
A best-case scenario would be the Thunder have all their pieces, not just Durant and Westbrook, ready to go by mid-December. They return, rested and ready, but more importantly, eager and hungry.
The preseason injury to Durant, and then the injury to Westbrook, forces Scott Brooks to use younger players for more minutes. It works. Jackson and Serge Ibaka, along with a little help from Steven Adams, Perry Jones and Co., carry the Thunder to enough wins in November and December and the team goes 12-13. 
By January, Morrow has figured out his role on the team and McGary has played valuable minutes. 
Durant and Westbrook return and the Thunder play at the level that's expected. They make the playoffs and become a dangerous No. 7 seed.
Worst-case scenario
Calendar watching is miserable. The Thunder not only count the days and weeks until Westbrook and Durant return, but they also lose game after game.
Sacramento, Milwaukee and Detroit are on the schedule in November, but past that, there just aren't enough winnable games.
Perry Jones, good for 30-plus points one night, isn't good enough to be consistent the next. Sebastian Telfair isn't able to handle the load of playing 30 minutes per game and Serge Ibaka isn't reliable enough to be the No. 1 option on offense.
Reggie Jackson, Morrow, Lamb and McGary return, but the pressure to preform without the help of Durant and Westbrook make the Thunder more competitive, but not good enough on offense to bail out what is already a questionable defense.
And when Durant and Westbrook return, the Thunder have gone a dismal 6-19, making them 6-21 overall. The team is extra careful with their minutes, making sure health is more important than wins. 
Durant and Westbrook play better, but not good enough. The 15-games under .500 is just too hard to overcome. The Thunder rally late, but miss out on the playoffs and head into what could be Durant's final season in Oklahoma City with a lot of question marks.
Another idea
Hold your nose, because this is going to smell bad, but it could work.
You just won't like it.
The Thunder could play it safe this season. So safe, they keep Durant and Westbrook out for longer than necessary and don't play either in back-to-back games when they do return.
Lay the season off to injury, play for a high draft pick in June and load up for a big-time run next season.
Nothing is guaranteed, that's for sure, but the Thunder are still young. They can afford to give Westbrook and Durant a season "off," and be rested and ready for Durant's final season. 
Will the fans like it? Of course not. It would be terrible to be a 20-win team, but it can happen, even in the middle of a good run. Look at the Spurs. They lost David Robinson to injury, got Tim Duncan and have been set for almost two decades. The same could happen with the Thunder. One more draft pick, the right one, at the top of the draft, could be a James Harden, or Westbrook, or even Durant. 
Pair that top pick with Durant and Westbrook and something special could happen.
It smells funny for this season, but it could be sweet moving forward.
What's most likely to happen
Let's be honest, the Thunder aren't going to "Tank" this season. That's not how they operate. They'll try and win every game, no matter who's on the court.
What's most likely to happen is OKC gets off to a really slow start, like 3-7, or 2-8 kind of start, but things start to pick up. What's most likely to happen is Duant and Westbrook return by January and play well and get this team on the verge of the playoffs. 
What's most likely to happen is Jones is inconsistent and Ibaka has big games and big moments, Jackson returns and settles the offense and helps stabilize the team. Lamb will play important minutes, but play them erratically. McGary returns and becomes a crowd favorite.
This season will be determined in large part by what happens in the next 25 games, but the season will ultimately come down to how Durant and Westbrook play when they do return.
And most likely this team will make the playoffs because Durant and Westbrook will be good enough to get them there. 
Follow Andrew Gilman on Twitter: @andrewgilmanOK
---