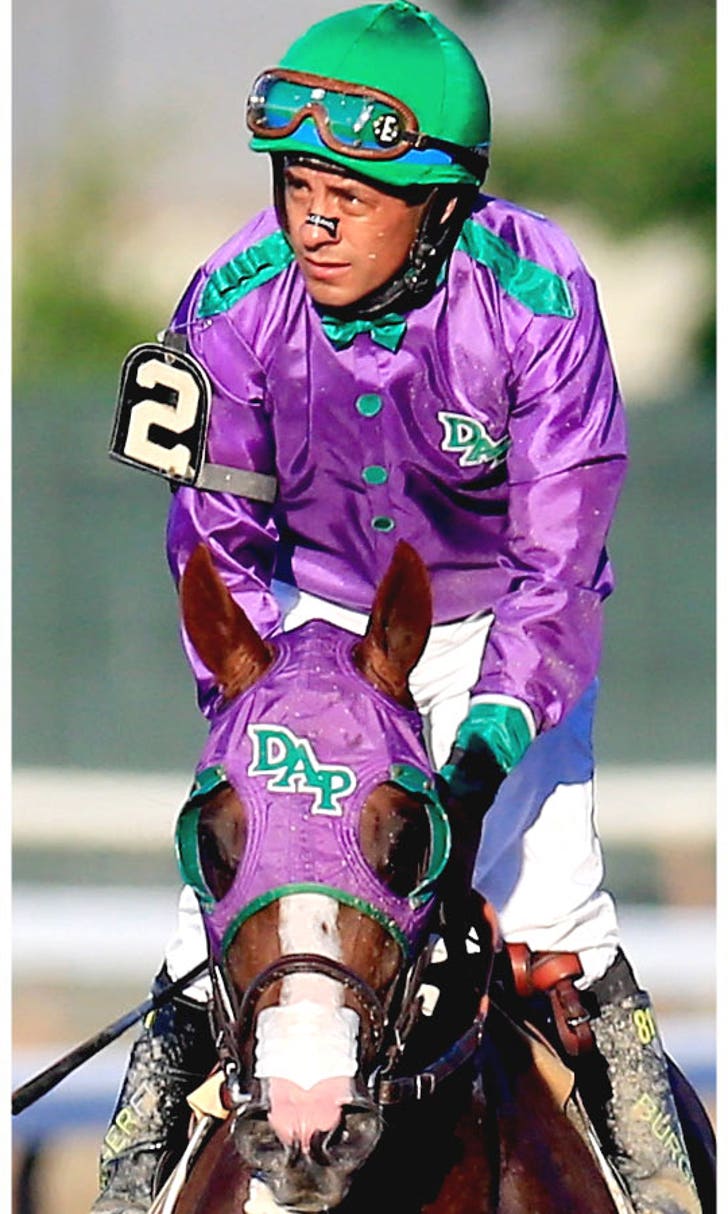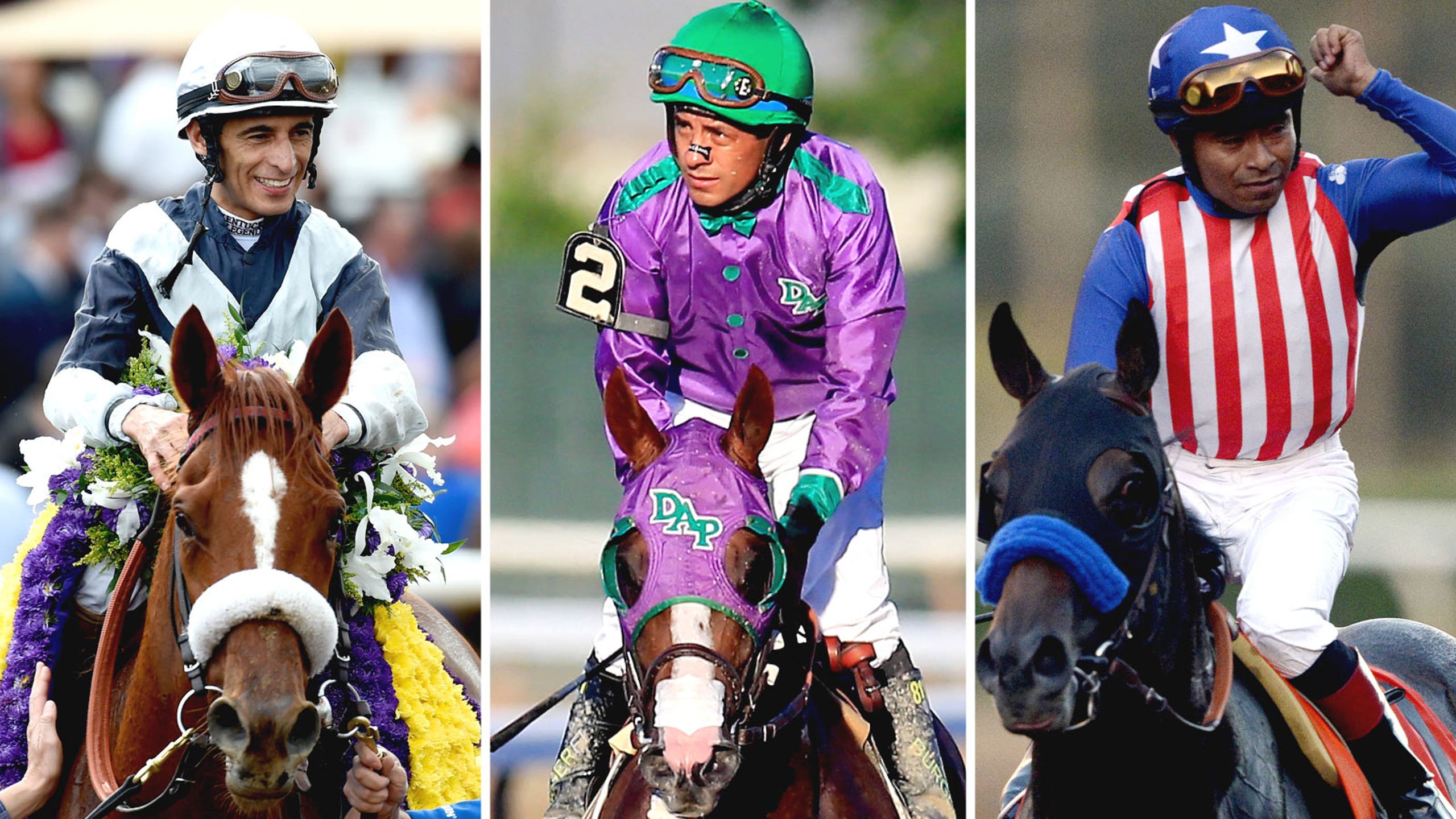 Horse of the Year battle heading for photo finish
BY foxsports • January 15, 2015
A compelling case can be made for each of the 2014 Horse of the Year finalists, and there has been no shortage of spirited debate in print and social media about the merits of Bayern, California Chrome and Main Sequence.
Let's take a look at the case for and against each of the three finalists (in alphabetical order) as we approach the Eclipse Awards on Jan. 17 at the Sport of Kings Theater at Gulfstream Park in Hallandale Beach, Fla.
CASE FOR BAYERN: Bayern won the most important unrestricted (open to both sexes and all ages) race --€" the $5-million Breeders' Cup Classic --€" in the U.S. to cap his 2014 season. He made his career debut in a maiden, special-weight race in Jan. 2014 and ended the season with a win against the best dirt horses in the world. Four of nine 3-year-olds who won the Breeders' Cup Classic also were named Horse of the Year.
Bayern started 10 times in 11 months with six wins, including four in graded stakes. When Bayern was on his game, he was dazzling. He won the Grade 2 Woody Stephens by 7½ lengths, the Haskell Invitational Stakes by 7¼ lengths and the Pennsylvania Derby by 5¾ lengths. He had two Grade 1 wins among three wins in races with purses of $1-million or more. Bayern defeated California Chrome in two of three head-to-head matchups, including by 7¼ lengths in Pennsylvania Derby.
Bayern's four graded stakes wins came at distances ranging from seven furlongs to 1¼ miles. He led all North American horses by purse earnings in 2014 with $4,389,680.
CASE AGAINST BAYERN: Bayern had no impact in the most important 3-year-old races: the Triple Crown. As dazzling as he could be when on top of his game, when he was bad, Bayern was really bad. He finished last of 10, beaten by 20 lengths in the Travers Stakes, and ninth of 10, beaten by 21 lengths, by California Chrome, in the Preakness. One clunker is forgivable, but two? His most important win was shrouded in controversy. Bayern sideswiped previously unbeaten Shared Belief at the start in Breeders' Cup Classic, which led to a chain reaction that impeded several other horses, including the horse expected to challenge Bayern for the lead, Moreno.
HOW BAYERN WINS: Eclipse Awards voters place a high value Bayern's win in the Breeders' Cup Classic and his record of two wins in three head-to-head starts against California Chrome.
CASE FOR CALIFORNIA CHROME: California Chrome won the Kentucky Derby and Preakness Stakes during a 2014 five-race winning streak in which he won those races by a combined margin of 21 1/4 lengths. He raced nine times during a tough campaign from January through the end of November and won four Grade 1s, including at least one in three states -- California, Kentucky and Maryland.
A Grade 1 winner on dirt and turf in 2014, California Chrome came up 1 3/4 lengths short of becoming first Triple Crown winner since Affirmed in 1978 and was, without a doubt, the biggest story in the sport of horse racing in 2014. He turned in, arguably, the best season by a 3-year-old male since Curlin during his 2007 Horse of the Year campaign. California Chrome's six stakes wins and five graded stakes win are more than any of the finalists.
CASE AGAINST CALIFORNIA CHROME: California Chrome lost to Bayern in two out of three meetings. While he only lost the Breeders' Cup Classic by three-quarters of a length, he did fail to win a single race against older horses. Since Affirmed's Horse of the Year campaign in 1978, only Charismatic in 1999, who was injured in the Belmont Stakes, from nine 3-year-olds to win Horse of the Year did not defeat older males. California Chrome threw in an absolute clunker in the Pennsylvania Derby in his first start after the Belmont Stakes in a race in which Bayern dazzled. While he did dance almost every dance, his only win in the second half of the year came against a fairly weak group of 3-year-old on the grass in the Grade 1 Hollywood Derby.
HOW CALIFORNIA CHROME WINS: Eclipse Awards voters value California Chrome's body of work with more stakes and graded stakes wins than the other finalists plus a bid for the Triple Crown that captivated a national audience.
CASE FOR MAIN SEQUENCE: Perfection is tough to argue against and Main Sequence went undefeated in four starts in 2014, all against Grade 1 competition. He has never lost on U.S. soil. Main Sequence capped the year with a win against the best U.S. turf horses and several elite European runners in the $3-million Breeders' Cup Turf. Main Sequence, who became sick when he was shipped to the U.S. in December and spent a month at a veterinary clinic before he returned to training, won at four different tracks in three different states and rates as the most consistent of the three finalists. The Horse of the Year award has been dominated by male horses who excel on dirt throughout history, but the last five awards have gone to turf runner Wise Dan (twice) and three females.
CASE AGAINST MAIN SEQUENCE: His four starts are by far the fewest of the finalists. Only two times has the Horse of the Year in the U.S. raced four times or less (although the tables below show a full schedule is becoming less critical). Main Sequence won all of his races by a half-length or less, so he was exciting but not dominant. The quality of competition in his three Grade 1 races prior to the Breeders' Cup has been questioned. The 17 horses Main Sequence faced in those three races before the Breeders' Cup Turf won 19 of 110 starts combined in 2014 and went a combined 2 for 54 in Grade 1 or Group 1 races last year. Main Sequence had 10 straight losses in Europe before coming to U.S., and there are some voters who might shy from awarding U.S. racing's top prize to a horse who won once in 10 group stakes attempts in Europe and was winless in five Group 1 races.
HOW MAIN SEQUENCE WINS: Eclipse Awards voters focus on 2014 and reward Main Sequence for an undefeated season capped by a win in the Breeders' Cup Turf, while Bayern and California Chrome split the votes from voters who focus on the more mainstream dirt races.
PREDICTION: California Chrome narrowly prevails in a close race between three deserving horses.
---