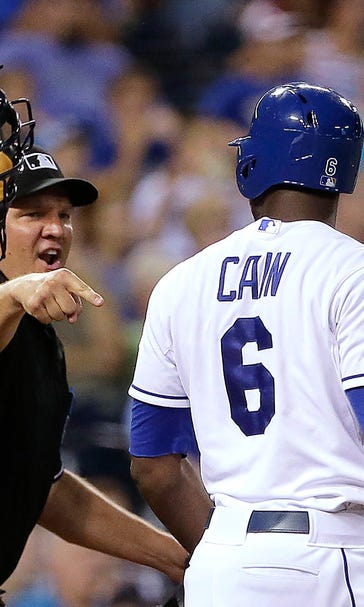 Hitter's interference call infuriates Royals in agonizing loss to Tigers
BY foxsports • July 12, 2014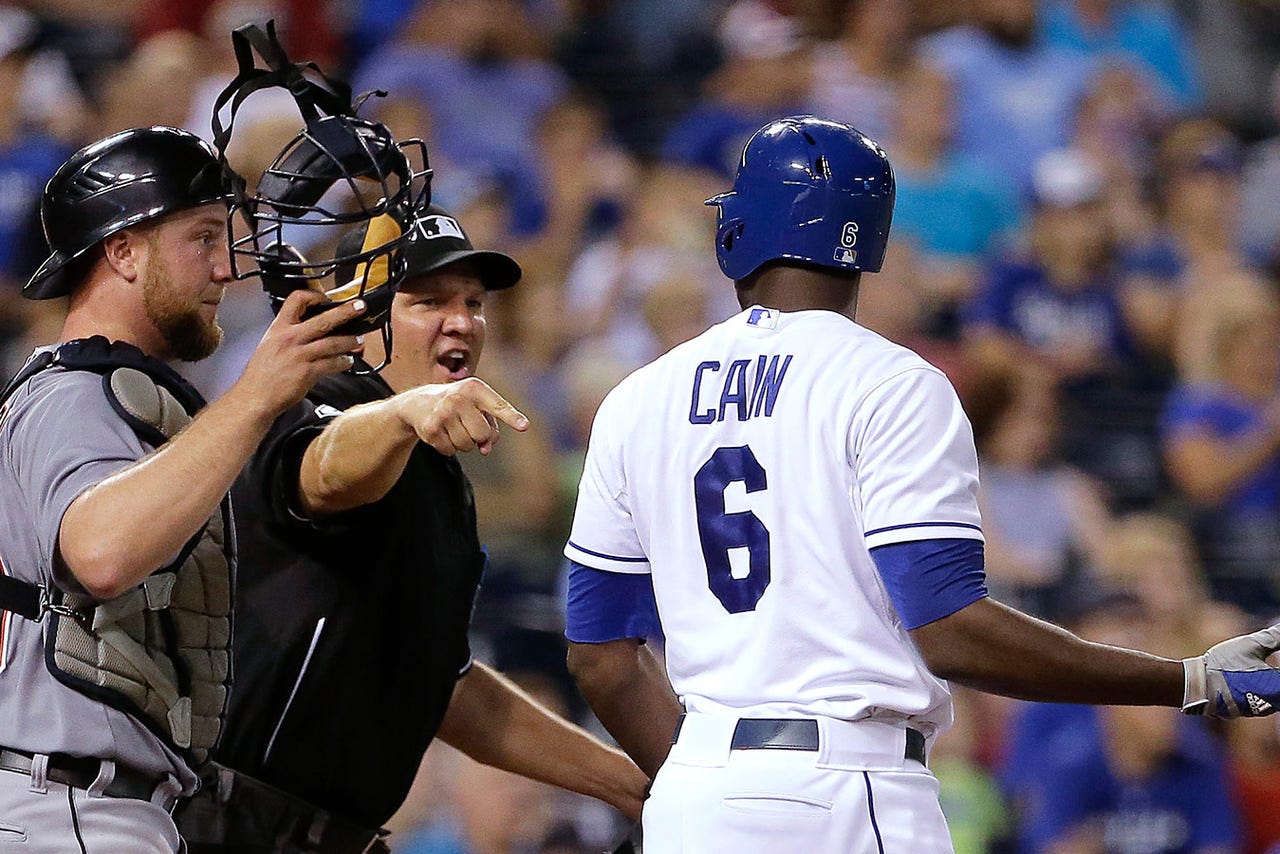 KANSAS CITY, Mo. -- The frustration level is mounting these days within the Royals' clubhouse.
Center fielder Lorenzo Cain was visibly upset -- and his locker neighbor Jarrod Dyson was even more furious -- over one of the most controversial calls of the season, a hitter's interference call in the eighth inning that short-circuited a rally that seemed likely to push the Royals into at least a tie, and possibly the lead.
The call went against the Royals, as did just about everything else in an agonizing 2-1 loss to the Tigers on Friday night that pushed the Royals 6 1/2 games out of first.
The eighth-inning situation: Nori Aoki led off with a single, and Cain followed by swinging through a hit-and-run attempt. The throw from catcher Bryan Holaday sailed into short center field, allowing Aoki to reach third with none out.
Hold everything. Home plate umpire Chad Fairchild ruled that Cain, during his follow through, had interfered with Holaday's throw. Cain was declared out, and Aoki was sent back to first.
The crowd of 31,581 howled in disapproval, as did Cain and manager Ned Yost.
"I thought it was a bad call," Cain said.
"Unbelievable, man. Just unbelievable," Dyson said, shaking his head.
Cain said he did see a replay and he still doesn't understand how he was called for interference.
"I didn't feel any contact until maybe after he threw," Cain said. "I mean, nothing. The throw was away already anyway. It was gone.
"That was a big play in the game. Runner on third and no out, we probably tie it right there."
Yost said he had been looking at Aoki stealing second and never saw the play at home plate. He also hadn't seen a replay immediately after the game. Yost said he was told the play was unreviewable.
"You bet I asked," Yost said. "That was a huge part of the game. Runner on third and no out.
"But I don't know if the call was right or wrong. I haven't seen it."
3 UP
-- Don't blame Danny Duffy. Against a smoking-hot offense, Duffy did his job and then some. Duffy gave up just one earned run through six innings, and if he had any kind of offensive support, he would have walked away with the win. Duffy didn't walk a batter and struck out six.
His most impressive feat came in the first inning. After Ian Kinsler's grounder found a hole through the middle and scored Austin Jackson, it looked like the Tigers were off to the races again, as they were the previous night when they plated 16. But Duffy bore down and struck out Miguel Cabrera, J.D. Martinez and Torii Hunter -- the meat of the Tigers' order -- to end the inning. And the only other run off Duffy was soft -- his throwing error led to the Tigers' second run.
"I thought he pitched a great game," Yost said.
Said Duffy: "I battled. I needed to bear down a little quicker in that first inning."
-- Kelvin slams the door. The Tigers looked like they were going to pour it on in the seventh with the score 2-1. Duffy hit the first batter, Nick Castellanos, and then was taken out for Kelvin Herrera. But Herrera then plunked Eugenio Suarez. The Tigers had Holaday sacrifice to put two runners in scoring position. But Herrera got Rajai Davis to chop a grounder to third baseman Mike Moustakas, who fired a strike home to Castellanos. Then Herrera blew three fastballs past Jackson to end the threat. Incredible job.
Watch the Royals Live pregame and postgame shows before and after every Kansas City Royals game on FOX Sports Kansas City.
-- The old switcheroo. In the fourth inning, the Royals pulled a sudden defensive outfield switch, moving Aoki from right to left, Dyson from left to center, and Cain from center to right. Yost said the move was made to take it easy on Cain's sore legs. Cain is expected to play in right again Saturday and maybe take Sunday off.
3 DOWN
-- Wanted: Clutch hit. It was the same old story for the Royals against starter Anibal Sanchez, who in seven career starts against Kansas City has never allowed more than one run. Amazing.
Not that the Royals didn't have chances all night. They had a great opportunity in the seventh when Moustakas led off with a double and went to third on a groundout. But with the infield in, Dyson sent a sharp one-hopper right at the shortstop, who threw Dyson out. Then, Alcides Escobar hit a weak grounder to short to end the inning. The Royals had two runners on with one out in the eighth -- even after the interference call -- and did not score. And in the ninth, again the Royals had runners on first and second and one out. But Escobar struck out on a pitch out of the zone, and Aoki, with the huge crowd on its feet, hit a weak tap to first base for the final out.    
-- Duffy's mental error. You can perhaps understand why Duffy got a little nervous about having speedsters Davis and Jackson on first and second base with one out in the third. Duffy got so aware of the runners that he did something foolish -- he threw wildly to second on an attempted pickoff. That allowed both runners to advance into scoring position.
"I kind of thought they might double steal," Duffy said. "But I should have just tried to get (Cabrera) to hit into a double play. As it was, he hit a fly ball and that wouldn't have hurt with no one on third."
-- Billy, Billy, Billy. It was another rough night for Billy Butler, just when you thought he was going to snap out of his funk. The night before, Butler launched a 400-foot homer into the fountains. But Friday night, Butler went quietly into the night. With a runner on first and two out in the first, Butler struck out. With a runner on first and none out in the fourth, he struck out again. With a runner on first and two out in the sixth, he grounded out. Then, in perhaps the pivotal moment of the game in the eighth, with two on and two out, Butler flied out. Just one gapper -- one double -- in any of those situations, and this would have been a different ballgame.
You can follow Jeffrey Flanagan on Twitter at @jflanagankc or email him at jeffreyflanagan6@gmail.com.
---