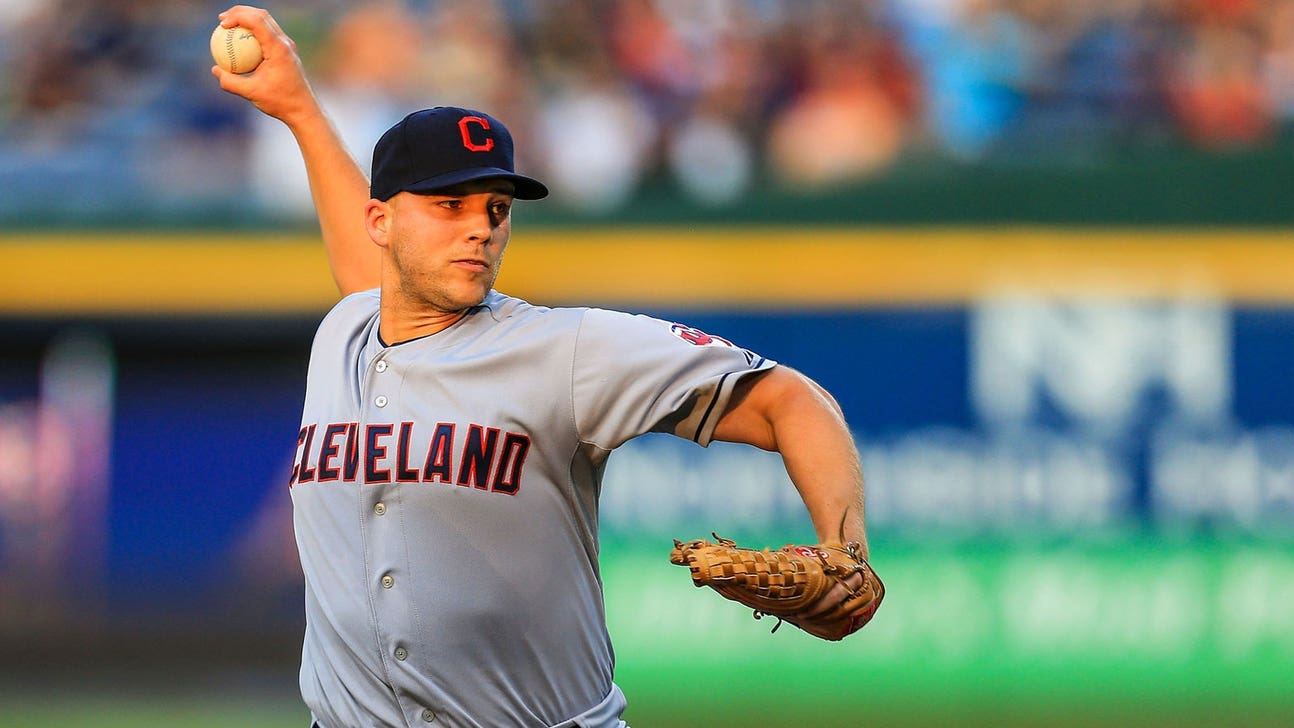 History suggests Masterson a long shot to stay with Indians
Published
Feb. 19, 2014 12:43 p.m. ET

The Indians and ace right-handed pitcher Justin Masterson agreed on a one-year $9,762,500 deal on Tuesday to avoid arbitration. The deal came just hours before Masterson was set to board a plane for his arbitration hearing on Thursday.
With Masterson signed, sealed and delivered for the 2014 season, all of the focus will now shift toward negotiations of a long-term deal. Talks on a multi-year extension never really got off the ground last month, so Masterson and the Indians decided to focus on the one-year deal instead. Both parties, however, are expected to discuss a long-term deal this spring.
The big question everyone is wondering now is whether the Indians can sign Masterson to an extension before he hits the free agent market in November.
Many stories will surface over the next several weeks and months about the progress of those talks, and many upon many opinion pieces will be written across the blogosphere about how, why and if the Indians can really resign the talented righty.
But barring some seismic shift in the way the Indians think, the history and facts make it all but a certainty that Masterson will enter free agency and probably will not be resigned by the Indians. As matter of fact as that sounds, the proof is in the pudding.
First off, look at the Indians history during the Progressive Field era of doling out multi-year contracts to starting pitchers in free agency or extending their own free agents:
The Indians have never signed a free-agent starting pitcher for more than three guaranteed years, and in only one case did they give an extension of more than three years to a player nearing free agency -- that being Charles Nagy and the four-year $24 million extension he signed in 1998. Even C.C. Sabathia only received a three-year $24.75 million extension in 2005 -- which included the Indians picking up his club option for 2006.
Table 1
| | | |
| --- | --- | --- |
| Player | Contract |   |
| Charles Nagy | 4 years, $24 million |   |
| Jake Westbrook | 3 years, $33 million |   |
| Chuck Finley | 3 years, $27 million |   |
| C.C. Sabathia | 3 years, $24.75 million |   |
| Paul Byrd | 3 years, $21 million |   |
| Jack McDowell | 2 years, $9.5 million |   |
| Dennis Martinez | 2 years, $9 million |   |
| Dwight Gooden | 2 years, $5.5  million |   |
| Orel Hershiser | 2 years, $3 million |   |
With reports circulating that Homer Bailey is close to signing a six-year, $100 million extension with the Reds, this is the territory the Indians will need to be in to extend Masterson and prevent him from entering the free-agent market. Something to the tune of four additional years at about $15 million to $17 million per season being tacked onto the one year the Indians just agreed to for this season is what it will take. It would require a total commitment of at least five years and $70 million with this season included -- and that dollar figure is probably on the low side.
But their history does not suggest this as a possibility. The most total money they have ever signed a starting pitcher to as a free agent or to an extension is the $27 million given to Chuck Finley before the 2000 season -- Larry Dolan's first as owner.
They have also had horrible luck with long term deals with pitchers, which is a reason why they have been so gun shy about giving them out. In the first year of his three-year, $33 million extension, Jake Westbrook injured his elbow and had to have Tommy John surgery. Nagy injured his shoulder and pitched a total of 176 innings over the last three years of his four-year deal. Jack McDowell pitched through injury in 1996 and made just eight appearances (six starts) in 1997.
This history also applies to the long-term deals the Indians have given out to starting pitchers to carry them through their arbitration years and buying out one or two of their free agent years. The history of such deals is small during the Progressive Field era:
Table 2
| | |
| --- | --- |
| Player | Contract |
| Fausto Carmona | 4 years, $15 million |
| C.C. Sabathia | 4 years, $9.5 million |
| Bartolo Colon | 4 years, $9.25 million |
| Jaret Wright | 4 years, $8.75 million |
| Cliff Lee | 3 years, $14 million |
In these cases, the Indians were more open to giving four-year deals, but obviously because the risk was much lower due to the total cost of the deal. Even so, the Indians have experienced some bad luck with these kinds of deals as well as upon signing his deal Jaret Wright had injury issues and even Fausto Carmona was never really the same after he got his extension.
In two prior instances when the Indians had a proven workhorse front of the rotation arm in C.C. Sabathia and Cliff Lee nearing free agency, they traded them because they knew they were unsignable, commanding years and money beyond what they were comfortable giving. Sabathia ended up getting a whopping seven-year, $161 million deal with the Yankees in Dec. 2008 and Lee got a nice-sized five-year, $120 million deal with the Phillies in Dec. 2010.
Perhaps the Indians do end up going the trade route with Masterson this season if they are struggling in July, though things are different now where there is almost as much value in holding onto a player with the leverage that qualifying offers provide to teams to drive prices down and at worst get a first round pick as a door prize.
In any case, this is a story that is going to last through the entire season and be a focus of discussion every time he pitches. Masterson's loose personality probably won't let it distract him, but it is going to be one weighing on the team all season.
The history speaks for itself and has nothing to do with the ownership. Whether Larry Dolan or Dick Jacobs has been the owner the Indians have not given big multi-year deals to starting pitchers. At this point, it would take a monumental change to the organization's philosophy in long-term deals to starting pitchers in order to keep Masterson.
And with that, the countdown to the end of Masterson's time in Cleveland has officially begun.
---