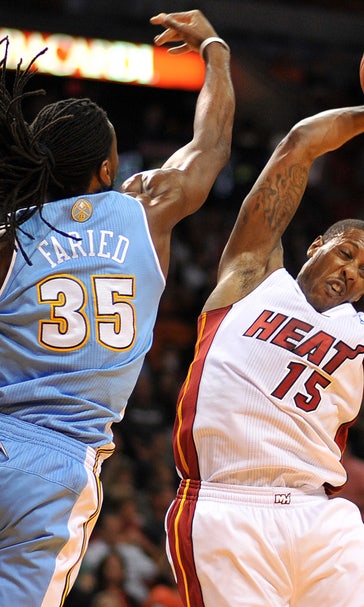 Heat Check: Turnovers cause trouble again as Heat's slide continues
March 14, 2014

MIAMI -- Erik Spoelstra and the Miami Heat coaching staff face a dilemma -- is their team just going through another regular-season rough stretch, or are there major concerns with 19 games remaining before the postseason begins?
The Heat suffered their fifth defeat in six games on Friday night, when they lost to the Denver Nuggets 111-107 at AmericanAirlines Arena.
It's the first time Miami, beaten by Brooklyn on Wednesday night, has lost two consecutive home games since March 6-8, 2011. That was the first season of the Big Three.
Ray Allen scored 22 points off the bench for the Heat (44-19).
LeBron James scored 21 points, but only 10 after the first quarter. James had 5 points (1-of-4 shooting) in the final period and has scored 15 points total in the past five fourth quarters -- definitely not the way one expects the King to finish games.
The Heat committed 20 turnovers, resulting in 22 Denver points. The Nuggets had 13 steals.
Miami did score 60 points in the paint but allowed the Nuggets 48.
Denver outrebounded the Heat 41-35.
Kenneth Faried had 24 points and 10 rebounds for the Nuggets (29-36), who are .500 at home and now 13-20 on the road.
Chris Andersen had 14 points and six rebounds in 21 minutes, 32 seconds off the bench. Chris Bosh struggled, shooting 4 of 12 and finishing with 11 points.
Miami was behind 85-71 entering the fourth quarter before J.J. Hickson's basket 13 seconds into the period built a 16-point Denver cushion.
The Heat pulled within 104-101 with 1:05 remaining but the Nuggets closed the game hitting 7 of 8 free throws to secure the win.
After leading by as many as 14 points in the second quarter, the Heat trailed 58-53 at halftime.
THE TURNING POINT
With Miami seemingly handling Denver nicely, the Nuggets went on a 19-2 run to take a 43-30 edge 4:51 before intermission.
THE DIFFERENCE MAKER
The Nuggets bench players, who outscored their Miami counterparts 57-40.
STAT OF THE GAME
Ray Allen sank 7 of 9 shots, including 5 of 7 from 3-point range.
WHAT'S NEXT
The Heat will play the last of four straight home games against the Houston Rockets 3:30 p.m. on Sunday.
You can follow Charlie McCarthy on Twitter @mccarthy_chas or email him at mac1763@bellsouth.net.
---