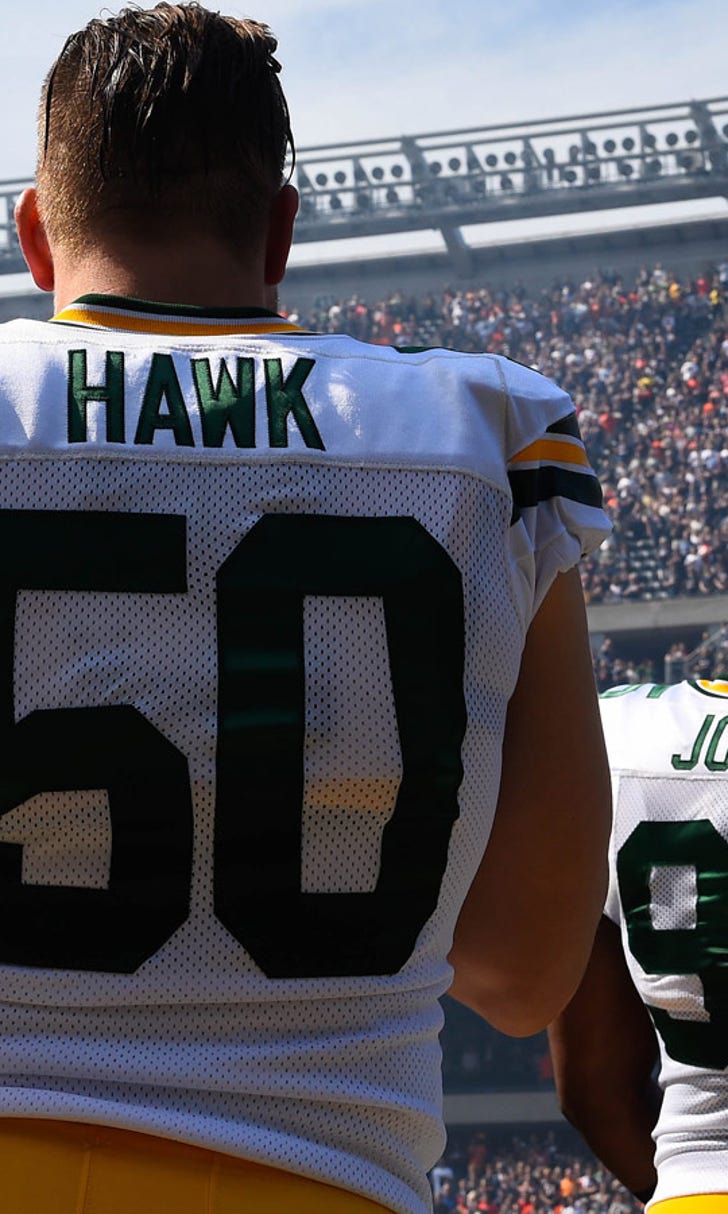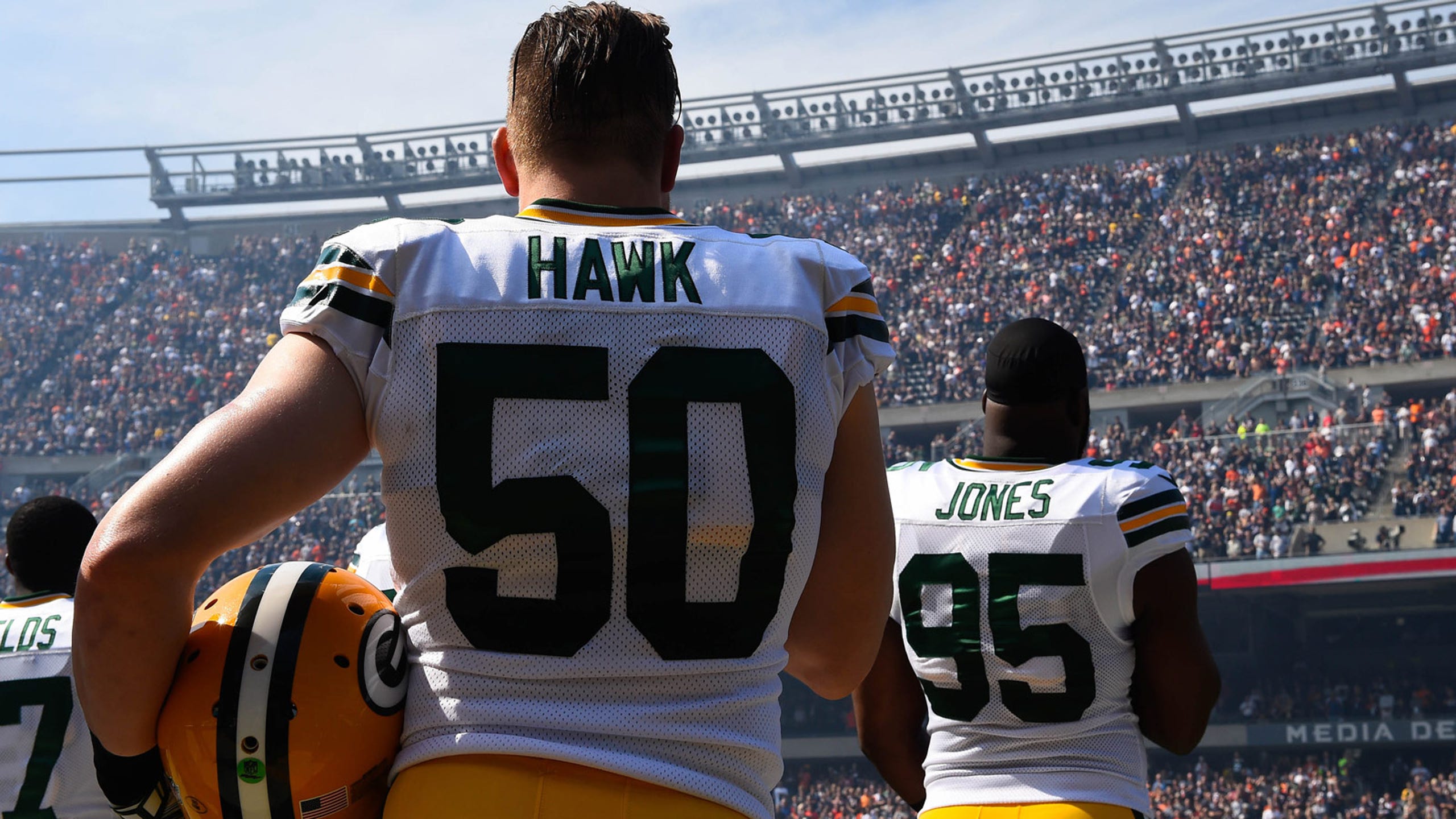 Hawk wants focus on Packers winning, not his playing time and future
BY foxsports • December 11, 2014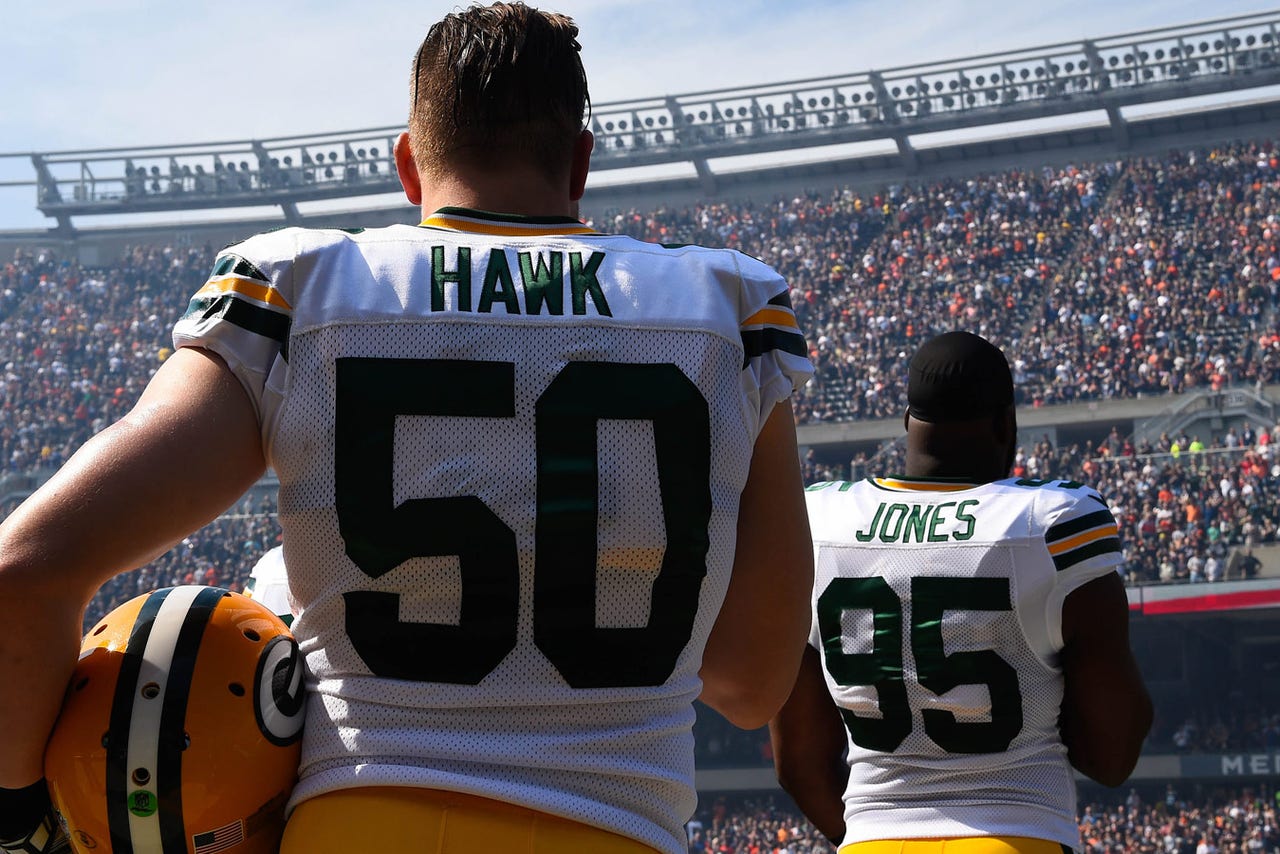 GREEN BAY, Wis. -- A.J. Hawk was hesitant to meet with reporters. Given that the Green Bay Packers' ninth-year inside linebacker had gone from being a nearly every-down player through 11 games to playing just eight of 68 snaps Monday night, his significant role change put him in high demand from the media.
Hawk was convinced by a member of the Packers public relations staff to talk in the locker room Thursday. But Hawk's preference to stay out of the spotlight wasn't due to him being disgruntled about his playing time. It was because he wanted the focus to be on the good work the team had been doing as it reached a 10-3 record.
"Nothing is about me," Hawk said. "It shouldn't be about me. It's dumb to talk about me. . . . I didn't want to make anything about me. I shouldn't be a storyline."
There were eight games this season in which Hawk played every snap. That was true as recently as Weeks 10 and 11 against Chicago and Philadelphia. But when Green Bay's defense took the field Week 13 against New England, Hawk was no longer part of every defensive package. He was replaced in nickel with the combination of Clay Matthews and Sam Barrington, with Matthews also taking Hawk's spot in dime. Hawk only played when the Packers were in their base 3-4 defense, which was used on 26 of 56 snaps.
On Monday night against Atlanta, Hawk's role was the same as it was a week earlier, with Brad Jones now serving as the dime linebacker instead of Matthews. This time, with Green Bay shifting more toward stopping the pass, the 3-4 defense was only used on eight of 68 snaps. It was the first time since Week 7 of the 2008 season that Hawk played single-digit snaps. He also didn't play at all in Week 1 of the 2010 season despite being healthy. Still, it's incredibly rare for a player who had more snaps than anyone on the Packers' roster through 11 games.
"I don't think my approach has changed through whatever the situation is on game day," Hawk said. "It hasn't changed how I approach the game, how I prepare or what I do. You're not going to earn a job in December on the practice field, that's for sure. I'm still going to be out there working. That's kind of been what I've done my whole life is keep going, keep your head down, keep working. You don't need to sit there and whine about it, talk about it. It doesn't matter. No one cares. Everyone is in their own life, and they should be."
The reason for Hawk not being on the field nearly as often the past two games has nothing to do with any possible injury. Despite Aaron Rodgers saying on his radio show that Hawk might be dealing with something that's prevented the 30-year-old's body from recovering well, that is not actually the case.
"I'm not hurt," Hawk said. "My body has bounced back every week. I feel better older than I did younger. I think (Rodgers) was just trying to be supportive of a friend or teammate. I don't know."
Defensive coordinator Dom Capers believes there could be a benefit later in the season -- and postseason -- to Hawk getting less in-game action in recent weeks.
"We're always concerned about not overplaying our guys to where hopefully we can have him as healthy as we can have him through the month of December and hopefully a chance to play after that," Capers said. "I think A.J.'s fine now. I think he's better right now with the fact that he hasn't played 70 plays the last couple weeks. I think that will bode well for us moving forward."
Hawk has not let this change have a negative impact on him. He's not going to let it bother him.
"I've been preparing since the day I walked in here for the day I get cut," Hawk said. "Whenever they decide to let me roll, that's something I've been preparing for since I was 21, basically, when I got drafted."
Hawk has one year remaining on his current contract. His base salary in 2015 is $2.5 million with a $5.1 million cap hit. If Green Bay did opt to release Hawk after this season, the cap savings in 2015 would be $3.5 million.
"They can tap me on the shoulder right now and get me out of here," Hawk said. "Our contracts aren't real contracts like that. They're not obliged to keep me here through the end of (my contract). I don't think I let my mind wander or anything towards what could happen. That's not up to me.
"But (I'll) try to hopefully get another ring at least before they give me the boot."
Capers doesn't have Hawk's new role set in stone.
"It can change at any point in time, depending on how the game goes," Capers said.
Just like Hawk was removed from being an every-down player, it's possible he could reclaim that role.
"We can still play our nickel stuff with A.J. in there if we want to," Capers said. "But we've used Clay in there and we like some of the versatility that Clay gives us in there. I think you've seen the results of that since the bye week, being able to move (Matthews) around and pressure him at times."
Hawk is not ready to be done playing in the NFL. Nearly a decade into his career after being the fifth-overall pick by the Packers in 2006, this is not a chapter of his life that he wants to conclude.
However, if Green Bay decides this offseason that it's time to move in a different direction at inside linebacker, Hawk would likely look to continue playing elsewhere.
"I want to play as long as I can," he said. "I feel good. Of course, anyone would dream to have your whole career with the Packers. That's anybody's dream, I think, as a kid. The reality is that's pretty tough to do. If that happens, I'd be pumped and it would be my dream come true. But if not, I feel like I still can play, and if another team would give you a shot, how are you going to turn it down?"
Follow Paul Imig on Twitter
---