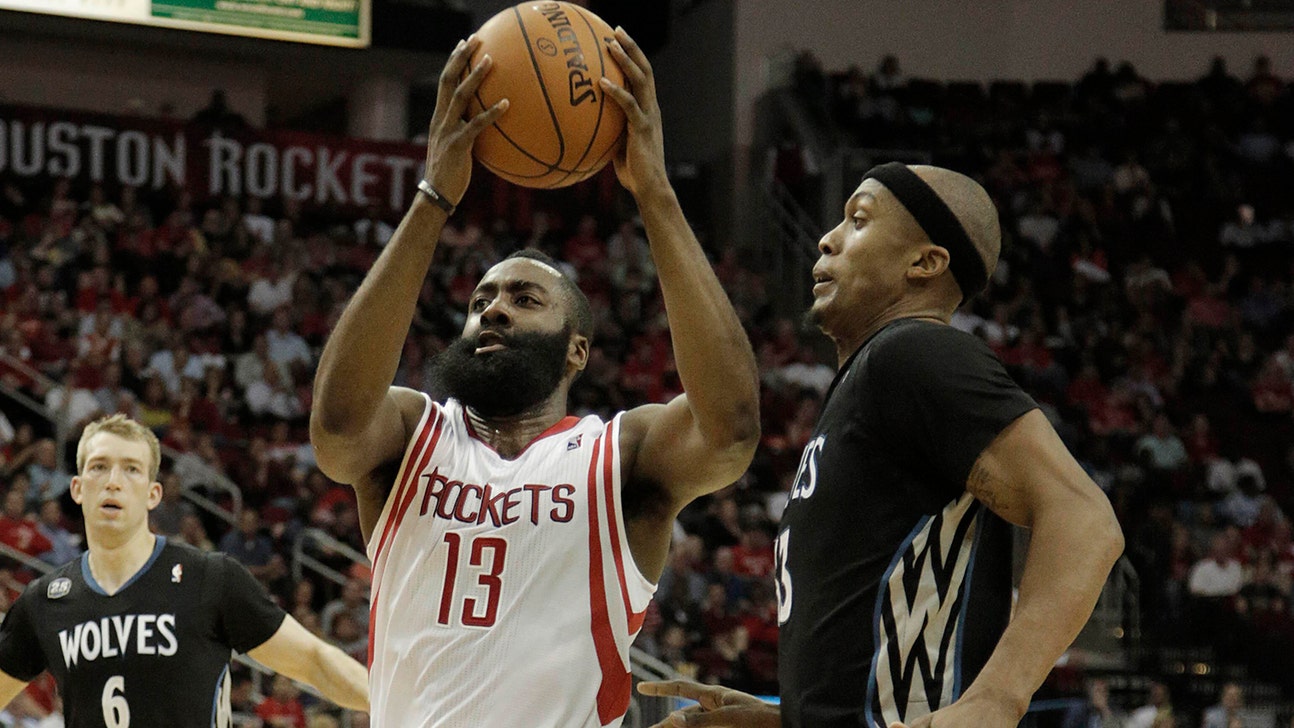 Harden leads Rockets over Timberwolves
Updated
Mar. 4, 2020 3:53 p.m. ET

HOUSTON (AP) - James Harden had 28 points with eight assists and the Houston Rockets rolled to an easy 129-106 win over the Minnesota Timberwolves on Thursday night.
Houston trailed by as many as 10 before using a big run in the second quarter to take the lead and padding the advantage with another run to start the third quarter.
It was Houston's second straight game without Dwight Howard, who sat out with a strained left ankle. Omer Asik started in his place and filled in ably with a season-high-tying 12 points as the Rockets won for the seventh time in 10 games.
Kevin Love had 29 points and rookie Gorgui Dieng 22 points and 21 rebounds, which were both career-highs.
Ricky Rubio had five points, eight assists and two rebounds for Minnesota a night after posting his third career triple-double with 22 points, 15 assists and 10 rebounds in a 123-122 overtime win at Dallas.
Houston led by 10 at halftime and opened the third quarter with a 16-7 spurt to extend the lead to 80-61 with about 8 1/2 minutes left in the quarter.
Harden, who finished with six 3s, and Patrick Beverley both made 3-pointers during that run and Asik had seven points with a pair of dunks.
Love hit a 3-pointer after that before Terrence Jones made four quick points to push the lead to 84-64.
Luc Mbah a Moute went up for a dunk later in the quarter, but it was blocked by Asik, drawing oohs from the crowd when it happened live and again when it was replayed on the jumbotron. Asik finished with four blocks.
Houston was up by 21 soon after that when the Timberwolves cut into the lead with an 8-0 run thanks to two 3-pointers by Love to make it 89-76.
The Rockets led by 98-82 entering the fourth quarter.
The lead was 16 midway through the fourth quarter when the Rockets went on another run -- this one 8-3 -- to make it 118-97. Harden scored the last five points in that span before sitting down for the night.
Donatas Motiejunas added a career-best 20 points and Chandler Parsons had 19 points for Houston. Jones had 10 points and Beverley had 14 as all five Rockets' starters scored in double digits.
Minnesota got within five points late in the second quarter, but the Rockets used a 9-4 run, capped by another 3 from Harden, to end the half up 64-54.
NOTES: Minnesota C Nikola Pekovic didn't play for the third straight game because of a sore right ankle. ... Houston Texans running back Arian Foster and 2012 Heisman Trophy winner and former A&M quarterback Johnny Manziel sat together in seats behind the Rockets bench


---