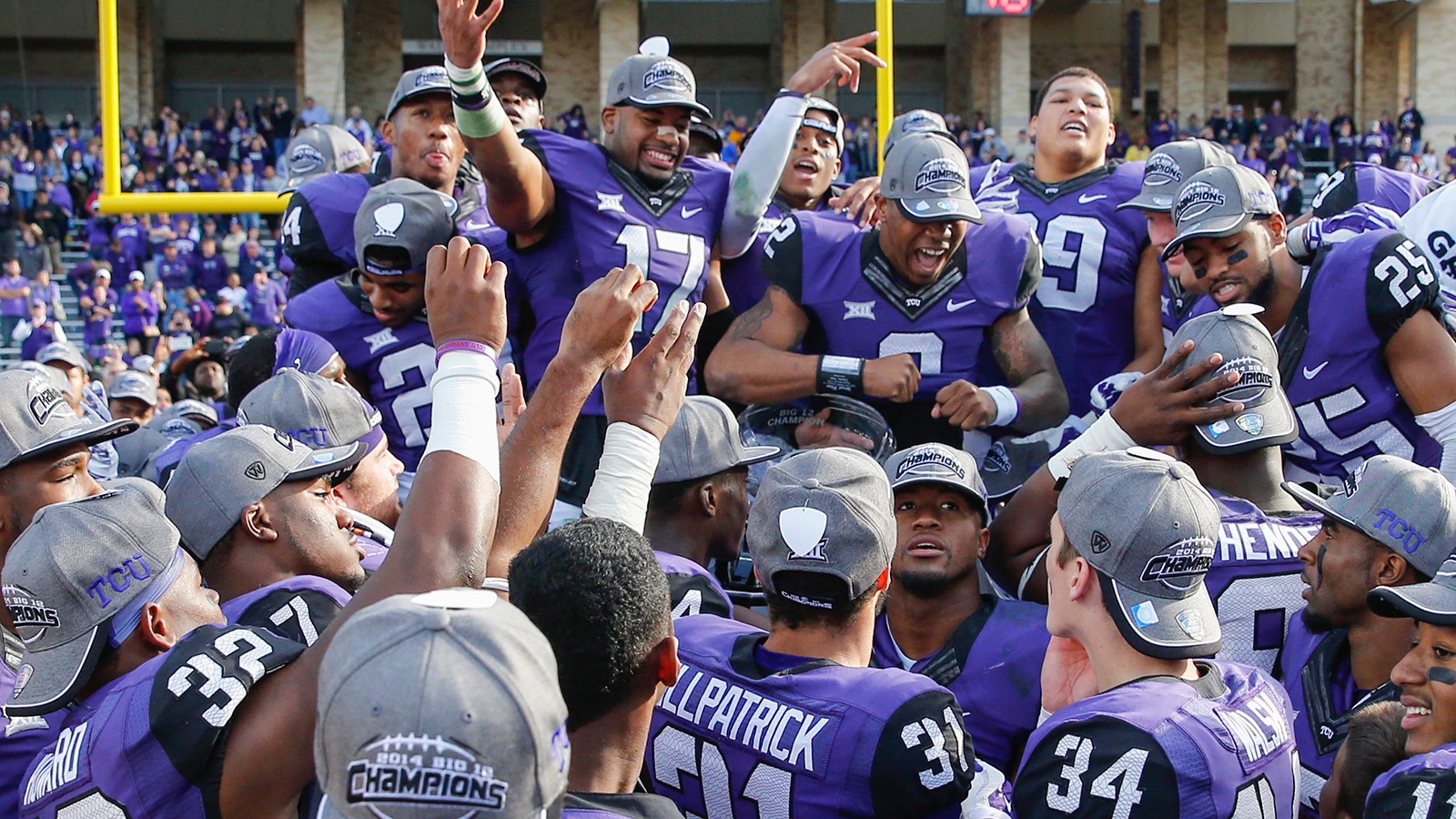 Hancock believes fans will warm to CFP's rankings, procedure
BY Cory McCartney • December 19, 2014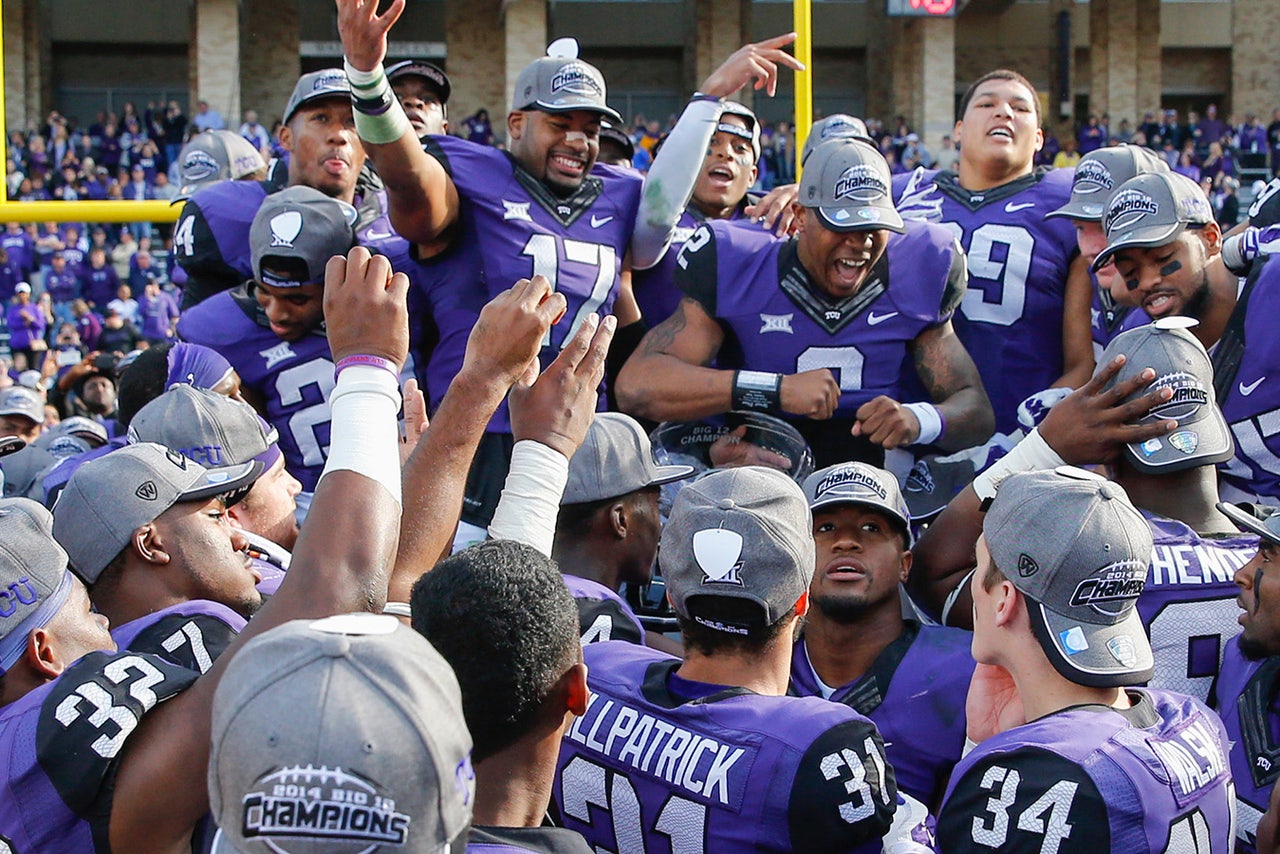 ATLANTA -- Bill Hancock isn't asking for acceptance -- at least not yet anyway. He believes that will come with time.
The College Football Playoff executive director sat in a conference room in the Chick-fil-A Peach Bowl's Atlanta headquarters this week discussing the new era of the game's postseason when the topic turned to polls. Primarily, what we expect from them and how the selection committee has flipped the script.
"We've had 80 years of polls in college football, where if you won you moved up and if you lost you probably moved down," Hancock said. "This whole paradigm, this is a different paradigm from the poll paradigm. I think it will take people time to get used to it."
The sport's first Selection Sunday didn't come without its controversy, one fueled by that long-held belief on how rankings work, as TCU dropped from No. 3 to No. 6 despite winning 55-3 in its regular-season finale and claiming a share of the Big 12 title, leaving it completely out of the first four-team playoff.
Ironically, the Horned Frogs' landing spot was right on Gary Stokan's lap.
The Chick-fil-A Peach Bowl president/CEO's first matchup in the selection committee era -- now every New Year's Six game is set by the 12-member panel -- is No. 6 TCU vs. No. 9 Ole Miss on Dec. 31 in the Georgia Dome. It's a pairing he was as much in the dark in as everyone else, saying "I called Bill and I said 'When you find out, are you going to call us?' and he said 'Gary you'll find out when everybody else finds out.'"
Atlanta lands a matchup that, on paper, is among the most enticing of any non-playoff game.
The Horned Frogs have an electric offense that's second in the nation in points per game (46.8) and has a quarterback in Trevone Boykin that was fourth in the Heisman Trophy voting. They'll be facing the Rebels, FBS's stingiest defense in allowing just 13.8 points per game.
But will TCU, which had playoff aspirations before it was bypassed by Florida State and Ohio State in the final selection committee rankings, suffer a letdown? Will Ole Miss travel? Those are two questions that cloud this game.
Still, from what Stokan is seeing so far, any concerns are being alleviated.
Ole Miss tore through its required 12,500-ticket allotment and so far has purchased 17,000 from the bowl. This, despite having already played at the Georgia Dome in the season opener against Boise State, a game in which the upper bowl of the stadium wasn't even opened due to the sparse crowd.
"All we're hearing form the hotels is 'We're booking Ole Miss people left and right here,'" Stokan said.
Meanwhile TCU, despite missing the playoff and being over 800 miles away, has sold an estimated 10,000 of their tickets.
Stokan recently traveled to both campuses and has been pushing ticket sales, something he didn't have to do to such a degree in the Chick-fil-A game's previous incarnation when it drew from ACC and SEC teams and had no trouble drawing fans due to its proximity.
But he believes that the game is going to add to its string of 17 consecutive sellouts.
"This is all part of that new process we are going through," he said. "There are new teams, new experiences and for them to sell 12,500 and they'll have more than that in the stadium, I'm sure. We're looking forward to our 18th straight sellout."
A matchup out of his hands was a tradeoff Stokan and all of the New Year's Six bowl directors made when entering into the College Football Playoff's pool of six semifinal sites. While every third year will bring with it a No. 1 vs. No. 4 or No. 2 vs. No. 3 matchup, they would all be giving up what made them unique. In the case of the Chick-fil-A Bowl, it was in anchoring itself to the region's two most dominant conferences, a blueprint that saved the game from bankruptcy.
"Obviously this is a partnership that we've entered into with the College Football Playoff and you don't take that lightly," Stokan said. "We knew that we would lose control, there were some pluses and minuses and we had to trust in the selection committee that they were going to do what they said."
Geographical ties were among the factors the committee would look into when setting matchups, hence the Rebels in Atlanta, No. 10 Arizona and No. 20 Boise State in Glendale, Ariz., and No. 12 Georgia Tech and No. 7 Mississippi State in Miami.
"There are lots of people, including me, who think it's a good thing to have a national committee assigning teams to bowls," Hancock said.
While expansion talk has been a hot topic involving the playoff -- and would seem inevitable -- it isn't happening, at least any time soon.
With a 12-year television deal, there is no pressure to revamp anything. It's a similar situation to the one Hancock was involved in with the Bowl Championship Series. That format was on four-year contracts and at the end of the periods, it was evaluated. But there's no move to do that prematurely with the playoff.
"We want this to settle in and come and know it and love it," Hancock said. "There's just no talk in our group about expanding. The talk in the press about expanding isn't a surprise. Within a couple of days of the announcement of the playoff, people started to say 'We need eight.'"
That's a concept the committee toyed with, but the locations of games, which would force quarterfinals to be played on campus, set up a scenario the group wasn't comfortable with in contrast to sending teams to bowl games.
"We were joking before, but for those four teams that lose in the quarterfinals, their bowl experience would be a trip to Norman, Okla.," Hancock said. "With all due respect to Norman, Okla., it's not the same as going to Atlanta for the Chick-fil-A Bowl."
As we head into the first postseason of the playoff era, Hancock believes the selection committee has followed through on its promise: building on the foundation of the BCS by adding more of a human element.
"I think people also respected the way the committee operated," he said. "The committee was able to dig deeper than just the wins/loss record and look at other factors and that was reflected in the rankings."
Follow Cory McCartney on Twitter @coryjmccartney
---