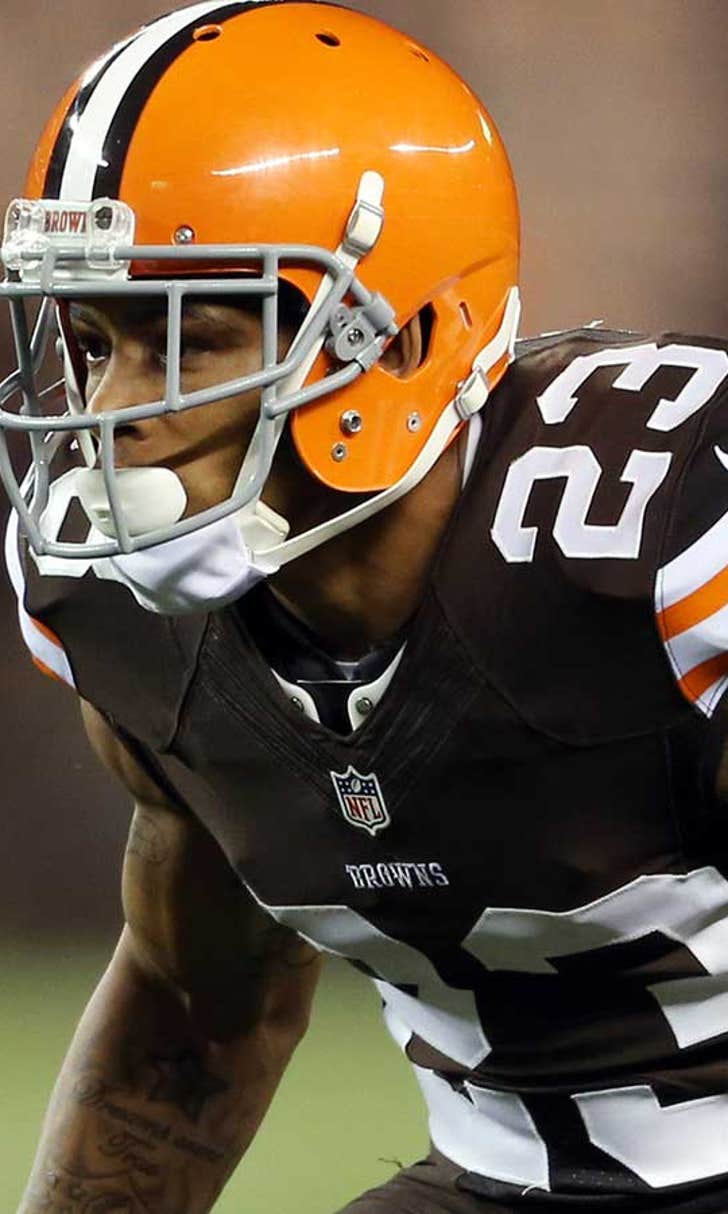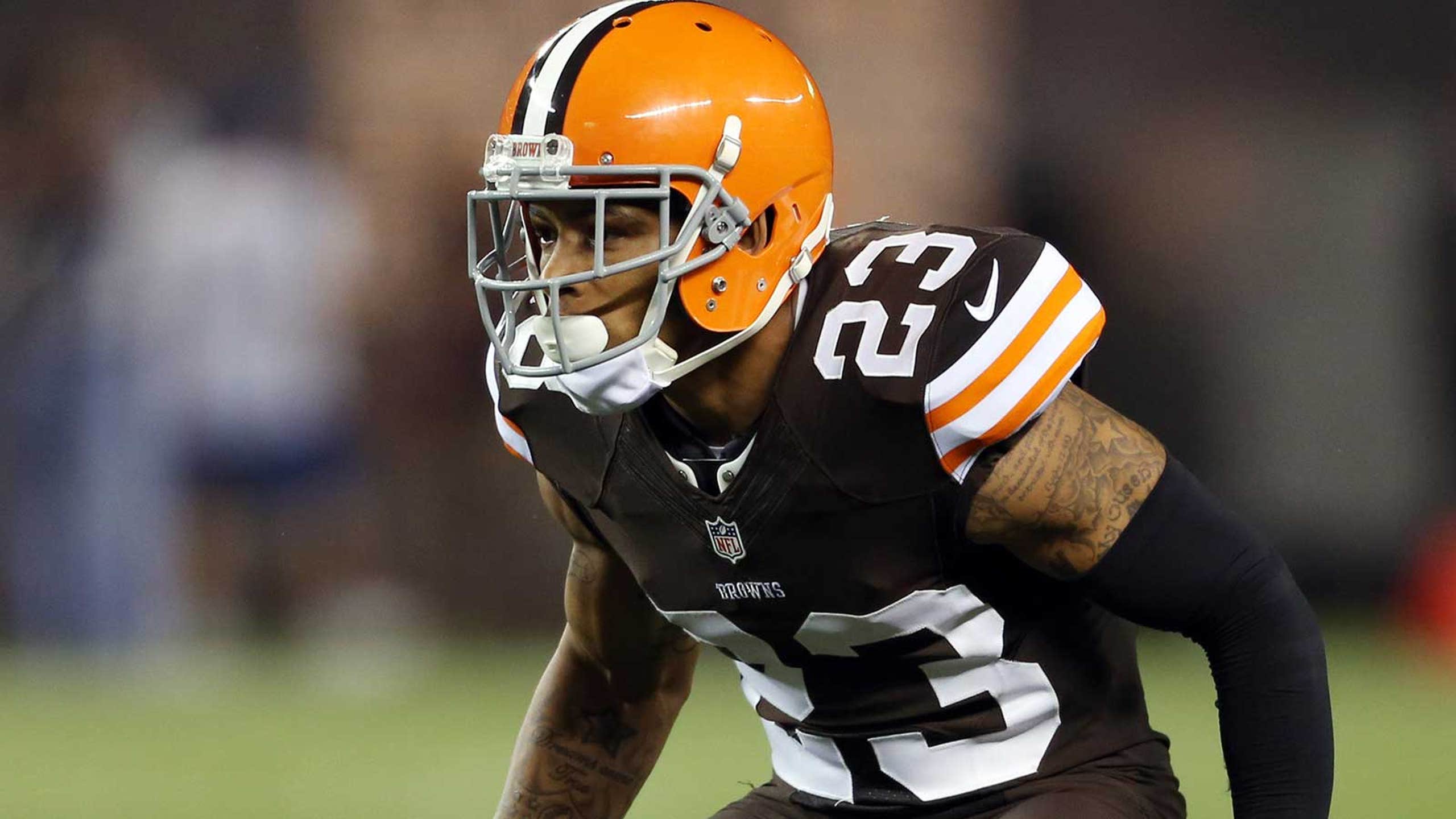 Half of the secondary made the Pro Bowl
BY foxsports • January 22, 2014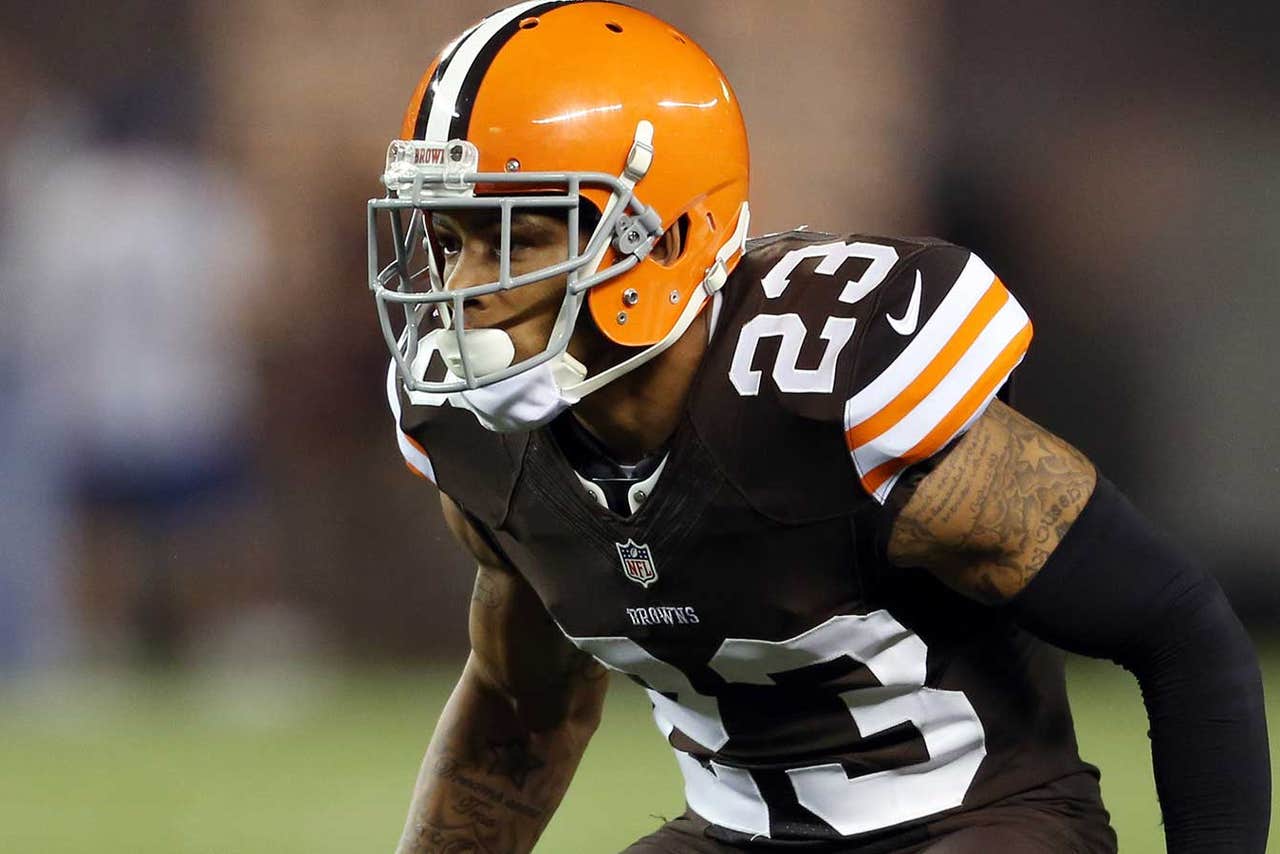 Browns beat reporter Fred Greetham will break down the Browns roster on a position-by-position basis. We'll breakdown the secondary.
Secondary: (Joe Haden, Buster Skrine, Leon McFadden, Jordan Poyer, Julian Posey, T.J. Ward, Tashaun Gipson, Johnson Bademosi, Josh Aubrey and Jamoris Slaughter)
Cornerbacks
Haden (5-11, 190, 24) -- Haden registered 60 tackles in 15 games with four interceptions and 21 passes broken up. Haden returned an interception for a touchdown against the Bengals. Haden was selected to his first Pro Bowl and was named a 2013 AP second-team All-Pro honoree.
Indianapolis Colts receiver Reggie Wayne (87) makes a reception over Cleveland Browns defensive back Buster Skrine (22) during a game at Lucas Oil Stadium in Indianapolis
Skrine (5-9, 185, 24) -- Skrine started 15 games at right cornerback and had 75 tackles, one sack, one interception and 23 passes broken up. Many consider Skrine to have been the most improved player on the defense.
McFadden (5-9, 190, 23) -- McFadden appeared in all 16 games but didn't play cornerback until the final nine games. He finished with15 tackles and one pass broken up in two starts. He had four special teams tackles. McFadden was the Browns third-round draft choice (68th overall) in 2013.
Posey (5-10, 190, 25) -- Posey played in five games and had five tackles and one sack. Posey was with the Dolphins before being released and signed to the Browns practice squad. Posey played collegiately at Ohio University.
Safeties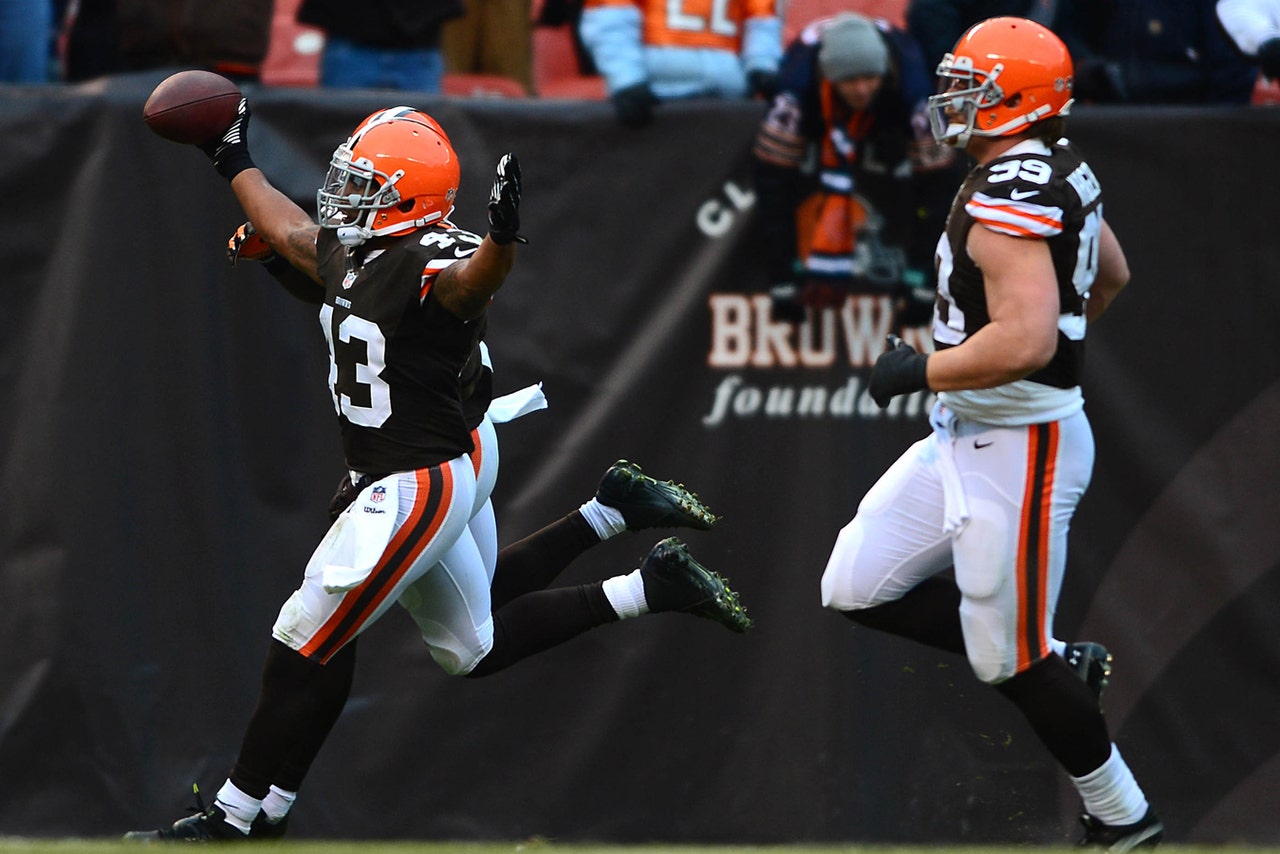 Cleveland Browns strong safety T.J. Ward (43) intercepts a pass and returns for a touchdown during the third quarter against the Chicago Bears at FirstEnergy Stadium. Mandatory Credit: Andrew Weber-USA TODAY Sports ,Dec 15, 2013; Cleveland, OH, USA; Cleveland Browns strong safety T.J. Ward (43) intercepts a pass and returns for a touchdown during the third quarter against the Chicago Bears at FirstEnergy Stadium.  
Ward (5-10, 200, 27) -- Ward finished the season with129 tackles, which was second on the team. He also had1.5 sacks, two interceptions with nine passes broken up. Ward returned an interception for a touchdown and also returned a fumble for a touchdown. Ward was named as a Pro Bowl alternate but replaced Troy Polamalu due to injury for his first Pro Bowl. He was also named to the 2013 AP second-team All-Pro team.
Gipson (5-11, 205, 23) -- Gipson started 15 games at free safety and finished third on the team with 105 tackles. Gipson led the team with five interceptions, including a 44-yard interception returned for a touchdown against the Bears. He also had 14 passes broken up. Former defensive coordinator Ray Horton called Gipson the "MVP" of the defense for his play during the season.
Poyer (6-0, 191, 22) -- Poyer played in nine games for the Browns after appearing in three games for the Eagles. He had 11 tackles for the Browns with six special tackles, which was fourth-most on the team. Poyer also averaged 14.3 yards per punt return over the last six games. Poyer was a seventh-round draft choice of the Eagles from Oregon State.
Bademosi (6-0, 200, 23) -- A lot of discussion took place about moving Bademosi from cornerback to safety in the off-season, but in the end he played almost exclusively on special teams, where he led the team with 17 tackles for the second-straight season.
Aubrey (5-10, 200, 22) -- Aubrey made the team as an undrafted rookie free agent from Stephen F. Austin and played on special teams until he was placed on injured reserve on Oct. 18 with an ankle injury. He had one special teams tackle. His biggest play was a 34-yard run on a fake punt against the Vikings to set up a field goal.
Slaughter (6-0, 195, 24) -- Slaughter never made it to the active roster after being drafted in the sixth-round from Notre Dame despite missing his final season of college with a torn Achilles. He spent the season on the practice squad.
Summary: With a Pro Bowl player at cornerback and safety in Haden and Ward, the Browns should be solid for years to come, as both players have just finished their fourth seasons. However, Ward is set to be a free agent in March if the Browns choose to not re-sign him or place the franchise tag on him. Gipson blossomed in his first season as a starter at free safety.
Skrine was much improved this season in his third season, but McFadden didn't get on the field until injuries forced him into action. As a third-round pick, he was expected to play more, but he never was able to catch up from a preseason injury.
Several young players have potential to develop in Poyer, Bademosi, Aubrey, Slaughter and Posey, but most played on special teams. However, the Browns could use another top-level cornerback in the pass-oriented NFL.
Looking Ahead: The Browns have a big decision in what to do with Ward. He had his best season in the NFL and will play in his first Pro Bowl this week. He is a free agent and if they choose to let him leave, they will need to find a suitable replacement. If they re-sign him, they can focus on upgrading other positions of need.
The Browns have a good nucleus of emerging players like Gipson and Skrine to go along with Haden and Ward. A top -flight cornerback to play opposite of Haden would allow Skrine to play in the slot and make one of the best secondary groups in the NFL even stronger, but the decision on Ward will have a negative domino affect if they have to replace him.
(Next we will finish our breakdown of the Browns with a look at the specialists)
---