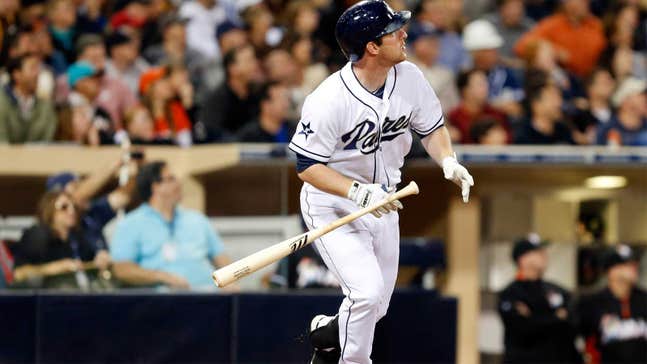 Gyorko powers Padres past Marlins 10-1
Published
May. 10, 2014 2:15 p.m. EDT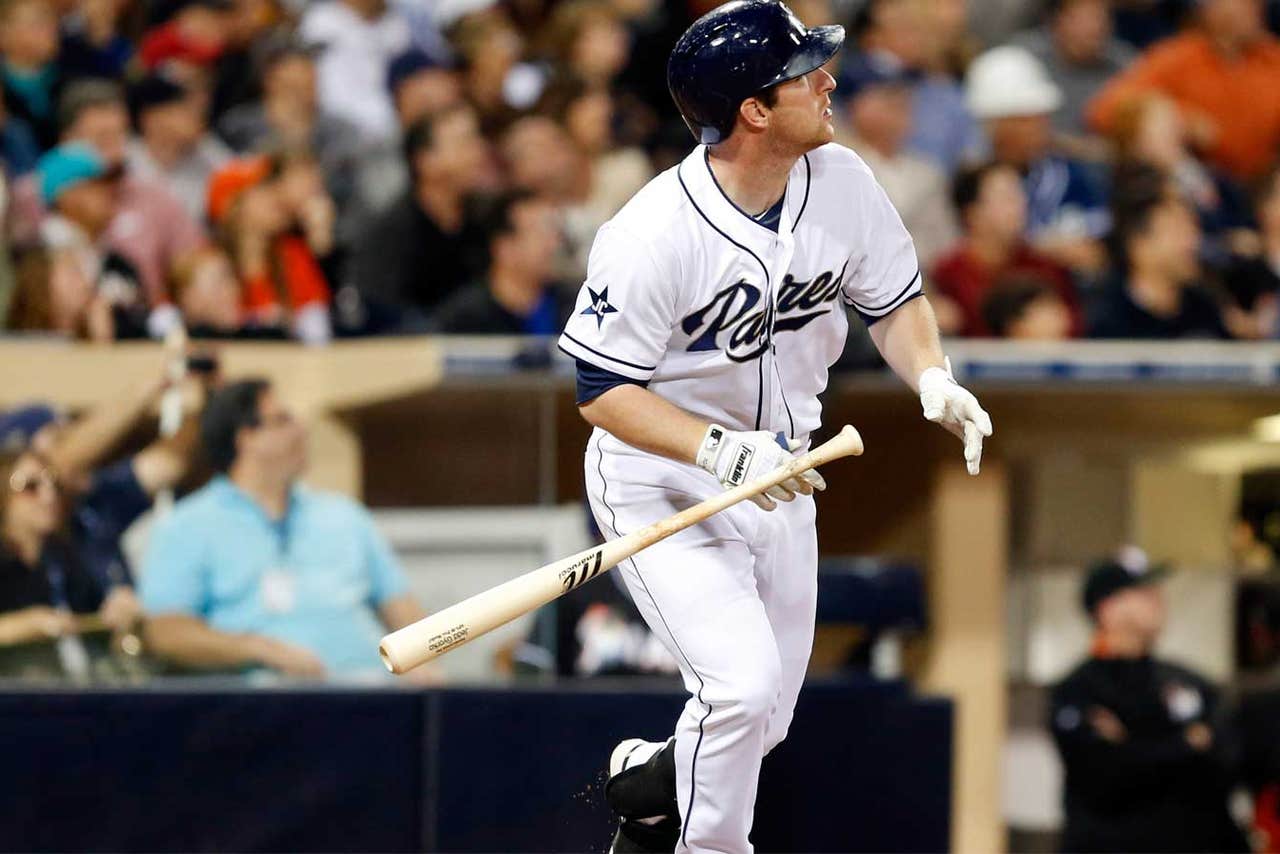 SAN DIEGO (AP) -- The San Diego Padres' struggling offense finally had a breakout performance -- 37 games into the season.
Jedd Gyorko hit two home runs off Jose Fernandez, including a grand slam, in the Padres' 10-1 rout of the Miami Marlins on Friday night.
Gyorko had a career-high six RBIs as the majors' worst offense scored its season high in runs and had its first genuine laugher.
"I'm trying to think, have we had one?" Padres manager Bud Black asked. "Those type of games happen and it's rare that we have only had one. There are two ways to look at it for me. On the positive side, there is more of that to come."
For Gyorko, the win had more meaning coming less than 24 hours after his key error preceded Giancarlo Stanton's go-ahead two-run homer in the 11th inning of the Marlins' 3-1 win Thursday night.
"That was probably one of the lowest points of my career, to be honest," Gyorko said. "To pretty much cost your team a game, it's good to bounce back. It's good to show that resiliency."
Gyorko, who came into the game hitting just .146, connected for a two-run shot in the second and a grand slam in the sixth.
"Hopefully, a game like this can jump-start an offense," Gyorko said. "It's still to be determined."
The Padres hope this game can spark the 25-year-old Gyorko, whom they signed to a five-year, $35 million contract extension last month.
"Guys are capable of those types of performances," Black said. "Not that Jedd is going to hit two homers and hit a grand slam, but he's capable of knocking in some runs."
The Padres, who came in averaging a major league-low 2.6 runs per game, snapped a three-game losing streak. It was their highest-scoring game since a 12-2 victory over Arizona last Sept. 25.
San Diego sent 11 men to the plate during a six-run sixth inning that broke it open. The Padres' previous high for runs in a single game this season was six.
The run support was not lost on starter Tyson Ross (4-3), for whom the Padres had scored more than three runs just twice in his previous seven starts.
"It's huge early in the game," he said. "The hitters did a great job with their approach. They had some good at-bats early and got on the board and really broke it open."
Fernandez (4-2) was charged with six runs on six hits in five-plus innings. The right-hander, who won the NL Rookie of the Year award last season, was 2-0 with a sparkling 0.60 ERA in his previous four starts.
"It was a tough one," Fernandez said. "I was trying to do what I do, go out there and compete. But mostly my stuff wasn't there today, my fastball really wasn't there."
Miami manager Mike Redmond knew it right away.
"It just wasn't his night. You could tell from the first inning on he was up in the zone and they hit some balls hard off him," Redmond said. "We really didn't get anything going offensively either and we didn't help him there."
Ross was working on a shutout before Marcell Ozuna homered in the seventh inning. The righty allowed four hits and struck out eight in seven innings.
Tim Stauffer and Kevin Quackenbush each pitched an inning to close out the combined four-hitter.
San Diego won for just the third time in 10 games and snapped the Marlins' five-game winning streak.
Gyorko's fourth homer in the second came after Yasmani Grandal reached on a throwing error by first baseman Garrett Jones.
Everth Cabrera sparked the Padres' biggest inning of the season with a leadoff single in the sixth. Seth Smith singled and Grandal walked to load the bases for Gyorko, who turned on a 2-0 fastball and hit it into the second deck of the Western Metal Supply Building down the left-field line.
It was Gyorko's second career multi-homer game and his second grand slam.
Fernandez had beaten the Padres in two previous starts by giving up just five hits in 14 2-3 scoreless innings with 18 strikeouts.
NOTES: Marlins RHP Carlos Marmol was struck in the back by a ball off Kyle Blanks' bat while stretching during San Diego's batting practice. Marmol said he was fine. ... Barring an injury, Padres 3B Chase Headley (strained right calf) will be activated from the 15-day DL on Saturday. Headley was scheduled to play Friday night with Single-A Lake Elsinore. ... The San Diego State men's basketball team that won the Mountain West Conference regular-season title and reached the Sweet 16 in the NCAA tournament was honored before the game. ... Marlins RHP Nathan Eovaldi (2-1, 2.78 ERA) opposes Padres LHP Eric Stults (1-3, 5.40) on Saturday night.
---