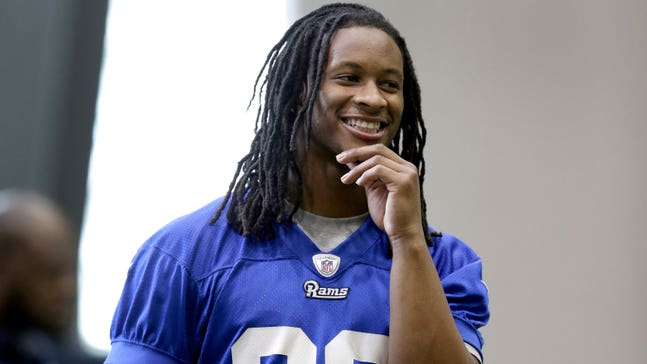 Gurley dresses for Rams rookie minicamp
Published
May. 8, 2015 7:07 p.m. ET

ST. LOUIS -- As a fan of running back Steven Jackson, Todd Gurley passed on the opportunity to wear No. 39 with the St. Louis Rams.
Instead, he settled on No. 30. He wore the jersey for the first time Friday as he took part in the rookie minicamp at Rams Park.
"There's not too many numbers available," Gurley said about how he made his decision. "There was 39, but that was SJ's number. I'm definitely not going to touch that. I've looked at a lot of running backs in the NFL. SJ had multiple 1,000-yard seasons with the Rams and that's pretty cool."
The 6-foot-1, 222-pound Gurley did not do any running on the first day of the two-day minicamp. He is rehabbing an injured left knee.
The Rams hope Gurley may be the next Jackson, who put together eight consecutive 1,000-yard seasons with St. Louis. The Rams grabbed with the 10th overall pick in the 2015 draft, the first running back taken that high since 2012.
"It's a good feeling from a personal pride standpoint," Gurley said about his draft position. "Knowing they went after me, it's good. It makes every running back around the world just feel good that we didn't disappear."
The club knows it likely will have to wait for Gurley to heal before he suits up in a game. Gurley tore his ACL during last year's game with Auburn on Nov. 15 while playing for Georgia.
He's doing what he can in the minicamp.
"I'm getting the mental reps so I know what's going on," Gurley said. "I'm listening to the play calls. I can still go through the plays by myself. I'm in the back trying to make sure I'm on my stuff.
"It's not like I know everything. I know nothing really. I'm keeping my mind busy."
Just getting dressed and putting on a Rams helmet and jersey made Gurley's day.
"It felt real good," Gurley said. "It's been a while."
Gurley finished his junior season with 911 rushing yards and nine touchdowns.
In 2014, Gurley started first five games before being suspended for four games for violating NCAA rules when he accepted $3,000 for signing memorabilia over a two-year span.
In his career at Georgia, Gurley rushed for 3,285 yards. He also had 615 yards receiving on 65 receptions. In 30 games, Gurley scored 44 touchdowns to rank second for the Bulldogs. Herschel Walker is No. 1 with 52.
St. Louis coach Jeff Fisher likes the running game. The Rams have drafted five running backs in the four years since Fisher arrived in St. Louis.
It is anticipated that Gurley will be the centerpiece of the offense.
"We have a good group," Fisher said after drafting Gurley. "We really like our group in the room, but this was an opportunity that we could not pass up."
Gurley knows the Rams like to run the ball and he wants to be a part of that. He will be competing with Tre Mason, Benny Cunningham, Isaiah Pead and Trey Watts for playing time once he is healthy.
He knows what he is working to be.
"It's definitely a dream to be a three-down back and to stay out on the field for the majority of the snaps," Gurley said. "That's why I'm working hard to come back."
It's uncertain when Gurley will be available to play.
"I want to be back as soon as possible but I'm not a doctor or a therapist," Gurley said. "I can't really tell you when I'll be back. I take it day by day really. I'm not a trainer bro. I just do what they tell me."
NOTES: The only quarterback in camp is Oregon State's Sean Mannion, who was taken in the third round. "The level of detail here is so much higher," Mannion said. "It was so cool to put this helmet with the horns on it. Putting it on, it hit me that I'm a pro." ... Tackle Rob Havenstein, taken in the second round out of Wisconsin, was happy to be practicing. "This is the dream and we get a chance to make it a reality," Havenstein said. "I'm looking forward to learning." ... All the rookies practiced indoors for almost two hours because of rain.
---