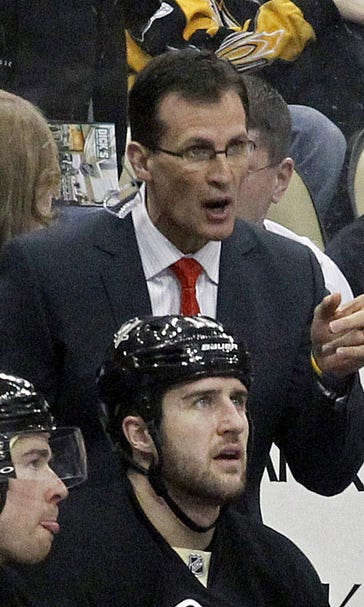 Granato thrilled to join Wings as assistant coach
BY foxsports • July 15, 2014
They once famously exchanged words, but now they'll be working together on the Red Wings bench.
It was 2008 and Wings coach Mike Babcock and then-Colorado Avalanche assistant coach Tony Granato had a little "debate" from bench to bench.
Now Granato comes to Detroit to work with Babcock. The two have both seen the picture and laughed about it.
"I've gotten a lot of texts of that picture," Granato said on a conference call Tuesday. "I think it shows the competitiveness that we have. I think it shows the intensity that we both have. I think we were both defending our players, and yes, it's a funny thing right now. It's one of my favorite pictures of me on the bench."
Granato hopes his one-year contract with a second-year option turns into something more. 
But that could depend on Babcock, whose contract runs through this season. Babcock has said he won't discuss an extension once the regular season starts.
"I think everybody knows what Mike's position is and I'm in a position where I hope Mike soon signs a longer term extension and I hope I'm able to do the same thing," Granato said.
Granato hopes to bring the intensity and competitiveness that he had as a player to his job coaching the penalty kill and the defense for the Wings.
"I learned a lot over the years about the importance of the small details of the game that are so important to being a part of a team's success," Granato said. "In Pittsburgh I worked with the forwards and PK. Over the past four years I think those two areas that I've enjoyed. So just bringing energy and I think I can relate to the players well; you can get a pretty good pulse on the locker room; and to be a complement and do whatever Mike needs of me."
Granato, who turns 50 on July 25, spent the last five seasons as an assistant to Dan Bylsma in Pittsburgh.
Although Granato never played for the Wings, he does have an appreciation of the organization.
"Tradition, history, extremely well-coached team, they always have been," Granato said. "If you look at what they've done for the past 20-plus years there's no franchise that can match the consistent success that they've had. So from a management side of things, a coaching side of things, a personnel side of things, it's an organization that has been able to sustain something that no other organization has in our sport -- or maybe any other sport -- has.
"They know how to develop players, they know how to win, they find the right people, personnel to get into the locker room and be a part of the organization. When you look at it from the outside, you play against them, you compete against them, you watch them year after year, you try to find ways to succeed through situations whether they're rebuilding or dealing with injuries like they had to this year, they always find a way. I'm really looking forward to being a part of it and seeing what makes the Red Wings tick."
Granato is well aware that the Wings have not made the Stanley Cup Finals since 2009 against the Penguins, but he believes their window remains open.
"If you get those guys that were banged up last year healthy again it gives you a much better chance, I think," Granato said. "That certainly is something that moving forward is hopefully the case. And if so, I think it's a great lineup and I think it's a lineup that can win and I'm looking forward to getting her going."
Granato already knows players like captain Henrik Zetterberg, Pavel Datsyuk and Johan Franzen and looks forward to working with them.
He's also excited about helping the younger players reach their potential.
"I just started watching video on them -- we only played them a few times last year -- and getting familiar with how they play, and what their strengths are and maybe certain areas that we can help them improve on," Granato said. "So I'm just getting a taste of that right now, and I'll continue to do my homework over the summer to get to know them a little bit better. But I do know there are some exciting prospects that have some great potential to play more significant roles as we move forward."
One of those prospects is Granato's nephew, Landon Ferraro, who made his NHL debut last season.
"Obviously, I've watched him over the past few years develop into a pretty good player," Granato said. "Hopefully he continues to develop and be part of it as well."
---